Interview by Kimberly Giles
Christina Atkinson grew up in Kerrville and lived in Jackson, Wyoming for seven years. She is the owner of Home Simple Goods and offers design services to clients all over the United States but mostly Dallas, Oklahoma and Wyoming, with some projects in Hawaii and New York. Her main focus is on home furnishings, but she also does finish selections and design for remodels and new construction. Rock & Vine interviewed Atkinson about her vision and style.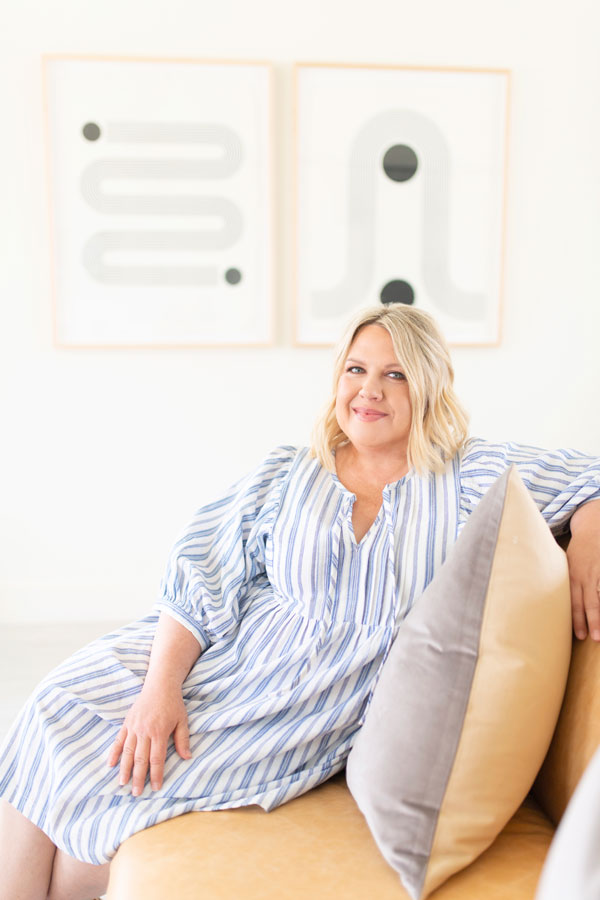 How did you begin your career in design?
I've dabbled in design for most of my adult life but got serious about it when I lived in Jackson Hole. I took a position at a retail furniture store and that evolved into design services and then a partnership with the founder.
When and why did you decide to open a retail location in Fredericksburg?
I spent many weekends in Fredericksburg in my teens and early twenties browsing local home decor shops and always dreamed of having my own store there one day. My mom moved to Fredericksburg some years ago, so when I decided to move home to the Hill Country, it seemed like the perfect place to move and fulfill my lifelong dream of having a shop there.
Who are your typical clients?
A lot of my clients are people who have homes in multiple locations so I travel a lot to help furnish their homes. I also have a large, short-term rental clientele. They want their homes to look up to date and well-appointed, but may not live here or have the time to tackle that themselves. Other than that, my shop attracts clients from around the region who then ask about my design services.
What are some of the most inspiring projects you have been asked to design?
Among the most inspiring are the mountain homes, the raw beauty of the materials selected and the breathtaking views are easy inspiration. I also love transforming older homes that previously were very basic. It's a blank canvas for my creativity to go wild.
What is your preferred focal point when asked to design for a client's home?
In Wyoming, it's all about the view or the sometimes-massive fireplaces that are central to the home. In some homes, we have to create the focal point with an interesting grouping of furniture or art.
What is your personal favorite space to design in a home?
I love to create cozy living rooms. My favorite is a large great room that can have multiple seating areas and points of interest.
What fall trends do you see or past-year trends in home styling and decor?
For me, I tend to focus on timeless fall styles like wool and leather. But lately I have been loving warm, terracotta and earthy, natural materials like terrazzo, fire clay and oak.
You have a very organic and textured style that is reflected in your design for clients as well as your retail space. Where did this attraction stem from?
I have to credit my time in Wyoming. I think warm sophistication is what I took from the homes, architecture and furnishings of that region. Wool, leather, plaid, piles of books and cozy, layered spaces paired with modern art and accessories.
My mother also was a great influence in my design. She was the master of a collected look as most of our furnishings and decor came from thrift shops or roadside finds but she effortlessly made our homes feels warm and inviting.
How has business positively or negatively changed for you in the past year?
Initially, I was very concerned that Covid would be the end of the retail store for me, but shortly after the shutdown, clients came through for me with large projects that sustained us. I've never been busier on the design front. One negative side is that the supply chain has been largely affected and it can take months to get what I used to get in days or weeks.
What, in your opinion, are clients' biggest struggles on receiving your design vision?
I think the biggest struggle clients have is just trusting the process. When I ask a client to change their kitchen cabinets or counters or paint the whole house, it takes a lot of convincing. But ultimately, I know that's what is going to give them the vision they had from inspiration pieces they showed me. We can't always just place furniture in a home and make it look like their favorite design photo – the surroundings matter. But I don't think any of them have regretted taking that leap in the end.