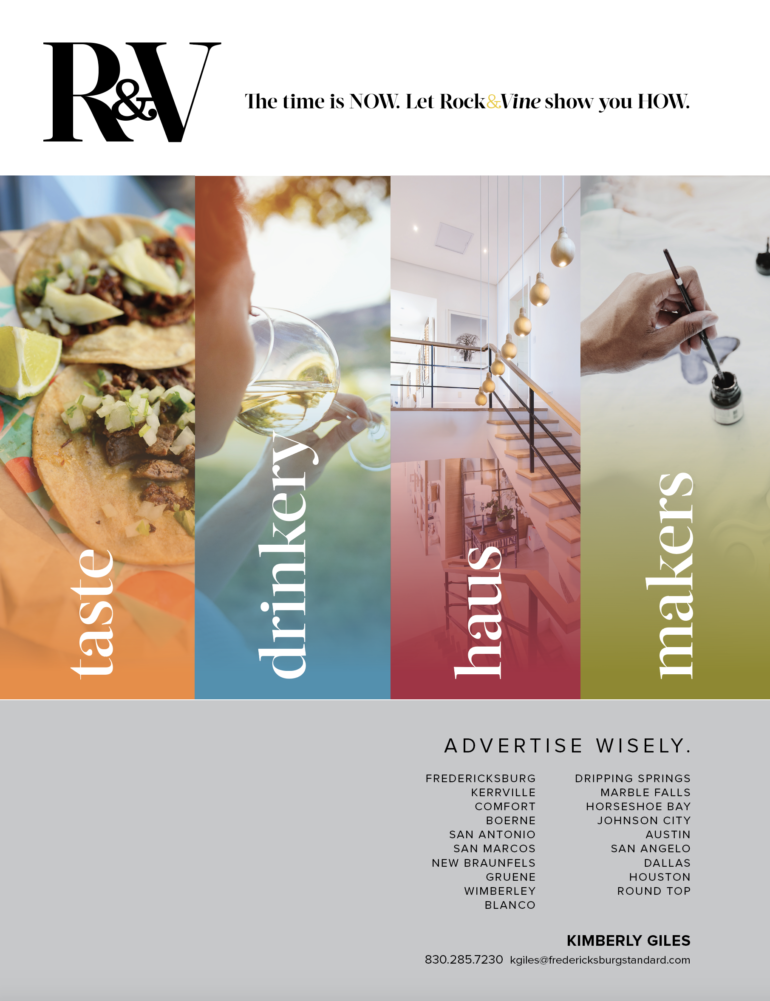 The Hill Country lifestyle can be admired and emulated from anywhere
80,000 Readers Each Issue | 3.5 Readers
Retail outlet sales
Home delivery
Subscription
Contact Kimberly Giles for more information
kgiles@fredericksburgstandard.com
Dear Rock & Vine, I came across your magazine in Round Top via Lucky Star Art Camp after spending months at home with my family and googling "things to do without your husband". Love what y'all do!
— Mrs R McChesney / Austin, Texas
I randomly picked up a copy of Rock and Vine several years ago, and gosh, it just spoke to my heart! Reading all the stories that make, so many of our cities, special! The unique talents and passions, of individuals that turn into a business. Real people, real stories with a real passion for what they do. I love to read it cover to cover!
— Kim Richards / Kerrville, Texas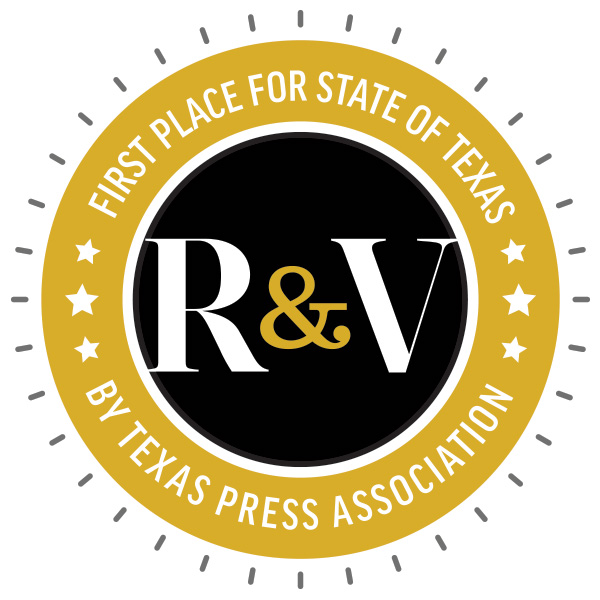 Absolutely beautiful presentation with a great variety of stories and photos. I've never been to Texas and this makes me want to visit. Clearly, you don't mess with Texas! Hands down first place.
– Texas Press Association / Award 1st place for state of Texas
I want to take the time to let you know what an excellent job you're doing with the magazine. I thoroughly enjoy the articles, admire the photos and even find the advertisements of interest.




When I receive a new issue, I immediately flip through every page and dog-ear those I need to spend some quality time reading.




It's a beautiful, well-planned piece of work. Again, thank you for doing such an outstanding job!
— Angela Church / Boring, OR
On Friday, I picked up the latest issue of Rock & Vine at Andreucci Wine Room. I was very impressed with the quality of the entire magazine. The photography throughout is sharp and crisp. They made me want to explore the varied locations.




The list of wineries and maps are the very best I have seen. I am the planner for wine tasting for all my friends. Your list will enable me to make decisions about stops.




Thank you for being "head and shoulders" above the other local publications. I will subscribe!
— April Langston - Comfort, TX
I wanted to commend you on your article bringing into the light "regenerative ranching" and how one of the most prolific species of North America has contributed so much to the welfare of our local ecosystem. As I have suspected, we don't have to specialize nature and agriculture to the point of excluding the holistic integration of natures balance and mastery. So many times Texas get's a bum rap because of the mega corporate food giants who use and continue to use corporate technologies to essentially strip mine the landscape. The thoughtfully sustainable approach employed by Forrest and Collins is ancient, sustainable and native to our experiential farming techniques and yet futuristic in our relearning of how we should help steward nature. These young people give me hope that we can change in time and avert total eco-collapse.
— Lorenzo Hubbell - Albuquerque, NM
I had a customer all the way from Lubbock carrying around her issue of Rock & Vine magazine; she came in and bought the couch we featured in our ad....So advertising with your magazine really does work!
— Christina Atkinson / Owner, Home Simple Goods & Design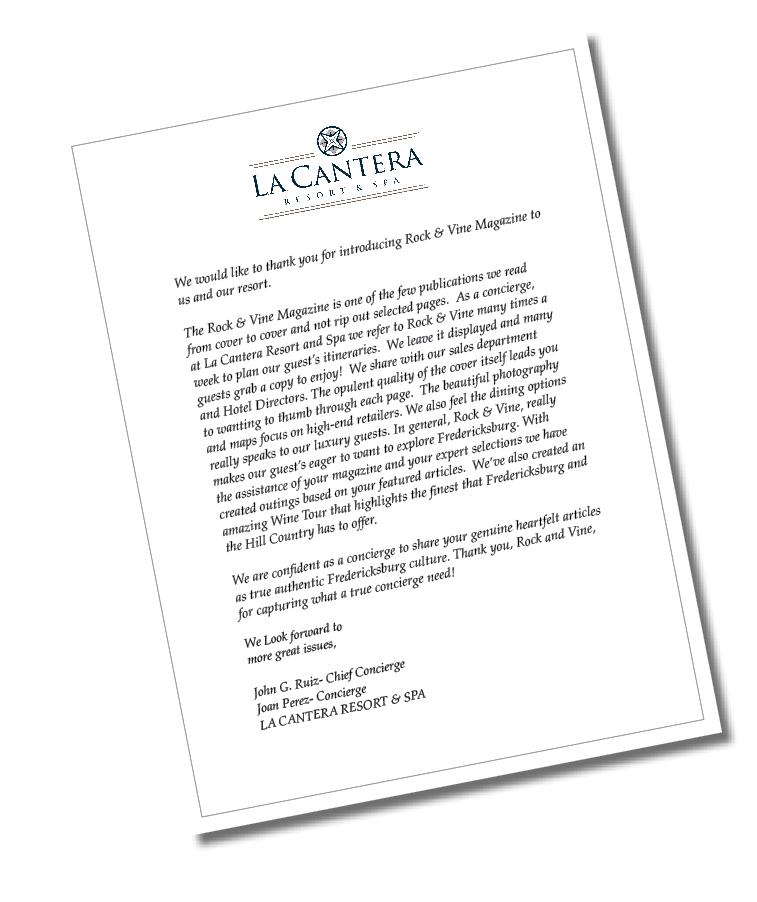 Good morning, I LOVE your magazine. My family moved to Wimberley when I was 9, so I grew up here and ran the back roads between Austin, Fredericksburg, Luckenbach, Blanco and Wimberley. Moved away after college and moved back in 2018 after 30 years. Family and friends all still here but never had enough time to go explore the hill country growth on weekends and holidays.
— Shelly Hicks / Wimberley, TX
We always look forward to the new publication of the Rock & Vine Magazine. Our sales staff has found it to be very helpful with introducing our business to the wonderful community that we have the priviledge to serve. Keep up the good work!
— Thank you from: Kingwood Fine Cabinetry and Fredericksburg Flooring Center
I just read cover to cover the latest edition of R&V, and I would like to highly commend you and your team for a great new issue and wonderful images and story content that place R&V a magnitude higher than it has ever been. I enjoy reading in R&V about the many wonderful things that the Hill Country has to offer.

I look forward to your next issue!
— Thuy Phung / Houston, TX
I am writing to tell the editor and staff of the Fredericksburg Standard and the citizens of Fredricksburg how fortunate we were to receive this delightful and beautiful magazine! Anyone in the hill country, including all visitors, could use this gorgeous and classy publication to learn so much about businesses and special locations in our area. Elephants! Wineries! Museums! Whiskey! Wow! How lucky we are! Thank you for adding such a valuable asset to our lives.
— Priscilla Williams / Happy citizen of Fredericksburg
I found this magazine in Fredericksburg while I was weekending with my girlfriend. I feel the quality of the magazine is great; it was easy to read, laid out well and has the right amount of content. Thank you for your work and the attention you brought to our small team; I found it rewarding and it means a lot to me and Reclaimed Space.
— Tracen Gardner / Owner, Reclaimed Space