The tiny town of Round Top might be best known for its highly popular, twice-annual Antiques Fair, but just beyond these fields of furnishings lies a treasure all its own. Fifty years since its founding, the Round Top Festival Institute remains a temple of classical music that is revered around the world. Larry Birkelbach is the Institute's Project Forman and knows firsthand the uniquity of its charm.
Long before he worked at this international center for musical performance and education, the Round Top native grew up helping out in his family's café. "I was fortunate enough to grow up in a wonderful environment," he shared of his hometown. "I always had fifteen moms anywhere I went."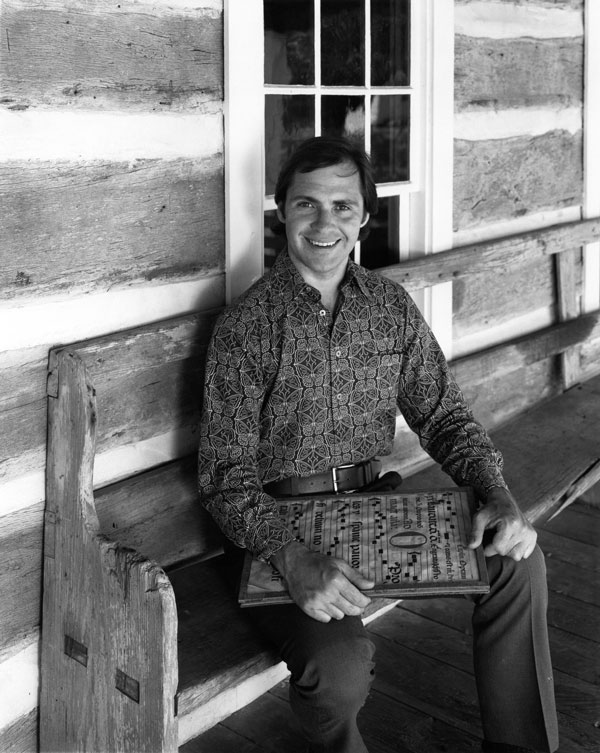 One day, in the summer of 1975, Birkelbach was repairing the café's screen door, when a group of gentlemen came by for lunch to discuss the Institute's construction at Festival Hill. Despite having no carpentry experience, Birkelbach seized the opportunity to help. The next day, he rounded up some tools and headed to work.
Behind every great vision is a great visionary, and at the Round Top Festival Institute, that visionary is the renowned concert pianist, James Dick. Following his graduation from The University of Texas, the Kansas native went to London's Royal Academy on two Fulbright fellowships and began touring the world. Inspired by the beauty and grandeur he saw while performing abroad in legendary concerts halls, the musician began dreaming about a European-styled, state-of-the-art musical institution back home. After the arts patron and concert pianist Ima Hogg introduced him to Round Top, he started making plans for this mecca of music, "a place unlike most places" that would educate, train, and nurture the next generation of talent.
Today, the Round Top Festival Institute is an internationally-recognized classical music destination. Every year, the Institute hosts an intensive and highly sought-after six-week festival for around 100 students whom apply from universities and conservatories worldwide. The participants are chosen by blind audition and offered full scholarships to study and train, while learning from and performing with some of the most gifted teachers, musicians, and conductors in the field. (Yo-Yo Ma played at the Institute in its early years.) The summer program was also designed to help young, talented musicians prepare for life beyond their formal education by imitating the rigors and demands of a major symphony orchestra. For many, the intimate program and small number of participants creates an almost collegial environment at Festival Hill, with personalized attention and a combination of cultures all brought together in one place.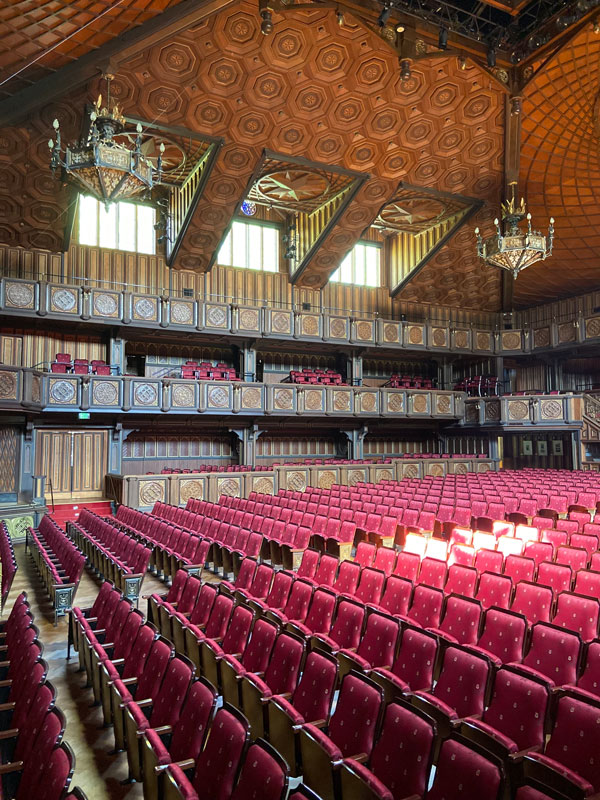 As it celebrates its 50th anniversary in 2021, the Institute is a gift that keeps on giving for young musicians and music enthusiasts around the world. Throughout the year, the programming at Festival Hill ranges from concerts to lectures, seminars and educational forums spanning subjects from dance to theater, poetry, puppetry and herbs, to name a few.
Since its founding in 1971, the campus has grown from six to more than two-hundred sprawling acres peppered with properties new and old, like the former Travis Street United Methodist Church in La Grange. The church, which was built in 1883 and moved to Round Top in 1994 as a center for chamber music, organ recitals, lectures and seminars, was renamed the Edythe Bates Old Chapel in honor of the great Texas art patroness. Other treasures include the 1885 William Lockhart Clayton House and the 1902 Menke House, both of which provide everything from office space for faculty to lodging and rehearsal facilities for young artists visiting every year.
Of all the buildings at Festival Hill, however, the piece de resistance is its magnificent 1,000-seat concert hall. In 1981, Dick tasked Birkelbach, along with Managing Director Richard Royall, with building a state-of-the-art concert hall at Festival Hill. "We were basically in charge of building the dream because this was a dream of Mr. Dick to have a facility like this. There were no drawings or guidelines for us to work from so basically every idea had to be worked out on the job," said Birkelbach. "I was hands-on every day."
The carpenter's dedication and commitment never wavered over the more than twenty years it took to complete the venue. Today, it is recognized as of the nation's most acclaimed performance halls. In the process of achieving that accolade, Birkelbach had to learn the complexity of acoustics and the nuances of wood. "The way the concert hall is designed there is wood on the ceiling, on the walls, on the floor," he shared. "You have to imagine yourself being inside a huge musical instrument."
Sitting within a large cello or bass, surrounded by its smooth wooden shell and polished curves, is a sensory way to envision the space. And yet, on closer inspection the complexity of the interiors reveals themselves, like a giant jigsaw puzzle.
Over more than two decades, thousands upon thousands of wooden pieces were cut and laid by hand into a masterful Gothic-inspired grid work of layered starbursts and swirls, diamonds and octagons, trellises and quatrefoils, to name a few. The varying depth and dimension of the myriad patterns and surfaces was strategically designed to keep sound reflecting and moving throughout the room.
Glancing up to the ceiling, glints of blue glass reveal a lofted, 18-foot attic space designed to capture sound and keep it traveling into the rafters. The ceiling itself was made of over three-hundred pieces of solid lumbar birch plywood held together by 80,000 metal screws and 600 steel rods. The walls were covered with thousands of diamonds, each of which required more than thirty cuts with the saw. "At one time we had a little over 10,000 diamonds, all made by hand," Birkelbach said.
Some of the most spellbinding details, like the oversized star crowning the stage, are a testament to the enormity of the job he and his fellow craftsmen were tasked with. That star alone is made up of 720 pieces of wood. This star and the one opposite to it is encircled by an intricate pattern of overlapping swirls boasting a combined five miles of molding bent by hand and set in place, one piece at a time. Even the balcony faces spanning all three levels are covered in Birkelbach's fingerprints. Constructing them was a multi-step process that began with an overhead projector and the use of transparencies to trace the pattern onto plywood before it was drilled and cut out with a jigsaw.
From top to bottom, a variety of woods were used throughout the venue, from pine to birch plywood, redwood, maple and poplar, to name a few. With every decision, achieving optimal sound was the primary goal, and that dogged attention to detail means there is no bad seat in the house.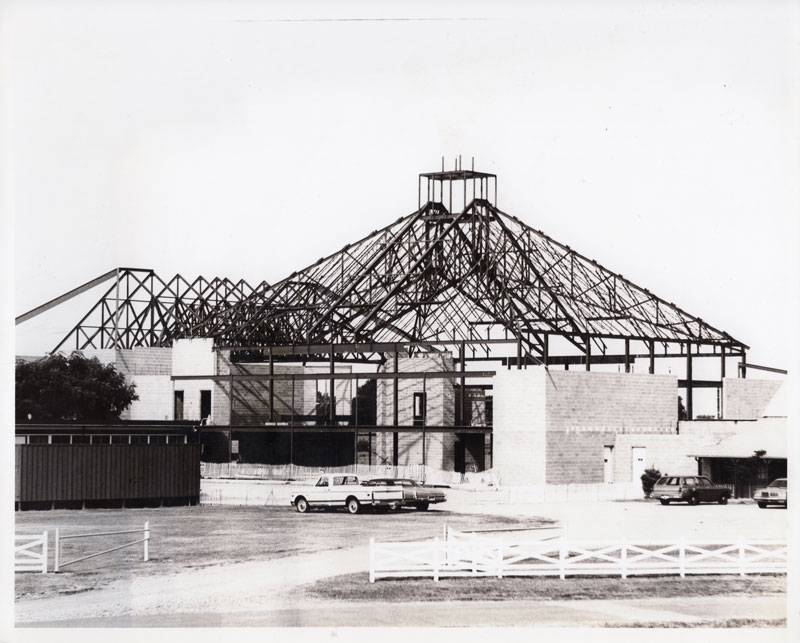 Labor wise, there were never any more than four workers on the project at any given time to ensure the best quality control. Birkelbach, along with his tight team of craftsmen, worked diligently to take Dick's ideas from concept to fruition.
The end result has rendered countless speechless over the years. "I can't tell you the times I have seen people look and they can't believe what they are seeing, especially in the small town of Round Top," he said. "To actually see it in person is a whole different ballgame."
Though nothing beats the physical experience of visiting in-person, the virtual tour available online is the next best thing. Even through a screen, the space has a spellbinding quality, instantly transporting viewers back to Old World Europe, with its plush red chairs, its grand, winding staircases, and its heavy, handcrafted chandeliers twinkling overhead.
Visiting the concert hall is a deeply sensory experience that feels like an escape and a fantasy in many ways. Especially during the pandemic, that escapism was highly sought after, as people around the world craved connection through art, dance, and the sound of music. Between its stirring, soulful concerts, its awe-inspiring interiors, and its lush, expansive grounds with its gardens, ponds, fountains and trails, this is undoubtedly a place to go and feel inspired. For Birkelbach, the project is a source of great personal pride and an ongoing labor of love.
"I feel very honored to have had the opportunity to do it in my hometown," he said. "Festival Hill moving here has been a huge blessing for the whole community and hopefully that will continue for many years to come."