Kerrville is home to many things "Texas" — H-E-B, James Avery Jewelers and Robert Earl Keen, to name a few. Turtle Creek Winery Olives and Vines is another wonderful addition. 
The tasting room is an old Masonic lodge in downtown Kerrville. It is a step back in time with the old saloon bar, a moose head gazing down and beautiful furniture that harkens back to the turn of the last century.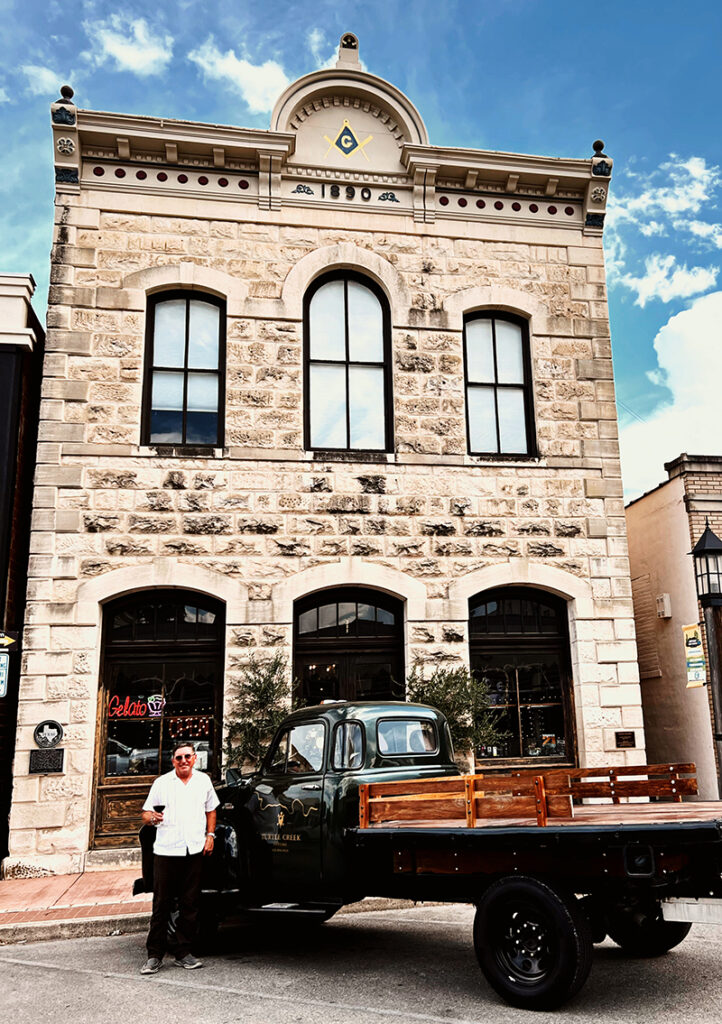 Until Snowmageddon (the freeze event of 2021), Turtle Creek owners Don and Sue Schulse grew olive trees as well as grapes.
Unfortunately, the olive trees did not survive the ice. They now import extra virgin olive oil from Portugal and Umbria. Guests can try both while sipping on delectable wines in this nostalgic establishment. The oil of Portugal offers more herbaceous qualities while Umbria produces an oil that is smooth with a hint of sweet.
The Turtle Creek tasting room offers additional wine selections from around the world to sip on as well as their own Texas grown, and their Estate grown wines from their vineyards about 8 miles outside of Kerrville.
Trebbiano 2022
Estate Grown White
To be released early summer 2023
Amazing bouquet of juicy aromas of lychee, honeydew melon, and orange blossom explode in the glass. This luscious white delivers a round mouthfeel with mild acidity. It finishes with a touch of lime zest. A fragrant, complex Trebbiano from their estate vineyard just outside of Kerrville.
Perfect to serve with summer ceviche.
Rosé 2021
Cinsault
Texas High Plains
This salmon pink-hued rosé wine offers up uniquely herbal aromas of mint intertwined with raspberry and watermelon. It is light and crisp, rather refreshing. Flavors of strawberries grace the tip of the tongue. A lovely poolside sipper or pair with a summer salad for lunch.
Rosé 2022
40% Tannat from their Estate and 60% Cinsault from Texas High Plains
To be released early summer 2023
Tannat creates the endearing color of bubblegum pink in the glass. This dry rosé shows a rich array of watermelon, strawberry and rose petal aromas. The ripe flavors embrace the palate completely. A medium finish with well-defined acidity.
Pair this one with grilled salmon or light tapas.
Montepulciano 2020
Estate Grown
A stunning red that must be tasted. Estate grown and aged in French oak for 18 months sets this wine apart. Ruby red pigments make a splash. Rich perfumes of dark cherry, sweet smoke, soft leather, cassis, Mexican vanilla, blackberries, violets, and a hint of green fig carry the senses away. A back note of hazelnut appears, and supple tannins caress the mouth with a long embracing finish.
Beautiful accompaniment to beef tenderloin or lamb pops.
Montepulciano 2021
Estate grown
A younger version of the 2020 – shades of garnets grace the glass. This one is a little lighter in style, aged in neutral oak for 9 months. A sumptuous wine with lively red plum, tobacco leaf and a hint of black olive on the nose. The easy tannins and balanced acidity make this a great wine to serve with an easy meal, perhaps a Tuscan white bean soup or your favorite pizza.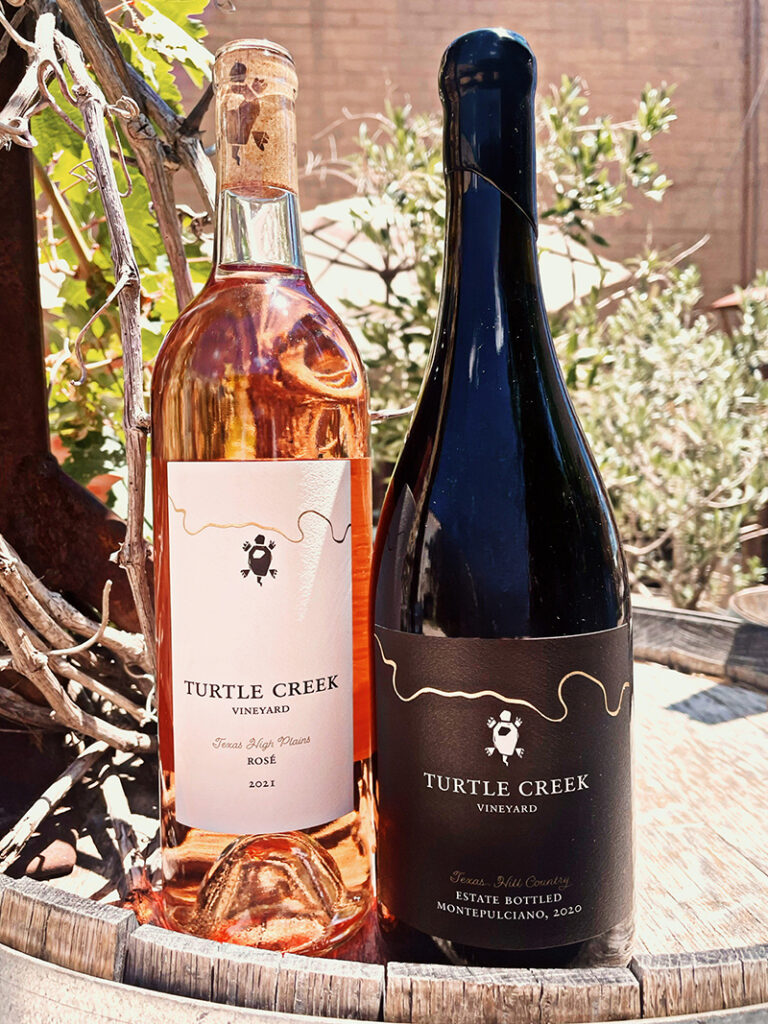 Red Blend 2020
Estate Grown
70% Montepulciano, 20% Cabernet Sauvignon,
10% Merlot
Dark Ruby reds attract the eyes. Whiffs of strawberry jam, cherries, vanilla, pie crust, rose petals and white pepper swirl to entice the olfactory. Leather and cigar box undertones add even more complexity to this well achieved red. A tannin structure like satin stays with you for the long finish.
Pair this with a traditional Beef Florentina or Texas Barbeque.