Drivers on Highway 290 exploring the Hill Country will notice a Quonset hut-shaped structure just past the giant robotic hand protruding from the Johnson City Science Mill's courtyard.
These two architectural pieces are related, as they are the scientific and artistic creation of Zac Zamora's Variance Design.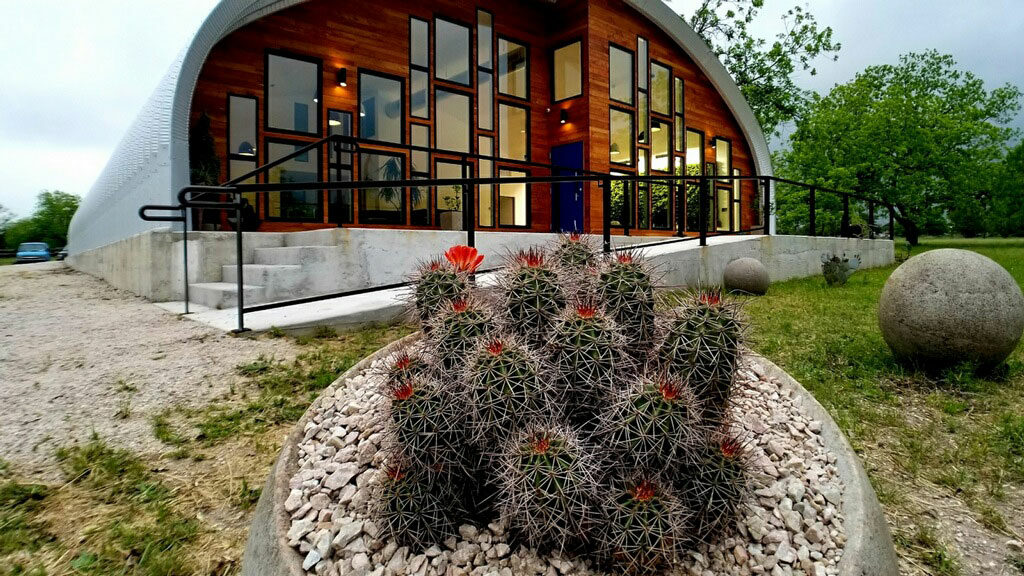 Zamora's love for Biophilic design has taken root in Johnson City. Rock & Vine wanted to learn more about this collective group of artists, designers and craftsmen with Variance Design.
Most of my inspiration
comes from the natural world and was specific around plants and animals.
Zac Zamora
R&V: Why did you choose your current location in Johnson City for Variance Design?
ZZ: My first interaction with Johnson City was with the Science Mill. They approached me to build a living wall in their lobby. I didn't know very much about them in the beginning but I appreciated their innovation and their architectural space.
Then I began working with them more and more on different projects that encompassed more of our natural and scientific vision. I also liked that our property was on this intersection of the 290 and that it backs up to the state park.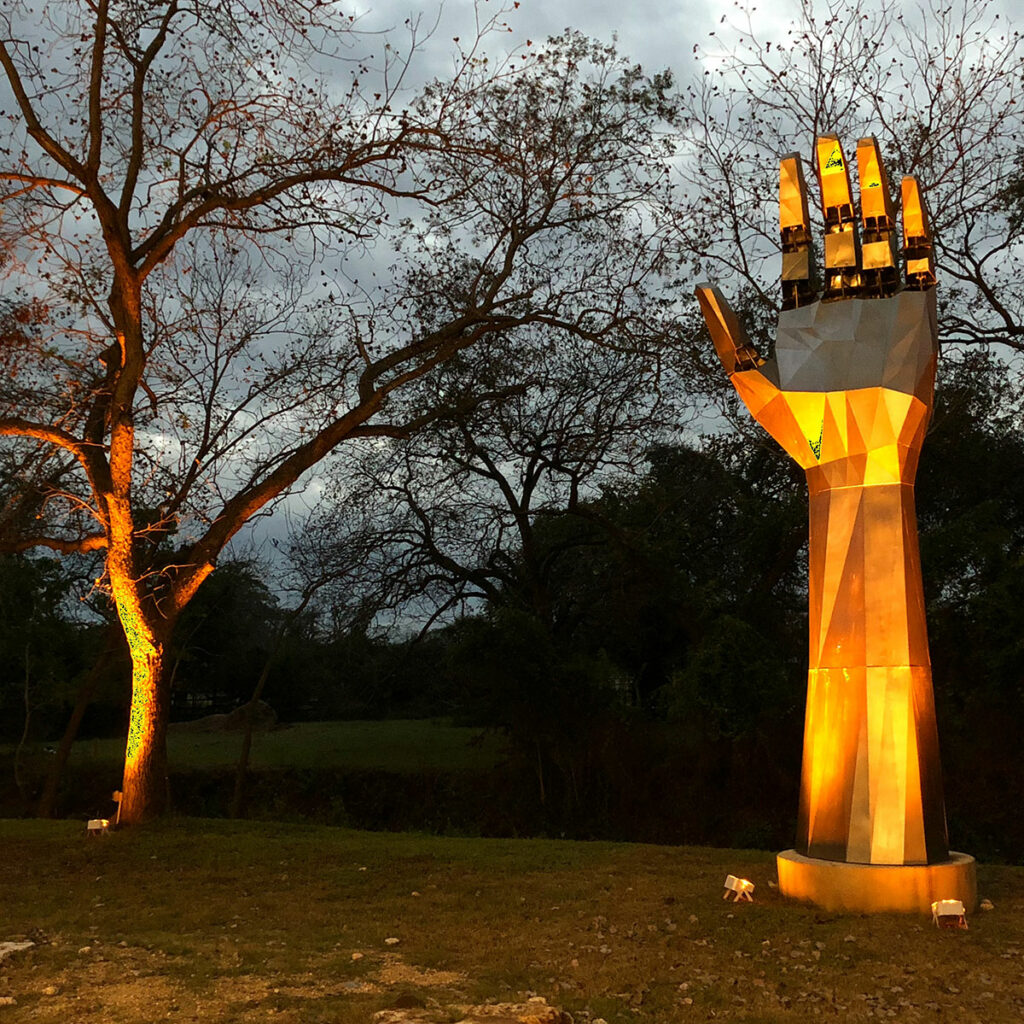 (Variance Design projects that can be found at the Johnson City Science Mill include the following: Colossal robotic hand, wave pendulum, fossil dig monument, vivarium's and living walls.)
R&V: Your background states that you have a degree in zoology from the University of Texas, you're a master craftsman and a naturalist. Was this an obvious transition for you all along with Variance?
ZZ: I always had an interest in building things and creating habitats for plants and animals. I also loved architecture and interior design.
I was really interested in tropical amphibians and enjoyed creating habitats for them and learning about their ecosystem, and this is where I was able to apply my passion for design and creating habitats. Once I got my hands dirty with some of the fabrication, I just decided why not own my own variance design?
Building living walls and natural habitats has its own set of requirements with lighting, plumbing, irrigation and climate control. Most of my inspiration comes from the natural world and was specific around plants and animals. Now it's kind of opened up to human species and creating these planters and biophilia furniture.
R&V: Why is it important to you and your team to incorporate biophilic principles into all of your work?
ZZ: Having connections with other life forms are important to us all. Whether it's a plant in your work space, a dog, a tropical ecosystem or just coming up to Hill Country to look at the wildflowers, all of these elements make connections that are in all of us to different degrees. I think of the more urban communities, and maybe they don't have pastures of wild flowers. So we bring these natural elements of the world into the indoor space.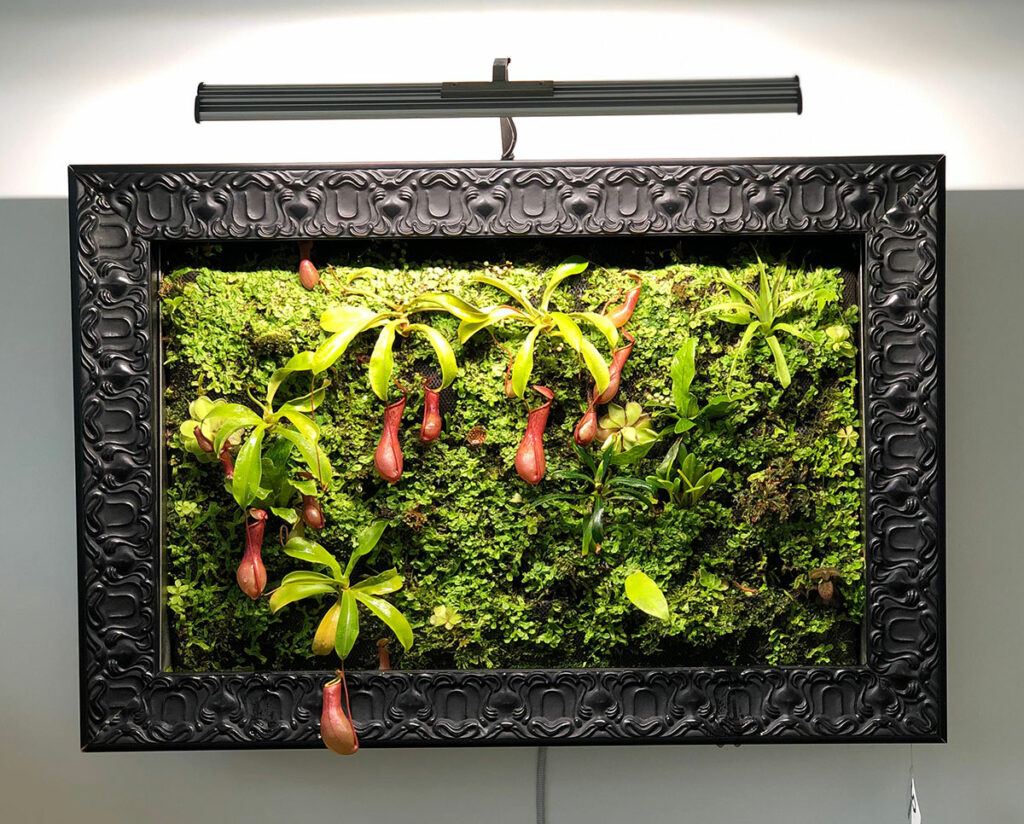 R&V: You have connected with some wonderfully creative people at Variance Design. What are some of your objectives as a team with your diversity in interests?
ZZ: Being inspired by the natural world has its positive benefits on multiple levels and that's kind of our shtick – that's really what we do and try and stay true to that and see where it takes us. It's been an evolutionary process and having the passion to create and yet not really being defined by it is important to us.
Our inspiration comes from a bunch of different places. We also have a fascination for gadgets, electronics, automation and robotics. Applying all of these elements and blurring the lines between art and science, along with having fun, is our objective.
The other important element is our client. Taking inspiration and feedback from our clients (frog or human), we can create some kind of totally unique experience in whatever we are trying to build.