It's a crisp November after-noon and landowner Suzanne Davis is admiring native bald cypress seedlings while cutting back invasive Brazilian verbena along her stretch of the Blanco River.
Davis and her husband, Edward, live in Wimberley, where, four years ago, the Blanco River rose more than 20 feet in an hour — over 40 feet at its peak — causing extensive devastation to property and life.
"The destruction all around was incomprehensible," she said. While the couple had to start over with their house as well as the land, they consider themselves lucky.
Suzanne and Edward's portion of property along the Blanco River had Saint Augustine grass and mature Bald cypress trees. Then the flood removed all vegetation leaving behind a stark canvas.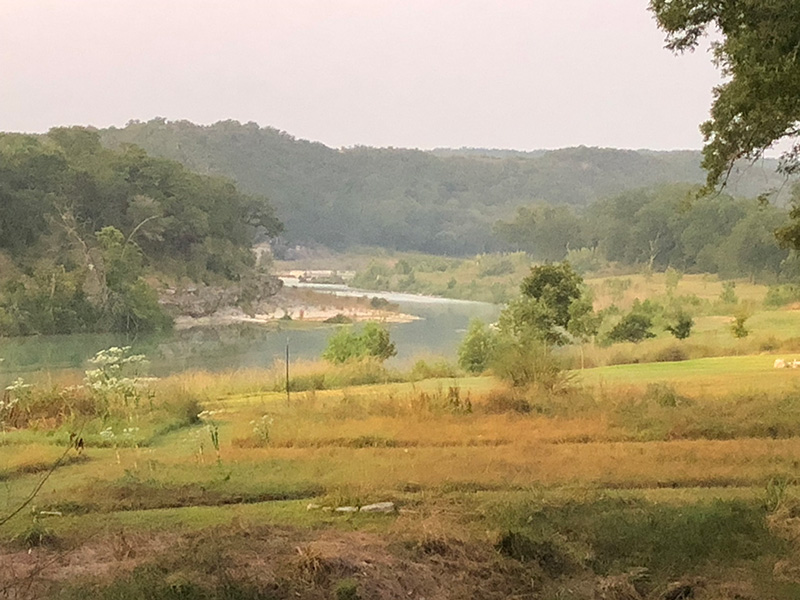 "After the flood," Davis, recalls, "we had nothing left along the river. I sat down by the river, had a really good cry, then pulled myself together." While the mechanics of rebuilding the house were clear, Davis did not know where to start repairing the land. "It's not like you can just put down new tile."
Fortunately, there were agencies like the Texas Parks & Wildlife Department (TPWD) and multiple nonprofit organizations eager to offer help in the form of technical assistance and deep-rooted, native plants to help stabilize the river banks, known more formally as riparian areas.
"We learned to leave the logs and limbs in place to stabilize the bank, and we took home some sedges and a mix of riparian grasses and forbs," she said. "It was like hope in a package."
In just a few months, they started to see signs of life, verdant flashes emerging in the riparian area. "We saw our first bushy-bluestem and said, 'Oh my gosh, it's gorgeous.'"

We learned to leave the logs and limbs in place to stabilize the bank, and we took home some sedges and a mix of riparian grasses and forbs. It was like hope in a package.

– Suzanne Davis
Riparian areas
In "Flash Floods of Texas," Jonathan Burnett documents our state's long-standing struggle with floods. "Texas flash floods have produced events that tax the imagination." The Hill Country, referred to as Flash Flood Alley, is perhaps one of the most vulnerable areas of the state, given our weather patterns and topography.
Riparian areas are small, spanning only about 1-3% of the landscape. They represent the transitional zone or corridor between an aquatic environment (e.g. a creek, river, or lake) and the drier uplands. When populated with a diversity and abundance of native vegetation, they provide a variety of values, including greater bank stability, erosion control, water quality, fish and wildlife habitat and flood mitigation.
Today, Davis reflects on how the riparian area has changed in the past four years. "It was bland before the flood, mono-tone in color and lacking plant diversity. Now we have a more interesting, interactive setting, more like a beautiful piece of art. The plant shapes, textures, and colors—all the shades of yellows, browns, lime and green—are beautiful. If you like art and more than one color, you're going to love riparian areas."
Native bunch grasses like Switchgrass and Eastern Gama grass, shrubs such as black willow, and trees like sycamore have all flourished since the flood, providing Davis and her neighbors with a vibrant canvas — as well as habitat for blue herons, butterflies and Guadalupe bass.
"You know, we lost about 10 feet of land from the flood. Where we are, the river became much wider and shallower." Now native plants like sedges and rushes that grow at the water's edge are starting to trap and store sediment, she said. "We're watching our banks grow back.
That's the remarkable work of riparian areas: specialized plants slow down floodwaters and capture particles of soil. Over time, enough soil is trapped to provide a footing for new plants to establish.
The community of riparian plants is dynamic and diverse, comprised of sedges, rushes, grasses, forbs, shrubs and trees.
Sharing knowledge
While they've managed their land to be a more natural setting, Suzanne and Edward still want this to be a place for people, even friends worried about snakes. "We mow the area where we truly feel like we walk and the grandkids like to play."
With paths mowed three feet wide, friends and family seem to enjoy the natural setting around them.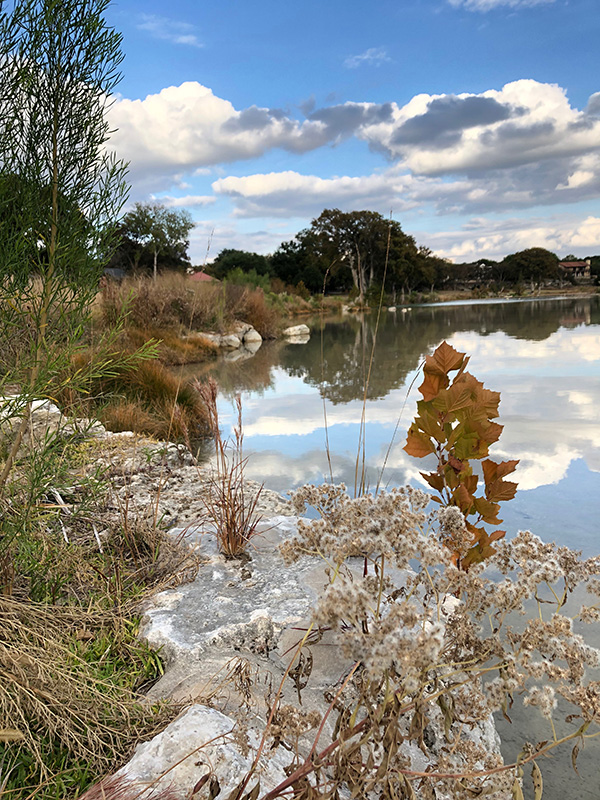 Landowners, of course, have differing opinions on mowing. Some will mow all the way to the water's edge, while some on the other end of the spectrum will foster something more akin to wilderness. Davis says, "It doesn't have to be an all or nothing. And most people we talk to seem open to that balanced approach."
Lots of her neighbors are now working toward achieving such a balance by creating buffers or grow zones of native vegetation, along with targeted access areas that are cleared and maintained for fishing, swimming, and other forms of recreation.
Having spent her career as a teacher, Davis is given to sharing knowledge. Her approach is mostly through casual conversations, sometimes in the field or perhaps over wine and cheese — and she has found many landowners are interested in learning more about how to begin encouraging a more natural and diverse setting on their own property.
Stewardship
She is not alone in her work. Fellow riparian enthusiast and Wimberley resident, Christine Middleton, connects with dozens of landowners through a seasonal newsletter that highlights riparian stewardship best practices.
TPWD and numerous non-profit partners continue to of-fer educational resources and plant materials to riparian land-owners. While "riparian" may have been a foreign term just a few years ago, Suzanne believes it's now become a household word amongst land-owners in the Wimberley Valley.
"When we get together, we share ideas and grass seed. We help people think through how they can do a little more — it's been a lot of fun."
Now Davis and her neighbors get excited and talk about the new plants they discover in the riparian area. "Sometimes you just have to sit by the water's edge, enjoy it, and notice it. It will fill you with hope."