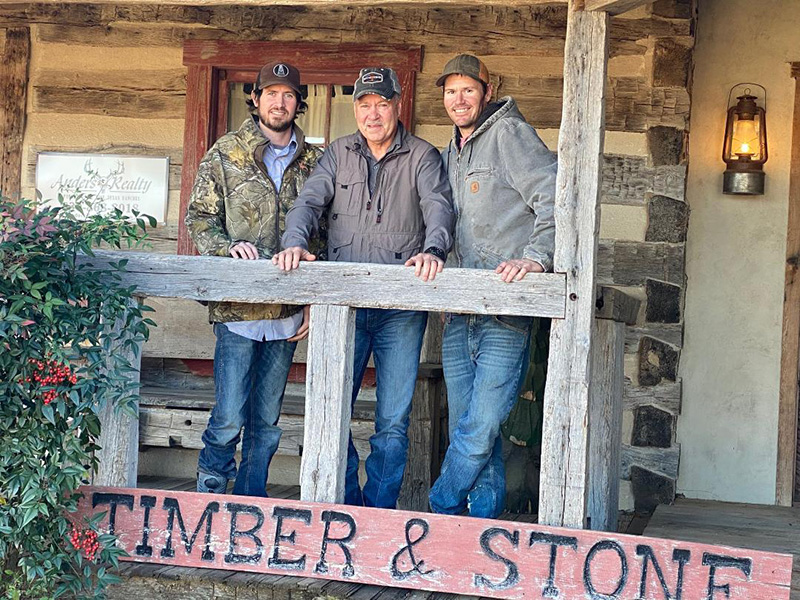 This isn't Rode Walker's first rodeo or the first barn he ever built or custom ranch house he ever designed. Or for that matter, it's not the first signature western apparel he ever created.
The Abilene native, who has made Fredericksburg his home for the past 32 years, owns Timber & Stone Builders and Antique Timberworks. The family-run construction business has served a 70-mile area around Fredericksburg since 2002 and has earned a reputation as one of the Hill Country's premiere builders.
The company designs and builds everything from contemporary custom and semi-custom high-end homes to rustic cabins made from reclaimed materials, barns, wedding chapels and even a 40,000-square-foot local winery is currently underway.
Today, Rode Walker and his wife Christy have three grown children, all of whom grew up in Fredericksburg. Their daughter, CJ, lives in Frisco. Their two sons, who worked in the lumberyard at Antiques Timberworks while they were growing up, now manage various aspects of the two businesses.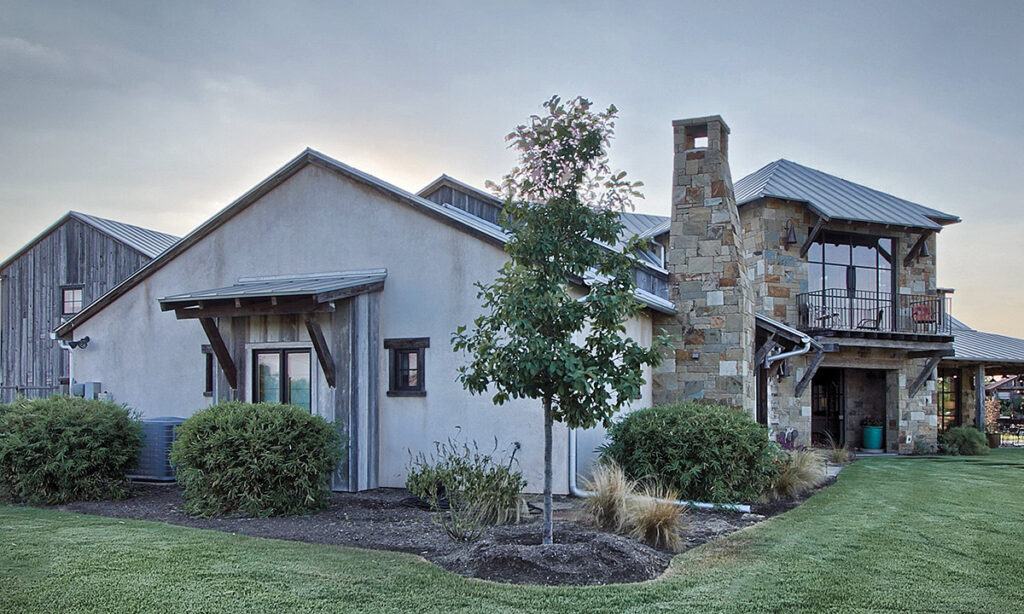 Son Rowdy is the manager of Antique Timberworks, coordinating with various dismantlers all over the Midwest to buy reclaimed and vintage building materials such as hand-hewn beams, ceiling decking, accent wall wood siding and mantles. The company also offers custom sawmilling and creates custom furniture. Their products are then sold to builders, architects and homeowners and used by Timber & Stone in cabin restorations.
I sit with homeowners to figure out everything right down to selecting pioneer to contemporary fixtures, simplifying the process.
– Rode Walker
Son Bunde (pronounced Bundie), is a project manager at Timber & Stone Builders.
"Bunde's a big asset," said Walker. "He did commercial construction in Austin for 10 years and came back here and is getting involved in residential construction but we are also doing some commercial projects. We're in the process of building the largest winery on 290 today."
Together, Bunde and Rowdy are poised to take the family businesses forward into the next generation, a source of pride for their dad.
Cowboy way
Rode (pronounced Roadie) Walker doesn't just look like a cowboy or have a cool cowboy name. He started rodeoing at 14, rode bulls, broncs and roped in college, then went pro as a bull rider, taking his licks at as many as 10 rodeos a week on the relentless rodeo circuit. Walker was successful at this rugged, unforgiving sport, becoming a national champion bull rider along the way.

"I left Abilene as soon as I graduated high school. I was involved in rodeo and was on the rodeo team at a couple different colleges," Walker said. "I went pro when I was 19 and just rode bulls. I rodeoed professionally all over the United States and Canada until I was about to have my first child. I stopped rodeoing hard when I was young. I was 24 when I had my first child."
His sons didn't follow Rode into the rodeo arena. Both got involved in baseball at a young age and Rode encouraged them by becoming a Little League coach.
Asked if he got hurt a lot riding ornery bulls for a living, Walker shrugged. "Nah, not much," he said. "I broke an arm one time and a leg another time and some ribs one time. The ribs hurt the most."
That rib-busting bull came out of the shoot and took a deep, steep plunge toward the dirt, then reared up with his head straight back and hit Walker square in the face, knocking him to the ground. He didn't even have time to scramble to his feet before the bull turned and buried his head in Walker's ribs, twisting and pulverizing the tissue and muscles around his ribcage. He hobbled around campus for several weeks and had a hard time carrying his school books.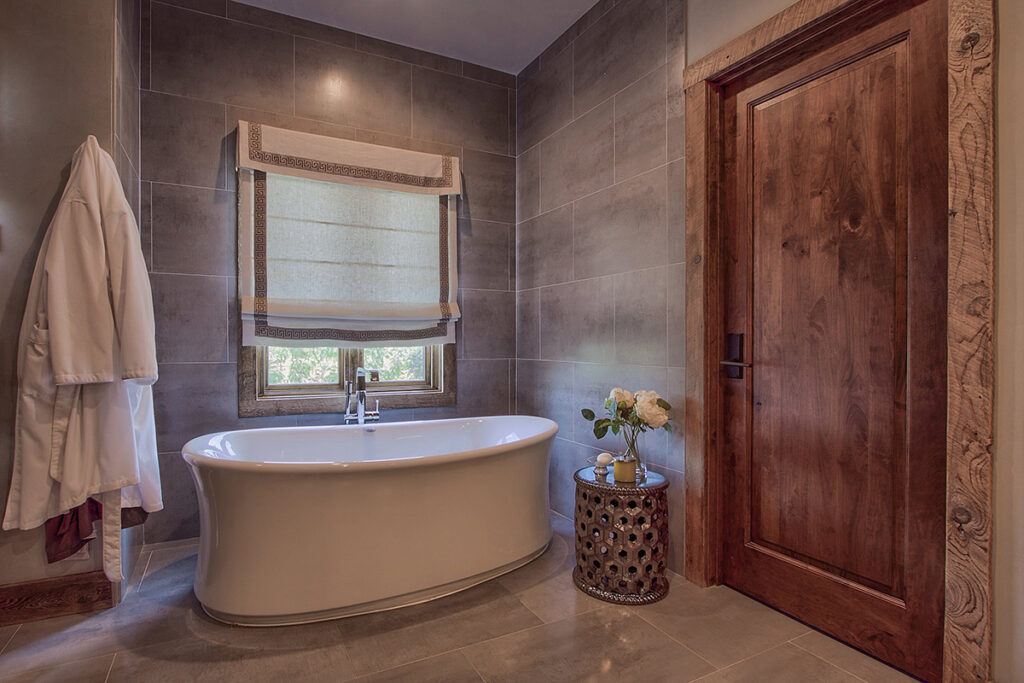 Walker graduated from Tarleton State University in Stephenville with an ag education degree. After student teaching, he laughed, "I decided I didn't want to be a teacher."
Next chapter
While trying to subsidize a bull-riding living, he got involved in designing western apparel. He came to Fredericksburg in the apparel business and then opened the Double Ox Steakhouse and Cantina in 1999.
"It was very successful but I was looking to do it bigger and better outside of town," he said.
The hours involved in running a restaurant were all-
consuming though. Instead, the entrepreneur decided to purchase Antique Timberworks in 2002 and closed the restaurant to devote himself full-time to the construction and reclamation businesses.
"This was kinda refreshing for me," Walker said of Timber & Stone and Antique Timberworks. "I loved working with colors and textures in the apparel business so the design aspect of it is what I like best now. I started connecting with good subcontractors who could pull off the bar we set.
"I conceptually design all the homes we build, and then have an architect do the CAD drawings," he said. "We started out building log cabins, then larger homes and even larger contemporary homes and some commercial projects. There was something about it that caught my attention. The history of this place, the historic architecture. I connected with timber frame architecture, stone and logs, along with reclaimed ceiling decking, rafters and bead board accents."
Along the way, Walker built a log cabin for his family and some 65 structures for various clients. Most of Walker's projects aren't visible to the public since the lodges, retreats and homes are out on remote ranches.
"Now we are building semi-custom homes," he explained. "We look at the view, the functionality of the place, then we'll go through our library of designs and find a plan that will work for the homeowner and for their site. I sit with homeowners to figure out everything right down to selecting pioneer to contemporary fixtures, simplifying the process."
Walker's most memorable project was one of the first larger homes the company built in Sisterdale. "We started out building a timber-framed party barn," he said. "After we finished it, we painted old signage on the walls. Then the owner said, 'you know what, I'd like you to build my big house.' We gave it our little spin with reclaimed materials and it wound up being a nice 5,000-square-foot home."
The Walkers are currently starting or finishing eight construction projects, including a semi-custom home west of Mason. They are also nearing completion on a home for Scott Giese, CEO of San Antonio-based Innovative Corrosion Control, Clean Earth Solutions, on his ranch east of Blanco.

Giese said, "We had seen Rode's work before and he was in process of building a cousin's home just before we started ours so we were actually able to watch his quality while we were in the planning stages of ours. It has been a wonderful experience that has far exceeded our expectations. The quality and efficiency of the design and build have been second to none. Their product is exquisite."
Giese added, "I have already and will continue to recommend Rode and Timber & Stone Builders to anyone considering building a custom home. The experience and final product is incredible!"