Finding good-tasting, fast and healthy eating options doesn't always come easy.
Following their retirement from the oil industry and teaching, Fredericksburg residents David and Lisa Bullion tried something new, teaming up to develop red wine vinegar with added health benefits.
In 2017, Other Mother LLC, a certified-female-owned company, was born.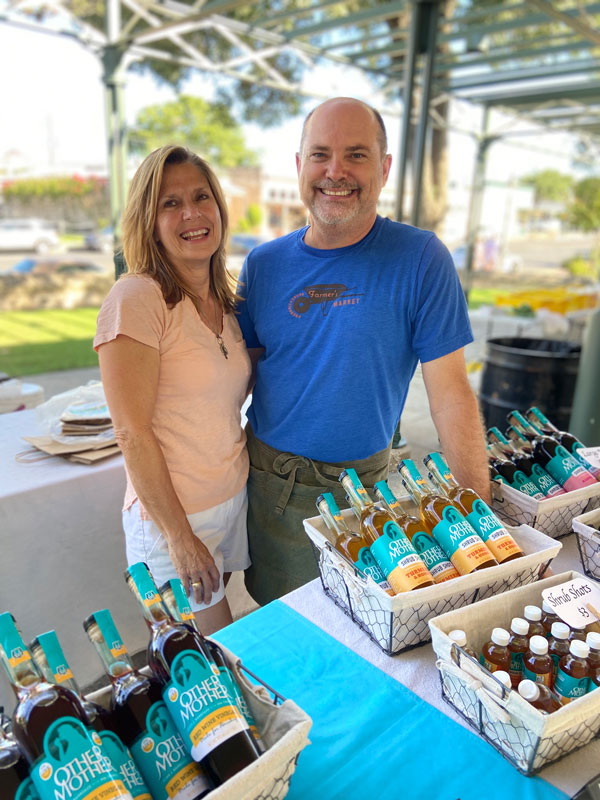 "We're not careful enough about what we put into our bodies," Lisa said. "We have so many choices every day to choose the fast, easy solution and that isn't doing us any favors."

The process David learned to make wine from his church pastor and fell in love with the process.
"I started by making wine, and as a natural process wine goes to vinegar," David said. "Once we started making vinegar, we enjoyed some and, of course, gave some away. Then I started drinking it every day and found it calmed my acid reflux."
Using the Orleans method developed by Louis Pasteur in the 1700s, Other Mother Vinegar is a red wine-based vinegar that has been barrel-aged for at least a year and contains live bacteria (the mother). Usually, it is three months in a converting barrel before nine months in a polishing barrel.
"Back in the day, every kitchen had a crock of vinegar used for cooking, for cleaning, for preservation," David said. "Today, a lot of the vinegar products are tough to swallow. We found a way to keep those health benefits, and make it taste great."
'Microbiome'
Much like consuming apple cider vinegar, there are benefits to drinking red wine vinegar. Most often, it is used to support a healthy gut microbiome, help with acid reflux, aid with digestion and level out blood sugar levels.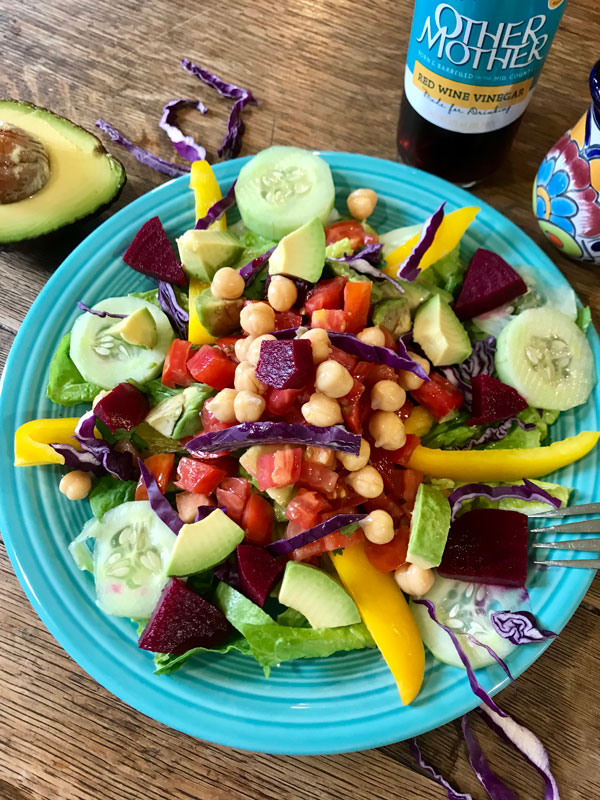 Other Mother took it one step further by carefully selecting additives that provide other health benefits.
To make things simple for the consumer, the Bullions created 2-ounce Shrub Shots, making for a easy, fast healthy food choice. The term "shrub" coined in Colonial America refers to a vinegar-based drink. Shrub Shots are designed to be a daily health shot.
Raw local honey is used to balance the acidity. Local honey has also been noted to treat seasonal allergies.
Other Mother then took to the roots: turmeric, ginger, and beets. Turmeric is used to treat inflammation and is an immunity booster. Ginger is good for digestion and beets are good for blood pressure and heart function.
Now focusing on fruits, Other Mother makes a raspberry shrub shot which helps provide antioxidants.
"We are intentional about what we add to it. Each flavor has a benefit and we try to locally source when we can," David said.
Other Mother has more flavors that will be released in the future.
Everyday use
Other Mother also shares ways their vinegar can be used for cooking and drinking. Popular recipes include using the vinegar for marinades, salad dressings, sauces, salsas, soups and more.
Some have added it to cocktails or modified their favorite cocktails to make mocktails.
It is recommended to keep the vinegar and shrubs under 140 degrees or chilled.
Expanding production
Since opening, the Bullion's have sold their vinegar at farmers' market's in Fredericksburg, Kerrville, San Antonio and Austin.
"From vendors to customers, it's been a really enriching experience," Lisa said. "It's crazy how you can meet someone for the first time yet you feel as though you have been friends forever."
After making their way to markets, the Bullions have expanded to locally owned businesses in Fredericksburg and Austin, like Snap Kitchen, Fischer & Wieser, Boerne Epicure, Royal Blue Grocery and Thom's Market.
Their vinegars have also been selected by Google offices in Austin to be supplied in company kitchens.
"When the pebble hits the water, the ripples just keep going and going and that is how this has gone for us," Lisa said. "You meet someone at the market or an event in Fredericksburg and a couple months later you find out they are the hospitality buyer for Google in Austin. You get invited to an event and next thing you know, you're rubbing elbows with big brands."
Their next stop is to get on the healthy living shelves of local grocer H-E-B.
"We could be really intimidated by this, but I think we are ready for it and we know we can do it," Lisa said. "We want to be able to share our products with everyone."
Family affair
The husband and wife team decided to try something new while working side by side.
"We really wanted to do something together and it has been fun and challenging because neither of us have any prior experience in the food industry so the learning curve was exponential," Lisa said.
"I saw them go from partners in life to business partners," daughter Shelby said. "They have both branched out and tried things they didn't know they would be good at."
The Bullion's children Shelby and Trent, have also worked with their parents, expanding their branding and given their opinions.
"I have helped with the marketing side, editing photos or images, I even got them to start a TikTok," Shelby said.
"Both of them are reference points and they help give us launching points to reach some new demographics," Lisa said.
Other Mother plans to keep its roots in Fredericksburg.
"When there is a need, we always try to keep it local," David said. "We are going to support the community that always supports us."
---
Dark and Stormy
1 oz. Ginger and Honey Shrub Shot
1.5 oz dark rum
Lemon sparkling water
Slice of lime for garnish
---
Raspberry Mocktail
1 oz. Raspberry Shrub Shot
6 oz. TopoChico
---
Chicken Pasta Toss
5-6 boneless chicken thighs
3 cups pasta (farfalle or penne)
2 cups fresh green beans
2 cups grape tomatoes
1 cup feta cheese with tomato and basil
3-4 Tbsp fresh chives, chopped
3-4 Tbsp fresh basil chopped.
½ cup Other Mother Red Wine Vinegar
1/3 cup Extra Virgin Olive Oil
Himalayan Sea Salt and ground pepper, to taste
Season chicken and cook in skillet with splash of olive oil until golden brown. Chop into bite sized pieces. While chicken is browning, cook desired pasta in salted boiling water, adding green beans during last 7-8 minutes. Combine chicken, pasta, green beans, halved tomatoes, chopped herbs and feta in a large bowl. Drizzle with vinegar, oil, salt and pepper. Toss and enjoy!
---
Other Mother Vinegar
othermothervinegar.com
Facebook: Other Mother Vinegar
Instagram: @othermothervinegar