Real Ale Brewing Company, the 58th-largest craft brewer in America despite only selling in Texas, opened in 1996 in the basement of an antique store on the Blanco Square. They now make over 50,000 barrels of beer annually out of their sprawling brewery and pub a mile north of the square. And they've expanded their passion for unique, high-quality libations into Real Spirits.
Owner Brad Farbstein grew up in the beer industry, making home brews in college at UT in Austin and working for Saint Arnold and Microbility, a craft beer distributing company. "I was excited about that job because they represented Real Ale, and their Full Moon Pale Rye was one of my favorite beers, so the fact that I could buy it at cost seemed like a good idea," he said.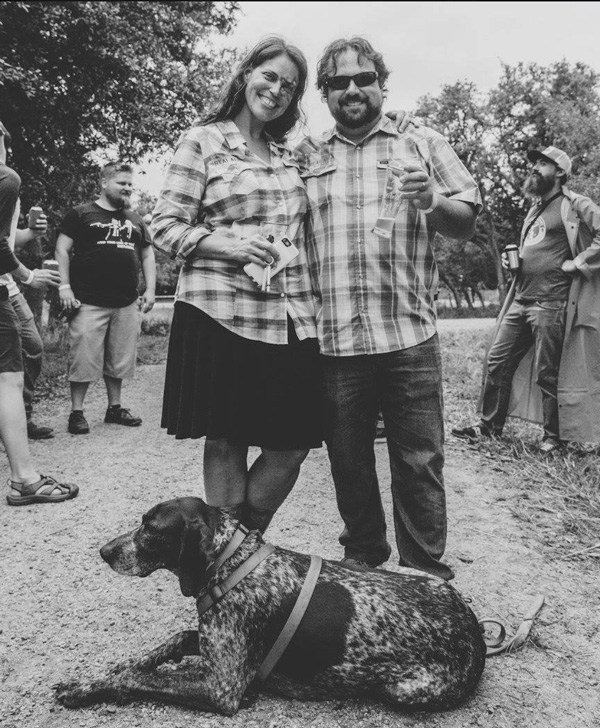 After developing a strong relationship with Philip Conner's family, the original owners — and helping them brew, keg, and bottle in the early days — Farbstein jumped at the chance to buy Real Ale when Conner decided to sell.
The success of the brewery gave them the foundation to get their license to distill in 2014. Farbstein and brewer Ty Phelps (who later started Andalusia Whiskey Company nearby) obtained a custom-made copper Alembic still from Spain and began dreaming of ways they could use their brews to create spirits.
Paramount to everything coming out of Real Spirits is a dedication to local ingredients. That all starts with the water. "The water in Blanco, pulled out of the river fed through underground springs, has a lot of great hardness and micronutrients in it," Farbstein said. "It's really good brewing water for the styles of beers we're making."
The spirits take the existing beer brands people already have an affinity for and express them in a new way. "The washes for all of our distillate are made from our beers, absent the hops. A lot of distillers don't pay attention to yeast and the impact it has on the final distillate, and we really wanted to highlight the different styles of yeast and allow people to understand the significance it plays in the overall spirit process," Farbstein said.
With current head distiller Davin Topel at the helm, Real Spirits released their first bottles in 2017. Like Farbstein, Topel's zeal for what he does began early in life. When he, his wife, and baby moved from Utah, where he distilled for High West, he was picky in his job search. He appreciated that Real Ale is all about unfiltered, unpasteurized, full flavor ingredients. It was also important to him that every bit of the process is done here in Texas.
"I knew they were aligned with my values in the industry. The direction they were going was really exciting to me. Brad told me he wanted to make whiskey…and gin." Making gin would be a lot more complicated, but Topel was willing to think outside the box and hopped on board.
Their Texas Hill Country Signature Whiskey is made from a blend of their Devil's Backbone Belgian-style Tripel and their Real Heavy Scotch Ale. The two are brewed, fermented, distilled, and aged separately. The Devil's Backbone makes a slightly sweeter bourbon-style whiskey with hints of caramel, honey, and cinnamon. Real Heavy is richer, leaning more toward a scotch flavor profile.
"What makes our distillery a little different is instead of putting those distinct styles of whiskey out as two products, we combine them so that they complement each other. That's going to give you one singular cohesive product," Topel explained. "It's like an artist trying to create a different color that nobody's seen before that's pleasing to the eye."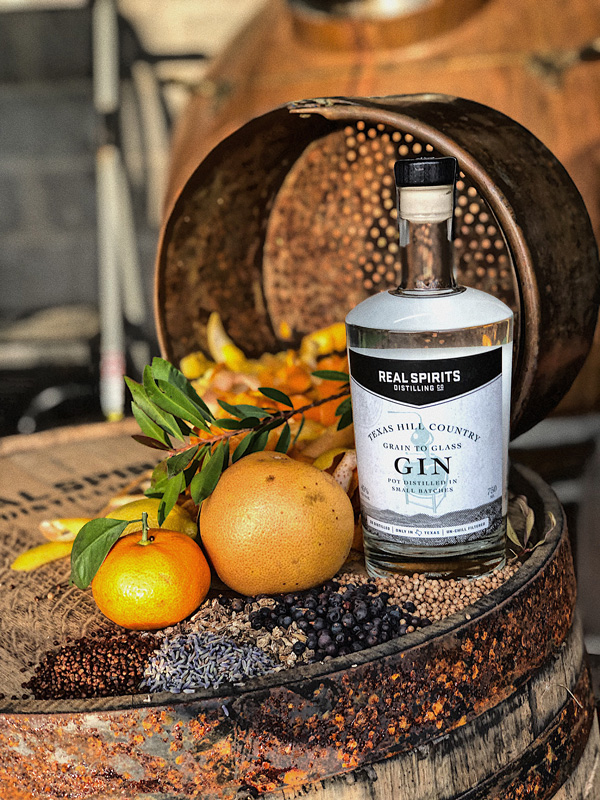 And then there's the "grain to glass" gin, which is said to cause people to do cartwheels in their parking lot. Because of the kind of still they have—not usually used for gin—they start with their Belgian white style (hop-less) beer instead of a neutral grain like vodka. This means more work, and more flavor. Only about 2–4% of gin distillers in the world use their own wash. With their typical artistry and patience, they also use rainwater to cut the liquor very slowly. "It allows the spirit to really shine through," Farbstein said.

Among the ten botanicals used in the distillation process are standards like juniper, coriander, and citrus fruits, along with Hill Country Lavender (Blanco) and the magic local ingredient: bottle brush leaves, an integral component of their gin's unique flavor. Yes, you're allowed to make a gin and tonic with this spirit, but with the way it rolls over and through the mouth, this New American style gin is best enjoyed on its own.
Moving forward, they're working on whiskeys made from more complex blends of up to four of their beer styles. They also release an exclusive batch of a spirit they call Totem once a year, each fall.
Topel has always loved mezcal, and more specifically pechuga, made in Oaxaca, Mexico. Pechuga, Spanish for "breast," is mezcal infused with botanicals as well as animal protein, usually chicken breast. That protein adds to the mouthfeel of the spirit, just like oils from botanicals do, and gives it a slight umami characteristic. Topel was not out to recreate this traditional Mexican liquor. Instead, he wanted to pay homage to it. So, Real Spirit Totem doesn't use agave; instead, they use their white beer paired with passion fruit.
As a hunting and fishing guide, Topel is interested in the way this spirit represents connection to the local land, so the protein he uses is Texas hog, which he harvested himself for this year's distillation. He'll also include botanicals like pecans, smoked chipotles, Fredericksburg peaches, rosemary, Hill Country lavender, and the bottle brush leaves.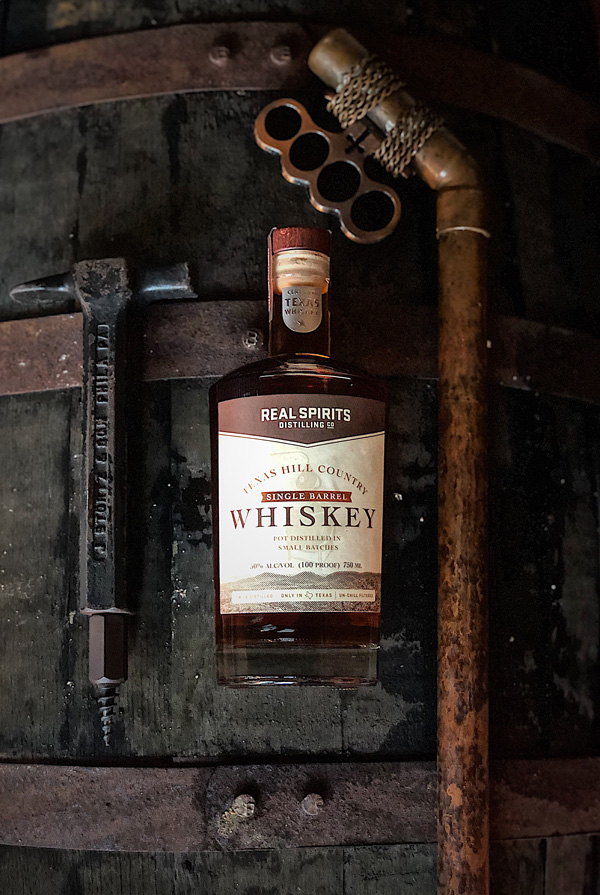 "Pechuga is usually drank at the Day of the Dead Festival or other special occasions to promote good luck and prosperity," Topel said. "I wanted to incorporate the same kind of ritual, to create a communal feel around Totem. It's meant to be drank before an outdoor adventure: hunting, fishing, whitewater rafting, biking." The ritual involves rimming a copita with honey from the place of your adventure. "There's already a lot of Texas in the spirit, but the honey binds it to whatever region you're in. After pouring the Totem, you light it on fire—awakening the spirit and taming the sharp bite, put it out, lick the honey, and sip."
Real Spirits is a founding member of the Texas Whiskey Association, which identifies, certifies, and promotes whiskeys that are made, aged, distilled, and packaged in the state. This fall, they're teaming up with TWA and Total Wine to release a custom blend of their signature whiskey. This Signature Select will feature a double barrel whiskey flavored using the port wine barrels from Grape Creek Vineyard in Fredericksburg.
Their spirits are available in liquor stores and at the Blanco taproom, where they're currently offering curbside pickup and building an outdoor space as they wait to reopen once it's deemed safe. Anyone who ever enjoyed music at Austin's downtown Threadgill's will be happy to learn this space will include the original Threadgill's stage rebuilt on their property.
"A lot of love, effort, passion, creativity, and amazing ingredients go into our spirits," Farbstein said. Pick up a bottle, set aside some time to relax and savor each sip.