In the world of wine, I often see the term "artisan" given within a branding element. It can be somewhat misleading, much like the "Reserve" classification, since it's a general term for many winery marketing managers. Being a sommelier, a term used for a trained specialist, I decided to go on a Hill Country quest and find a true, unbridled, artisan winemaker producing 100-percent, proudly made Texas wines.
I've always considered artisan to entail a hands-on, non-mechanized, fine-ingredient approach, much like a local artisan cheese or bread producer. In the wine world, unless skilled in the profession, artisan quality may not shine through in the final product. By happenstance, I discovered Benjamin Calais, a French-born transplant, who started winemaking using Texas High Plains grapes via a Dallas operation and who is now based just a few miles from Fredericksburg in the tiny township of Hye.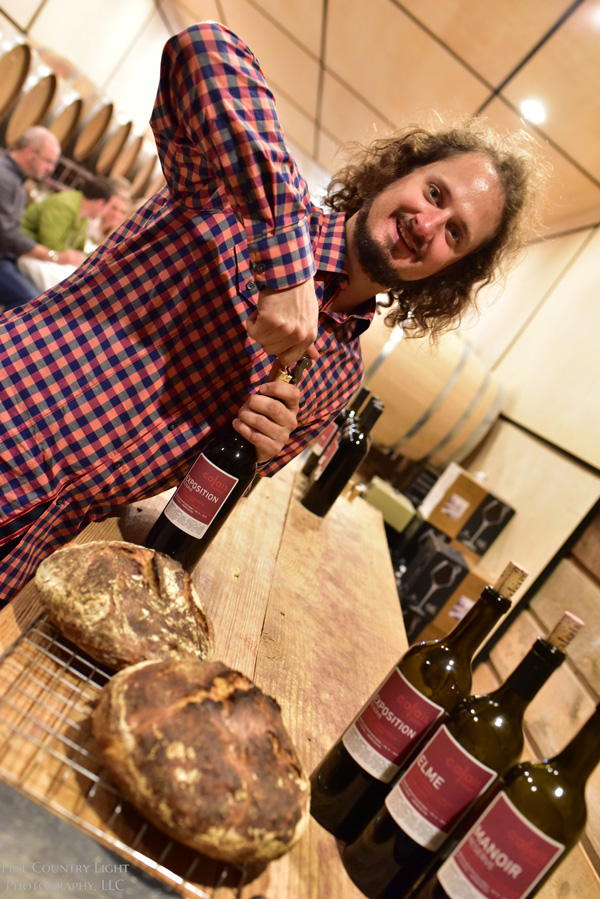 I have met Calais on several occasions over my year's tenure of learning the Texas winemaking landscape. Each time, his passion for wine, mixed with a consistent model of improving his craft, help fellow Texas wineries seem to beacon like lighthouse for the lost at sea. Could this be of true character and stand the test of time?
First, I wondered about his background and personality. What does he like to do when he's not making wine? His candor was simple and pure like his wines. "I keep experimenting, take risks, then let my wine explore even more flavor, aroma and true vineyard-to-glass essence," he said. "People often classify me as a mad scientist for the Texas High Plains AVA (American Viticulture Area)."
His latest experimentation is crafting red wine, whole berry in custom-made, 60-gallon oak barrels. Instead of a pump-over or punch-down process to gain color, he uses a hand-powered rotator vinification technique, with slow, natural yeast fermentation and dry ice. This allows partial carbonic ferment mixed with an in-the-barrel, skin-to-juice soak process.
"My production team hates the extra hands-on roller work, but by turning the barrels with unclustered berries, a high extraction note of flavor and color prevails. I'm now working to patent this process and build oak barrels through my network of French coopers."
Once again, I was astonished by creating an outside-the-box principle and how Calais pushes the limits of a high-risk, high-reward wine-making proposition.
To compound this rationale even further, he's also well-respected by his artisan winery peers, and his wines are much sought-after by wine collectors across the U.S. Even without a wine club, he sells out quickly, a true testament to crafting wines at an elite level.
Doug Lewis, formerly with Pedernales Cellars and now co-owner of Lewis Wines, has a ten-year history sharing grapes with Calais from Newsom Vineyards.
"Benjamin's approach – absolute hands-on, non-mechanical mindset from vineyard to winemaking – creates terroir-driven wines unlike any other Texas winery," Lewis said. "His attention to artisan detail brings out a magical essence of vineyard purity. Simply put, it's Ben's way of guaranteeing authentic flavor from a single vineyard source."
Let's back up and dive deeper to his artisan style with two wines on the release horizon.
All his wines are small batch, using consistent, low-yielding vineyard sites to maximize intensity. Two sites of note: Narra and Newsom vineyards, both located in the Texas High Plains appellation. When visiting the winery, I saw Tempranillo, (red) grapes cold-soaking to extract fresh vibrant personality in half-ton picking bins. All were picked meticulously by hand and reflected no uneven berries or unwanted stems. His barrel regime is 100 percent tight-grained (no toasted heads) and medium toast using the upmost, finest coopers in central France. The fermentation and aging practice is spot-on for artisan, but he even extends aging the red wine longer than most, allowing 32 to 46 months of barrel time, providing perfect balance mixed with elegant tannins to the forefront.
The Wines
Currently, his artisan hands are crafting two labels, both boutique in nature with Calais winery focused on Bordeaux varietals and The French Connection, Rhone-styled wines. His artistry is like flipping a coin, both wineries have merit but decided to call "heads" by selecting two new releases from the Calais winery portfolio.
New Releases
---
2019 Calais, Barrel Fermented, Sauvignon Blanc,
Texas High Plains AVA
Typically Sauvignon Blanc never sees oak aging although Benjamin's vision looks beyond the norm by creating an extra oak texture to this wine. Not only is his source, Narra Vineyards, a unique Sauvignon Blanc vineyard site, he keeps the acidity intact by rejecting a malolactic procedure, a secondary bacterial fermentation that changes high malic acid to a creamy texture. Instead, he uses oak to provide polished, rich texture and strives for slow, native yeast for intense aromas. The result, an age worthy white wine offering an enticing lemon-curd profile with lively acidity.
Retail: $36
---

2017 Calais, Cabernet Sauvignon,
Texas High Plains AVA
When I arrived in Texas, I often heard that you can't grow and produce high-quality Cabernet Sauvignon in Texas. I say otherwise with this exceptional new release. Sourced from a Newsom single-vineyard and carefully picked at full ripeness under Ben's savvy eye, this wine marks the power of greatness. Dense in character and crafted to showcase a perfect balance of fruit, tannins and alcohol, married with 32 months of divine, 100-percent new French oak. 150 cases produced. Retail: $73
With my local artisan quest completed, I reflect on Ben's persona and his influence on Texas wines. Being artisan is, of course, about art and craft but it also respects history and nature. Calais is shining bright at the helm. This quote came to mind as I reflected on his work.
"There is constantly somebody who's making something, whether it's music or art or wine, that pushes the edges of what was previously thought possible. And in doing that, if the person makes something that's fundamentally good, it drives the parameters of what is good and makes them a little bit wider." – Len Rothenberg, owner, Federal Wine & Spirits in Boston
A toast to Calais for a wider vision that builds the future of Texas wine and all the artisan passion they represent.