Lockdowns and mandated closings due to the coronavirus has changed the way we live our lives and many wineries have been forced to close their doors to visitors. Because most wineries do not offer food selections, meeting the 51% of sales rules imposed by Governor Abbot has proven difficult.
Kuhlman Cellars however is the exception. Kuhlman has always focused on the interaction of food and wine. Far beyond red wine with red meat, Kuhlman has always offered visitors a journey through the senses and all flavors of the palate. By expanding food options and creating self-pour wine flight experiences, Kuhlman Cellars has welcomed back their fans with open arms from six feet away and with, of course, face-covering masks.
I recently ventured into this new way of tasting and tried our one of the wine flights with bites prepared by the in-house chef and pairings by sommelier Brandi Pratt.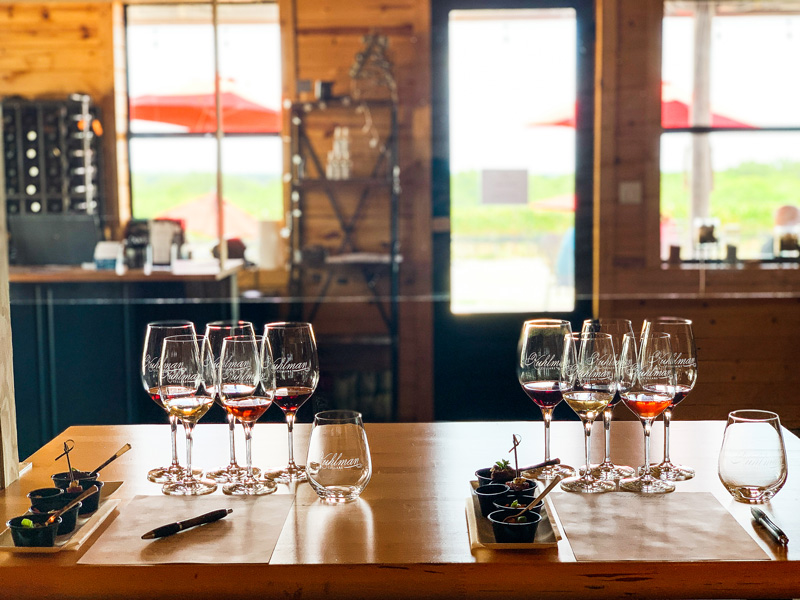 ---
The Mixed Wine Flight
---
2018 Estate White
Texas Hill Country
Marsannne and Roussanne
Grown on property this medium-light bodied white offers delightful aromas of pineapple and honeydew melon. Slatey mineral notes and bright acidity keeps the wine racy.
Paired with Kuhlman's own Herbed Almonds that bring out the salt and structure of the Estate White.
---
2018 Calcaria
Texas High Plains
Trebbiano, Roussanne and Viognier
Charming, light bodied white blend with aromas of apricot and lime zest. The bright acidity and crisp finish that lingers for a bit make this a great wine to sip alone or pair with slightly spicy foods.
Paired with a tropical Kim Chi, the salty sweet and red pepper flavors mesh beautifully together.
---
2019 Estate Rosé
Texas Hill Country
Carignan, Mourvèdre and Roussanne
To sip a wine in the fields where its grapes were grown is one of life's most wonderful experiences. The salmon-pink color elevates the senses as bouquets of strawberries and cranberries enchant the nose. A burst of acidity awakens the tip of the tongue. A lively Rosé tht was paired with mango roasted chicken salad. The fruit flavors were enhanced by the pairing and the acidity in the wine clarified the creaminess of the chicken salad, bolstering my belief that Rosés are meant to be enjoyed with lunch.
---
2016 Alluvé
Texas High Plains
Malbec, Mourvèdre, Carignan, Tempranillo, Zinfandel, Petite Sirah
Fresh raspberries, Rainer Cherries and red plums grace the first approach. Tobacco leaf and little hints of leather provide backbone to the fruits. The silky tannins and a medium long finish create a well-rounded red wine. The flavors are enhanced by the rosemary on the herbed almonds. Alluvé also pairs beautifully with the Gouda-Salami skewers presented on the plate.
---
2017 Marl
Texas High Plains
Petite Sirah and Merlot
A rich ruby color in the glass, ripe supple red cherries and the essence of wild blackberries, summer sweet Poteet strawberries and black pepper. The velvety tannin structure creates a sensuous mouthfeel that shows through the long finish.
This dynamic red was paired with both the Gouda-Salami skewer and a gluten free chocolate cheesecake from Mozart's Coffee Roasters and Bakery in Austin.
---
There are other wineries offering food and flights. It is best to plan your day and make reservations in advance. Here are a few that are open:
Grape Creek Vineyards
Pedernales Cellars
Hilmy Winery
4.0 Cellars
In Cedar Park, Bent Oak winery is open for those who make reservations.
Along Highway 16 South near Fredericksburg, Augusta Vin is taking reservations. In Dripping Springs, contact Bell Springs Winery for information.
One winery not requiring reservations is Singing Water in Comfort. They do require a food order with wine and suggest picking up a gift from their shop so they may stay in compliance with the less than 51% alcohol sales requirement.
Hopefully COVID will be under control soon and we can return to normal. Until then, raise your glasses and mask up..