"Rio Rocoso Revisited" is more than a nice family home in tiny Castell. It's a work of art that perfectly represents the creative mission of Reclaimed Space. One hundred and twenty-year-old stone ruins were the foundation and inspiration for this project, that began as one thing and quickly developed into something more, complementing both the natural landscape surrounding it and the needs of the family who now call it home.
Founded in 2007 by rancher and environmentalist, Tracen Gardner — joined by partner Mackey Smith for five years — Reclaimed Space specializes in building transportable homes and structures designed for sustainable living using reclaimed materials.

"Growing up on a ranch, to get away, you'd go sit in a barn a lot of the time," Gardner said. "And I came to appreciate the materials I was surrounded with. You'd hate to see them be bulldozed or torched. Keeping those materials alive completes the construction circle: taking something that's falling apart and reusing it and making a generational home that will be passed down. 100-year-old material can get another 100 years of use."

In the nearly 100 projects they've built — from bars (like The Shady Llama in Wimberley) to floating boat docks to a dojo to many breezeway homes — they've been guided not only by an appreciation for materials "as rich in color and texture as they are in history" but also questions of orientation on the land. They look at how light gets in and heat gets out, and setting up homes to be as off-grid as possible with roofs ideal for solar panels and materials conducive to water collection.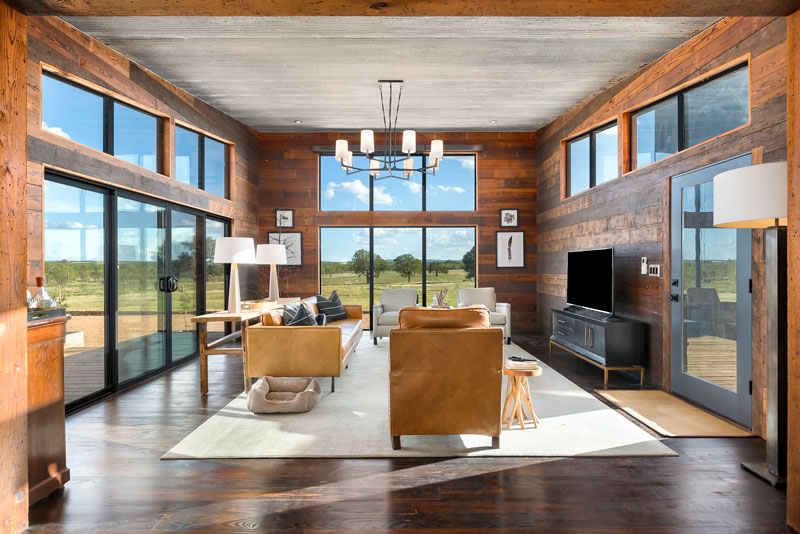 Gardner informs his designs considering how early settlers were building in the 1800s to maximize shades and breezes and generally consider the environment in which they're building.


Aesthetics are just as important, which is apparent in the modern farmhouse style of Rio Ricoso Revisited.

The original stone dog-trot home on the property was destroyed in a tornado in the late '90s and later likely struck by lightning. The initial client with this project bought the ranch with plans to build on it and sell.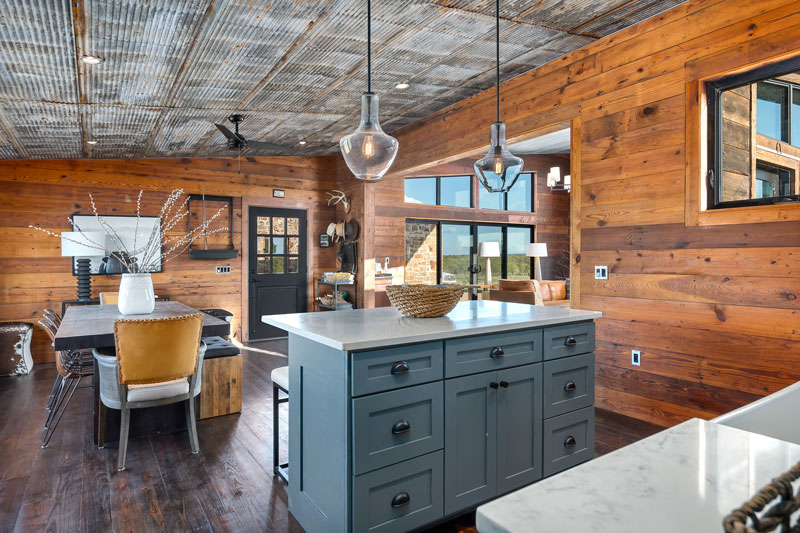 But they recognized you can't predict what a buyer will want on piece of land – perhaps a large home, a small home, or a barn of some kind. Gardner suggested it'd be ideal to build something that could simply be moved if it wasn't what someone else wanted there.

"We built a one-bedroom, 640-square-foot home, integrating the stone ruins, and the property sold right away to a family with two kids. They loved the home but needed to expand."

That's where the fun really began. Having flexibility in mind from the beginning, they worked with the unique needs of the family and created a two-bedroom structure with an in-between space based around the ruins, a living room space, and an additional firepit, all in under three months.

From the beginning, Gardner and Mackey loved the creative flow that guided the build, from the initial question of how to design a home around the ruins and then how to expand.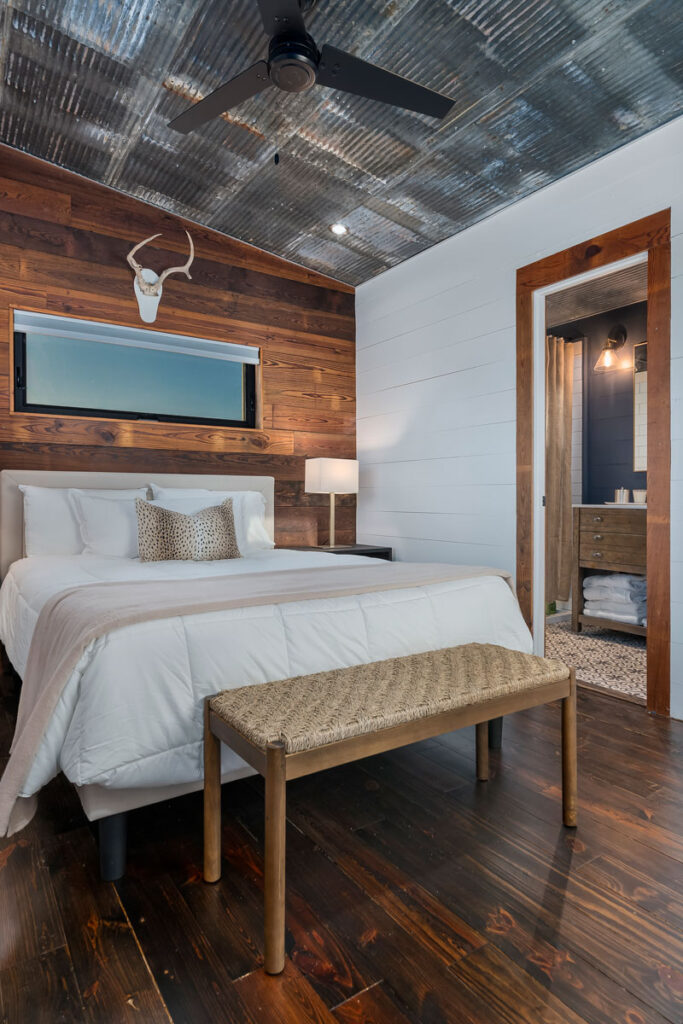 "You just play with it," Gardner said. It was also important to the client to be consistent throughout — that reclaimed materials worked with the new additions. "They wanted to go the extra level and make sure everything blended."

They all shared this vision of making something beautiful that also honored the original ruins. For instance, from the master bedroom, you can see right through the portals on the water cistern, which is now a bar. "Having it there but being able to see through it was important."

The original stone, the reclaimed wood and metal, the modern and sleek touches — all intertwine to create a one-of-kind home, full of spaces for the family to be together and to enjoy nature along with all of the modern comforts inside the home.

Reclaimed Space seems to be drawn to properties near rivers. In February, they were working on projects on the Llano River, Guadalupe River, and near the Blanco in Boerne. They can transport their structures anywhere in the country, though, and may even be taking on a project in the Bahamas soon.