The name Fitzhugh is now synonymous with craft beer and spirits. Fitzhugh Road, just north of Dripping Springs, meanders through 17 miles of quintessential, scenic Hill Country.
And for nearly every one of those miles, there is a purveyor of craft alcoholic beverages. One local food writer dubbed it "Austin's booziest road" – and that was five years ago. Since then, the number of breweries and distilleries (and even a winery) has tripled.
What can account for this explosion? For starters, changes in Texas law allowing on-site sales was a big boost. But as for this particular stretch of road … duh, it's the Hill Country! With all due respect to the very good breweries in Austin, many of them reside in rather un-scenic industrial parks. Travel just a few miles west of the city (with a designated driver, please), and you can sip that delicious beer or spirit under the shade of beautiful live oaks and connect with nature.
Then add to that the fact that craft drinks entrepreneurs tend to view each other more as community than competitors. It's not unusual for such businesses to grow in synergistic clusters – as 12 Fox Brewing's Joe Hogge told us in our Winter issue, "In the beer world, people want to help each other. … There's a real camaraderie in brewing."
We count 15 such businesses – fingers crossed that we didn't miss any – along or just off of Fitzhugh (although a couple are closed temporarily due to Covid-19 difficulties).
Here's a handy guide to "Libation Lane," starting at Fitzhugh's junction with US 290 and moving west until it hits Flat Creek and becomes Pedernales Falls Road.
Be warned: Some venues require reservations, so call ahead.
---
Hitmaker Brewing
11160 Circle Drive
512-465-2333
Thu-Fri 4-7pm, Sat 2-6 pm
Okay, we're already cheating a bit – Hitmaker is actually on Circle Drive, but it's only a quarter-mile walk from the Fitzhugh stoplight. We'll count it. Hitmaker is aptly named, because its owners are the creators of several successful Austin bars. It's located in the former site of Thirsty Planet Brewing, which relocated to Austin.
Brewer Joe Holifield trained at the prestigious Siebel Institute
in Chicago, America's oldest brewing school. Their beer menu has just about every style you expect to see at a brewpub, plus a cider.
"If I can make a beer that someone wants to sit down with their friends at a bar and drink three pints, that's a good beer," Joe said. One of the other partners, Chris Fish, adds, "I do not want to be that fancy of a place. I want people to come in and hang out after work, have a couple of pints here and pick up a 6-pack for home."
---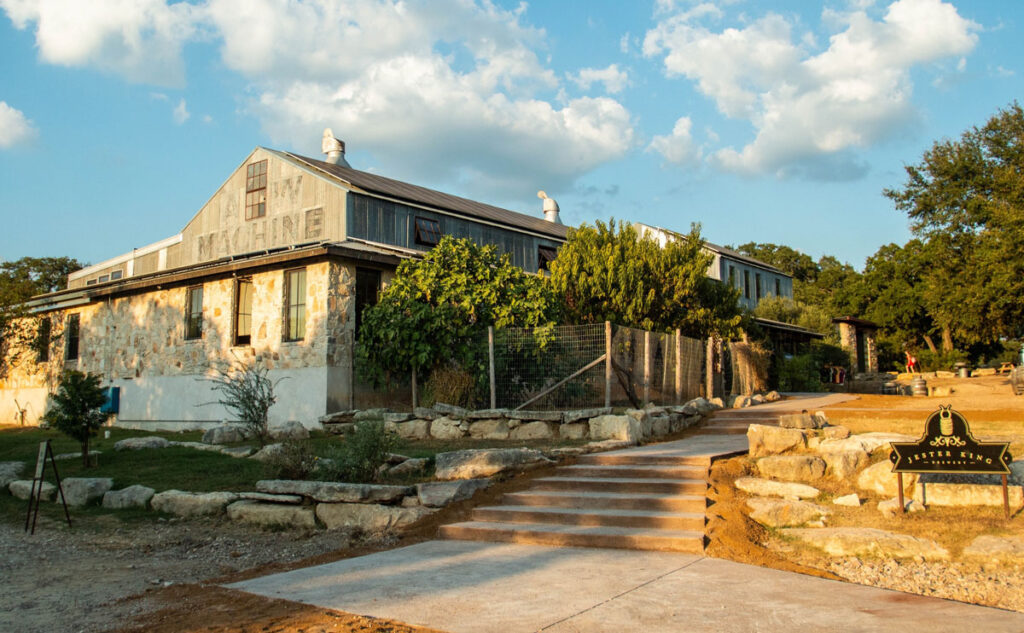 Jester King Brewery
13187 Fitzhugh Road
512-661-8736
Wed-Fri 3-8pm, Sat-Sun 11am-3pm & 4-8pm

If you're a fan of craft beer, you probably need no introduction to Jester King – every time someone puts together a "Best Breweries in Texas" list, there's almost always a spot reserved for JK, and it's frequently Number One. In 2019, readers of Craft Beer & Brewing magazine ranked it as the third-best small brewery in the world!
Jester King specializes in "farmhouse" beers, named for an old-world style of fermenting spontaneously with the wild yeasts just floating in the air naturally, rather than commercial ones. The result is styles you'll find almost nowhere else – it's definitely for the adventurous palate, especially if you like sours and saisons.
That would be enough to merit a visit, but there's so much more than beer here – sprawled out over 165 acres of a working farm that supplies many of their ingredients, there's also an open-air, covered events facility available for rental, a pizza oven and other food offerings, a recently opened 1.75-mile nature trail and even overnight lodging.
---
Beerburg Brewing
13476 Fitzhugh Road
512-265-0543
Wed noon-3pm, Thu-Fri 3-7pm, Sat-Sun noon-7pm
Like Jester King, Beerburg Brewing emphasizes a relationship with the land on which it sits. Sustainability is key to their business model – they brew and cook with herbs harvested from their land, they have an apiary (beehive) from which they hope to eventually harvest honey, and overall they try to integrate with the land, not just use it.
Their beer menu features both the expected IPAs and pilsners and more adventurous stuff, such as selections aged in used gin or bourbon barrels or their "Wildcraft" beers using local ingredients. Beerburg's farm-to-table scratch kitchen offers food that is "simple, flavorful, eat-with-your-hands good. Easy to share, hill country fare."
---
Last Stand Brewing
12345 Pauls Valley Road Buildings I & J
512-701-8871
Fri 2-6pm, Sat-Sun 11am-6pm
Head back up to Fitzhugh briefly, and then depart it again down Paul's Valley Road. Look behind the trees, and you'll see the prettiest warehouse park you've ever seen, which includes Last Stand Brewing and Revolution Spirits (more on them next).
Last Stand has grown since its founding in 2015 (adding a South Congress location in Austin) and appearing on store shelves, but this Hill Country tasting room is where you want to be. In the stores you'll get their standard beers, but as their website notes, "We use the taproom as our testing playground, where we regularly release test batches for the market and just-for-fun beers."
Take it from a pro: The "just-for-fun beers" are where the adventure awaits.
---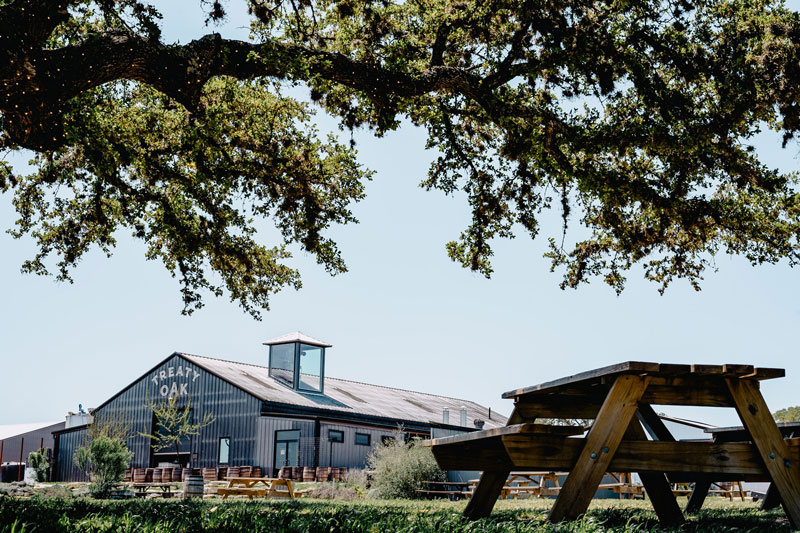 Treaty Oak Distilling/Waterloo Gin/
Alice's Restaurant
16604 Fitzhugh Road
512-400-4023
Wed-Sat noon-9pm, Sun noon-4pm
Treaty Oak was founded in north Austin in 2006. Ten years later it was time to expand, so they joined the party out on Fitzhugh, relocating to a 28-acre ranch. That allowed them to not only produce three varieties of their Waterloo Gin, four whiskies and a pre-made Old Fashioned Cocktail, but to also open up Alice's Restaurant, named for their mama (who regularly serves up samples in the tasting room).
And yes, while you enjoy smoked meats in the restaurant, you can enjoy a sampler of the spirits brought to your table.
---
Revolution Spirits Distilling
12345 Pauls Valley Road Building H
512-358-1203
Fri-Sun 1-7pm
For your chaser after Last Stand, go next door to Revolution. Established in 2013, Revolution's Austin Reserve Gin has drawn rave reviews, and their liqueurs are adventurous, including some made with local herbs.
Reflecting the friendly relationships with supposed "competitors" along the Fitzhugh Drive, Revolution once collaborated with Jester King Brewery to make a chile-infused liqueur intended to complement one of JK's beers.
---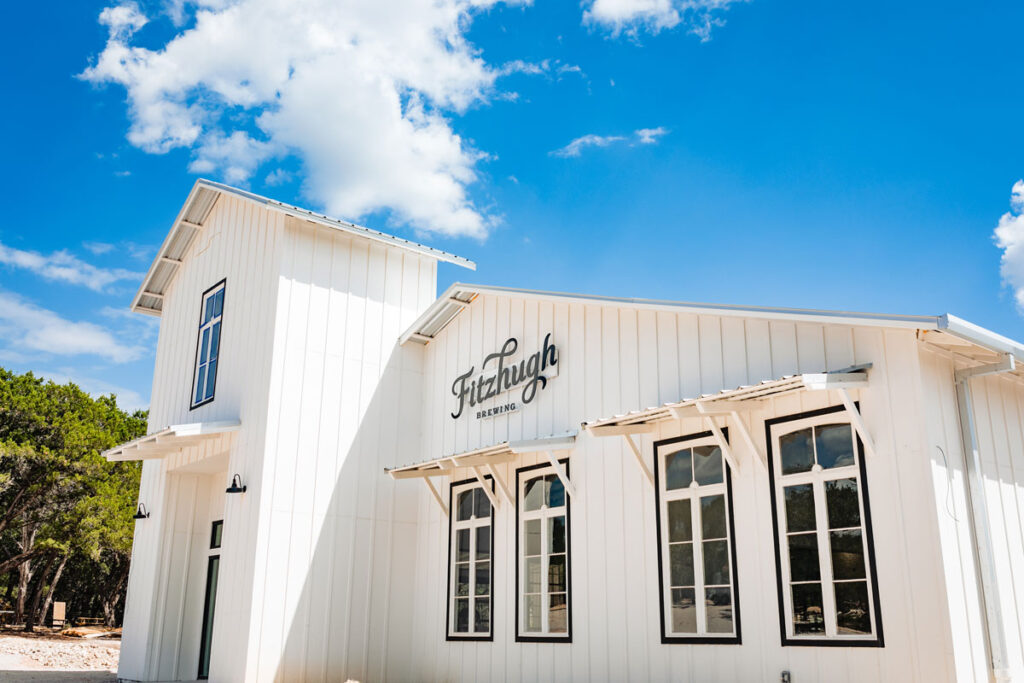 Fitzhugh Brewing
15435 Fitzhugh Road
512-648-0653
Thu-Fri 4-8pm, Sat 11-8pm, Sun noon-6pm
Fitzhugh owner Kerbey Smith says her lovely, white farmhouse-style facility was inspired by Waco's Magnolia Market. "I went to a few breweries that felt like they were made for guys-only, beer experts. I didn't fit that category but I still wanted to participate, learn and drink good beer," she says. "That's when my Dad and I decided to create Fitzhugh Brewing. We want this to be a wildly inclusive place with amazing beer, delicious food, and a beautiful space for everyone," including kids – they have a playscape!
Of course, the beer is what you want, and head brewer Nathan Rice is a veteran of New Braunfels Brewing, which we profiled in our summer 2020 issue. Fitzhugh Brewing also features food by PEJ Kitchens.
---
One Shot Distillery and Brewery
31610 Ranch Road 12
512-858-8755
Wed-Thu 5-9pm, Fri 5-10pm, Sat noon-10pm,
Sun noon-8pm
Across the street and around the corner from Treaty Oak on RR12 is One Shot Distillery and Brewery, a veteran-owned enterprise "committed to making top quality liquors and craft beers using Texas Agricultural ingredients in the Texas Hill Country while supporting Veteran and First Responder Organizations." Currently, their flagship product is Three Volley Vodka, named for the three volleys of seven fired at the memorial service for a fallen hero. They also offer rum and four styles of beer and growlers to go.
---
12 Fox Brewing
4700 W Fitzhugh Road
512-626-4458
Wed-Thu 3-8pm, Fri-Sat noon-9pm, Sun noon-7pm
Speaking of veteran-owned businesses, this one is too. Owners Joe Hogge and brewer Aaron Luelling met in the Army as 12F (hence the name) combat engineers and fell in love with German beers, so that's what they specialize in. Their hefeweizen and other brews taste great when enjoyed in their spacious yard strewn with picnic tables and a playscape. They usually have a food truck on-site. For more on 12 Fox, read "Importing German taste in the Hill Country" in our Winter 2021 issue.
---
Bell Springs Brewery/Winery
3700 Bell Springs Road
512-777-0018 (brewery), 512-643-7398 (winery)
Fri-Sun 11am-6pm
As you head back into Dripping, travel via Bell Springs Road (County Road 169). There on a shared 10 acres you'll find both beer and wine and a truly lovely (and rentable) facility. With eight craft brews and 12 wines, plus live music, a food truck and a kid-friendly atmosphere, everyone in your party should be able to find something that makes them happy.