Texas Highway 16 is fast becoming a laid back alternative to Highway 290. The latest winery to open its doors to the public is Slate Mill Collective, formerly known as 1851 Vineyards.
Under new ownership, Slate Mill has built a gorgeous, state-of-the-art facility both for creating their own wines and providing custom crush services for other wineries and individuals who want their own wine.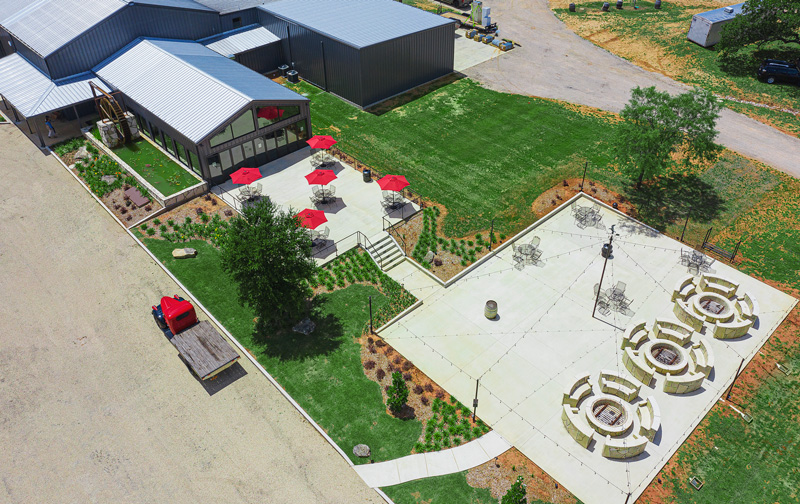 The tasting room is spacious with an old farmhouse feel. They pay homage to the property's history as it was once the place Pioneer milled their flours. The staff creates the atmosphere. They are gracious and fun to hang with.
On a recent visit with friends, we took advantage of the production tasting. I was there about an hour and they served their fabulous wines along the way. Vinnie even pulled out some soon-to-be-released 2017 Texas High Plains Merlot. Yummy!
---

Viognier THP
2019 Texas High Plains
Intoxicating aromas of orange blossom and jasmine flowers meet the nose. Well-defined apricot and Meyer Lemon chime in with a hint of thyme. This is a juicy food friendly wine with bright acidity on the finish.
Pair with rosemary roasted chicken.
---
Trebbiano
Paka Vineyards
2019 Texas High Plains
Beautiful and bright, this Texas grown Italian varietal shines in the glass. Aromas of lemon, Bartlett pear and Granny Smith Apple grace the senses. A hint of mineral and sexy midpalate make this a fabulous wine for sipping.
---
Viognier
Reddy Vineyard
2019 Texas High Plains
Exquisitely crafted Texas Viognier. This one is briefly aged in neutral French Oak, imparting a vanilla cream essence throughout the wine. It is more medium-bodied with a viscous feel. Aromatic pineapple and white peach entice the nose while the palate enjoys a long, lush finish.
Enjoy with grilled pork, chicken cordon bleu or Aged Gouda.
---
Cinsault Rosé
2019 Texas High Plains
Light and airy with a bouquet of watermelon, strawberry and starfruit. Light-bodied with a finish that shows hints of silk. Perfect for afternoon sipping or with lunch.
Pair with spinach salad, a farmer's cheese board or serve with your favorite barbecue.
---
Barbera
2017 Texas High Plains
Well-balanced with structured acidity. A lovely perfume of red raspberries and Bing cherries. A touch of baking spice adds complexity and soft, supple tannins expose on the medium finish.
Pair with Bolognese or mushroom risotto.
---
Cabernet Sauvignon
2017 Texas High Plains
Powerful notes of black cherry and red currant greet the nose on first pass. A backbone of leather and cigar box spice runs through. Balanced acidity and svelte tannins shine through the long finish.
Drink this with grilled ribeye or asada on a chilly autumn evening.
---
Tannat
2017 Texas High Plains
Big, bold tannins are the key to Tannat and this one does not disappoint. A hearty redolence of dark berries and hints of dried plum strike the nose. These aromas are followed by complex espresso, cola, leather and cardamom with a touch of vanilla. The finish is daringly long with firm tannins. Cellar this one to enjoy over the years.
Best paired with foods that offer some fat such as ribeye steaks, short ribs or blue cheese.