In 1999, Robb Kendrick and Jeannie Ralston opened Texas's first lavender farm in Blanco. On a trip to Provence, France, for Robb's work as a National Geographic photographer, he was struck by the similarities between the French climate and landscape and that of the Texas Hill Country. He figured lavender would thrive just as well with Blanco's rocky terrain and smoldering summers. They came home and planted 2,000 French lavender plants.
Everyone was pleasantly surprised when people started coming to Hill Country Lavender Farm, and all these years later, Tasha Brieger Corradini still is. Corradini had been working there since she was 16, and Robb convinced her to buy the farm when she was still in college, in 2005.
One of the big differences between French lavender farms and Hill Country Lavender: here in Texas, visitors are welcome to cut their own lavender to take home. And Corradini has witnessed how the interest in that experience, and the appreciation of this soothing medicinal herb, has grown over the decades.
"It's not just your grandmother's scent anymore," said Corradini. "There are about ten farms in Texas now, and more and more people are learning about its great properties. And the fact that there are 490 varieties [some French, some Spanish, some English] makes it so that it can grow in places we never thought possible, like Colorado."
Lavender normally goes dormant in October in Texas and wakes up in April. The French varieties need a cool winter to bloom. That doesn't mean they appreciated the zero-degree temps they experienced last February. Still, most of Hill Country Lavender's plants survived, just not the sprouts. The plants are highly tolerant, whether it be heat or cold, drought or rain, but abnormal weather affects the timing of the blooms. This year, the blooms came a few weeks late.
As people have become more educated about holistic living and essential oils, lavender's popularity is blossoming. "It really is a calming fragrance and helps people with stress and anxiety. The things you can do with it are so widespread. It even helps repel bugs, helps you sleep, and is great on sunburns," said Corradini. It's also nice to use it with other oils to balance its relaxing properties without it making you sleepy."
Tasha often finds herself going home after a full day in the shop desperate for a cup of coffee because she's so relaxed.

While lavender isn't a needy plant, the one thing is does require is the right soil: alkaline and well-drained. The current location of Hill Country Lavender — a piece of property Corradini's parents bought 18 years ago on a whim — turns out to work well, but even there, the soil of the two fields differs greatly, and one is not doing as well as the other, so it requires more attention and maintenance.
"I always tell people to plant eight or ten different varieties and give it two to three years to see what happens and which ones are happy." Once it's determined the soil is acceptable for growing lavender, baby plants do need some care — a good drink of water every few days for the first six months of their life. After they're established, they're quite hardy and need very little.
"When they're about two years old, for French varieties, you want to give them a light haircut in the fall or winter, taking about one to two inches off. That helps shape them and promotes more growth and blooming the next year," Corradini said. "You could feed them fertilizer once a year, but that's about it. They're actually a stress-driven plant. If you're too nice to them, they won't bloom!"
Depending on the variety, blooming typically starts in late May or early June. It's a rolling bloom, and if you're cutting it, it can roll up to six weeks. A lavender shoot blooms in thirds, and it's best to cut at that middle third, leaving behind the lower woody stem. That way, there is still some oil content, and it makes a pretty cut flower.
After hanging the lavender to dry and stripping off the buds, it can be used as potpourri, in cooking (Corradini prefers to cook with the earthier French varieties), or in cocktails. "During Covid, we learned how to drink with lavender," Corradini laughed. "It makes wonderful cocktails. Lavender simple syrup in a margarita is oh so good."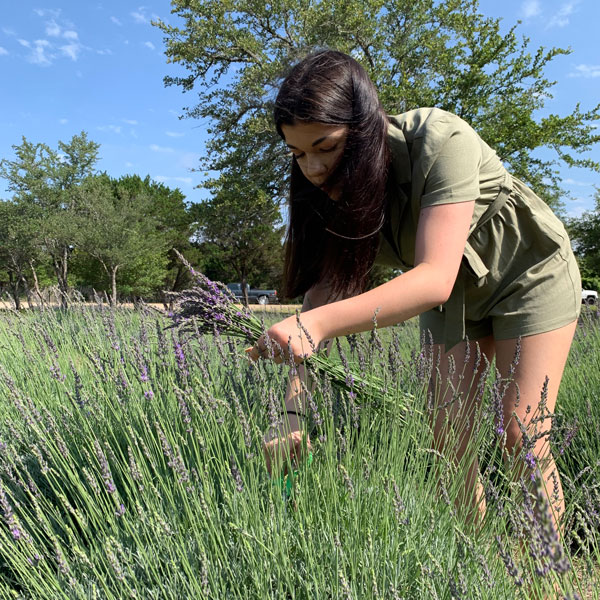 She also used that extra time at home over the last year to perfect many food recipes using the ground-up buds (she uses a coffee grinder). One of her favorites is a baked brie using their Herbs de Blanco, their homemade version of Herbs de Provence. She also loves to make a chicken rub and desserts that pair lemon or chocolate with lavender.
While simply enjoying the aroma of the flowers or cooking with it are the best DIY uses, Hill Country Lavender distills the buds to create the essential oil that is the key ingredient for their bevy of products — from soaps and aromatherapy sticks to bug sprays to dog shampoos—all handmade by Tasha's husband RG.
When Tasha bought the farm, she thought it'd be a fun, temporary thing until interest waned, which it never did. Instead, Blanco became the Lavender Capital of Texas and is host to the annual Blanco Lavender Festival each summer. For a fun-filled weekend, the downtown square comes alive with music, shopping, beer and wine, food, and special events out at the farm. Visitors are welcome at the farm any time they're open to cut lavender when it's blooming or simply enjoy a picnic among the plants.
As Blanco's Chamber of Commerce president, Corradini said, "I feel very loyal to Blanco and feel a personal responsibility to steer it in the right direction. We want to grow, but grow wisely. We want the town to thrive while keeping its identity — friendly people, whiskey and beer, a beautiful downtown square with great antique stores, a wonderful state park, great food, and lavender."
---
LAVENDER MARGARITAS
Ingredients:
2 oz Tequila of your choice
1.5 oz lavender simple syrup (make)
1.5 oz fresh squeezed lime juice
1 oz Cointreau
ice
Garnish:
lime round
lavender sugar
Combine, shake, and serve. Add lavender sugar to the rims and garnish with a lime wedge.

Lavender Simple Syrup
1 cup sugar
1 cup water
2 Tbsp culinary lavender

Instructions:
1. In a small saucepan combine water and sugar and bring to a light simmer.
2. Stir until sugar is dissolved.
3. Remove from heat and stir in lavender.
4. Cover with a lid and let steep for 20 min.
5. Strain to remove lavender and set syrup
aside to cool.
6. Keep refrigerated until needed.