Tonkawa Trail cuts less than a mile through live oaks and Ashe junipers on the eastern side of Spring Lake Natural Area in San Marcos. Seventeen years ago, these dense woods and adjacent lands were nearly bulldozed to make way for a hotel and conference center. But outraged residents said no way. Their opposition ultimately saved the 251 acres from development. It also protected a crucial recharge zone for the San Marcos Springs.  
The natural area's backstory makes it a fitting place to meet up with Scott Parker with the Great Springs Project. The nonprofit organization is working to link the San Marcos Springs with three other major springs–Austin's Barton Springs, New Braunfels' Comal Springs and San Antonio's Blue Hole — via a 100-mile-long trail roughly parallel to Interstate 35. Ultimately, Tonkawa Trail and others within the natural area will be a part of the regional trail system.
But there's more to the project than just trails.
In the early 1990s, project co-founder Deborah Morin, who then worked with efforts to map the Barton Springs watershed, worried as development ate up piece after piece of the Texas Hill Country. Her fears deepened as construction began to escalate. Unless someone intervened, sensitive habitats and watersheds over the Edwards Aquifer would be lost.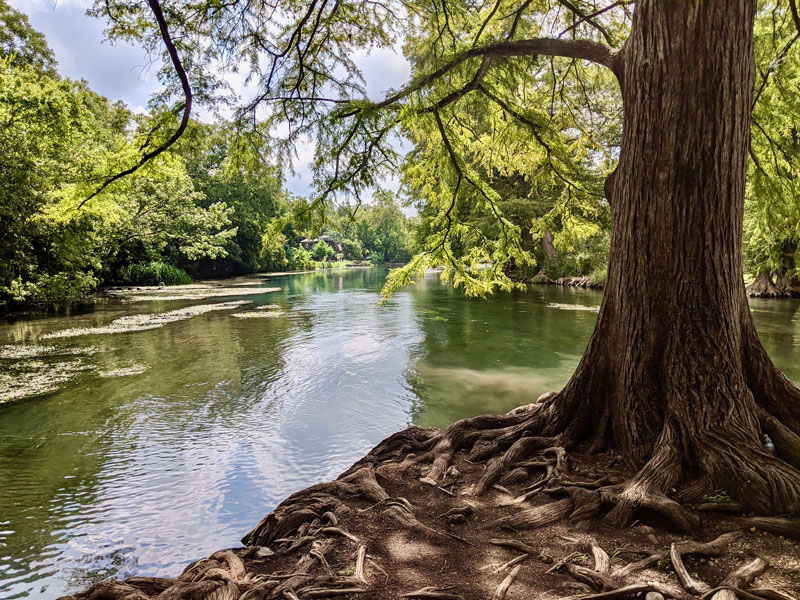 Her solution: Create a greenbelt of protected lands with a spring-to-spring trail from Austin to San Antonio.
In 2018, Morin and her husband, Whole Foods founder John Mackey, turned her vision into reality when they established the Great Springs Project. Its ambitious plans aim to knit together some 50,000 acres of protected places by the state's bicentennial in 2036.
In less than three years, the project has already generated tremendous support through financial contributions, numerous grants and more than 40 partnerships. Its advisory board includes, among many notable names, Lake|Flato architect Ted Flato and former San Antonio mayor Phil Hardberger.
On a sunny May morning, Parker and I talk about the vision as he follows Tonkawa Trail, a wide dirt path that winds through the woods. Along the way, we pass scarlet buckeyes, agaritas, turk's caps, velvet-leaf mallows, soft-hair marbleseeds and other native plants. Around us, Carolina wrens and northern cardinals chortle from the treetops.
"The Great Springs Project is about protecting our waters and connecting our communities," director Parker said. "But we can't do the work on our own. So we're partnering with local nonprofits, cities, and state and federal agencies to make the vision real. As an example, the National Park Service has awarded us a technical assistance grant from its Rivers, Trails and Conservation Assistance program."
Some parts of GSP's trail system are already in place.
In Travis County, the Violet Crown Trail — a multi-use trail system developed by the City of Austin and the Hill Country Conservancy — starts at the Barton Springs Pool in Zilker Park. When finished, it will stretch south for 30 miles and connect with the Emerald Crown Trail, 75 miles of trails under development in Hays County. Many partners, including Hays County, the San Marcos Greenbelt Alliance, and the cities of Kyle, Buda and Mountain City are making that trail project happen.
In San Antonio, more than 70 miles of urban trails have been finished with still more to come. "Right now, we're working with leaders in Bexar County to extend existing trails northward to connect with Comal County," Scott said. "In New Braunfels and Comal County, the concept of public trails and protected public land is relatively new. So we're working to share our vision there."
As land transactions director, Scott has the task of identifying and protecting parcels of land through conservation easements or fee acquisitions that could fill the gaps between already existing trails. He also works to advocate for public funding for these projects. For example, Hays County voters in November 2020 approved a $75 million parks bond that will fund more than 15 park, open space and watershed protection projects.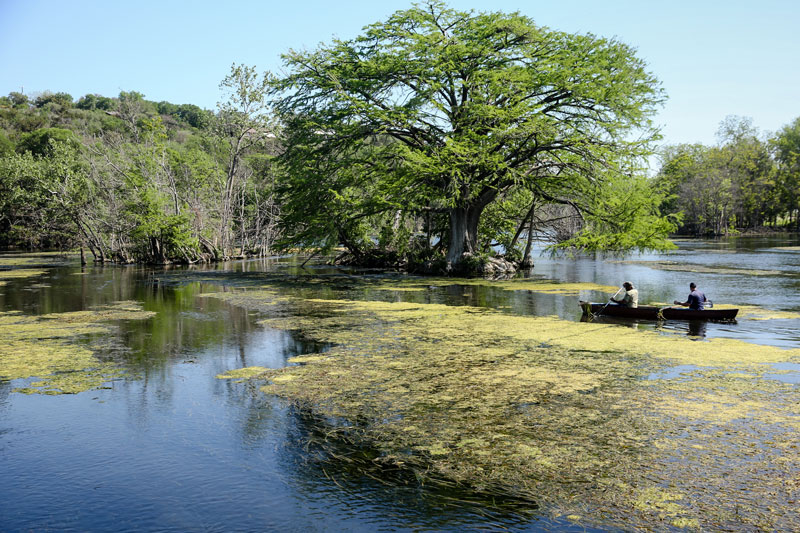 One of those projects is the proposed acquisition of a conservation easement over the Presa Grande tract, which Scott has been working on for more than a year. The 844 acres–located within the Sink Creek watershed northwest of the San Marcos Springs–harbors karst features and nesting habitat for endangered golden-cheeked warblers. Proposed plans call for a trail along the property's boundary, which would connect the Emerald Crown Trail to the Violet Crown Trail.
"Hays County would like to hold a conservation easement on the property, which will protect the sensitive areas from being developed," Scott explains. "Conservation easements are a great way to protect a large tract, leverage public dollars, and, most importantly, see conservation values protected. Otherwise, maybe 150 or more homes could be built on the land."
Further down the trail, Scott and I plunk down at a picnic table near a visitors' kiosk posted with colorful maps and park rules. Soon a young woman and a low-legged pooch on a leash amble up. We exchange pleasantries and introduce ourselves.
"Oh, yeah, I know about the project and support it," exclaims Emily Herring, a local singer-songwriter. "I just love these trails. The wildflowers are fantastic. You never know what you'll see. I feel so lucky to be where I can walk out my door and get on this trail with Cass every day."
Emily's testimony is just what Scott likes to hear. "We want people to be able to step out of their house, get on a trail and connect with nature," he says. "That's an important part of our vision for the Great Springs Project–equal access for everyone, regardless of income, demographics, race or abilities."

Alas, we've come to the end of our hike on Tonkawa Trail. Before we part ways, Scott pauses to admire a mealy blue sage beneath the towering live oaks.

"Great Springs Project is echoing an ancient story in a modern context," he reflects. "Rock art on the White Shaman panel above the Pecos River includes a map of the area where we're standing right now. This place is one the earliest known human habitations in North America. That's because of the springs. The springs connect us to everyone who has come before. This ancient respect and understanding of the land is something we must for generations to come."

"And I believe we can do that through trails."