For Texas natives Jesse and Sarah Barter, opening a restaurant has been a lifelong dream. "My wife and I have always had a passion for food – it's something that brought us together," he said. "We spend time together around the table – that's how we operate as a family."
Before moving back to Texas in 2012, the couple was living in California and working in the wine industry. Wanting to raise their kids in a small town, they settled on Fredericksburg, lured by its booming wine business and close-knit community.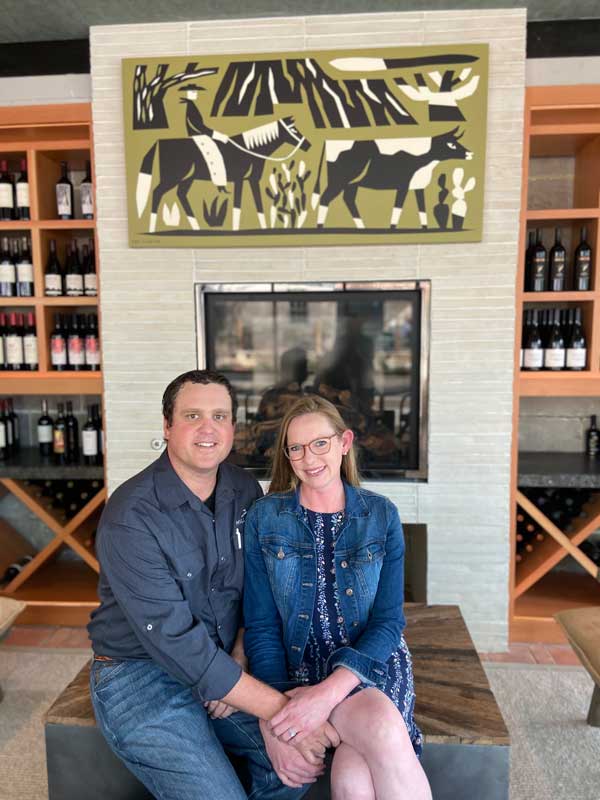 "Our dream was a restaurant in Fredericksburg that focused on farm fresh foods from local vendors but at a mid-scale price point so that everybody was welcome," said Jesse.
On June 1st, their dream came to fruition when they opened Hill & Vine with Sarah's parents, Al and Lisa Stinson. The mini food and wine compound is located in the former Peach Tree Restaurant and Gift Shop, a beloved landmark on South Adams Street that had served the Fredericksburg community for 49 years.
"We were honored to have an opportunity to acquire the property and carry on a legacy that was established 49 years before," he said.
The family partnered with Royce Ring of Plan B Group in Dallas to align the space with their vision. Old rock walls offset with sheets of glass bring the outdoors in, while bright colors shine through a mix of comfortable, elegant furnishings and art, like pressed wildflowers in glass frames and paintings by Jon Flaming. Flaming's work is a modern interpretation of western art and brings cowboy culture alive through vibrant colors and angular lines.
Long before the location was secured, the family began making lists of Texas ingredients and dishes inspired by their childhood and travels together. That process led them to the idea of combining the best of Texas flavors with their family's favorite menu items.
"Our number one goal is to source from Texas and the Hill Country whenever possible. Everything we do showcases the best of Texas," Jesse said. From Fischer & Wieser to Opa's Smoked Meats and Hat & Heart Farms, the Hill & Vine menu features a plethora of Fredericksburg purveyors and a long list of others from across the state.
"In many regards we're telling the stories of farmers and vendors in our area," Jesse said.
Throughout the menu, the Barters paid homage to members of their own family, like Sarah's father, Al Stinson, who was a chicken farmer in Grapevine for many years. Farm-fresh chickens feature prominently on the menu, as do fried roadside pies, served with local peaches, spiced pecans, crisp puff pastry and Texas rum. The latter is a tribute to Jesse's grandmother, who made them often when he was a kid.
Even the drink offering spotlights Texas purveyors. Signature cocktails are made with Texas spirits, and Texas wine and draft beers like the Yellow Rose are readily on tap.
Jesse's appreciation for the food service industry dates back to his high school days, when he first got involved in the restaurant business. He later graduated from the Texas Culinary Academy in Austin and The University of Houston's Restaurant Management Program.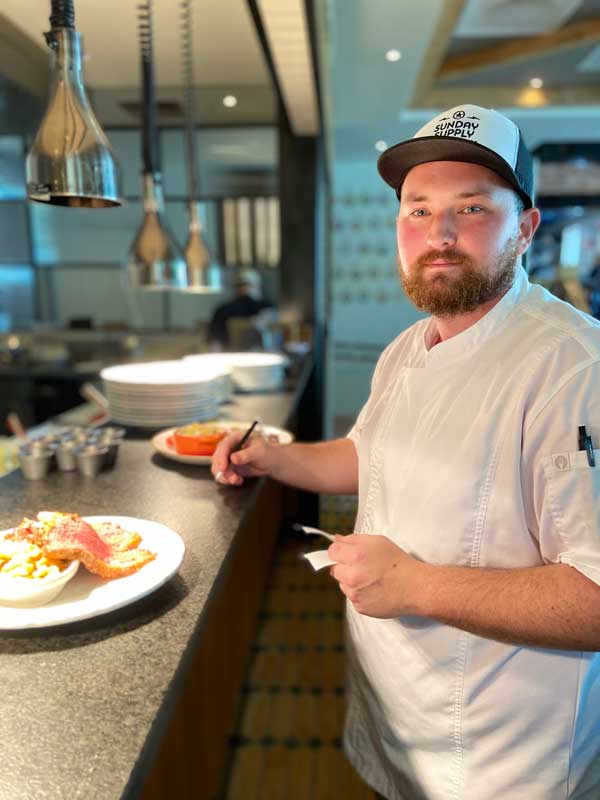 Today, Hill & Vine is the family's full-service restaurant, also known as their "Texas Table and Wine Hall" experience, which is open for lunch and dinner seven days a week, with brunch on Saturdays and Sundays. Additionally, the site has two other businesses that the family operates simultaneously.
Adjacent to the restaurant is Das Bar Bus, an inviting outdoor courtyard where guests can relax over cocktails and light bites, like pimento cheese, olives, nuts and hummus. The centerpiece of the twinkle-lit courtyard is the family's 1974 Volkswagen Bus, which they've retrofitted into a bar. It's a lively place to be, especially from Thursday to Saturday, when live music by local artists sets the tone for the evening.
Across the drive from Das Bar Bus sits Sunday Supply, a full-service coffee shop and grab and go retail destination, located in the property's original 1865 Sunday House. The space has everything one would need for a weekend stay, from practical picnic baskets and insulated backpacks to local honey, cheeses, Texas wines, and food products brought over daily from Hill & Vine.
Tying these spaces together are raised beds and planted gardens and seating areas brightened by the murals of Texas artist Dirk Fowler. The Texas Tech professor painted a large mural in the outdoor courtyard boasting Fredericksburg as the "Food and Wine Capital of The Hill Country." The work adds a pop of color to the tree-canopied space, where guests are encouraged to spread out and enjoy themselves.
Notably absent throughout the compound are TVs, an intentional move the family hopes will help create an atmosphere grounded in conversation, relaxation, and quality time with friends and family. "We want this place to be where you come relax and stay a while," said Jesse. In addition to tourists, both Jesse and Sarah desired to create a neighborhood environment that Fredericksburg locals would enjoy for years to come.
"It's become a gathering spot," said Sarah. In the process of creating this homely gathering place, the family paid homage to the roots of the property's past.
Inside Hill & Vine, crowning the entrance to the bathrooms, is a strip of gingerbread trim that was left behind from The Peach Tree Restaurant and Gift Shop. On the outer edge of the restaurant facing Creek Street, the family named the seating area the "Pedregon Patio" after Hector and his late wife Cynthia who made this building a mainstay in the community. The bricks in this patio space were hand-laid by Hector and his grandson years ago. Inside, a private 8-person dining room called "Cynthia's Table" honors the building's late matriarch. "They were a family business and so are we," said Al Stinson. "Sarah, Jesse, me and my wife all work very well together. That's the best thing about this. We are extremely focused and it's worked out."
After a successful launch this summer, the family is living their dream and sharing the journey with the next generation. "It was important to have our kids see the work that goes into running a business," said Jesse of his children, Brantley and Adelyn. "The Pedregon family started the journey and, in many ways, we are just carrying the torch."