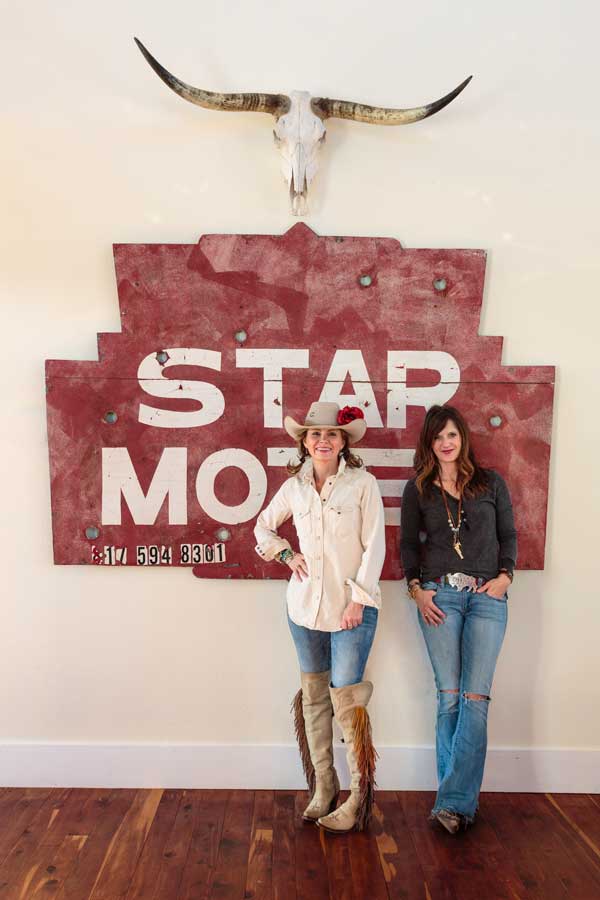 With a population of 90, Round Top, Texas may be minute, though what it lacks in size it makes up for in style. Just ask Janie Sikes and her two daughters, Jolie and Amie, of the popular brand, Junk Gypsy.
With over 330,000 followers on Instagram alone, the trio has built an empire from their headquarters in Round Top. Between a New York Times bestselling book, an HGTV show, and their popular retail business, everything the self-proclaimed "Junk Gypsies" do is infused with a spirit of wanderlust.
Their latest endeavor called Wander Inn is no exception. Here, on this rural cow pasture within the Gypsyville compound, customers and fans from around the world come to slow down, daydream, and experience the magic of the surrounding landscape.
"Wander Inn was the thing we never knew we needed," said Amie. "We'd never planned on owning an inn, but when the property came up for sale we knew it had to be ours. Oddly, it has turned out to be an integral part of our story."
Furnishing it came naturally to the Sikes, who have previously decorated for notable patrons like Miranda Lambert and Sandra Bullock, to name a few.
When envisioning the space, they considered everything desired in a home-away-from-home, from sumptuous bedding and rooms with a view, to collections of books, records, and roadside treasures that titillate the imagination.
The Sikes wove their signature style into each of the lodgings, including the eight bedrooms within Star House and Crown House, and the 3-bedrooms inside the original Gypsy Farmhouse. Every structure has its own flair and no two rooms are alike, thanks to the unique and unpretentious blend of beloved treasures and prized possessions found along the way.
"It's given us a place to house some of our favorite finds from over the years," said Amie, like the vintage Star Motel sign which hangs next to a giant American flag that once flew over the Texas State Fair in 1972.
Visitors staying at Wander Inn will find chic, bohemian comfort at every turn. Showers made with galvanized, corrugated barn metal imbue the bathrooms with texture and history, while accents like a bongo drum side table, carved headboards from Mexico, and a 1960s ship lamp repurposed as a fireplace screen add whimsy to the mix. "All of it helps us weave a story for our guests," Amie said.

With the rising popularity of the Round Top Antiques Fair, the inn has grown increasingly coveted, attracting collectors in pursuit of one-of-a-kind items and elusive treasures.

There is perhaps no better place to appreciate the countryside than the idyllic front porch at Wander Inn. From mornings watching the sun rise over the trees and grazing longhorns to nights spent gazing at the stars, this is a place to wander and wonder in equal measure.