Eleven years ago, during a late night of internet surfing, Lisa Hamlyn Field stumbled upon a YouTube video that changed her life. 
"I was so taken with the joy on these women's faces," she said of the video, which showcased an all-women's art retreat on a picturesque lake in New Hampshire. So moved was Lisa that she promptly signed up for the program and made plans to experience it for herself. "I went and loved it. I was like – this is it!"
"It" was the passion project that the mother of five had been dreaming about. Three years later, after developing her business plan, she founded the Lucky Star Art Camp, an annual women's retreat in Hunt aimed at cultivating creativity and self-discovery.
Every November, Lisa welcomes a growing list of "daydream believers" for five days at Camp Waldemar, located on the banks of the Guadalupe River.
Lisa and her family live just ten minutes from the scenic campsite, and they wouldn't want it any other way. "My great, great, great grandfather was the first sheriff of Kerr County and a Texas Ranger so I have deep roots here," she said. "I just feel like I'm where I'm supposed to be."
The genesis of the name Lucky Star came after a day spent at a family friend's ranch in Hye. "They have this little bitty old dilapidated house at their ranch that they've always called the Lucky Star," she shared. As she and her friend sat on the porch that day painting and watching the rain, she knew she'd found what she was searching for. "It hit me at that moment, I was on my good friend's Texas ranch, on the porch of the Lucky Star … it was sheltering and keeping us safe from the storm and we were creating there – it just felt right."
You're staying with people in cabins and you feel like a kid again.

– Lisa Hamlyn Field
Transforming
Long before Lucky Star was born, Lisa learned the power of inner transformation in a high school leadership class. By the end of the course, she witnessed her group of classmates collectively transform their timidity into confidence.
"I loved the idea that you can help transform people's lives," she said. "It was that simple act of forcing us to get outside of our comfort zone and standing up in front of the class for one minute. That's all it took but you had to show up for yourself, you had to get in your car and drive there every week to make the transformation happen – it gives me goosebumps just thinking about it."
Lisa was similarly moved after attending the art retreat in New Hampshire years later, and it inspired her to do something back home for other women. "The classes are just the draw to get people to show up for themselves," she said. "It creates a space for people to come and be transformed."
Transformation is achieved in myriad ways. For many at Lucky Star, the program's poignancy lies in the simple invitation to reconnect with oneself and with others.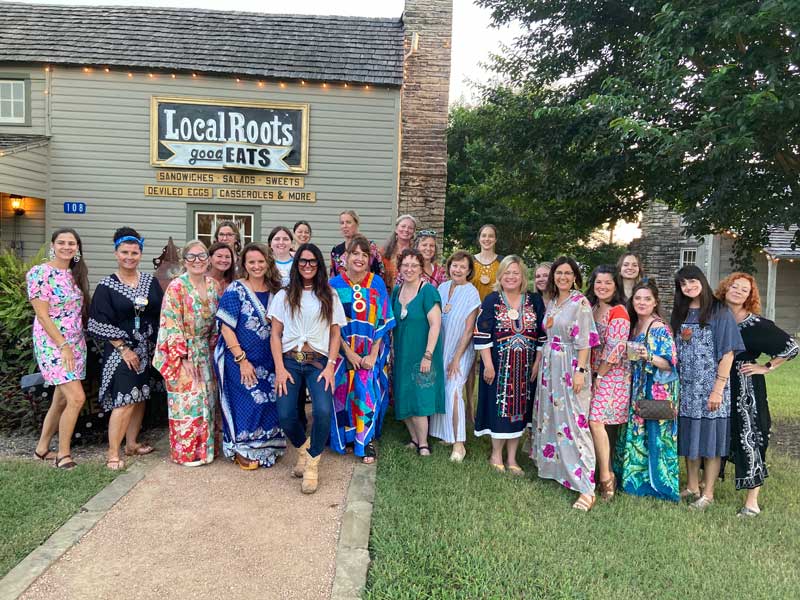 Crafting, connecting
"Connecting with people – especially people who are a little bit out of your comfort zone – it really feeds your soul," said Lisa, who encourages her guests to sit with somebody different at every meal. "Food is important – it draws people together."
Crafting and working with one's hands is another soul-nourishing activity. Growing up, Lisa learned this directly from her family, be it watching her grandmother paint in oils or making preserves alongside her mother.
Guests at Lucky Star are invited to participate in an ever-changing roster of activities, from bread-baking to tamale making, quilting or crocheting, to name a few. Instructors teach all kinds of classes and there is something for everyone – even those who least identify with their creative side. "The coolest thing is everyone thinks they're coming for the classes, but then they get there and realize, yeah the classes are awesome," said Lisa, "but just the act of doing something for yourself is so rewarding."
Since founding the retreat in 2013, Lucky Star's enrollment has steadily increased, with participants arriving from all over North America. "It's always about 50-50," she said of new versus return campers. "It's almost like a homecoming with those coming back but then we have that continued electricity of all the new campers coming in for the first time."
The retreat's allure is also evident through the campers' wide-ranging ages, from 18 to 82. All who visit share an appreciation for the magic and majesty of Camp Waldemar. "It's a happy place and that beauty really strikes a chord with people," said Lisa. Guests are given ample time to explore and relax, finding spaces within the activities to simply sit by the river or reflect on their thoughts.
"I want people to feel they are in a safe place to be their authentic self, and be able to reconnect with that part of themselves that is creative and adventurous," she said.
Connection is a large part of the Lucky Star experience, as is slowing down and channeling a joyful, childish innocence. From nightly campfires to live music and sing-alongs, the experience feels like turning back time to the simple days of youth. "You're staying with people in cabins and you feel like a kid again," said Lisa. "There are differences and similarities but everyone comes together and we have a ball."
In addition to the November retreat, otherwise known as her "Mothership Event," Lisa also hosts small pop-up retreats, like her weekend experience at Wander Inn in Round Top. Looking forward, she hopes to take Lucky Star on the road even more, from the coastline of Maine to the mountains of Mexico. For now, however, her star shines brightest right here, deep in the heart of Texas.