Jim and Courtney Trent traded in big city, high-profile corporate jobs in 2016 to start Mystic Quarry, an RV, tiny home and glamping park in quiet Canyon Lake. There, they share their love of camping and the outdoors with their guests.
The couple, who met in Dallas, were living in California in 2015, where Jim worked as an electrical engineer and Courtney did data analytics for large insurance companies. For Courtney's birthday on October 27, she asked Jim to take some time off so they could do a day trip around San Jose.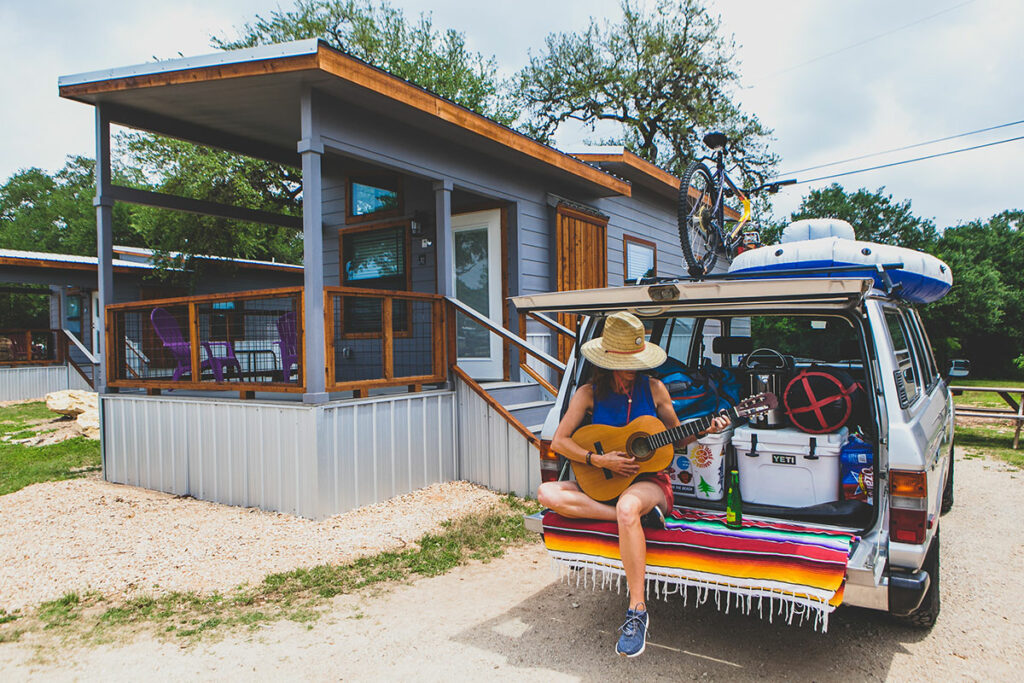 "It was like pulling teeth to get his management team to let him go for just half a day," Courtney said. "His cell phone never stopped ringing the whole time."
The pair started talking about why they were killing themselves working corporate jobs and decided they had enough smarts between them to make decisions and go into business for themselves.
They shook hands on quitting the rat race and "literally looked at each other and said, 'OK, we are done.' We packed everything and just under two months later, we moved back to Texas to be near family," she said. "We bought an RV and went traveling and decided to renovate a rental home we had in San Marcos. Jim has a friend who owns RV parks and he suggested that we look at that business model."
Our hope is to make a positive impact in Canyon Lake and grow responsibly.
– Jim Trent
They came across a 21-acre property at Canyon Lake that hadn't been tended to in several years. The RV resort had a nice layout, beautiful mature trees and it was situated between San Antonio and Austin and only a few hours drive from Houston.

"We settled on this place and decided to design something more modern with higher level of amenities than you typically find in a campground," said Courtney. "We closed on the property October 27, 2016, one year to the day on my birthday when we had decided to go into business. It was an RV and cabin park when we purchased it and has been a campground since the 1970s. It needed a lot of work."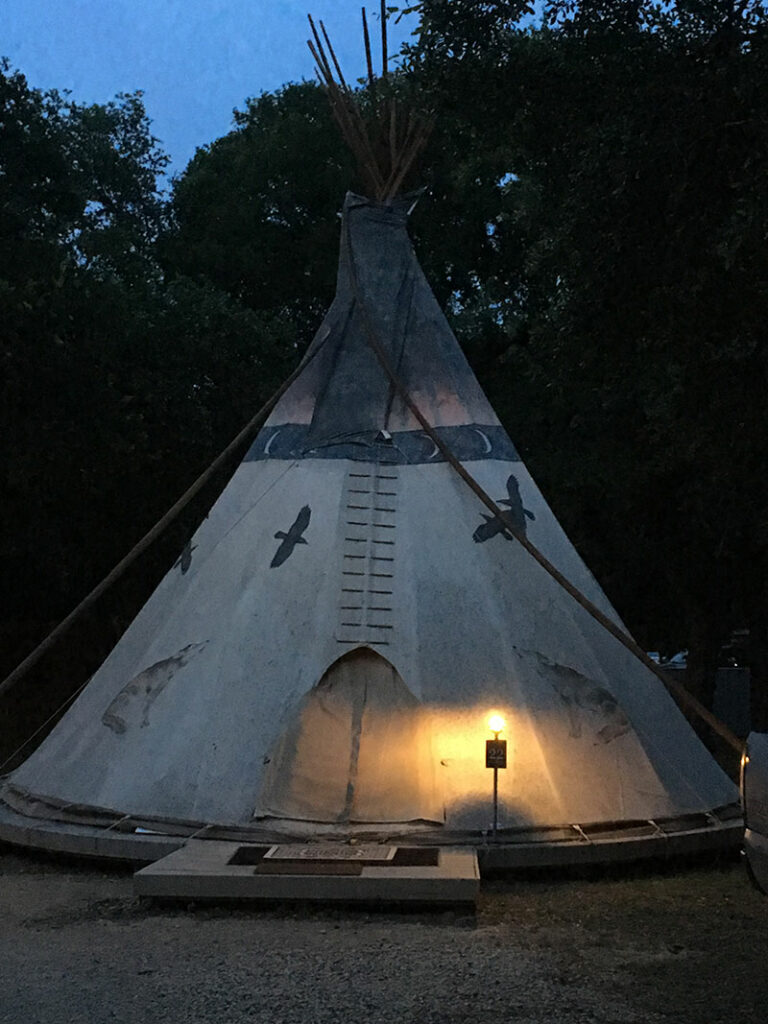 The couple kept the resort operating during six months of renovations, brought in 15 tiny homes with cable TV with high-definition, fiber optic wifi and improved the property throughout.
Today, Mystic Quarry has 24 indoor accommodations including tiny houses and cottages, three tipis (soon to be five tipis), 53 RV sites for overnight and seasonal stays for snow birds and 23 primitive camping sites. All of their accommodations except for the camping sites have air conditioning.
The dog-friendly resort features an onsite laundry, recreation hall with a pool, a ping-pong table, TV, and several lawn games, including bocce ball courts, a sand volleyball court, horseshoes and washer pitching. Guests can hike a one-mile nature trail through the park. Hammocks are hung for relaxing, fire pits beckon folks to share a fireside chat and an elevated sky deck made out of two shipping containers is just right for star gazing.
On Friday nights during the summer months, Mystic Quarry features a live band. Shuttle service is offered during concert nights at the Whitewater Amphitheater in New Braunfels and the Guadalupe River for tubing, kayaking or rafting.
And although Jellystone Park campground is just across the street, the Trent's property is "more of a back to nature resort," Courtney said. "We have honey bees onsite and we harvest the honey here. We have a nature garden with wildflowers. We have bats in our bat boxes that start to leave around 8:30 p.m. Free-range chickens run around during the day and go back to their chicken condo at night. We sell their eggs as well."
They are also all about keeping their business local. Their Mystic Quarry coffee is supplied from a San Marcos coffee company, some of the furniture for their accommodations was built in Austin and they reuse as many materials as they can.
"Our hope is to make a positive impact in Canyon Lake and grow responsibly," Jim said. Most recently, the couple has donated $5,000 to the canine unit with the Comal County Sheriff's Department.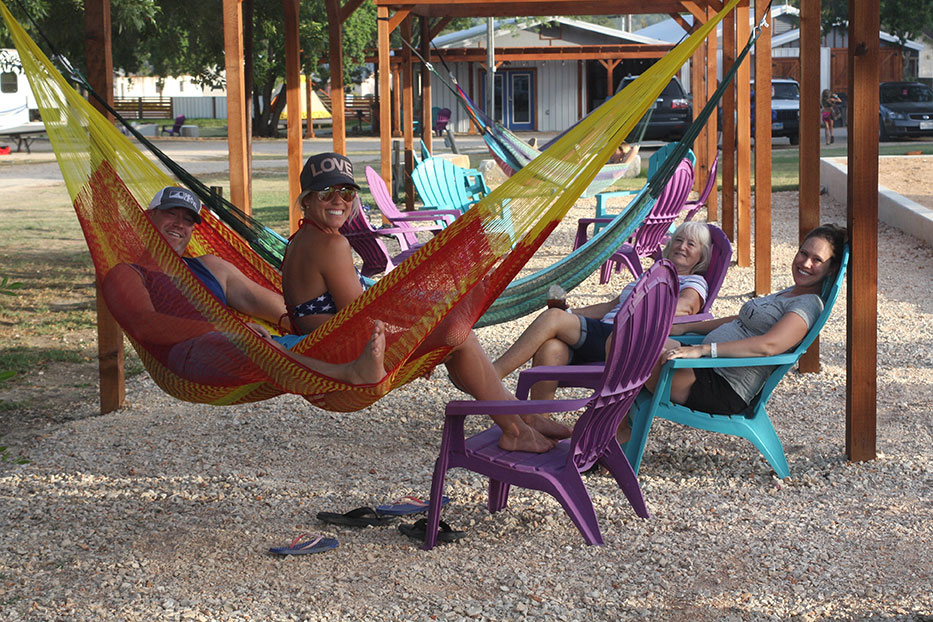 The resort also has a beer and wine license, with two kegs of draft from regional breweries on tap up front. In a true Texan welcome, guests can get a check-in beer for a buck when they arrive.
"We couldn't be happier," Jim said. "We live on the property. We also have two dogs that we love and get to spend all our time with now instead of coming home to them after a 12-hour day."
And although they admit they have never worked harder than they have the last three years, being their own bosses and getting to know people who come from all over the country is rewarding. They also have an engaging staff who make it their priority to put their guests' needs first.