The old gas pumps remain as a symbol of the place's history. There aren't many Zagat-rated restaurants with a screen door, however, Hill Top Café is more real than most. This former gas station is packed most nights to dine on creative, down-home, Greek and Cajun-influenced dishes and hear music from a master.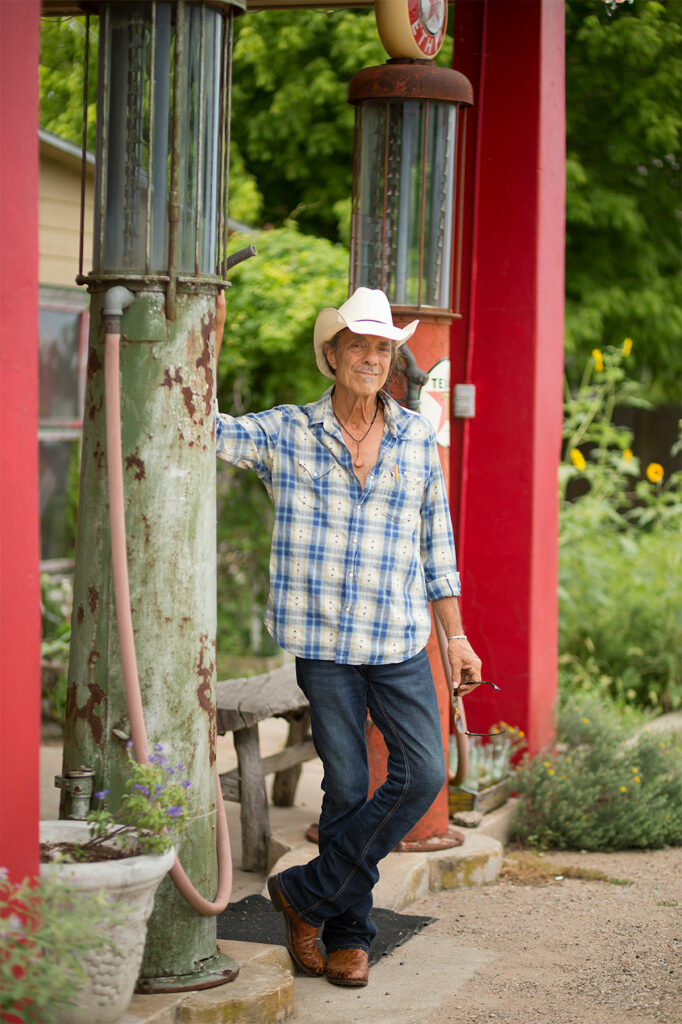 Johnny Nicholas – musician and restaurateur – always stays busy. He is a musical style virtuoso who learned from the greats of American roots music. He gigs and records constantly while overseeing the coolest place in Gillespie County to keep Hill Country food fans full and happy.
Nicholas was setting up for his final shows before hitting the road to promote his latest album, "Too Many Bad Habits." He is still touring behind his album that won him a Grammy nomination for album packaging, which includes a 68-page booklet of pictures and mementos that make music fans salivate. The road was his life until he and his late wife Brenda opened Hill Top.
"That's what I loved to do and it has taken me to a lot of great places," he said of his decades on tour. Today, he still regularly welcomes Texas' top roots musicians to his Hill Top Café, and either fronts groups of musicians or sits in for musical journeys ranging from blues, to country, to Cajun, to conjunto. It's also not unusual to see Jimmie Vaughan, Marcia Ball of other vaunted names like Eric Clapton stop by to sit in. Nicholas' musical journey helped him absorb a mastery of instruments and styles and he learned from those who stirred his musical soul.
"I had a Greek upbringing, with hard-working immigrants," Nicholas said of his youth, split between Southern Rhode Island and Louisiana. Nicholas was born in Westerly, Rhode Island, but spent a lot of time in Houston and Lake Charles with family. His mother played the piano, but his brother lit his musical fires. "My older brother was a hipster when a hipster was actually somebody cool. He had a great record collection and we listened to all the rhythm and blues radio stations." His earliest influences were Ray Charles, Muddy Waters and Little Walter, and he later got into the New Orleans greats – the Dixie Cups and Allen Toussaint, and more.
Nicholas' first band was in high school called The Vikings and became popular playing Chuck Berry, Muddy, Howlin' Wolf. "Southern Rhode Island's a weird little place. It was a real community of blues and rhythm and blues players," he said. "Duke Robillard (founder of Roomful of Blues) and I grew up together and he had a band called The Variations and we'd have a battle of the bands." He and Robillard would go to an Elks Club in New London, Connecticut, that was on the Chitlin' Circuit to see his roots music heroes, like Junior Walker and the All Stars, Otis Redding, and the Stax and Motown artists.
If I liked something, I'd play it. I love listening to bluegrass. I've still got my brother's 45 records. I was crazy about the Stanley Brothers – still am. And Nathan Abshire – the King of Cajun Accordion – was as raw and lowdown and deep as any of the old blues guys.
Johnny Nicholas
Nicholas started going to Ann Arbor, Michigan, in the 1960s to join a hot music scene, where he played seven nights a week. There, he began working with Howlin' Wolf, guitarist Hubert Sumlin and Eddie Taylor, Big Walter, Johnny Shines and more. His band The Boogie Brothers cut their first recording on an album featuring acts from the Ann Arbor Blues Festival.
The Ann Arbor Blues Festival in the early 1970s was broadcast nationwide. Soon after, Nicholas received a call from Jimmie Vaughan, who invited him to Texas. He stayed with Vaughan a few months and became a part of the music scene, where Clifford Antone had just opened a club on Sixth Street and Armadillo World Headquarters was in full swing.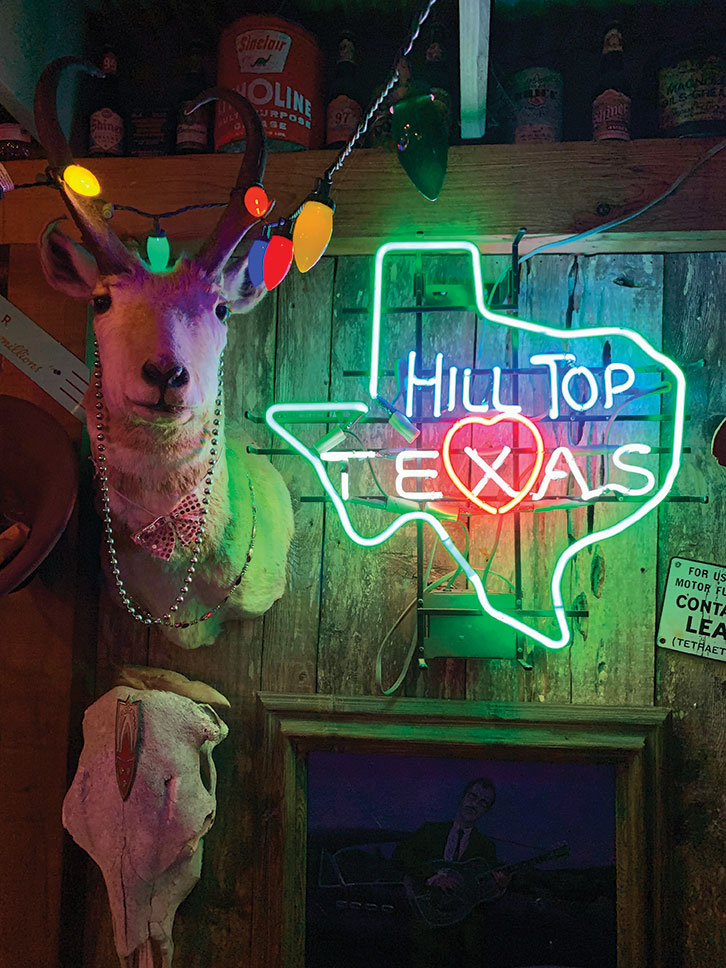 But Nicholas always subscribed to the theory that if it was played with soul, it was good music. "If I liked something, I'd play it. I love listening to bluegrass," he said. "I've still got my brother's 45 records. I was crazy about the Stanley Brothers – still am. And Nathan Abshire – the King of Cajun Accordion – was as raw and lowdown and deep as any of the old blues guys."
Nicholas said the Cajun swamp artists like Rockin' Sydney, country singers like Ry Cooder or folk masters like Bob Dylan were tied to the blues. "They were all digging in the same mine of American roots music," he said.
Nicholas joined roots icons Asleep at the Wheel, Ray Benson's country and western swing act. He loved that roots music. "Western swing has been good to Ray, and he's been good to it, too," he said. Nicholas said one year, the band did more than 300 shows.
But the road began to wear on him. "I was ready for a change," he said. "I was riding it pretty hard, drinking hard. And I had met my future bride, Brenda Schlaut, who was born near here in Cherry Spring." Brenda grew up in Port Arthur with the blues club founder Clifford Antone. (The town also claims Janis Joplin as a homegrown talent.) She was a perfect fit for Nicholas, as she "had a great record collection."
Nicholas said the early days at the Hill Top Café were lean but rewarding. "We hunted for most of our food, we had wood stoves, we cut our firewood, we ate a lot of squirrel and dump-lings," he said, laughing. They sold cold beer and gasoline and pickled pigs feet and hard-boiled eggs and performed music. Neither had a culinary background, but Nicholas said Brenda "just knew how to cook." She had run a small restaurant in Austin called The Southerner on South Congress.
Over the years, Hill Top became known as the stop in Fredericksburg for foodies. Nicholas said his restaurant was always "farm-to-table," long before it became a slogan. "The best food is, of course, whatever is closest," he said. "We always had big gardens and we were all organic, and people appreciated it. And we always did the music.
It's about the only place with-in a 75-mile radius to get gumbo, blue crab cakes or the house specialty Oysters Bruton. And even as Fredericksburg has attracted more high-end restaurants, Hill Top remains a destination. "Back then, there was nobody doing food like we did," he said. "We did down-home, simple stuff, but tricked it out. Brenda was really creative." As a tip to its Louisiana roots, a kitchen sign reads: "Caution: Coon Ass at Work."
Before Brenda passed in 2017, Nicholas promised the restaurant quality would remain high and he would continue to share his musical talents. "I know that's what she wanted me to do – we talked about it when she was sick," he said. "I have a gift from God and have been very fortunate. But I also made things happen because I apprenticed myself to some really great people."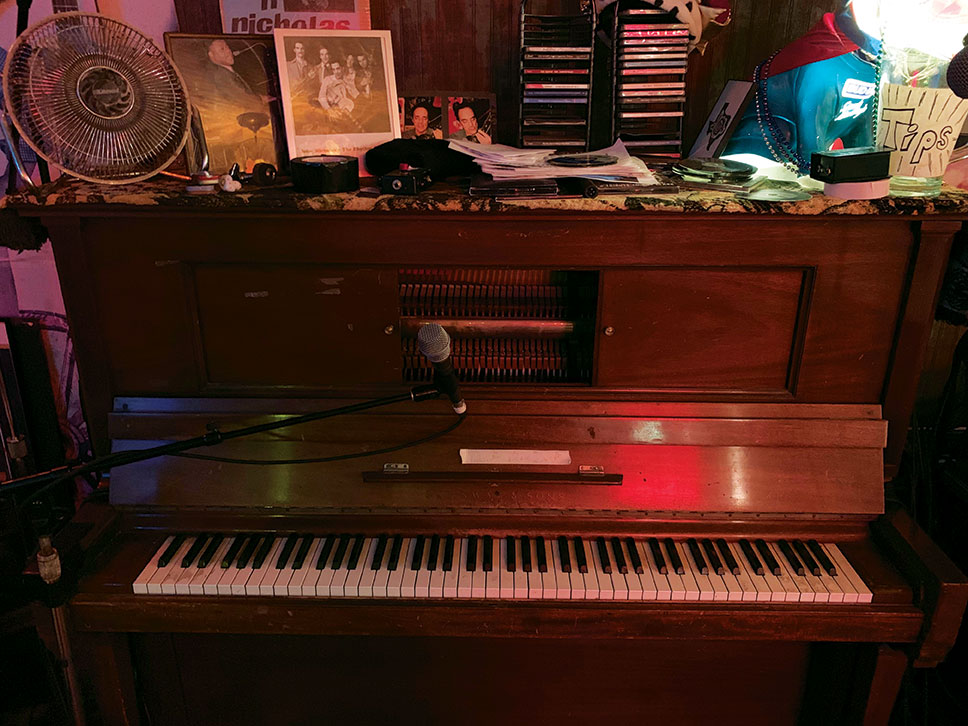 And the restaurant remains a must-visit place in tourist heavy Fredericksburg, now run by his son William, while Nicholas handles the music. "Brenda and I had the same approach to the food and the music and that's what people dig about Hill Top," he said. "It's not a contrived thing – it's real."