It almost sounds like some science fiction movie script: You're out for a bicycle ride, heading down a trail you've never explored before, and suddenly you stumble upon paradise – an amazing cornucopia of delights, seemingly tailored to meet your every need.
Of course, the movie script always turns dark – there's some sinister force secretly at work and paradise wasn't what it seemed.
Relax – this time it isn't a movie. It's real, everyone really does want you to be blissfully happy, and they're devoted to your satisfaction.
The place is Trailhead Beer Garden, located on the edge of the Schreiner University campus, right at (as the name implies) the access point to the Kerrville River Trail.
"The bike trail brings in wanderers," says Staci Foster, Trailhead's manager. "They don't know it's here. They roll in and say, 'What is this place?'"
It's easy to imagine the bikers' eyes widening as they imagine they've landed in heaven. They stumble upon a rustic, lovingly restored frontier building, surrounded by the spacious green lawns of a manicured college campus. There are games to play. Chairs to relax in. Shade. A roomy, wraparound porch. And best of all, drinks and live music.
And it didn't happen by accident. It was all part of a plan.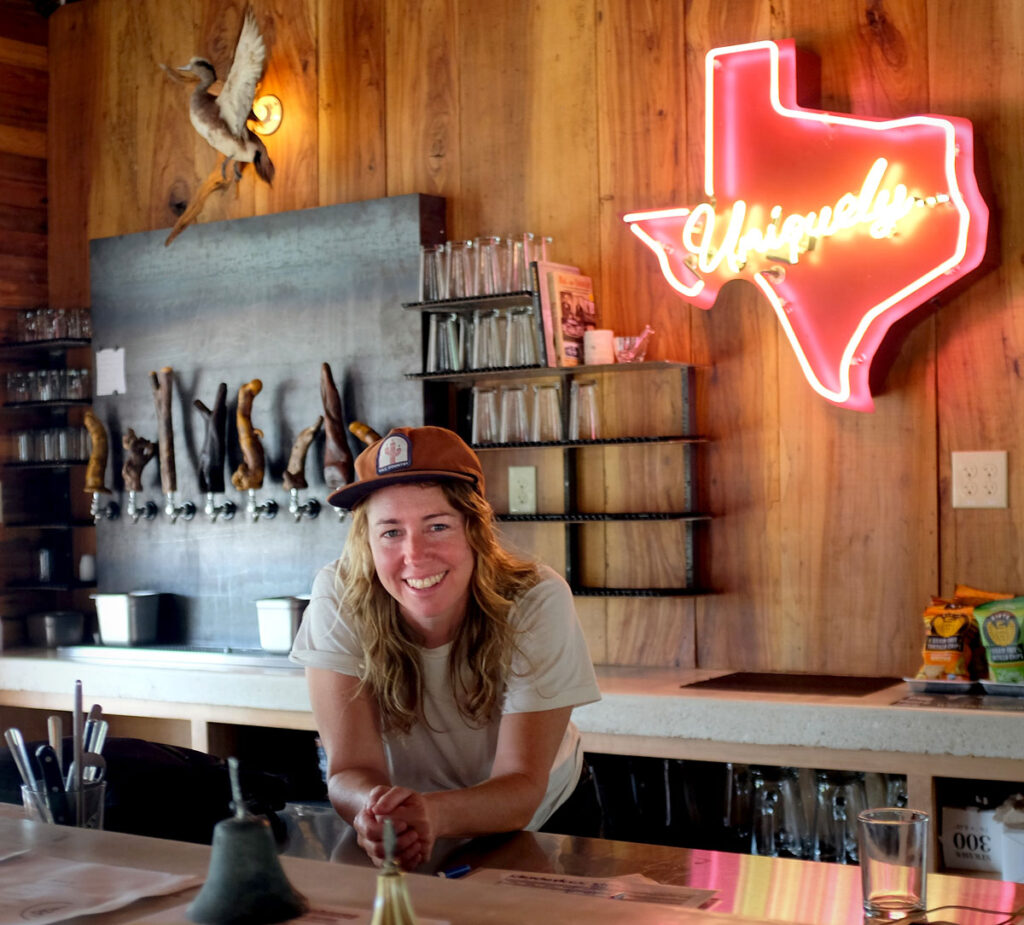 "A collage of people worked together on this vision," Foster says. "Schreiner, Bill Muse [a Schreiner vice president and music lover], the city of Kerrville did a lot, and Jeremy Walther, the owner of Pint & Plow Brewing Company in Kerrville.
"They got together and let their visions start rolling. They even walked around the campus and asked students what they want. Students said they wanted food trucks, a stage, washers, cornhole, sand volleyball, and bike trail. The only thing not on the list was a mechanical bull. The students came up with their own coffee roast, too! It's pretty strong, which I guess is what you need when you're in college.
"The goal here is to create community – a pocket of community. And what's better than beer, music and games, and big ol' 200-year-old trees on a college campus? I don't know if everyone notices that, but I think that's why it feels so good here – it has old trees.
"And the bikers roll in and they'll want to get a beer but don't have wallets because they were just on a bike ride. Thankfully, patrons like Joe Herring (a local historian and print shop owner) here will buy them a beer," Foster says, gesturing to the next table over.
The idea for Trailhead began in 2019, so it's not quite accurate to call it a Covid project for the collaborators, but the end result certainly provides an antidote to the pandemic blues. There's plenty of room in front of the stage to spread out and listen to that night's band. And even inside the 1800s-era building that houses the bar, fresh air is still in abundance – wide doors on three sides are flung open, just as breezy as the patio.
Foster keeps returning to that theme of home. It permeates the entire concept of trailhead.
"We only serve Hill Country beers and wines," Foster says. "We book Hill Country musicians, and all the music over our speakers is from Texas."
The libations selection is small, but big on quality. During Rock & Vine's visit, the beer taps were draining kegs of Pint & Plow's La Madruga Porter, Middleton Brewing's Third Coast IPA, Bandera Brewing's Black Pepper Saison and Roughhouse Brewing's Rice Lager. Wines on offer included the Albarino and Red Blend from Kerrville Hills and also Wild Basin Lime Hard Seltzer. The taps rotate, so the selection will likely be different when you arrive.
And because it's on a college campus with underage students and Trailhead strives for a family atmosphere, "mocktails" and the aforementioned coffee are available. (Foster laughed that she doesn't worry too much about fake IDs because she knows exactly who to talk to at the university should any student dare to present one.)
Trailhead doesn't produce food, but there's always a food trailer on hand serving something delicious.
The very act of accepting a job at Trailhead was a homecoming for Foster. The Kerrville native was making a living as a full-time musician in Fort Collins, Colorado, playing in the folk-rock trio Whippoorwill.
"Then Covid hit, and it affected musicians greatly," Foster says. "It became a waiting game, constantly delaying when we could start doing gigs again. Eventually I thought, 'I've been waiting around for a year and I'm going to try something new.' I hit the road, and right away I got a call about this job.
"I grew up here and I knew Jeremy. I've watched him with Pint & Plow for years. He's just an amazing curator. He thinks about the details, he doesn't just throw it all together. He thought about it and did it right. He's a big part of the reason why this place feels and looks this way. It's a gift for me to work with him."
Walther's business acumen dovetailed nicely with Foster's musical background, as well as Kerrville's.
"I started going to the Kerrville Folk Festival when I was 14," Foster says. "Kerrville has a rich musical tradition, and the Folk Festival is a big part of that. I've been all over the world and when I wear a Kerrville Folk Festival T-shirt, people point at it and say 'I've heard of that!'"
In fact, that tradition explains in large part how this project ended up on the Schreiner campus. The aforementioned Bill Muse, in addition to being a Schreiner executive, leads the university's Songkeepers Learning Community, nurturing songwriters, and a Sunday Afternoon Songwriters Concert Series. Bill's wife, Mary, is no less than the executive director of the Kerrville Folk Festival.
All these elements, you might say, come together in perfect harmony.
"Our goal is to curate community for everyone," Foster says. "I think the best thing about this place is that you can come in on your bike, jump in the river and get a beer all in the same trip. And sit and hear live music. I always thought I was the most river rat in town, but as I've been working here this summer, I've seen so many people come in here all wet. Clearly, they've just gotten out of the river, and they come in to get beer and music. And I'm like, 'Wow, I'm living my best life right now!'"
Trailhead Beer Garden
2100 Memorial Blvd, Bldg 11 (On the Schreiner University Campus)
Kerrville, TX 78028
830.370.6586
Trailheadbeergarden.com
Hours
Wednesday-Thursday 3pm-10pm
Friday 3pm-11pm
Saturday noon-11pm
Sunday noon-6pm