EL REY
El Rey is the king of the chocolate kingdom. They've been making cacao in Barquisimeto, Venezuela, for nearly a century and they've been in the Texas Hill Country since 1993.
Many people associate chocolate with countries like Switzerland and Belgium, and of course, they do make wonderful chocolate. But all of the cacao beans come from the west coast of Africa or countries near the equator, since cacao only grows in a small temperature latitude. There are three major kinds of cacao beans, just like varietals of wine: criollo—the best but not easy to grow and not disease tolerant; forestero—easy to grow and tolerant; and trinatario—a hybrid of the two with great flavor that's not as difficult to grow as criollo.
The trinatario bean, farmed in Venezuela, is what El Rey uses for its chocolate. The expertise of the family farm growers combined with the expertise of the factory—many are third- and fourth-generation makers—create a very special flavor. "It's the equivalent of a Napa Cab," said manager Patti Vanderlyn.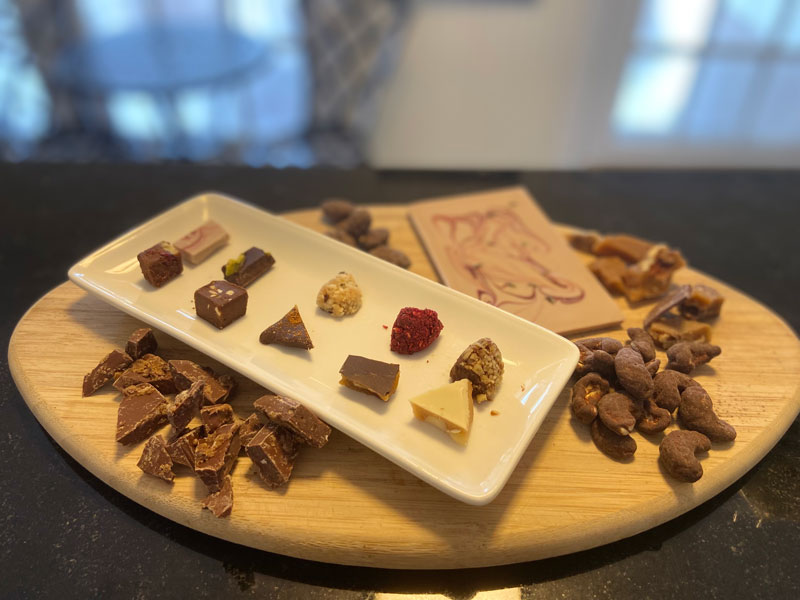 "El Rey's family-owned parent company has agronomists who go out and help farmers get the right trees and grow their cacao in the sustainable way we want. Years ago, we helped them set up a farmers' cooperative. We pay about 50% more than the world cacao market because we are looking for a particular quality of bean," Vanderlyn said.
The process of transforming a cacao bean into chocolate is an art. The beans are placed in a wooden box with banana leaves where the fermentation develops the taste and aroma. The beans are then laid out in the sun and dried, then it's off to the factory where they're roasted. This whole process occurs at the Venezuelan factory of El Rey's parent company. When possible, the cacao is shipped to Houston, then to Stonewall, where they ship it all over the U.S.—to people who just want to pick it up and eat it, home bakers, and professional chocolatiers.
The Stonewall location was a happy accident. Vanderlyn used to own Rosehill Manor. When she noticed a location around the corner, she and her son began to wonder, if people come out to the area to taste wine, why not chocolate?
Visitors can taste the quarter-sized pieces of pure chocolate El Rey makes; some of their favorite products they buy back from chocolatiers who've made treats with their chocolate; and now, products they make themselves—chocolate bark, truffles, fudge, and more. "Ninety percent of our customers have no idea what chocolate is…that it's a bean that grows on a tree; it's fun to educate people who come in," Vanderlyn said.
There are just six employees in the States (and 250 in Venezuela), and all have in a role in constantly developing recipes. "I've tasted and seen just about every chocolate product," said Vanderlyn. "When we think about doing something new, we have a continual focus group in Stonewall, and Jonathan Lee is making products all the time."
El Rey has won the International Chocolate Award for Best White Chocolate six times in a row (they've stopped entering now). In addition to noting the health benefits of dark chocolate, she highlighted that it's a good thing for humankind, even emotionally, overall…but that we just need for farmers to be fairly compensated.
Chocolates-ElRey.com
---
DRIPPING SPRINGS CHOCOLATE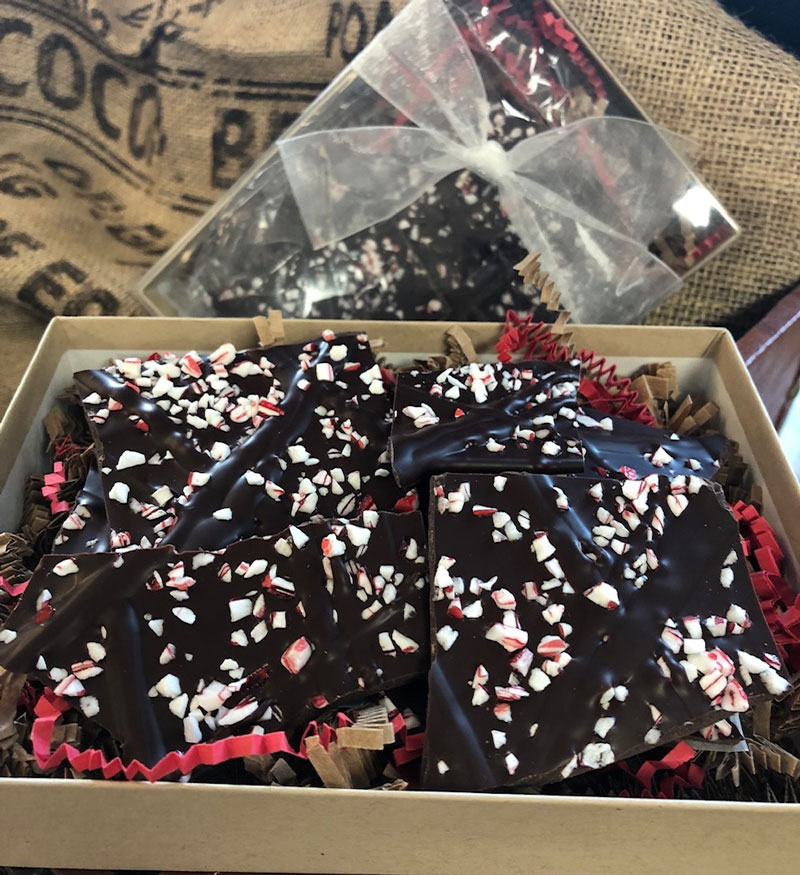 After the Wilson family took a transformative mission trip to Nicaragua, they knew they wanted to find a way to make an impact in similarly impoverished areas. They quickly discovered that most cacao farmers are not paid fair wages and also learned it costs money for farmers to apply for Fair Trade certification, making it impossible for many. So, the seeds for Dripping Springs Chocolate was born out of a passion for helping others.
The family found Meridian Cacao, a trustworthy distributor who sources cacao beans directly and ethically from small farms around the world. With basic chocolate-making equipment small enough to use on the kitchen counters of their house, they began experimenting.
As these self-taught chocolate makers started to share the chocolate with friends and neighbors, those friends and neighbors started asking to buy it. "We knew we were on to something," said Tracey Wilson. "We made chocolate bars, packed up a cooler, and went to the local farmers market in Dripping Springs, and we sold out!" Not only that, but people kept coming back for more, week after week at the markets, and retailers began approaching them.
In 2015, they founded Dripping Springs Chocolate and got their commercial kitchen up and running, and they're now able to buy enough cacao to be making a substantial difference, with retailers throughout the Hill Country selling their products.
"We've always loved food and loved to cook as a family, which is why it didn't seem too crazy to do this. And when my husband Bob mentioned chocolate when we were looking into how to help these areas, our ears definitely perked up!" Their children, Aubrey and Andrew, both worked in the factory store through high school.
Around the holiday season, a popular product is their hot cocoa that comes in a "giftable" tin, but their year-round best-seller is the 65% dark chocolate with almonds and sea salt. "That's my go-to afternoon pick-me-up snack for sure," said Wilson, who enjoys tasting chocolate from different origins regularly. As a single-origin craft chocolate maker, each product is made from cacao from one place (most of what they make features Ecuadorian cacao). Just like coffee or wine, chocolate is going to taste different based on the terroir of where it was grown, and that makes small craft chocolate uniquely delicious.
DSChocolateCo.com
---
FREDERICKSBURG FUDGE AND CONFECTIONS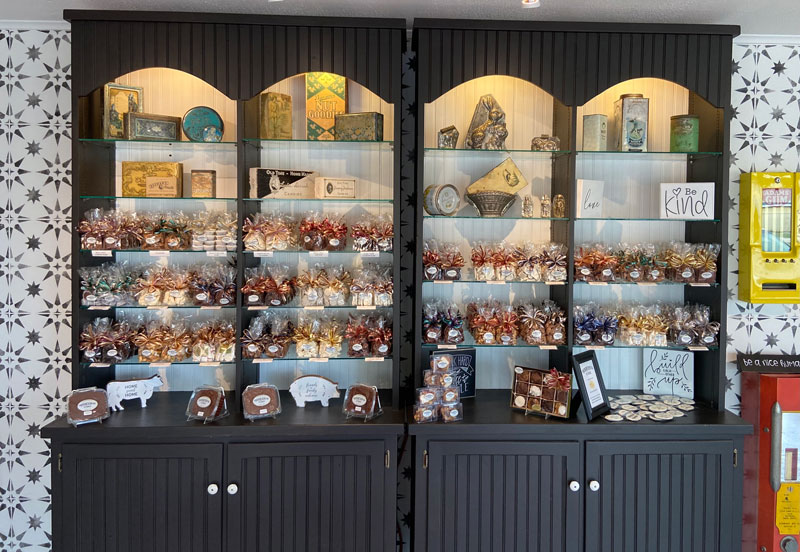 John Honigschmidt opened Fredericksburg Fudge in 1981. He was more entrepreneur than chef, but came to find he enjoyed the business because it was about making and selling something that makes people happy. John died in 2017, but the business he grew—now making over 225 products—and stayed in the family. His wife Laura LaSala took over as the "mastermind," according to Laura's sister, Diana, who also helps run the business.
"Quite frankly, Diana and my staff are the ones who get the credit for keeping the business alive!" LaSala said. "We all taste and tweak recipes. Our fudge recipe is the same one John came up with, but we continue to come up with exciting new flavors. I really love every flavor we have, and my growing waistline proves it! John was always proud, and I am too, of our fudge being made from scratch rather than a mix that you add butter and cream to. We hear from our customers all the time about how creamy and delicious
it is."
Having added the retail store to their candy kitchen, it's a one-stop shop where customers can see their favorite treats being made and sample the famous fudge. They actually enjoy being off Main Street, where they were originally located, because customers can pull right up to the door of their shop at the City Industrial Park. "Right now, we are getting ready to make some cosmetic changes to our building that we think will be fun for our customers. It's been exciting to experience all of the new changes and opportunities that owning a business in this town presents. We are grateful," LaSala said.
Fredericksburg Fudge offers year-round online orders of their large variety of products, in addition to serving locals and tourists who visit the kitchen. Treats include things like corporate gift boxes and favors for weddings. But…they do 75% of their business in the last two months of the year.
Diana, just like John did, loves the work and the atmosphere. "We have a great staff. Our requirement is that you have to be kind to everybody. We treat people to sweets, and we like for our work lives to be just as sweet," she said. When you're providing customers with something delectable that makes them smile, what's not to love about work?"
FBGfudge.com
---
QUINTESSENTIAL CHOCOLATES COMPANY
Lecia Duke's been making chocolate since she was a little girl in her French grandmother's kitchen. In 1984, she founded and incorporated Quintessential Chocolates Company, a specialty chocolate company making Liqueur Praliné—liquid center chocolates—using a unique 200-year-old European process. They are the only maker of this unique type of chocolate in America. While the traditional product is filled with liquor only, they've developed recipes filled with coffees and fruit nectars in addition to spirits and wine. 
The chocolates are handmade using their own variation of the Swiss technique of spinning a thin sugar shell around the liquid. The zuckerkrust (sugar shell) preserves the essence of the liquid so that when you put the chocolate in your mouth (it's recommended you never bite into it), it quickly melts, and you feel like you're getting a shot of whatever delight is inside. These luscious bites of heaven are popular for locals and visitors. From start to finish the process of making them takes three to five days, and Duke recommends enjoying them slowly and luxuriously as well.
Duke, the "Chocolate Diva," has really embraced the concept of a traditional European chocolate shop with Chocolat, the retail store she opened when she moved to Fredericksburg in 1998, featuring display cases that tantalize all of the senses with the array of artisan chocolates. Visitors can also watch the chocolate being made.
"When I started, no one was creating chocolates with a pure ingredient list," Duke said. "For the liquid centers, we use three ingredients. For our ganaches, we use two main ingredients: chocolate and cream, then we flavor with fruit, nuts, or liqueurs. We make everything we sell on the premises and have chocolates for diabetics and vegans…we're trying to address any situation someone has. We work with a lot of national individuals, distillers, and companies to create private label products for them. We help the young craft distillers who need another income stream in their first few years. And it's just fun! I love being creative and doing a variety of things. We've even made cocktails. We not only think outside the box, we create outside the box."
LiquidChocolates.com