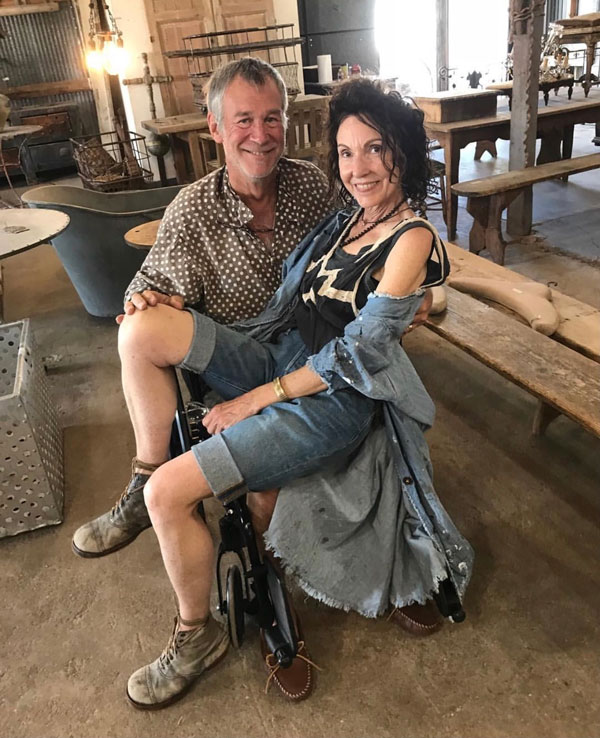 Visiting Carol Hicks Bolton Antiques in downtown Fredericksburg feels like falling down a rabbit hole. Wonderland is a fitting name for this eccentric, 30,000-square foot landmark destination filled with treasures collected around the world. At every turn, cabinets and cases stocked with oddities and curios titillate the imagination. 
Visitors may be lured by the sounds of jazz playing within the Lincoln Street shop. Sunlight streams through the airy showroom, while all are lured by a maze of dusty old books and painted opera screens, grand French paintings and travel trunks telling faraway stories.

Behind this spellbinding setting is the equally spellbinding woman named Carol Hicks Bolton. Growing up in Beaumont, creativity was fostered from a young age, so much so that upon turning sixteen, Carol and her two sisters were encouraged to empty out their bedrooms and decorate them to their liking. "I slept on the floor for at least a year, maybe two, because I couldn't find the bed I wanted," she remembered. "I'd rather have nothing than something I don't like."

After her father's retirement, the family opened a furniture shop and solicited the help of a consultant named Tim Bolton. "Tim taught us all how to buy, sell, and merchandise," said Carol of her future husband, whom she married in 1980.
The couple moved to Fredericksburg and began their own entrepreneurial endeavors in 1985 when they purchased a storefront at 223 East Main Street and called it Homestead. In the years that followed, they opened a handful of stores down Main, each exploring a different story or trend, from gardening to dishware and fine linens. "Our stores were kind of like miniature ABC Homes in New York City," she said of the properties. "Our whole thing was feather your nest, enjoy your home, let it be your place."
In 1992, Carol was invited to design a collection for the North Carolina-based furniture company EJ Victor. "I learned so much about making fabric and designing frames. It was one of the highlights of my design life."
Making big, beautiful beds came to be one of her early trademarks and specialties. "We would buy all these French and American beds that were full size and stretch them to Queens and Kings," she said. Today, these stately, one-of-a-kind beds still sit like thrones in the Bolton's Lincoln Street shop, and each is made up with luxurious linens and velvets by brands like Bella Notte and MagicLinen from Lithuania.
Fabric is a continual source of inspiration for Carol, who collects and saves all sorts of materials, from old grain sacks to burlap bags found along the way. "We buy fabrics wherever we can find them," she shared. "The second time we went to India a nice man from Varanasi scooped us up and showed us how to be in the fabric business. Most of our things are now made on powerlines but for the first fifteen years of doing business in India everything was made by hand – it was a great experience." Today, visitors to the shop will find bolts of breezy fabric hanging from the walls, sourced from Carol and Tim's extensive worldly travels.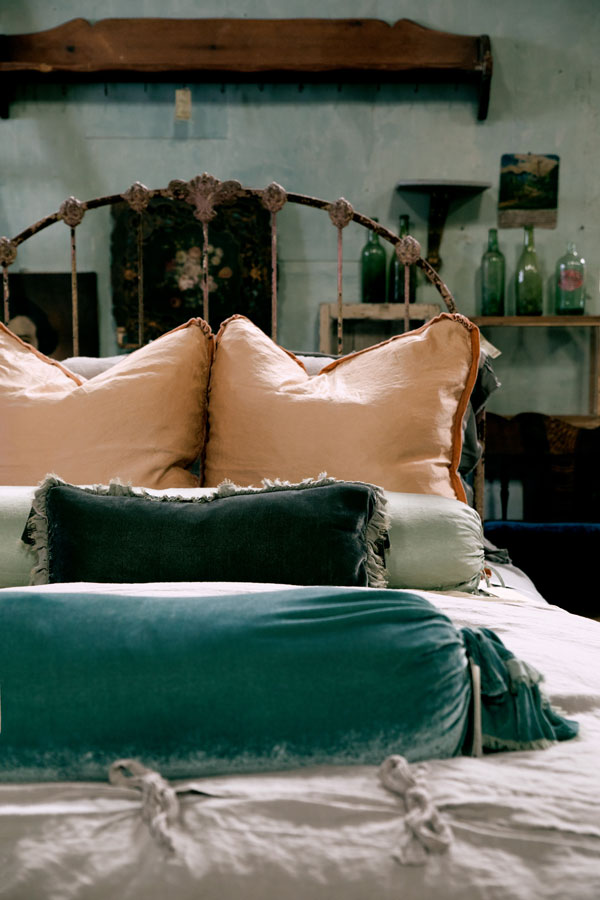 In the 1990s, the duo acquired a deeper appreciation for antiquities after a trip to London, when they met a man whose leather club chairs inspired a love affair. "At that moment, Tim fell in love with France," she said. So deep was the love that Tim traveled to France with the proprietor, spending the next week exploring the markets and learning the language of French furnishings.
That kindness and generosity they experienced firsthand is something the Bolton's are passionate about sharing back home. "I don't hold my cards close to my vest," she explained. "As a community, I would love for us to keep that going and share the love. There is enough business for ten more antique shops here."
Over the years, many have come to Carol soliciting advice and wisdom, like Jill Elliott of Blackchalk Home & Laundry. Others, like Robin Brown and John Gray of Magnolia Pearl, are loyal clientele. Indisputably, the couple has inspired myriad styles across the Hill Country, and they continue to build a reputation for items rich with story. "I think we were successful with bringing a different customer here," she said.
In the process of developing their taste and aesthetic, both Carol and Tim learned to be open to whatever they might find. "If you go looking for something specific you miss all the other stuff around it," she shared. "Everything has beauty. I think it is about finding things that tell a story about the layers of life, the good parts, the hard parts, the people who came before us."
Honoring those stories and perpetuating them for another generation is part of their shop's allure, as is the feeling that nothing is too precious. There's a deconstructed sensibility and authenticity expressed through stripped-down layers and patched-up pieces.
Once, at a flea market in Europe, Carol noticed a chair mended with six different fabrics. That chair told a story, just as the wooden tables they found in India did, with their large cracks running down them from decades of sitting in the sun. "I was seeing this generational story everywhere I looked," she said. "Whether it was a happy or sad family story, there is still beauty in all of that."
Year after year, the couple receives shipments from all over the world, including Mexico, France, and Hungary, though Carol is quick to quip she's not a "proper" antiques dealer. Rather, both she and her husband are drawn to the items' history, patina, and human touch. Often, these pieces were built out of love, necessity, or for a real person's own pleasure. "That really draws me to them," she shared.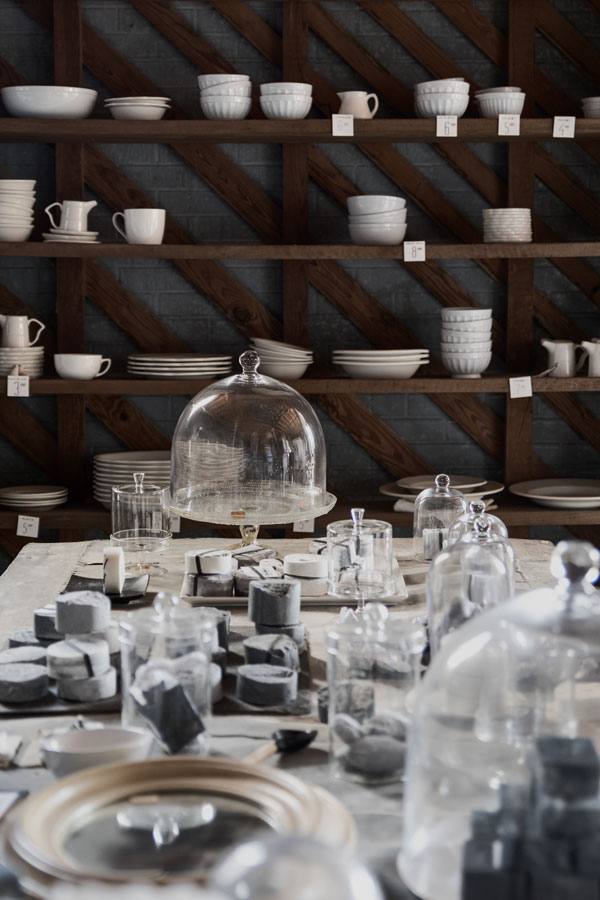 Today, the Bolton's run their business from Fredericksburg's historic warehouse district, where they have a cluster of interconnected stores for visitors to experience. In addition to Carol Hicks Bolton Antiques, the neighboring Room No. 5 is an all-white oasis filled with linens and elegant home goods, while colorful tableware and entertaining objects, along with antiquities, vintage garden statuary, and handmade beds and dining tables abound at DISH and Gus Antiques & Wonders, located in the city's old feed store. "Even now, we get so many people that come into our stores because they grew up coming in from the countryside to get their feed," she shared.
On any given visit, one will find an assortment of people perusing the labyrinth of treasure, from tourists to collectors, resellers and decorators of all stripes. Despite her undeniable style and flair for decoration, Carol doesn't consider herself an interior designer. "Honestly I don't like to do it," she said admittedly. "I'd say I'm a thing-finder and a stylist."
Her panache and passion for styling shines through in the shop's quirky, eccentric merchandising. "My favorite thing to do are assemblages, taking a group of things and hanging them in a different way," she said. "I love the idea of people stopping and saying, 'Wow, why did she do that? Why is that there? Why is that piece of old string hanging inside that crystal chandelier with a wedding ring tied to the end of it?'"
Visiting the Boltons' wonderland is a sensory feast and an invitation to ponder the oddity, mystery, and beauty of their myriad collections, like the impressive assemblage of taxidermy, which was acquired from a Natural History Museum in Belgium after it closed down.
The extensive array of religious memorabilia is a reflection of the couple's strong, enduring faith. "I've always been a Jesus follower," said Carol adding, "I met Him really deeply when Tim and I got married." Their mantra, 'God First, Family Second, Work Third,' is deeply felt throughout their stores and in conversation with the couple, who embody a spirit of gratitude and graciousness. "God always takes care of us," she said, smiling. "We've never been without."