John and Laurie Lowery are living the dream. Years before trading their home in Houston for a simpler life in the country, the owners of Humble Donkey Studio in Round Top spent their weekends exploring the state in their Airstream trailer. 
In 2014, they invested in a 42-acre tract of land in the town of Burton, located between Round Top and Brenham, lured by its quaint community and wide-open spaces. "It was kind of like going back to my childhood," John said of the property, which reminded him of his days growing up in Fort Bragg. "Here, you escape, you don't see another soul, and you are close to nature."
A few months after the purchase, John was involved in a serious motorcycle accident. "Part of my healing was being on this raw land and using a tractor and a chainsaw to clear areas," he shared. "I spent hours, days, and weeks in nature. It slowed me down and allowed me to heal."
In the process of acclimating to life in the country, he also began to paint. Art has always been a passion for the entrepreneur, who knew since he was eight years old he wanted to be an artist. In high school, a teacher who noticed his talents made a connection that led to his first job after graduation.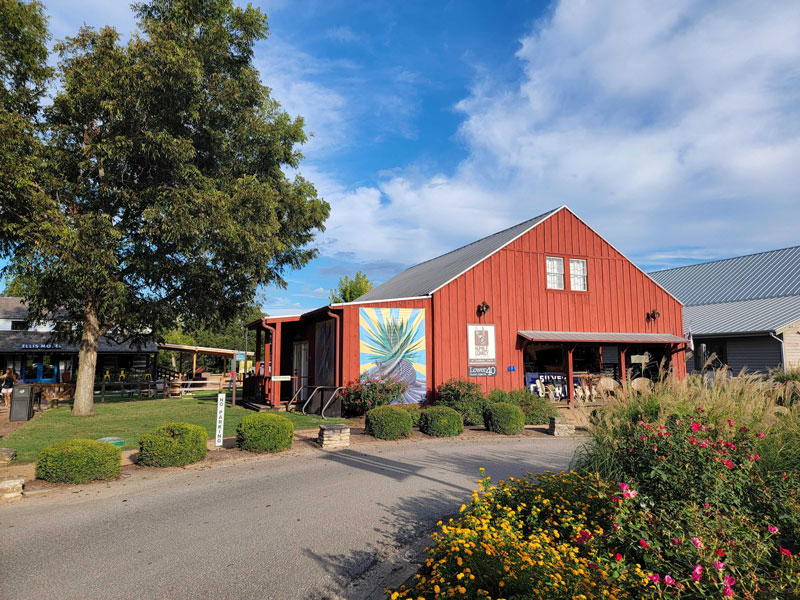 "The artwork we did was significant," he said of his experience as an illustrator at NASA. Using acrylic paint and tiny airbrushes, he published many pictures, from Hypersonic airplanes to satellites and shuttle landings, all of which helped illustrate the organization's ambitious plans. "It was a thrill to be paid to paint and be published at an early age."
The job also supported his education at The Art Institute of Houston. Later, he became an Art Director at Jay Advertising and Space Industries, Inc., before founding his own creative agency called Design At Work in 1990.
Today, John paints passionately and prolifically for the Humble Donkey Studio and art gallery, while Laurie sells her one-of-a-kind antiques and vintage furnishings through Lower40 Found Objects. The name pays tribute to the lower forty acres of the farm they purchased back in 2014.
"I call myself the accidental antiques dealer," she teased. Everything in the store, be it a fine French armoire or a vintage typewriter, is hand-selected and pays homage to the past. "I have a lot of respect for the things we find and display in our store." Additionally, she carries a unique blend of apparel and accessories, from silk wild rags to handmade hats and alpaca blankets from Ecuador.
Mixed among these eclectic collections is John's colorful, expressive artwork. "It is one thing to go to college and learn painting and techniques, but what really makes an artist, I think, is when you decide to express yourself and break the rules, experiment, and come up with who you are," he shared. "You are fulfilling something in your soul."
While John's commercial work has been published for years, moving to the country sparked his creativity on a new and personal level. "Once we got here, I had this urge to paint a longhorn and other animals just for fun," he said. In jest, Laurie told her husband not to forget the humble donkeys out grazing in the farm fields. That comment not only inspired the namesake of their business. Today, the couple sees the animal as both a mascot and a metaphor, underscoring their belief that a quiet confidence and heartfelt humility goes a long way in life.
These days, John produces his smaller work in a matter of hours while larger paintings may take up to a week. He attributes this speed to his background as a deadline-driven professional artist. His evolving style is a combination of realism and impressionism, with unexpected dashes of whimsy and humor. In acrylic on canvas, he lets his imagination fly, painting everything from winged donkeys to psychedelic armadillos, bohemian crows and fedora-cladded cows smoking cigarettes, to name a few. "I am trying to create a style that is 'me,'" he said. "Sometimes it is realistic, sometimes it is weird. The fact that people like it is just the most amazing thing."
"Like" is a modest word for the 60% growth the Lowery's have experienced over the last year alone. "It has absolutely exploded," John shared of the business. "We are very lucky that the art has been well-received."
Product mix aside, the couple attributes much of their success to the lively and welcoming culture they have built onsite.
"We want to make sure everyone that comes here has a great experience," Laurie said. "I definitely think our store offers that. It is a happy place." From free Lone Star Light to music, art, and one-of-a-kind furnishings, there is something for everyone – and always a reason to celebrate. In fact, every time a piece of art sells, the Humble Donkey tradition involves ringing a cowbell and chanting ceremoniously, "A Donkey Got Its Wings!" before sending the painting off to its new home.
Looking back, the Lowery's credit their move, and all that has come from it, for helping them navigate life as empty-nesters. "We didn't know what we were doing, obviously," Laurie shared. "We reconnected because we had the common goal of working this place and it kind of took a life of its own."
Though reconnected and deeply committed to their husband-and-wife-run business, the success they have experienced in just a few short years still comes as a shock to them both. "If you look at us now, you would think we had planned this out," admitted John. "But it is the craziest, happiest accident and we have grown closer as a couple. We are so lucky."