When she was looking for a new car, Brooke Rogan discovered a pink bus for sale in El Paso, which reignited her dream of starting her own wine tour.
The 24-year-old local purchased the bus — which she still isn't old enough to drive — and less than a year later she owns a total of four pink vehicles that are a part of Brooke's Bubble Bus wine tours.
"Ever since I was young, I've been very good with people. And I'm really passionate about pink," Rogan said.
"I am overjoyed about what I do every day for work. Maybe, I'm lucky. Maybe, the stars aligned."
The brains behind the bubbles
Growing up in Fredericksburg, Rogan watched her hometown grow from an agricultural community to a booming tourist destination.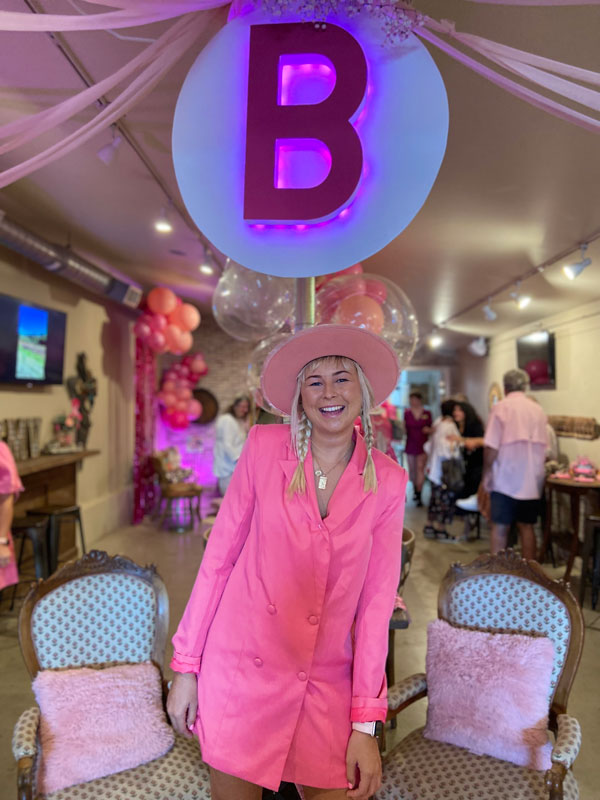 Reflecting on the city of Fredericksburg from her childhood — an agricultural town with only a few wineries — she said she "never would have thought there would ever be a wine tour in Fredericksburg."
The University of Texas graduate, who drove a pink Volkswagen bug during her school years, wanted to start her own wine tour company out of college.
"I drove a pink Volkswagen bug, that was my first car, when I turned 16," Rogan said.
"I traveled around the states doing shows and attending photoshoots."
Listening to her mother's concerns, Rogan worked for two years at a clothing company before starting her own business.
Once she returned home to Fredericksburg, Rogan found the pink vehicle that would carry her to the next stage in her life.
Just a day later, she purchased the vehicle, but without the proper license she had to rely on a limousine driver to help her take the bus home.
Finding a driver in an unexpected place
The following Saturday, while sitting in a champagne bar with her mom, Brooke's Bubble Bus got its first booking.
Shocked, she thought "Wow, I just got a booking and that tour is not going to happen because we don't have a driver."
Since her fledgling company had its first booking she turned toward the staff of her alma mater to find a driver with a CDL.
Lynn Blackwell, who was Rogan's principal as a freshman at Fredericksburg High School, helped her out and today, he's the head driver.
"His brother is my limo driver. Everyone knows Dub," she said.
"Everyone loves him because he's like the sweetest human on Earth."
In addition to Dub and Lynn, some of her friends' husbands drive for her wine tours. Without them, there would be no tour since Rogan is still not old enough to drive with a CDL.
A sparkling pink personality, wine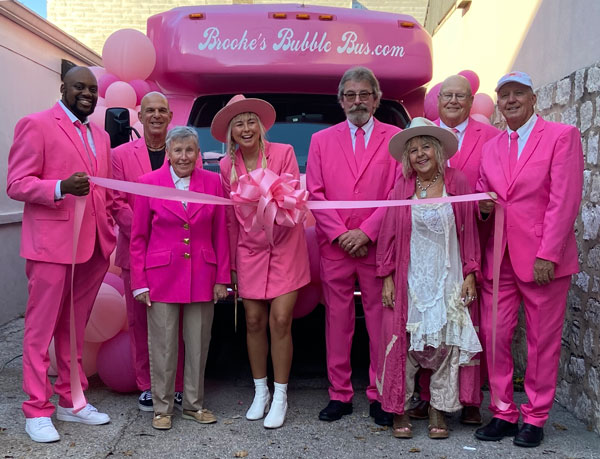 Even though she can't be in every vehicle, Rogan is always in the Bubble Bus and at all the locations where the tours converge.
"People come up to me every single time and they say, 'What made this tour was you,'" she said.
Rogan's presence is what makes the day so special, she explained.
"The celebrations that I get to be a part of, they become extremely special to me by the end of the day," Rogan said.
"I don't know them until they get on the bus, but by the time they get out of the bus, I feel like family. I feel like friends."
Brooke's Bubble Bus has had an overwhelming success, going viral on Tik Tok and exceeding anything she could imagine.