When I was little, my dad planted a ring of mammoth sunflowers seeds, dusty, gray and striped, that grew in the humid Louisiana summer to form a secret circle towering over me like redwoods. That fortress of sunny topped giants with their heavy bobbing heads and thick furry stalks made an imprint on my three-year-old self, as did the flowers that followed — white clovers at recess, important roses for dance review, and most recently, pale yellow daffodils, dark merlot scabiosa, flaxen plumes of native grass heads, and demure yet cheerful chamomile buds that I carefully wrapped together for my wedding on a hill.
Flowers have likely stirred something in everyone at one time or another. Flowering plants, which arrived on the scene some 130 million years ago in the Cretaceous period, and the subsequent pantone of petals, which really took off 35 million years after that, brought color to an otherwise verdant landscape. The backs and legs and wings of tiny pollinators catapulted the evolution of petal, stamen, and style, creating a diverse catalog of flashy shapes and colors that feel otherworldly, except they're precisely worldly, an evolutionary wonder that we should be lucky enough to notice. To us humans, with our folded cortexes and refined trichromacy, flowers mean something, and traditions all over the world have ascribed symbolism to specific blooms, colors, and smells bearing a "language of flowers" for when words aren't enough. A daisy, happy as a plate of waffles, for innocence and motherhood, and a dahlia, as enthralling as a sky of lightning, to represent strength and creativity, or wealth and elegance, or commitment and honesty, depending on the color and the tradition. We can't seem to agree on any single meaning of any one flower, though we'll surely keep trying because flowers mean something.
There are many ways we hominids, with our screens and schedules and lawns, can choose to navigate this natural world, many ways to buy our bread. Join me in saluting those Texas farmers that choose floriculture so that we, whether burned by grief, dizzy in love, or laden with joy, can nudge our inside landscapes and table centers toward nature. Here are a few Central Texas flower farms worth noticing this summer.
---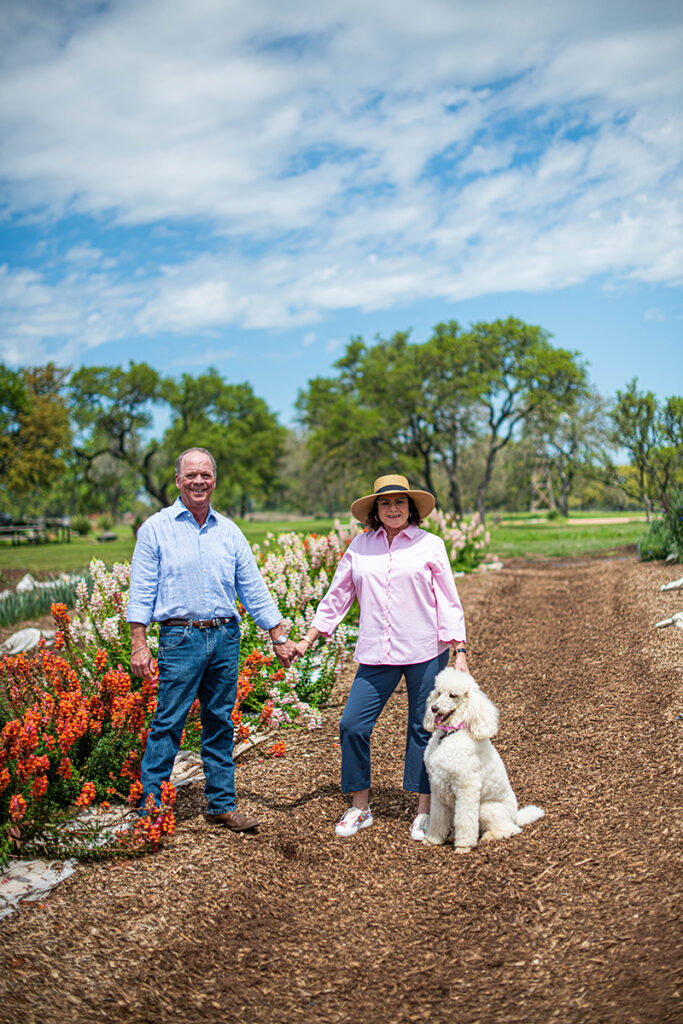 Windmill Meadow Farm
Fredericksburg
What started out as a hobby has turned into a small but mighty flower farm for Paul and Nancy Person who, with their stately standard poodle, Stella, grow cut flowers year-round just outside of Fredericksburg. Nancy and Paul are always experimenting, planting specialty seeds, bulbs, and tubers they collect on travels and pushing the limits of what varieties can be grown in Texas, and when. This summer, the farm is growing over 20 varieties of sunflowers, not to mention other hot weather stalwarts like cosmos, celosias, and zinnias. If you're interested in growing flowers, consider booking a private tour with Windmill Meadow. These guided walks through their flower farm are highly educational, and visitors will get a crash course in variety selection, bed preparation, planting, and post-harvest practices. For an additional cost, you can make your own arrangement. The farm is also set up for events. There is a small farmhouse kitchen where Nancy teaches workshops, and a large gazebo perfect for a community gathering or even a small wedding. To color one's counter with Windmill flowers, pick up a bouquet at the (seasonal) Fredericksburg Farmers Market, or join their local flower subscription.
---
Arnosky Family Farms
Henley Loop near Blanco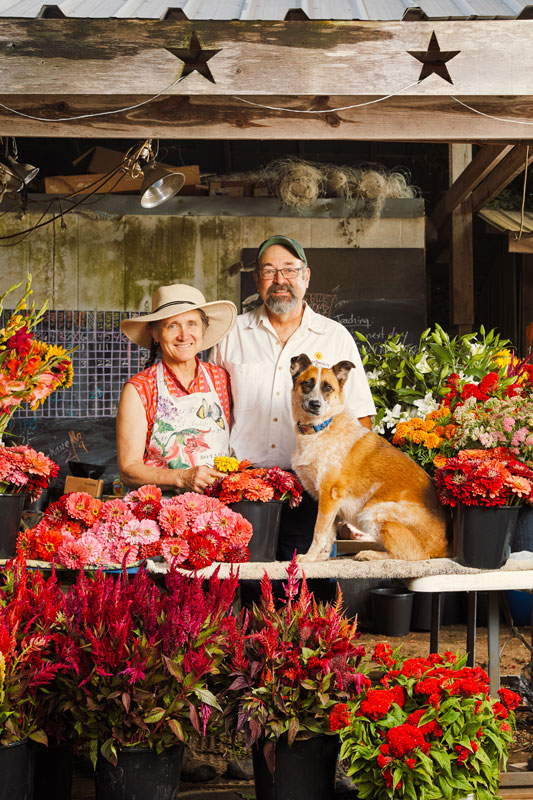 Pamela and Frank Arnosky started their farm over thirty years ago, and today they are one of the largest cut flower farms in Texas with around 20 acres of flower production at their Blanco-area farm. (The couple farms peonies on acreage in Fort Davis and Minnesota, too.)
Currently, the Arnoskys are harvesting, wrapping, and delivering around 600 bouquets a week which primarily gets distributed through H-E-B and Central Market. Visit the Blanco farm and you'll be greeted by a large, open-air, blue barn where visitors can buy just-cut bouquets, seasonal flower and vegetable transplants, and even local cheese and eggs — all by the honor system. To pay for your blooms, simply deposit cash or a check in the lockbox near the door.
The Blue Barn is open every day from 9 a.m.-6:30 p.m. Farm guests are also welcome to walk the production fields and bring a picnic to enjoy on the Blue Barn's back deck. The Arnoskys don't charge for a stroll through the fields, and simply ask guests to keep to the perimeters (and fight the urge to pick anything). Visit in late summer/early fall, and you'll see a mesmerizing display of marigolds — blooms the Arnoskys grow to meet the regional demand for Día de Los Muertos celebrations, as well as the Texas Marigold Festival which happens in late October.
---
Two Sisters Gardens
Kerrville
Sisters Angela Graves and Patty Broughton came from a farming family right outside Kerrville. Around five years ago, their usual vegetable patch was thick with sunflowers which the sisters had planted as companion plants, happy homes for pollinators. On a whim, they decided to pick the sunflowers and bring them to the farmer's market along with their usual veggie offerings. Customers immediately bought out the bouquets.
Over the next year, the sisters transitioned their micro-farm from vegetables to cut flowers, and haven't looked back. The pair sells fresh flowers about eight months out of the year, slowing down November-February to spend time with family and make improvements to the farm. You can find Two Sisters bouquets at the Kerrville H-E-Bs, Kerrville floral shops, as well as through their local door-drop subscription program which will deliver a market bouquet directly to your door. Dinnerplate dahlias will be here this fall.
---
Wildseed Farms
Fredericksburg
We couldn't rightly write a story about Hill Country flowers without giving a dramatic nod to Wildseed Farms — the largest working wildflower farm in the United States (and the largest producer of bluebonnet seeds in the world) which just so happens to be located right off 290 at the heart of it all. You've likely driven by and done a double-take at their production fields of poppies or sunflowers, but their seed production spans far beyond what you can see from the road. They cultivate over 1,000 acres in Texas, harvesting over 49 varieties of wildflower seeds which they ship all over the globe. You won't find any cut flower bouquets at Wildseed, but you will find half a mile of walking trails where, this summer, you'll be able to see an ombre of sunflowers, zinnias, and cosmos. If you're lucky, you may even find John Thomas, Wildseed founder (and original farmer), planting a new succession of blooms.
Wildseed has an excellent nursery featuring native and non-native plants alike. But even more, they've got seed. Here in Central Texas, the best time to plant your native wildflower seeds is in the fall, and a late summer visit to Wildseed Farms is the perfect time to stock up for your own backyard prairie project — an investment that will give you a constant supply of color for seasons to come.