By now, the reputation of the Texas Hill Country as a wine-producing region is well-established. And if you've been paying attention, you've also noticed that its brewery scene is catching up to that of the vintners. But it's unlikely you're going to walk into a winery and get a good pint of suds, nor are you likely to hit a brewery and find a truly quality glass of grape.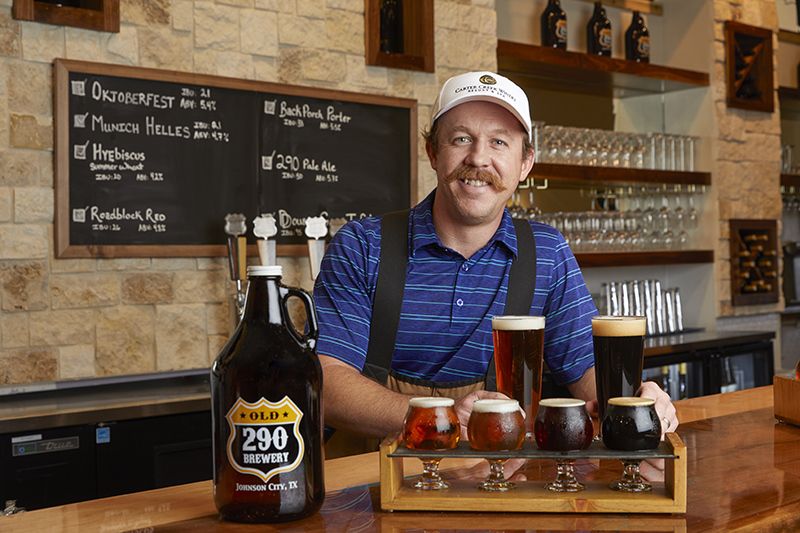 There's a place just west of Johnson City looking to change that. Welcome to Carter Creek Winery Resort and Spa — home of the Old 290 Brewery and Restaurant. Now, before we go any further, you should know: This article is about the brewery. I'm a beer guy. I like wine, but I don't know wine, not enough to write about it authoritatively. And really, there's so much going on at Carter Creek that it probably merits multiple articles: There's wine, beer, live music and dancing, a restaurant and a separate barbecue joint, a relaxing spa, and lodging sure to give you a comfortable night's sleep after a hard day of taking it easy.
Carter Creek was started by Dawn and Jim Carter with a vision: wine and luxury. But the Carters wanted all the bases of the good life covered, so they incorporated plans for a microbrewery within their resort.
"Mister Carter had a property in California and Florida, and wanted to open up a spot in Texas," said head brewer Justin Zimmerman. "He had driven down this road and realized there were a couple of breweries. They wanted a central base, a one-stop shop on Highway 290. They've always been wine-focused, but they wanted to get into brewing and enlisted me."
Carter grabbed Zimmerman through his connection to Dr. Clinton "Doc" McPherson, a Texas Tech chemistry professor and one of the pioneers of the Texas wine industry. Zimmerman was working at Triple J Chophouse and Brew Co., Lubbock's original brewpub. Zimmerman started at the bottom of the totem pole at Triple J in 2009, cleaning kegs and working his way up to … cleaning tanks. But eventually he actually got to brew and learned the science under the mentorship of Triple J's brewer Mike Sipowicz. "Still cleaning tanks," he laughs.
Lubbock winery owner Kim McPherson (Doc's son) knew the Triple J beers and told Zimmerman about the start-up resort his winemaking brother Jon was getting involved with. "He asked me for four years," Zimmerman recalls. "He kept asking, 'You want to go to the Hill Country?'"
Zimmerman finally took the plunge. The hiring process was pure Hill Country. "I did my interview in a work truck under a tree right down the road there," he said. "I stayed at Blanco State Park, got some pizza on the square, bought a six pack and drove back to Lubbock. Three months later I drove down [and took the job]."
Once here, Zimmerman found out he had his work cut out for him. Carter Creek's owners knew the wine biz, but had very little beer knowledge. "This was a shell of a building," he said. "Originally, they only had three tanks they were planning on serving from, but I had to tell them those weren't necessarily serving tanks, so I had to change the plans — get a cold room, get outside grain storage, and so I got to learn a lot about brewery planning. I was here for a year before I ever got to make anything."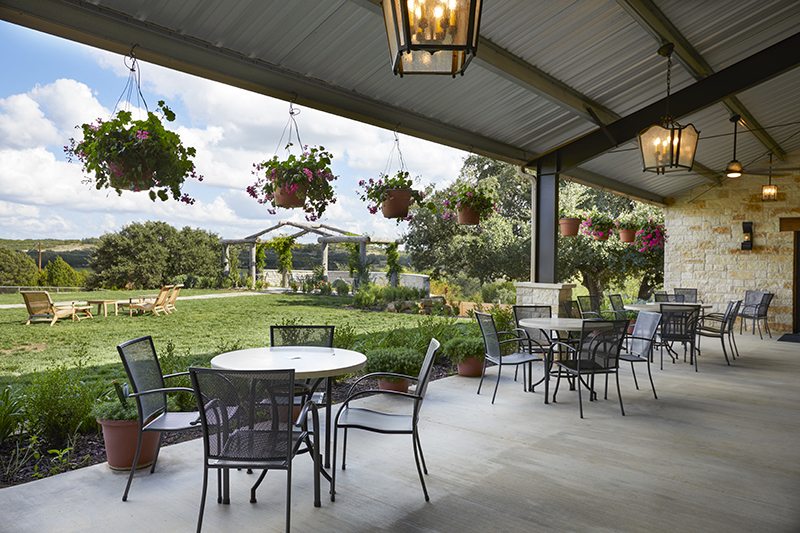 Some of Old 290's lineup is predictable, albeit tasty. It has the light lagers and ambers that are most likely to sell. The Mexican-style lager El Bigote (Spanish for mustache, and Zimmerman sports a great one), is Old 290's top seller, and a good antidote for this summer's brutal heat. He also makes a good blonde, pilsner and kolsch, and is justifiably proud of them all.
But Zimmerman also flexes his creative muscle. And as the best creative types do, he makes use of what's locally available, both in terms of ingredients and people. That's how his Peach Smoked Helles came into being, taking advantage of having a great winemaker on-site and the fruit for which the Fredericksburg-Johnson City area is most famous. "I got together with Jon McPherson on that," says Zimmerman. "One of our most popular wines here is a peach sparkling wine. He told me about his peach process, so I adopted that." It's exactly what a fruit beer should be. Too many of them punch you in the mouth with the fruit and leave you wondering where the beer is. "This one doesn't punch you in the mouth, it punches you in the nose," Zimmerman says. The result is a well-balanced product that doesn't forget it is, first and foremost, a beer.
The same could be said for the Hye Biscus Hefe. Old 290's original chef had 10 pounds of dried hibiscus flower that had gone unused. "It was just sitting in storage," Zimmerman says, "and I said, 'I'm gonna use that.' I dropped it into the boil and dry-hopped it as well." He was pleased with the flavor of rose-colored creation, and so were his customers. "I brought this beer back by popular demand," he said, ordering 18 more pounds of flowers and creating a nontraditional hefeweizen that made for a good Valentine's Day special.
If you prefer something darker and heavier, Old 290 can still take care of you. The Smoked Imperial Porter has a robust flavor that would pair well with the steaks on Old 290's dinner menu. At 7.8 percent alcohol, it's strong but not quite as overpowering as other beers with "imperial" in the name. And don't be surprised if you see Zimmerman has a barrel-aged version on the menu when you arrive, using barrels from nearby distillers.
In addition to steak, Old 290 features other "hearty, Texas-inspired cuisine," including burgers, flatbreads and pizza and breakfast on the weekends.
If you make a visit, whether for a single meal or an extended stay at the resort, just remember: You really can have it all. Carter Creek's Sales Director Mike Kemp notes, "If a couple comes down and one likes wine and one likes beer, they start together and then one winds up here and the other at the wine tasting."