Paulette Jiles has written numerous books, including memoir, nonfiction, and poetry, but she is best known for her 2016 National Book Award finalist, "News of the World."
At a public reading in June at Ursa at Branch on High in Comfort, Jiles read excerpts of "Song to the Rising Sun," a poem from her collection "Flying Lesson," and selections from her forthcoming novel, "The Solitary Telegrapher," due out next year. When it was time to take questions, most of them were about "News of the World."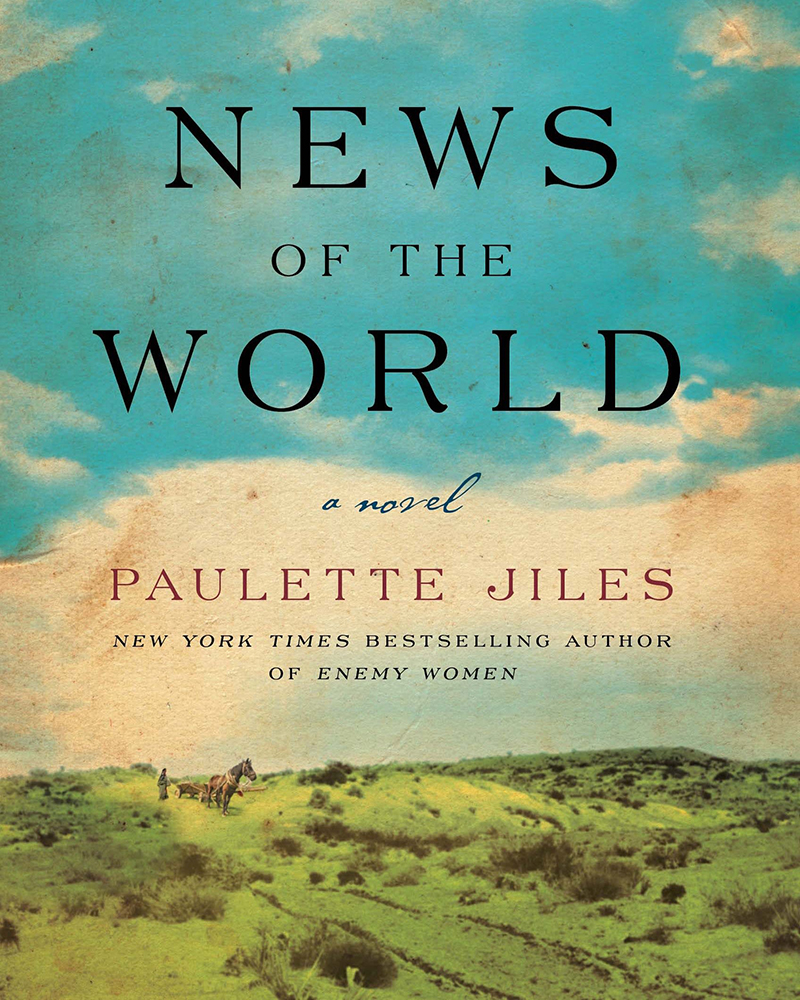 It's not a long novel—only 240 pages. Her editor said it could be longer, but Jiles has a sense about these things: "I've come to the end," she told her editor. "It's like salt precipitating out of a salt solution, and it crystallizes."
"News of the World" is a journey story, set in 1870s Texas. Captain Jefferson Kyle Kidd, a 71-year-old war veteran, must return a girl named Johanna to her German relatives, 400 miles away. The story has been described as "Lonesome Dove" meets "True Grit."
Captured four years earlier by the Kiowa, Johanna has no memories—and no interest—in her prior life. When she meets Captain Kidd, she does not speak, but this is what she is thinking, in the Kiowa language of "tonal music [that] lived in her head like bees."
"My name is Cicada. My father's name is Turning Water. My mother's name is Three Spotted. I want to go home."
That bold sentence doesn't appear in the 2020 movie version because a film can't get inside a person's head the way a book can. The movie is well done, with great performances by Tom Hanks, as Captain Kidd, and Helena Zengel, as Johanna, but it lacks the beautiful interiority of Jiles' book.
Johanna and Captain Kidd become like family — a grandfather and grandchild — as they travel in the Curative Waters wagon, making periodic stops so Kidd can do public readings of the news of the world from newspapers. She and her "Kep-dun" have to defend themselves against dangers of all kinds. You'll never look at a dime the same way again.
From an early age, Jiles came to love stories with danger. Her mother read to the children at night and sometimes made-up stories, "and they were bloody," Jiles said.
Before she was a novelist, Jiles was a poet. She won Canada's most prestigious poetry prize, the Governor's Award, in 1984 for "Celestial Navigation."
Writing poetry taught her to value the phrase.
"The basic unit of composition of poetry is the phrase. In prose, the basic unit is the sentence. I was a poet first, so I became acquainted with the phrase first," Jiles said. "Think of Walt Whitman's 'Leaves of Grass,' with its long lines — he knew when to break his lines."
Her attention to the phrase may explain my favorite sentence from "News of the World." After another harrowing adventure, Johanna is asleep, and Captain Kidd reviews what supplies they will need when they reach the next town.
"He made a list: feed, flour, ammunition, soap, beef, candles, faith, hope, charity."
This is the über list. It's all we will ever need to take care of our animals, to cook, to clean, to hunt and gather and protect, and to nourish each other. We would all be better people if every grocery list ended with "faith, hope, charity."
Jiles mentioned that she had recently reread Homer's "The Odyssey," which is also about a journey home. In Emily Wilson's translation, the story begins, "Tell me about a complicated man." The relations between white settlers and Native Americans are complicated in Jiles' story because the history is complicated. Johanna wants to go home to the Kiowa, but they don't want her anymore because her presence has become a threat to them.
Jiles' interest in Indigenous peoples is longstanding. Although she was raised in the Ozarks of Missouri, she worked for the Canadian Broadcasting Commission for 10 years in the sub-Arctic, helping set up 1-watt FM radio and printing a newspaper in Ojibwe.
"Distribution was a problem. We could only could do it by bush plane. We couldn't land, so we shoved garbage bags full of newspapers out," Jiles said.
Her own home is a ranch near Utopia. She writes in her upstairs study, she rides horses with friends, and she tends to her animals.
"It's why I don't live in the city," Jiles said. "I'm sensitive to every person, every smell. I have to keep things quiet because I don't have a filter."
Away from the noise of urban life, she writes phrases that become sentences that become a plot people are still clamoring to discuss six years later. All of us are on a journey home. "News of the World" helps us notice the beauty and the friendship along the way.