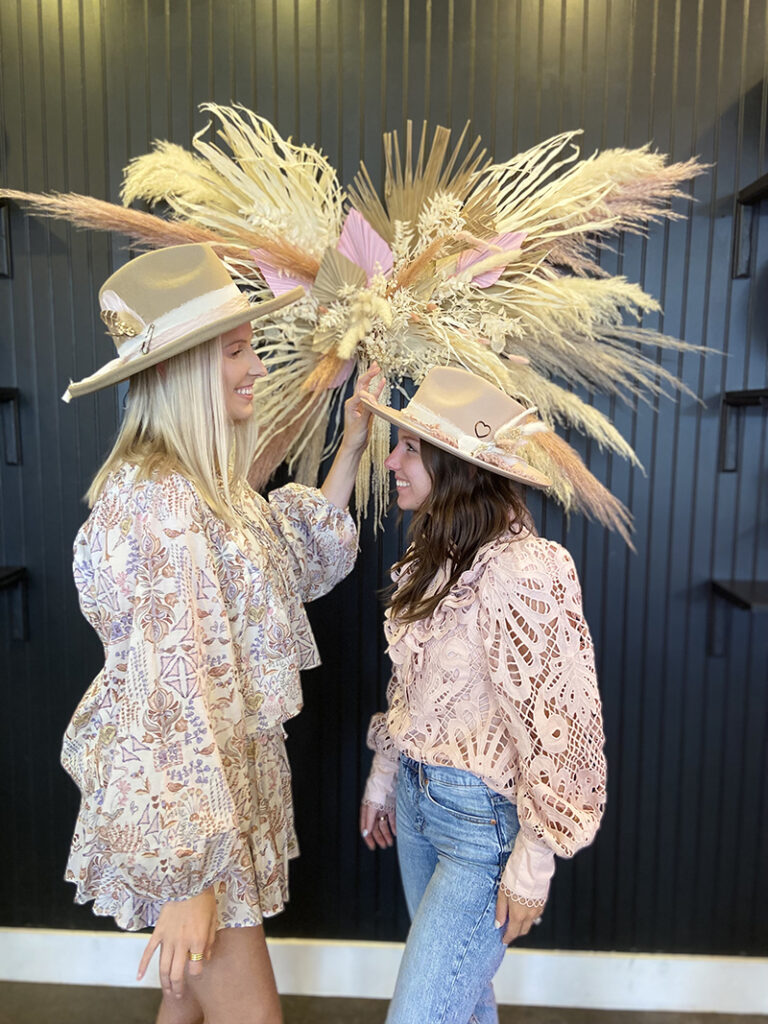 Since 1852, the landmark Nimitz Hotel building, located on the corner of E. Main St. and N. Washington, has witnessed the changing face of downtown Fredericksburg. Most recently, one of the city's newest businesses opened just across the street from this historic institution. 
Kelsey Morgan and Hannah Copes are the Fredericksburg transplants and co-owners behind Felt Boutique, a womenswear shop with a popular Hat Bar experience that's elevating the city's style scene.
Before moving to the Hill Country, Kelsey grew up in New Braunfels and taught math to middle school students. Hannah, on the other hand, hails from Louisiana and pursued a career in retail after graduating from Texas Tech University. She remembers finding her love of fashion from an early age thanks to her father. "He has been color blind his whole life which can be quite an obstacle when picking out outfits," she said. "Shopping with my dad became one of my favorite things to do and it's how I learned that I wanted clothing to be my creative outlet."
Kelsey and Hannah met one another through their husband and fiancée, respectively, who are not only business partners but best friends from Fredericksburg. Combining their shared love of fashion, the women sought out to open a boutique with a unique and stylish bent. Selling clothing was an obvious choice, but by adding hats to their inventory, they believed they could stand apart.
"I've had a hat wall in my home since I was eighteen," Kelsey shared. Later when she got married, she hired someone to create a hat customized with special details like her wedding date. "I loved how personal it felt when I wore it and I wanted to bring that sentiment to others." Luckily, Hannah shared in her enthusiasm, and together, they came up with the idea for a Hat Bar in their shop. "Had we not thrown it in we would have been just another boutique," said Kelsey. "The Hat Bar really added a special element to our store."
That decision ultimately proved fruitful for the young entrepreneurs who opened their doors in March 2022. On the first Friday after opening, a customer came in and posted a video of the Hat Bar that went viral on TikTok. More than 3,400,000 views later, Kelsey and Hannah had customers lining up on the street, with some waiting two to three hours to design their own hat.
After the video went viral, the shop's rapid surge in popularity forced the founders to make the Hat Bar a "by appointment" service, thereby enabling their team of roughly ten stylists and associates to provide each client with the one-on-one attention they deserve. "Appointment-only makes the experience so much more relaxed and personal," Kelsey said.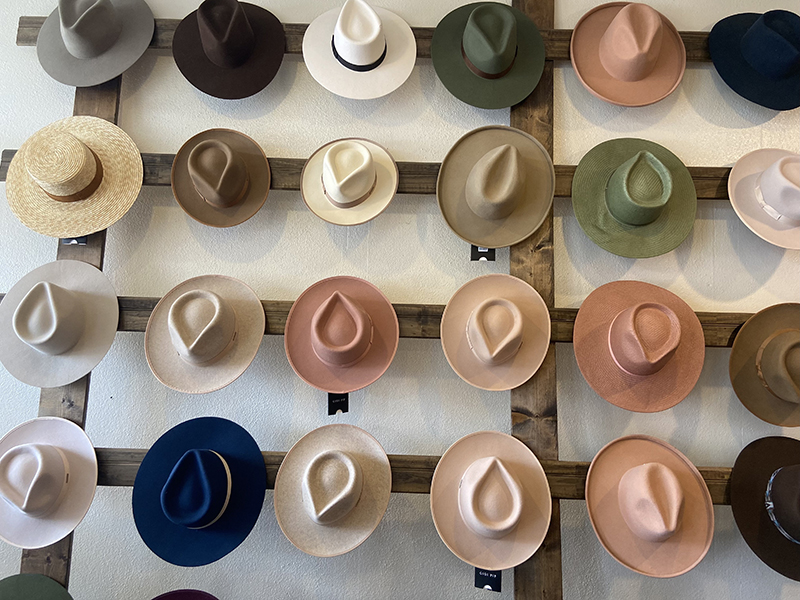 Today, the Hat Bar is the heart of Felt Boutique and both Kelsey and Hannah have built an environment that is polished yet rustic, fun and inclusive. Drinks are provided when guests walk in and the team enjoys getting to know each client, along with their interests and preferences. "Strangers become friends at our Hat Bar," they said.
Stepping off of Main Street and into Felt Boutique, that warm, inclusive ambiance can be felt straight away. Clothing, jewelry and accessories are styled around a pair of leather "Husband Chairs," as the co-founders call them, which offer a place for partners and friends to sit and relax while clients shop.
The Hat Bar lives along the boutique's eastern wall, where technicolor toppers by the likes of GIGI PIP and Twister brighten the room in shades of maroon and mushroom, olive and charcoal, dusty rose and a new fall color called cinnamon. Beneath these hats, a long table holds a treasure trove of goods including spools of rope, leather, and ribbon fashioned of burlap, dyed silk, and linen. Wooden cups filled with decorative adornments stand at attention, from shafts of wheat and dried baby's breath to sprigs of lavender and Turkey, Pheasant, and Guinea fowl feathers.
Every client begins their appointment by selecting the style and size of their hat. The base price for a straw version ranges from $80 to $160 while the felt options run from $112 to $176. There's a $100 flat-fee for decoration and clients can add as much or as little detail as desired. While some may opt for a simple silk ribbon or their name spelled out in miniature metallic letters, others embrace a "more is more" philosophy, layering textures and colors for a look entirely their own.
Though every hat is an expression of the clientele's unique and personal style, Kelsey and Hannah admit it is the people they've met along the way that makes their work worthwhile. During one appointment, a bride-to-be brought in her mother's veil and asked for help making a hat especially for her wedding day. "It was intimidating but turned out so beautiful and was one of my most special memories," said Kelsey. "We even branded her wedding date underneath the brim!"
One of Hannah's favorite memories came from a mother-daughter-duo who brought in their late husband and father's hat band from his beloved cowboy hat. "We created the most amazing hat through tears and laughter and that is something none of us will ever forget," she said. "We are very biased when it comes to our clientele in that we truly believe we have the best customers who travel all over to see us. Whether it is a bachelorette group, high school reunion, or a husband and wife, we get to create something special which is always an exciting time."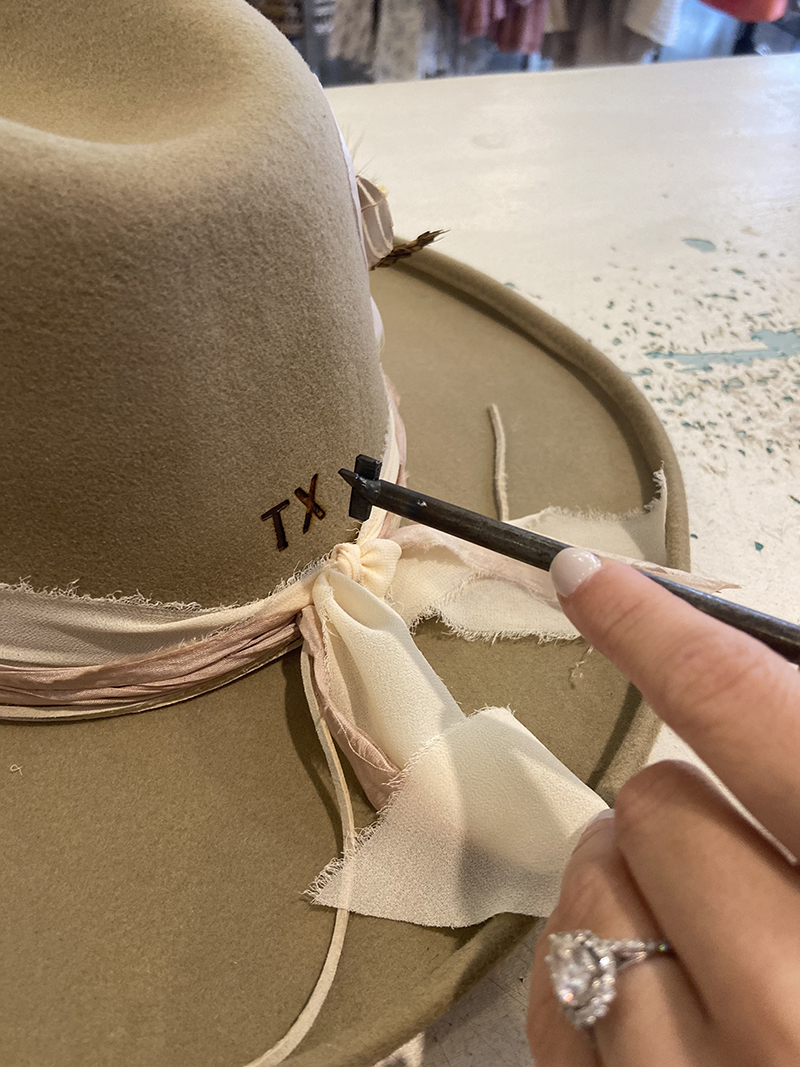 Together, Kelsey and Hannah do everything as a team, from paying the bills to finding new vendors, and stocking the Hat Bar with the latest styles and trends. In just half a year's time, their business has boomed and today, they possess a palpable gratitude for the Fredericksburg community that's embraced them on their journey.
"The support we have experienced is unmatched," said Hannah. Kelsey agrees saying, "The thing I love most about Fredericksburg is the small town feel and how all the stores on the main strip, including ourselves, give local discounts and just rally together and support one another."
The founders even sponsored the local Stonewall Peach Court this past year by making the girls custom hats to wear at the rodeo. "It was so much fun seeing all the people at our small town rodeo who had made a hat with us," Kelsey said. "We felt the love that weekend!"
Visit Felt Boutique at
339 E Main St, Fredericksburg, TX 78624
and follow along on Instagram @feltboutique_.