Hill Country breweries will always have one huge advantage over city breweries: Mother Nature. In addition to brewing great beer, many of them also offer pleasant beer gardens under the shade of live oaks, sometimes with a breathtaking, eye-pleasing vista to enjoy between sips.
But none of them are emphasizing nature to quite the degree of Beerburg Brewing. When owner and head brewer Trevor Nearburg (yes, it rhymes with Beerburg and that's completely intentional) uses phrases like "all-natural," "organic" and "locally sourced," they aren't just marketing buzzwords. And for him, natural doesn't just mean chemical-free – it means wild.
Nearburg is boldly experimental with some of his beers. Yes, he offers plenty of standards, the lagers and pale ales brewpub patrons expect, and he does them well. But Beerburg also has a menu of "Wildcraft" beers. They might not be what you expect. They're definitely a different experience. Given a chance, however, they'll really grow on you (pun intended).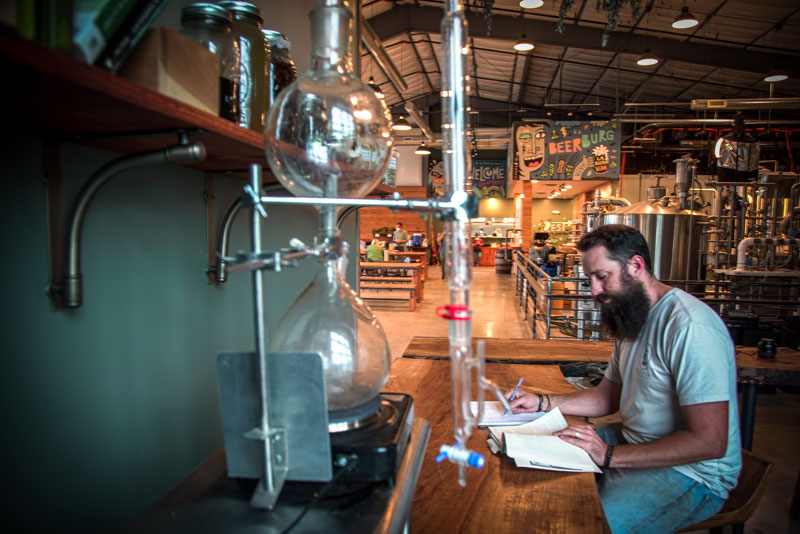 "Wildcrafting is essentially just making something for consumption with foraged local ingredients," Nearburg explains. "Rather than cultivating my ingredients, I'm going into nature, connecting with and learning about the things around me and brewing with them."
Translating that concept into beer, it means making a radical departure from one of the building blocks of brewing: The Wildcraft line doesn't use hops. Hops are the plants used to add bitterness to beer. You may think you don't like bitter beers (like IPAs), but even that light lager you prefer has some amount of hops in it.
Hops don't grow well in Texas, so local brewers import them from other regions. In his attempt to make truly Texas beers, Nearburg looked in Beerburg's literal backyard for other flavoring agents. On Rock & Vine's visit, that meant an ESB brewed with mugwort, a golden ale with szechuan pepper, horehound and prickly ash, a Berliner-weisse with sumac and a porter with mesquite.
Wildcrafting is essentially just making something for consumption with foraged local ingredients.

– Trevor Nearburg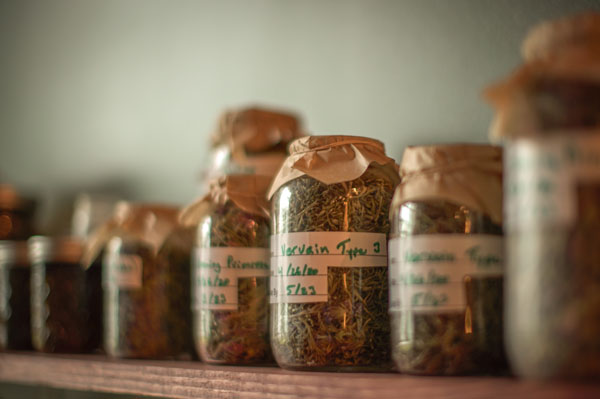 It may sound familiar – Beerburg's across-the-street neighbor Jester King Brewing (they're both part of the Fitzhugh Road brewing/distilling scene) is famed for relying on the yeasts found naturally in the air on its property. But Beerburg is going even beyond yeasts, and Jester King is noted for specializing in sour styles and farmhouse ales, which Beerburg doesn't do. "We'd be foolish to try to compete with Jester King," says Beerburg general manager Ricardo Gutierrez, acknowledging his neighbor's reputation as the giant of those styles.
"I've never been one to lock myself down in one style as a brewer," Nearburg says, who previously worked for Real Ale in Blanco and Uncle Billy's Brewing in Austin. "I have so much respect for brewers that focus on a style or method of brewing, but I'm always fascinated by new stuff. I love being outdoors, I'm always out hiking, and I would see things like beautyberries or sumac."
Of course, ingesting random plants and berries could land one in the hospital (or worse), so as he began exploring the wildcraft idea, he was widely advised to consult an herbalist. He ended up taking classes with Sacred Journey School of Herbalism in Austin to learn what might work and what wouldn't.
"Now I can identify what to gather and how to use it," Nearburg says. "There are so many plants people are aware of but don't realize how much they can use." Nearburg actually offers "herb walks" on the Beerburg property to educate the curious.
The natural, holistic philosophy extends to everything at Beerburg. Gutierrez, who is also the head chef, says, "Our kitchen only uses clean products. Our meat and chicken are antibiotic-free." He says they use organic products whenever possible and source local when they can, such as getting beef from 44 Farms in Cameron, northeast of Austin. "I don't cook with garbage," Gutierrez says. "I often forget that's a selling point … it's just the way I cook."
He learned that lesson young, beginning in his family's south Texas restaurant business when he was six years old, working alongside his grandmother. He credits both his grandmothers for teaching him to cook. Gutierrez came to Beerburg with a different plan, aiming at brewpub staples like burgers and sandwiches. But the pandemic intervened and shut Beerburg down, and like so many other businesses, they came back as a leaner operation.
"When we reopened the beer garden, we had to simplify to what two people could handle," Gutierrez says. So he went back to his roots: tacos and Mexican street food. "It's easy and in my repertoire. We rebranded the kitchen as Taqueria la Violeta," named after his family's ranch.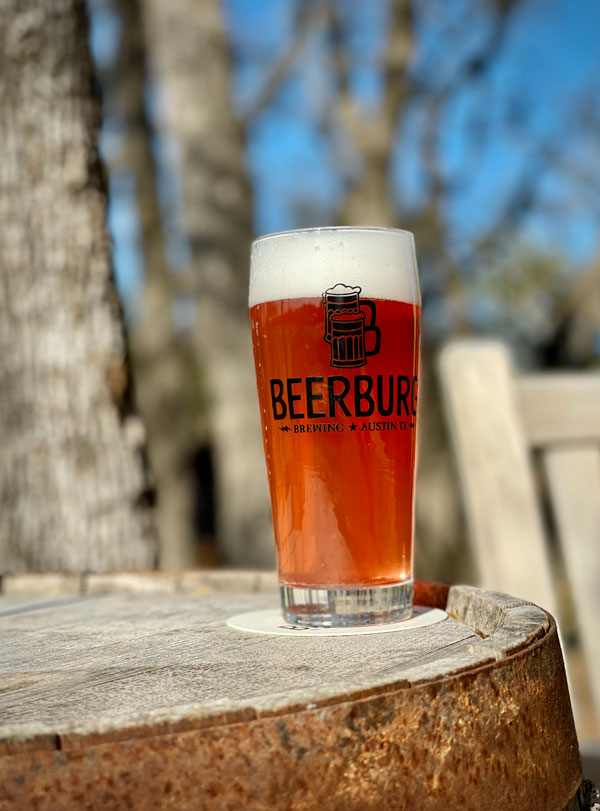 Violeta's foods are made from scratch as often as possible, including the salsas and tortillas, and even some spectacular ice cream that is not to be missed. Both the steak quesadillas and caramel-drizzled Mexican vanilla ice cream we enjoyed on our visit dazzled our taste buds and showed that beer is only one of the great reasons to stop in.
Along a stretch of road that has so many breweries, tourists tend to hop from one to the next. Gutierrez says his kitchen's goal is to create food that makes them stop and hang around for more than one beer. It works.
All of this is best enjoyed outside on Beerburg's picnic tables, perhaps with a live band playing and a gorgeous view that, thankfully, will remain forever – unlike so much of the area west of Austin being developed, Beerburg's 15 acres abuts a nature preserve. In other words, it will stay wild … like the wildcraft beers.
Nearburg says he's still getting feedback on the wildcraft menu, because the pandemic delayed putting the experiment into commercial reality. "My focus [during the pandemic] has been on 'how do we survive?' not on 'how do I explore my weird experiments?' But the feedback has been really good from people that enjoy the concept."
Frankly, says Nearburg, he knows that the "normal" beers will probably be what makes the business succeed, but as for the wildcraft menu, "I'll never stop, even if it doesn't make money. I enjoy it and I'll keep fine-tuning it."
The funny thing is, if you look back at the over 5,000-year history of brewing, what Nearburg is doing is really pretty normal. Hops only became a staple of beer in the last millennium. But Nearburg rejects the notion that he is engaging in some sort of throwback practice.
"People try to classify this as ancient, but I'm trying to modernize," Nearburg says. "Instead of ancient, we're removing the barriers we've put around ourselves. I don't understand why people restrict themselves.
"Come on this journey with me," Nearburg says. "I feel like we will get there."