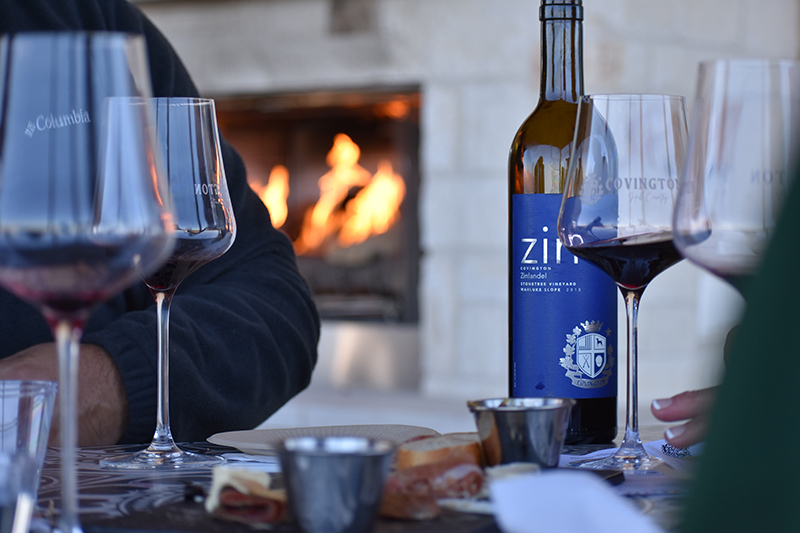 As a young petroleum professional, Cindy Lawson left the Great State of Texas to pursue an opportunity in the port City of Seattle. It was here, where Washington wines were starting to make an impact, she was able to change her love of wine into a passionate business. 
Over the 20 plus years she lived in Washington she met, married, and converted her beer loving husband, David Lawson, into a wine lover, too.
As a team, they started Covington Winery and many years later the business boasts 4 tasting rooms in the Washington and one in her home State of Texas. Cindy oversaw the build of a beautiful, inviting new facility along 290, It offers gorgeous long range views and plenty of land for their own vines on site.
Covington Hill Country winery offers extraordinary wines from Washington AVAs, as well as a few from Texas, and at least one with grapes from both regions. Don't miss this tasting room the next time you're near Johnson City.
---
2019 Chardonnay
Boushey Vineyard Yakima Valley
Soft, smooth and fleshy, this balanced chardonnay shows a medium hay tone. Aromas of golden delicious apples, and nectarines with hints of cream, bright acidity on the tasty, long finish.
Perfect with baked brie and peach compote or grilled chicken with mango salsa.
---
2020 Gewurtztraminer
Olsen Vineyard
Yakima Valley
Created in the "orange" style, meaning the skins were left in the juice while fermenting. This process creates incredible body in lighter styled wines. Prepare your senses for peach, apricot and honeysuckle blossoms with a hint of white dust. Racy acidity creates a WOW finish.
The quintessential Thanksgiving wine or a light salad with persimmons.
---
2020 Field Blend
Zinfandel, Primitivo and Petite Sirah
Chillable Red
A unique wine that seems tailor made for Texas. This is a red wine, not a ròse, showing a dark wild salmon color with essences of pomegranate, Rainier cherries and red plums. Five months in oak imparts hints of tobacco leaf and star anise. Beware, it's 15% alcohol.
Serve this with Texas BBQ and grilled fajitas.
---
2019 Tempranillo
100% Tempranillo
Texas High Plains
This Texas Tempranillo exhibits the classic traits of its Spanish cousins, beautiful dark brick red hues and old-world masculinity. Bouquets of cranberry, blackberry leather and char envelope the nose. There is an earthiness in this glass. A solid tannin structure hints that this mouthwatering wine could cellar for a while.
Drink with mushroom croquettes or bacon wrapped dates.
---
2019 Rio Ronde
50% WA Syrah
50% TX Tempranillo
Covington's storybook wine, named for the Rio Grande (TX) and Grande Ronde (WA) rivers. It pours into the glass, a deep purple ruby color. A thinker's wine that delivers black plum, black berry, soft leather, cloves, licorice and sweet smoke all wrapped up in a wonderfully structured red.
Pairing choice: Chateaubriand with a Stilton cheese starter. Better get two bottles.
---
2018 Zinfandel
Stone Tree Vineyard
Wahluke Slope, WA
The vineyard is known for producing highly rated zinfandels. This brambly zin shows a complex nose of ripe blueberry, black cherry, plum, black licorice, hints of cocoa and sweet smoke. It is fruit forward with integrated tannins for a long, glorious finish.
Partner with cheeses such as Manchego, Havarti, or goat cheese with fig jam.
---
2018 Syrah
Yakima, Walla Walla, Wahluke Slope, Heaven Hills – all in Columbia Valley
Classic old-world style Syrah with stunning fruits. Dense aromas of dark plum, ripe blueberries, cherry pie and floral notes greet the nose. This is a full-bodied, mouth filling Syrah offering balance on its long finish.
A great choice with spareribs or hamburgers.