Claude Alexander has many passions in life. The Canadian-born entrepreneur is actively pursuing one of them – wine – at Alexander Vineyards, located east of Fredericksburg along the 290 Wine Trail. Music is another love, and one that plays into the vineyard's guest experience, thanks to a treasured record collection and a state-of-the-art sound system. 
Wine and music aside, however, there is no love quite like the one Claude has for his dogs.
Growing up in Montreal, his family got its first German Shepherd when he was just a boy. "I've been obsessed with the breed ever since," he said. Today, his eleven-year-old purebred named Pinot, is a bonafide member of the Alexander clan. Loyal and obedient, he says, "Her temperament is unlike any dog I have ever had."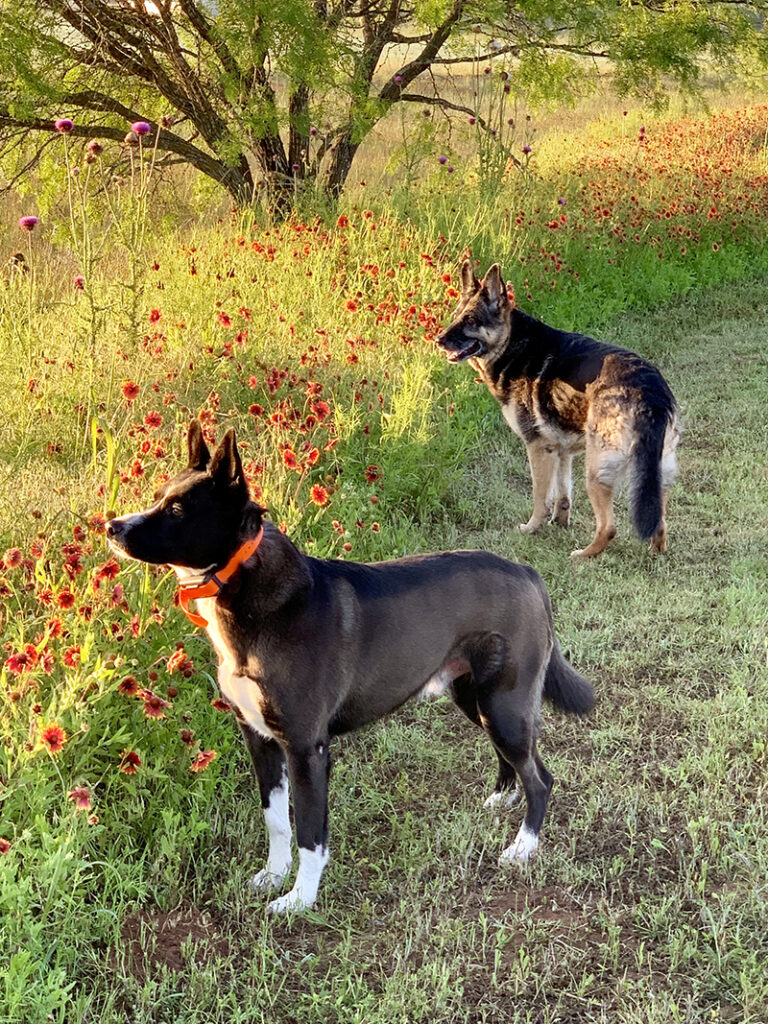 Kids visiting the vineyard alongside their parents are even known to clamber, climb, pull and poke at Pinot, with hardly a batted lash. One gentleman got wind of her docile demeanor and brought his daughter for a visit. The father had long wanted a dog for his family, though his two-year old was terrified. "I squatted down, took her by the hand, and introduced her to Pinot," Claude remembered. "Twenty minutes later, she said, 'Daddy, I want a dog,' and the guy started crying."
In her eleven years, Pinot has also endured great heartache and tragedy, particularly as Claude grieved the loss of his daughter. "She's been with me through everything," he shared. "I think we both helped each other when my daughter was killed. You could tell that she was really down and depressed, and I at times had bad days, and we'd meet on the floor and snuggle. It was very comforting." Even still, Pinot has a way of consoling her owner. "She'll come over every now and then and put her paw on me as if she knows I need to feel some affection, which has just been amazing."
Balancing Pinot's peaceful, affectionate nature is her wild and crazy counterpart, a black-and-white Shepherd Border Collie mix named Gizmo, whom Claude rescued from the Kendall County Animal Shelter. "Gizmo has a much more playful side, and he reminds me not to forget that," said Claude.
At the vineyard, Gizmo channels his spunky, free spirit by running the grounds and chasing deer. Much to Claude's chagrin, he's even excelled at catching skunks. On four occasions, he's returned back home, his proud white chest stained a pungent yellow from repeated spraying. "I've suffered the consequences because he stunk for weeks," Claude laughed. Alas, it's a small price to pay for living in the country.
Despite their differences, both Pinot and Gizmo are inseparable. Every day, they follow Claude down to the pond on their property to check the progress of the vineyard's new Lake|Flato-designed tasting room, opening this summer. "They go and inspect with me," he shared. "It's a lot of fun."