With tongues out and hair coiffed, Chloe and Clyde Jones make a breezy pair as they coast past a sea of grapes on the back of their parents' Polaris. The Miniature Australian Shepherd and Miniature Goldendoodle are the proud fur babies of Emily and Chase Jones from Slate Theory Winery. 
Like many siblings, Chloe and Clyde have their differences. Where Chloe is calm and white with tuffs of taupe and gray, Clyde's kinky red coat befits his spunky demeanor.
As the older of the two, Chloe has earned her reputation as the loyal big sister, and her parents' trusted companion. In fact, it was that signature loyalty that drew Chase's family to the breed many years ago. Admittedly, when Emily and Chase started dating, it took a while for Chloe to warm up to another lady in the house. "At first, I was 'the other woman,' but now I'm the favorite, I think," Emily quips. "I give her treats and take her to Starbucks to get Puppuccinos."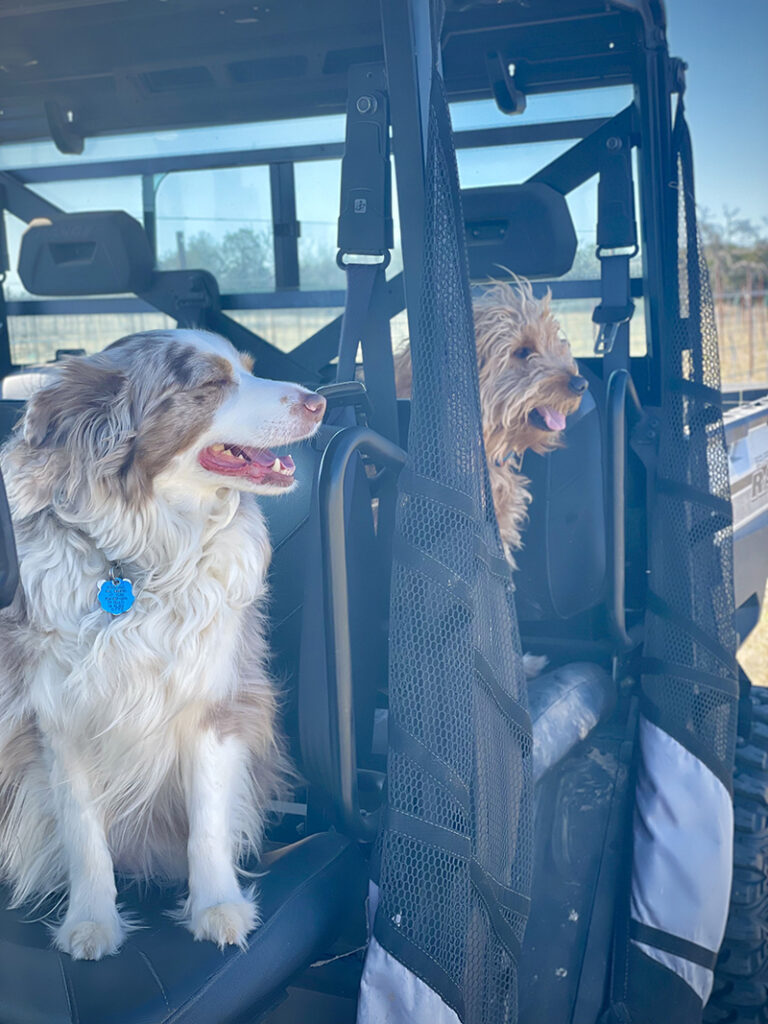 Over time, Chloe has presumed the role of "boss lady" in the Jones' household, getting backrubs on the regular and treats whenever possible. "Aussies are herding dogs, so she loves to herd us around," Emily says. She is also a great persuader of mealtime hand-outs, as evidenced by her growing girth. Water is another of the six-year-old's favorite pleasures in life, as is doing "happy puppy rolls" beneath the irrigation lines at the family vineyard.
Meanwhile, Chloe's younger brother, Clyde, is a feisty and high-energy four-year-old who loves Cheez-Its and toys in equal measure. This happy goldendoodle has never met a body of water – or a pool of mud – he didn't like, and he loves to stretch his legs. Every morning, he shows off his all-star track record as he canvases the vineyard at lightning speed.
It is all in a day's work for Chloe and Clyde, who are steady companions to Emily and Chase. As the Vineyard Manager and Director of Vineyard Operations at Slate Theory Winery, the young couple stays busy throughout the year. "When you are thinking about how bad your hands and back are hurting, then you look up at the happy puppy roll, it is very entertaining," says Chase. "They are so happy when we're in the vines."
Collectively, the family of four spends most of their days together, and even shares a lunchbreak, with snacks for all. "They are like your favorite co-worker," Emily shares. And whether the dogs are with them in the field or waiting back at home after a rainy day at work, the reward is the same. "You either take the joy with you or you get to come home to it," she says.
Best of all are their evening drives together as the sun pools gold over the grapes. "Our favorite thing to do is drive around the vineyard," Emily says. Chloe rides in the middle and Clyde runs alongside the vehicle, much to his delight. "That is how we like to end our day – we load them up, take a glass of wine, drive through the vines, and watch the sunset; it is everything to us."