Justin Kerr is one of the few people to escape a Ponzi scheme not only unscathed, but with a successful investment.
It started in Taiwan where he was working as an English teacher. He invested $800 in a scheme to import wine into China. As fate would have it, he exited the scam early, taking his now $20,000 and parlaying that into a wine adventure in South Africa.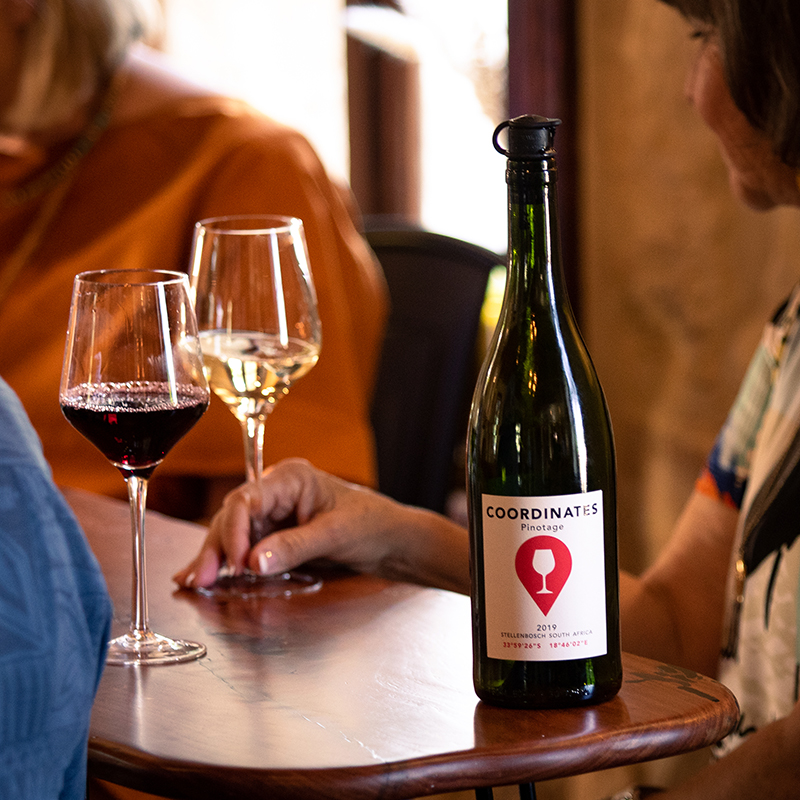 It was there he learned the value of Coordinates. He was lucky. Even when COVID-19 hit, he was able to relocate to Texas where his brother and business partner, Mahlon Kerr, lives.
Recognizing Texas has more demand for wine than supply, Austin took advantage of his connections to bring these delectable wines from South Africa to the Hill Country. Another stroke of luck and Coordinates opened its doors at 417 E. Main in Fredericksburg.
Stop in for the full story and a great glass of wine.
---
Sparkling Brut NV
100% Sauvignon Blanc
Roberson
It is rare to come across a sparking Sauvignon Blanc, but this one seems to belong here in Texas. Tiny bubbles created by the traditional method float up the very light, hay-hued wine. Essences of Meyer lemon zest and brioche greet the nose. It is bright, yet subtle with mouthwatering ruby red grapefruit on the finish. Delightful alone or served as a mimosa.
---
Sauvignon Blanc
2021
Stellenbosch
The grapes were hand harvested over a two-week period. A bouquet of lemongrass, melon and pink grapefruit arise from this yellow, straw-colored wine. Flavors of lime tickle the tongue on the long finish for a Sauvignon Blanc. Pair with shrimp ceviche on the patio.
---
Unoaked Chardonnay
2021
Stellenbosch
A light, toasted quality from six months of aging on the lees. Aromas of crisp Kanzi apples, plantains and pineapple mingle with orange blossoms. A light- to medium-bodied white with an interesting viscosity and hints of minerality. The mouthfeel is reminiscent of a Creamsicle. A delightful take on Chardonnay. Yummy with Margarita pizza or goat cheese on fresh figs.
---
Chenin Blanc
2021
Stellenbosch, South Africa
Bright gold in color, this variety in South Africa's most famous grape. This bottle offers up a soft perfume of opal apples, white peach, apricot mingled with white flowers. The whole cluster fermentation gives a lush body. It shows balanced acidity on an easy finish. Serve with a Thai green curry or jalapeño poppers.
---
Rosé
2021 Counoise
Texas High Plains
Another delightful rarity, rosé from a sparsely planted red Rhône grape, grown in Texas. Just a hint of pink on this tasty rosé made in the Provence style. Scents of violets, strawberries, and watermelon titillate the olfactory and notes of red grapefruit dance on the palate. Perfect for a spring luncheon of Salade Niçoise or grilled red fish.
---
Sangiovese
2021
Texas High Plains
Light ruby hues shine in the glass. A bouquet of cherries, cloves, tobacco, orange pekoe tea, red plum, and violets intermingle on the nose. The tannins are beautiful balanced with nice acidity on the finish. Enjoy with a sun-dried tomato pesto dish.
---
Reserve Pinotage
2020
Paarl, South Africa
The red grape created in South Africa, a cross between Pinot Noir and Cinsault. A dark, ruby red color shows off scents of blackberries, currants, dark cherries, mushrooms and earth, The flavors are concentrated and meaty. This lush red belongs with Texas barbecue.
---
Reserve Red Blend
Cabernet Sauvignon, Malbec, Petite Verdot
2020 Paarl, South Africa
A full-bodied red that shows shiny garnet hues. A rich blend of red dust, briary plums, blackberry, saddle leather, dark cherry, pomegranate, and a hint of nicotine. This is a masculine red with velvety texture and integrated tannins. Luscious! Fabulous with grilled lamb or hangar steak.
---
Reserve Cabernet Sauvignon
2018
Stellenbosch, South Africa
Smokey, earthy and leathery…. this bold red wine delivers dense black current, and blackberry aromas meshed with cranberries, tea, cigar box and allspice. The supple tannins embrace the palate. Perfectly paired with Beef Wellington.