The vast majority of the Lone Star State is privately held, the beauty of its landscape and the diversity of its nature is mostly hidden from those who are not family or friends. The rivers of Texas, however, are different. Here the general public has access to the relatively unchanged and unspoiled beauty that is Texas. Access isn't always easy and traveling the state's rivers is a challenge of physicality, endurance, logistics, and time. Grant Pittman accepted all of these and decided to head out to see the real Texas for himself.
Pittman, a professional photographer from Austin whose work has appeared across multiple media platforms, first became interested in the outdoors at an early age. "I used to be in Boy Scouts of America. I'm an Eagle Scout, and we did a handful of kayaking trips then, but I hadn't done a whole lot until about a year ago," he said. That is when Pittman finally purchased a kayak of his own. "I bought this inflatable kayak last summer. It's made by Intex, which is that same brand that makes all those inflatable mattresses, so I joke about it not really being an actual kayak — it's a blow-up mattress disguised as a kayak. But it gets the job done, man, because you can pack it up real small and transport it. It sits two people, so my wife and I can get out on it simultaneously." Pittman and wife Sarah have taken the inflatable to waterways throughout the Hill Country. "Lake Travis, Lake Austin, Lady Bird Lake, a little bit more north of that, the Highland Lake area, kind of by Kingsland. I've taken it out on Inks Lake, Lake Buchanan, the Colorado River in between Colorado Bend State Park and Lake Buchanan, which is really pretty."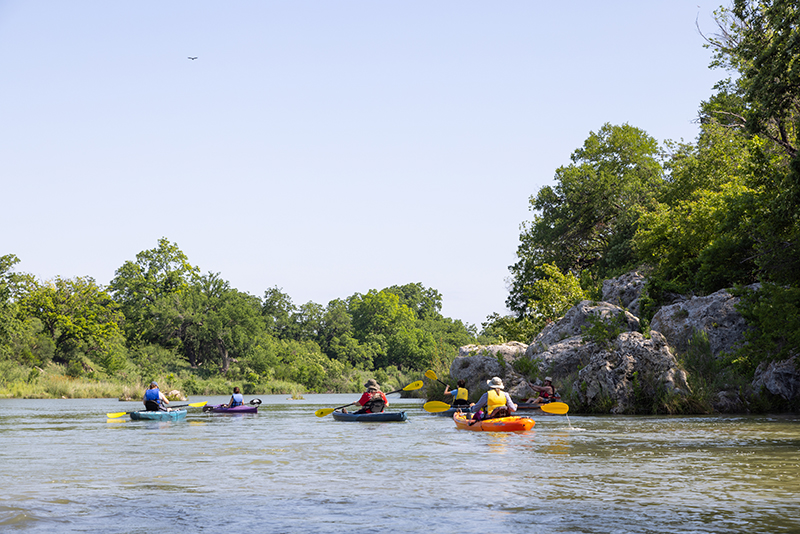 In between these expeditions, Pittman began watching and studying the work of Gatewood Brown. "He is an avid kayaker. He does these multi-day kayaking trips with his buddies and he films the whole thing, documenting it and telling the story of their trips. He and I began chatting on Instagram maybe six months ago and sparked a friendship. He reached out to me about two months ago to come on this most recent trip with him."
That trip began on Friday, June 3, in Junction. Or it was supposed to. Due to a series of storms, the trip was put back a day leaving Pittman, Gatewood, and four others (Bret, Parker, and Chuck) with time to kill. "We hit Pizza Junction and it was really good. They have a wood-fired grill in there." From there the group went to Lover's Leap Overlook. "We went up there to watch that storm blow in, and the sky just totally lit up at sunset. It was wild. But we were up there," Pittman said. "That's a local landmark scenic viewpoint where people go to and we had got up there because it's kind of one of the high points, to take in that sunset and just hang out before we got onto that river the next day. It's a beautiful spot. It's a big limestone bluff that's up above the river and you can see the whole town from up there."
The next morning saw the group hit Isaack Restaurant, an old-fashioned American diner. Big plates of eggs, hash browns, pancakes, bacon, sausage, and hot coffee got them ready for the trip. From there it was onto South Llano River Canoes and Kayaks where some rented kayaks and arranged for the group to be picked up at a designated take out point the next day. The group hit the water and headed downstream.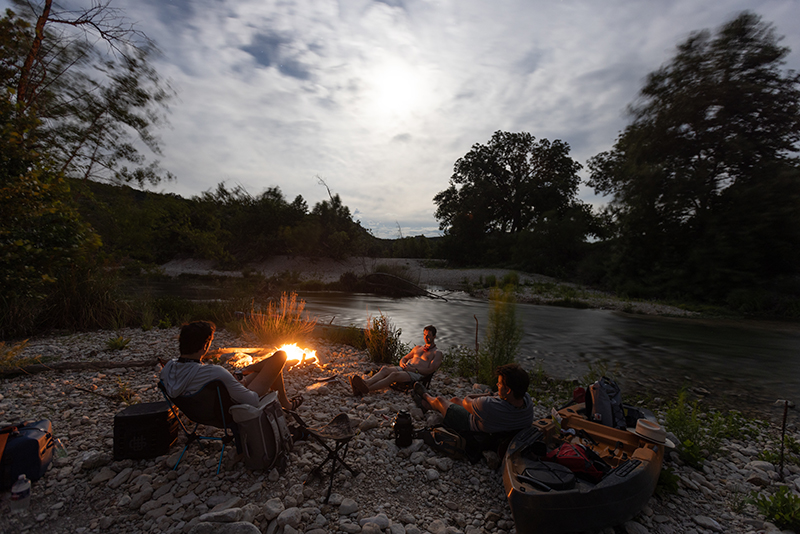 "Right where we started off, some very tall limestone bluffs off on the right side, which they tower above you about 150, maybe 200 feet. There is some farmland you pass through, but for most of the time, it's kind of wooded on both sides," Pittman said. "Although you're passing right through some people's ranches and farms, it doesn't feel like you are doing that. It feels like you're really far out there because of this vegetation on either side. There are big groves of sycamore trees, bald cypress trees, live oaks, Ashe juniper. That topography just added to the overall ambiance of all that nice foliage."
Because of the storms the night before, the water clarity was lacking. "It was like a murkier, turquoise, blue color. It was a nice blue color, but it didn't have that full transparency like it normally does." But the group still saw an abundance of fish and turtles and a host of vegetation including lilies. "That was one of the cooler aquatic plants we saw was that big patch of these water lilies. They're the size of both your hands put together, if not bigger."
This made for the perfect place to take a break. Gatewood did some fly fishing and managed to land a Guadalupe Bass while others in the group jumped into the drink to cool off from the hundred-plus-degree temps. "That's the best part about it. If you're just out hiking or backpacking in the summer, it can be brutal in Texas because the heat. But this kayak camping's really cool because you can just flop off, like I said, into the river at any point and cool your body temperature down quickly." The group loaded back up and continued a leisurely pace downstream.
"There were strong flow rates, so we didn't have to do a ton of paddling the whole time. There was a few, I'd say, Class 1 rapids that we went over that were a lot of fun, so we got a little whitewater action in. That part of the Llano is very scenic." The group continued downstream for a few more miles then scouted for an island to camp on via the use of a drone. They found it about three hours to sunset. "We pulled up onto this nice sandbar. It looked like an ideal spot because it was relatively flat. It had lot of vegetation, but they were spots that were sparse enough to set up a tent. It's very rocky, so you do have to level the ground a little bit to make a soft spot to put your tent and your sleeping pad," he said. "But this spot was ideal because it also had a little rapid flowing next to it and so there was just this awesome sound of running water all night long to lull you into sleep." The group camped for the night, cooked burgers and brats, drank Shiner beer, and enjoyed the tranquility of their isolation.
They rose bright and early the next morning and kayaked their last miles to the pickup point where they were met by their guide and ferried back to their vehicles. After a day and night on this Texas river, Pittman is already thinking of his next adventure.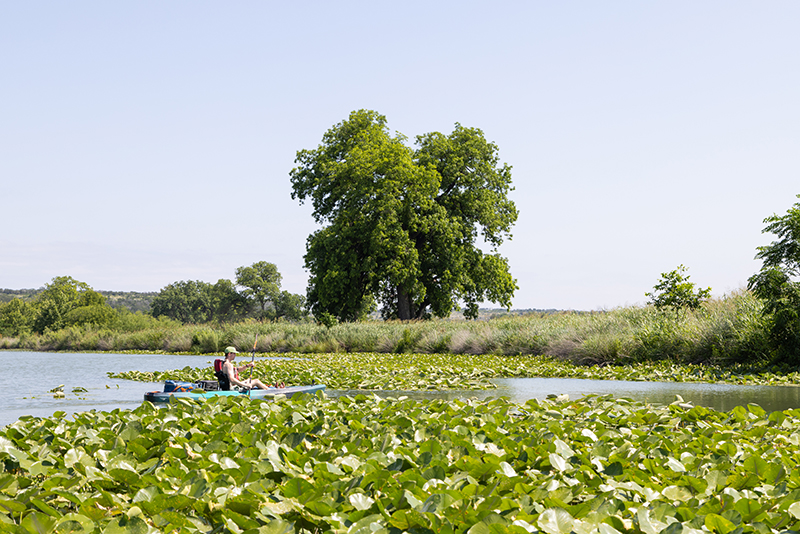 THE LLANO
The Llano River is a tributary of the Colorado and drains partially from the spring-fed streams of the Edwards Plateau in the Hill Country. It spans 105 miles.
The Llano is known for clear and pristine waters, ideal for tubing, swimming and kayaking because of its slow-moving nature.
Ornithologists have recorded over 250 bird species along the river, and wild turkeys can be most visible Oct. 1 – March 31.
Llano River State Park has also earned the title "International Dark Sky Park," perfect for stargazing during nights along the river's edge.