When walking into the historic home that houses Emma + Ollie, it's like entering the abode of a beloved aunt or grandmother — where everything is made from scratch, where it's a little crowded with friendly smiles, where you might share The Local Table with strangers and leave as friends. The restaurant harkens back to an earlier time when women lovingly made everything, using produce from the garden, eggs from the hens, and meat from the livestock.
Emma + Ollie began four years ago in the spot where The Nest used to operate. Open for breakfast and lunch, Tuesday through Friday, and brunch only on Saturday, it's the hot daytime spot in town. Weekday waits may last up to 30-45 minutes, and people start lining up an hour before opening on Saturdays for favorites like eggs Sardou and Monte Cristo. Some people are there to sit down to a meal, and some are there to pick up signature pastries — beignets, brioche, banana bread, Bomboloni, cinnamon rolls, kolaches, muffins or Executive Chef Rebecca Rather's trademark bacon-cheddar scones.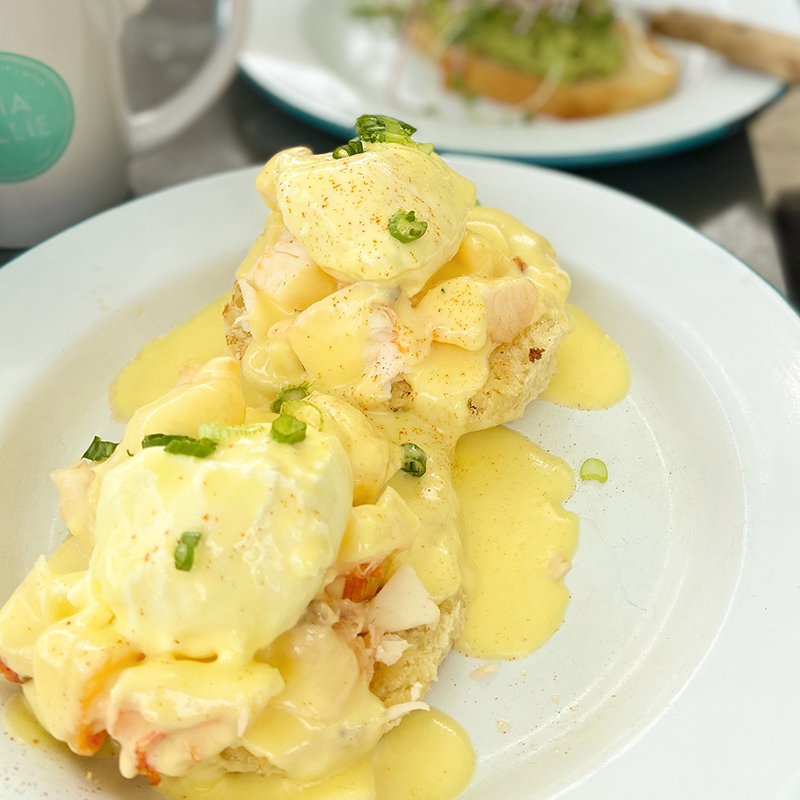 She's the magic-maker.
The restaurant's whole aesthetic comes from Rather — the furniture is hers, as is the enamelware and the sugar containers. Emma + Ollie feels like a home because almost everything a diner touches comes from a home. Ollie is the name of business partner Kathryn Harrison's grandmother, and Emma comes from Rather's beloved great aunt.
Rather was raised around white kitchens bursting with baked goods — "shiny, shiny white with white Formica countertops."
"My grandmother, she made pies, and my great aunt Emma made bread," she said. "Grandmother, when I'd go for Thanksgiving, she'd have pies everywhere. I have all her recipes, her candy, divinity, fudge. She wasn't a small woman. She was smushy!"
Rather launched into her identity as the Pastry Queen after her divorce. After running the pastry department at Tony's and other premiere restaurants in Houston, she and her daughter moved to the Catskills in New York. Rather trained with an artisan break baker at Bread Alone as part of a venture of bakery-cafes for Schlotsky's.
Later she had a succession of restaurants in Fredericksburg. Rather Sweet was known for baked goods. Rebecca's Table was farm-to-table before that was chic. The Pink Pig leaned into brunch and lunch items. Emma + Ollie brings it all together. Now Rather gets to play in the kitchen, something she's been doing since her earliest years.
From the time she was a teenager, Rather was cooking for her family nearly every night. She had to work around her mother's illness and her father's refusal to try anything he had eaten once too often during the Depression.
"My father didn't like chicken, didn't like tuna or pimento cheese. Once I made chicken Parmesan, and he wouldn't eat it," she said.
It's been a baker's dozen years since Rather's last cookbook, and she has ideas for a new one (or two). At Emma + Ollie, she'd like to offer more casseroles to-go, like she did during the pandemic.
"King Ranch, chicken pot pie, lasagna, pastitsio, chicken enchiladas, shepherd's pie," Rather said.
And of course, she's planning more pastries. More comfort food. The chance to make menu items lighter in the spring and put peaches on everything in the summer. To create Cajun-inspired dishes. But no Coq au Vin.
"If I need to feel better, that's what I make, and I use Julia Child's recipe. Everyone has their own comfort food. Coq au Vin is mine. If I'm making that, I'm probably not okay."
For diners who come to Emma + Ollie, everything is okay. Manager Emily Harper says the goal at the cozy, intimate restaurant is to "make people feel cared for by feeding them."
"We've made this spot at the table just for you," Harper said. "You can forget about everything happening in the world and just enjoy."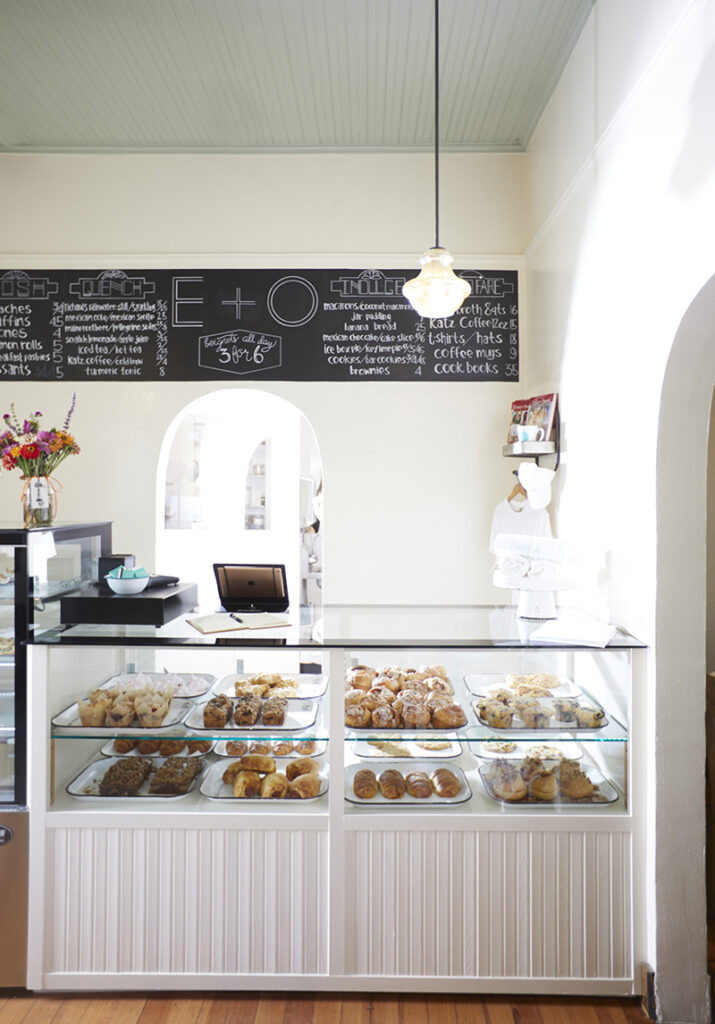 Emma + Ollie partners with area producers to source food locally as much as possible, including from Rather's own herb garden. The goat cheese comes from CKC Farms in Blanco, along with sprouts and microgreens from Reverse Pioneers. The pickled vegetables come from Fredericksburg's own Hat & Heart Farm. In peach season, the fruit hails from Eckert's, which has provided the Hill Country with peaches for almost 100 years. The sausage is made with ground pork from Center Point's Zanzenburg Farms, the chickens are from organic provider RedBird, and the grass-fed beef is from 44 Farms, in Cameron. Austin's Vital Farms provides the eggs.
"People will eat our scrambled eggs — these aren't 10-cent eggs from some sad place. The customers can tell the difference. They know the product is good and as fresh as it can be when they see it on the plate," Harper said.
If you order the tomato toast or avocado toast, you'll be treated to sourdough bread from local favorite, JoJu Bakery.
"When there's someone in town doing the best, you buy it from them," Harper said.
Breakfast is now served all day, catering to vacationers who like to sleep in and eat late. Lunch service begins at 11 a.m. Plans are in the works to enclose the back patio to accommodate more guests while maintaining an open feel.
Now that spring has sprung, Harper says people should remember Emma + Ollie when planning a picnic. There are take-out lunchboxes filled with a tasty Rebecca's Chicken Salad sandwich, along with chips or fruit, perfect to take on a hike to Enchanted Rock. (Don't forget to buy a cookie!)
Or pick up something more romantic.
"We recommend coming in and grabbing a bottle of wine from the retail room, a beautiful jar of homemade jam or jelly, a loaf of sourdough and some cheese," Harper said.
Although Rather and Harper are pleased that so many out-of-town visitors enjoy Emma + Ollie, they try to take care of their locals, the ones who kept them going during Covid: the standing order from the auction barn, the people who pick up pastries for an office meeting, the ones who walk in and the staff knows exactly what they're ordering.

"Some people come every day," Rather said.