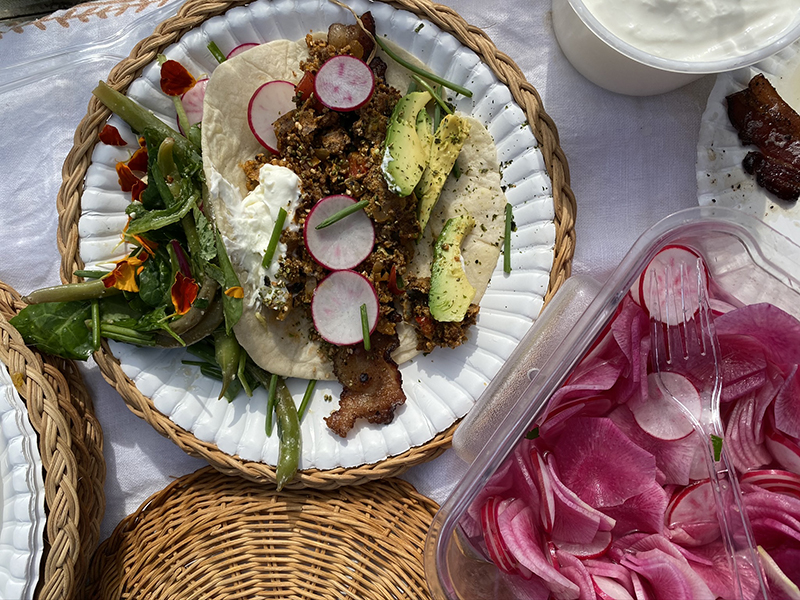 Picnic: It's a noun, it's a verb, it's a table, it's a blanket. It's the warmth of the sun on your shoulders, or maybe an oak's shady reprieve under a perfectly chosen spot. The word likely comes from the French "pique-nique," a 17th-century potluck meal set inside or out, where guests would bring wine to share. And while not all picnics are potlucks, sharing your blanket space is highly encouraged. 
Like young onions and tender asparagus, picnicking is in season here in Texas. If you're lucky, you might be joined by scads of wildflowers and the banter of water and limestone.
When you picnic, even the simplest of food that has been thoughtfully packed is elevated by the fact that you're enjoying it al fresco. If you take the extra step and bring a few accessories — textiles, glassware, and maybe a condiment — your meal becomes ritualistic. A quilted, plein air painting, on your plate. The saying "what grows together, goes together" seems somehow relevant when trying to decide on your picnic fare. So many hill country picnic destinations are moments from a vineyard. Do the duteous thing and pack a chilled bottle (or can) of Texas wine for your springtime pique-nique.
A picnic can be as humble as a pocket knife, hunk of hard cheese, and torn bread thrown in a hiking backpack and unearthed after a sweaty summit, or as opulent as a wicker basket stuffed with glassware, delicate fruit, and champagne. I can avouch for both types of meals. But, what you eat matters less when you're doing the eating outside; the excursion itself will add a flavor of its own.
Shifting the scenery from kitchen table to outdoor mesa, plus the practice of unpacking your precious cargo of sandwiches and salads can enliven your senses, just like brushing your teeth with your non-dominant hand. Have you ever tasted a peanut butter and jelly sandwich, slightly smooshed, after a 10-mile paddle down the South Llano River?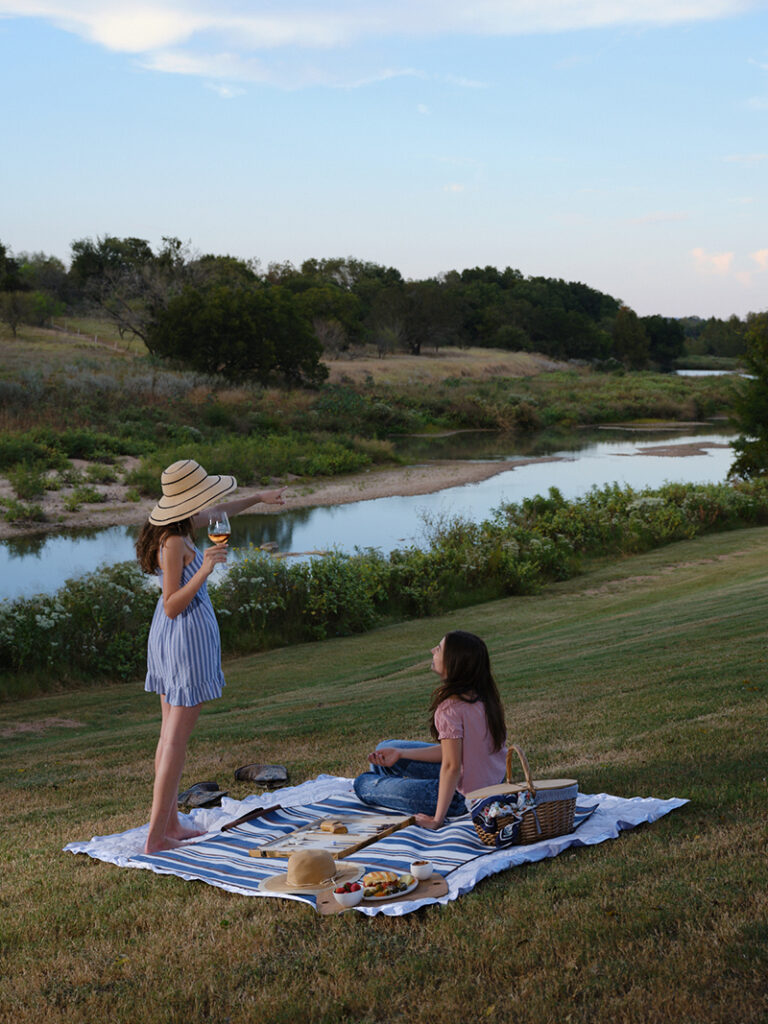 Like food with wine, the atmosphere, quite literally, can transform the food you eat. With a tree as your backrest and rocks as your table, you can't go wrong. But in case you need some tips, here you are.
The Blanket
Pack a table cloth or something that can serve as a barrier between the great outdoors and your food. An old blanket or even a patterned top sheet will work. If you feel compelled to bust out your heirloom quilt, consider throwing a tarp underneath.
While going to college in Austin, I bought a thin, earthy tapestry from a vendor on South Congress. When the tapestry wasn't displayed as dorm decor, I would tote it to Barton Springs to bask in my newfound Texas freedom. This is still my go-to picnic blanket, for its hippy nostalgia, yes, but also for its utility: it's easy to wash, large enough for several to share, and can easily stuff down into a bag.
When choosing a blanket, similar to choosing a mixing bowl, always follow the rule that larger-is-better. You'll want space to both dine and lounge; your blanket is both table and chair. Some of my favorite picnic memories involve gathering a group and connecting blankets into a large and friendly patchwork.
Even when kayaking and packing light, I like to include a clean bandana in my dry bag to use as a "table cloth" for displaying ziplocks of sandwiches, chips, fruit, and maybe a Snickers bar.
The Spot
Central Texas is home to a handful of popular state parks which make terrific picnic destinations. There are also a large number of state natural areas and nature preserves, less visited by equally worthy of a picnic.
My picnic list for the spring includes Government Canyon near San Antonio and Hill Country State Natural Area near Tarply.
For a quicker, more leisurely jaunt, why not just load up your family's dinner and head to your local park.
Likely, there is a picnic table in your hometown that deserves some attention. Center your picnic around an activity like swimming or visiting a nearby town, or, picnic for no other reason beyond lunchtime.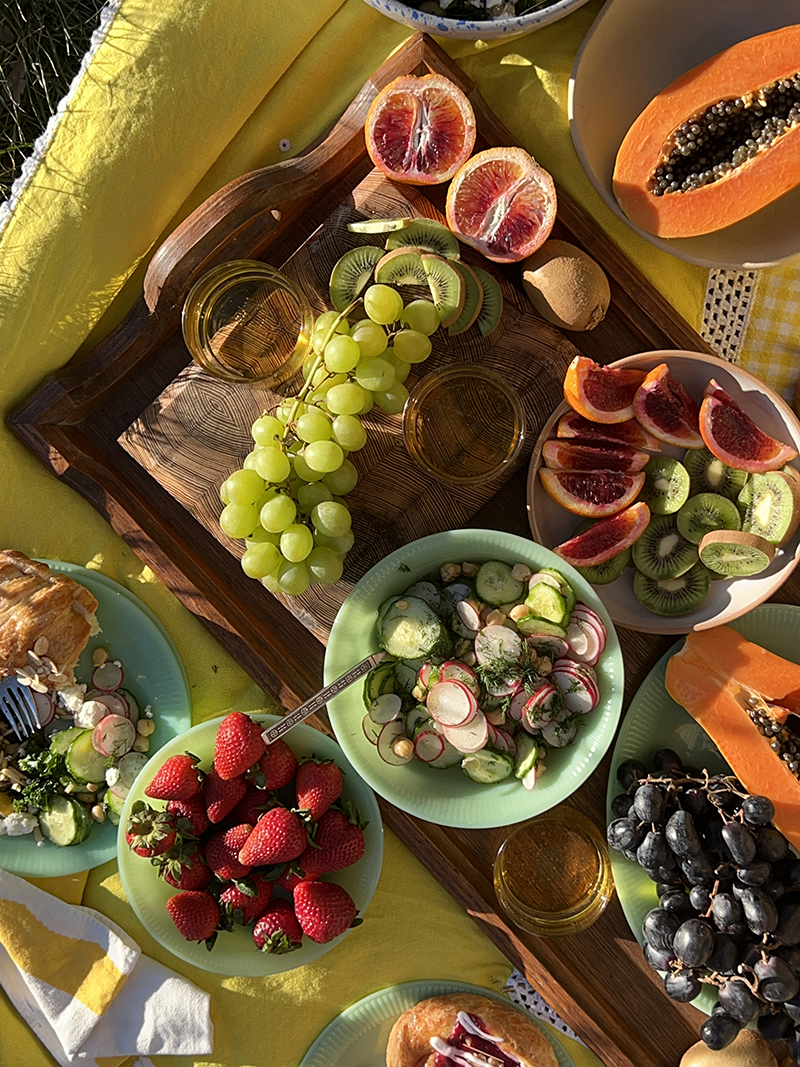 The Food
My favorite picnics are a smattering of fruit, snacks, and salads. Pack food that gets better with time, like a marinated pasta salad or a roasted broccoli salad or a crunchy lentil salad (see below) that can be served cold or at room temperature.
Hot foods served cold, like quiche or fried chicken, is also befitting.
If it's extremely hot out, I like to throw a couple of frozen water bottles in my picnic basket to help keep things cool, but not cold. For more tender lettuce or tomato salads, pack your dressing in a mason jar and wait to dress your greens until you're ready to eat.
Finger foods like wraps, sandwiches, and spring rolls are a good option, too. If you're doing sandwiches for a crowd, one hack is to make a very long sandwich on a whole loaf of french bread. Wrap the long hoagie in saran wrap, and carefully pack a serrated knife in your basket. Delight everyone by slicing up the long sammy on site.
Don't forget the drinks, whether it's just plenty of water or something more spirited.
The Necessities
When packing for a picnic (and for camping, for that matter), visualize the meal happening in the setting you've chosen. Do you have everything you need for a good time? Wine opener, hand wipes, serving utensils, trash bags, an empty container for leftovers, and a bag for dirty dishes should all make the list.
Bug spray, sunscreen, and plates? I'm not above eating off paper plates, but in my opinion, paper and plastic are better suited for a backyard barbeque. A picnic can be a sumptuous affair. As though you're at sipping tea with the royals, allow yourself the luxury of your favorite china, a real fork, and a wine glass. I promise it will delight!
The Extras
I fully endorse overpacking for a picnic, especially if you're picnicking near your car. Consider packing pillows, poofs, or folding chairs for a more comfortable lounging experience. It's more to schlep, but if you plan to hang out a while, you'll be happy for the seating. A late afternoon meal? Small tea lights are a nice touch, as is a vase to display some flowers.
If you're picnicking on a blanket on the ground (vs. at a picnic table), consider packing a serving tray that you can use as a hard surface for balancing glasses and bottles. Similarly, if you're serving a crudités or charcuterie spread, consider bringing a large cutting board to display your food.
Last but not least, picnic responsibility: Picnic it in, picnic it out.
Lentil Salad Fit for a Picnic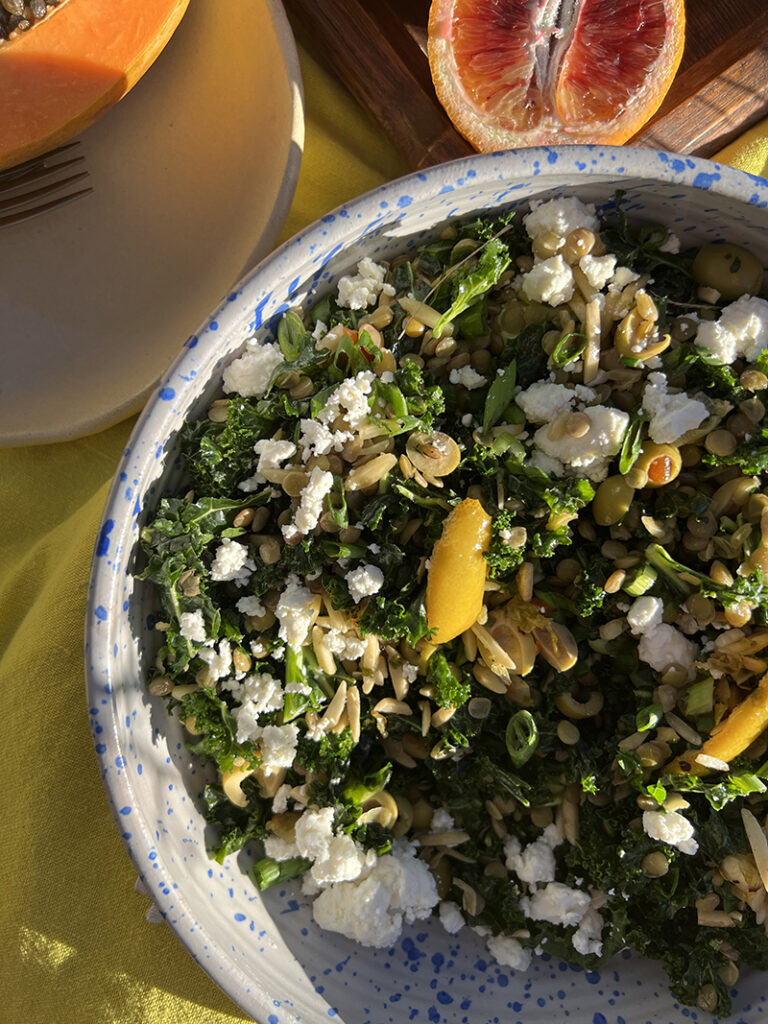 Adapted from Bon Appetit's Just Keeps Getting Better Lentil Salad
Ingredients:
1 large bunch of kale or collards
Salt
¾ c raw almonds or pecans or sunflower seeds, or a mix
4 green onions
4 cloves garlic
1 lemon
½ c olive oil
1 ½ c black or green lentils; brown will work in a pinch but these must be very al-dente. Ignore package cooking directions, and keep a close eye on the timing of these, removing from water when they're just al dente.
2 tsp ground cumin
½ tsp Crushed red pepper flakes
5 oz feta
1 c of your favorite, pitted olives
¼ c chopped fresh herbs like parsley, dill, cilantro, or mint
Instructions:
Destem kale or collards, and discard the stems, or feed them to the chickens. Stack greens and slice into thin, long ribbons. Transfer ribbons to a large, picnic-worthy tupperware or bowl with lid, and massage with a bit of salt until the greens are softer and darker in color, about 2 minutes.
Bring a large pot of heavily salted water to a boil. While you're waiting, prep ingredients for your spiced oil. Coarsely chop your nuts or seeds if not already in pieces, and set aside. Thinly slice green onions; add white parts to a small, cold skillet, and save green parts for later. Roughly chop or smash 4 garlic cloves and add to skillet. Using a vegetable peeler, remove 3-4 long strips of lemon peel, avoiding the pith. Add peels to skillet (and save lemons for later). Pour ½ cup olive oil and stir well to coat all ingredients.
Add lentils to boiling water and cook like pasta until al dente, about 20 minutes, but maybe as quickly as 15. Make sure to check your lentils along the way. For this salad, you do not want to overcook the lentils and have them become mushy. Once they're cooked through but still with some bite, drain and set aside.
Heat skillet with green onion mixture over medium. Cook, stirring occasionally until lemon peel curls and garlic starts to brown, about 3 minutes. Add nuts/seeds, and stir frequently, for about 3 more minutes. Remove skillet from heat and immediately stir in ground cumin and red pepper flakes to hot oil.
Using a mesh sieve, strain nut mixture. Reserve the oil – that's the base of your dressing! Spread nut mixture on a paper towel and season with salt.
Crumble feta into your kale/collards container. Roughly chop or tear olives, and add to container. Add sliced green onions and chopped herbs to bowl, saving a bit back for garnish. Add ½ tsp. salt and juice of reserved lemon.
Add well-drained lentils (it's okay if they're still warm) to bowl of greens. Season with salt. Add reserved, infused oil and half of nuts. Gently fold to combine.
Pack remaining nuts and green onions in small tupperware to bring to picnic. Garnish your salad just before serving. Eat around the lemon peels, which are edible but strong. Lounge in the sun, and enjoy your picnic.