Like the wildflowers that bloom across the landscape in Spring, the Texas Hill Country is home to a vibrant and colorful community of craftspeople. The iconic accessories designer, Enid Collins, is one of the brightest examples in years past, thanks to her popular wooden box bags adorned with flowering decorations and costume jewels. Understanding how these cheery handbags became a national style statement, and available in every major department store across the country, is a great Texas tale worth recounting.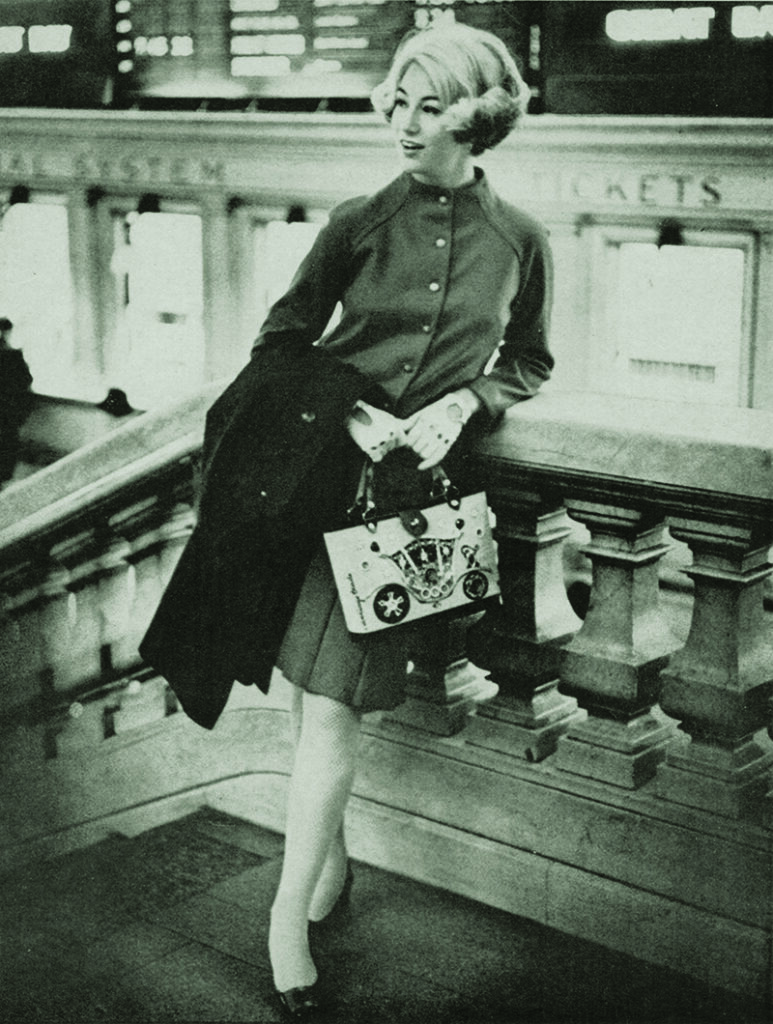 In 1918, Enid Roessler was born in Shelbyville, Illinois, but grew up in San Antonio after her mother passed away. Eventually, she attended Texas Women's University, where she studied fine art and fashion design.
After college, Enid was teaching a ceramics class at The Witte Museum when one of her students, a charming woman from Michigan, introduced her to her son, Frederic Collins. A sculptor in his own right, the duo hit it off and were married in October 1941.
Two months later, Pearl Harbor was attacked. Unable to serve due to a broken eardrum, Frederic worked as a draftsman in a war plant in Detroit, while Enid built avionics equipment nearby.
After the war, the couple moved to the primitive headwaters of the Medina River, where Frederic planned to pursue his life-long interest in ranching. "My father wanted to be a cowboy and they started doing that, but they weren't ranchers and didn't know much about it," shared Jeep Collins, Enid and Frederic's son.
When the ranching business failed to support them financially, Enid began exploring different revenue options. With her intrepid interest in fashion and design, she started sketching up a simple leather handbag, the design of which was loosely inspired by one she had seen in Michigan years prior.
With a bit of leather and thread, the couple brought Enid's concept to completion, working together on the drawing, pattern-making, cutting and sewing. Frederic even sculpted small animal figurines from brass, which were used on the bags as ornaments and buckles. It wasn't long before news of those first 'Collins of Texas' designs spread outside of Medina, and early sales were followed by promising partnerships with major retailers like Neiman Marcus.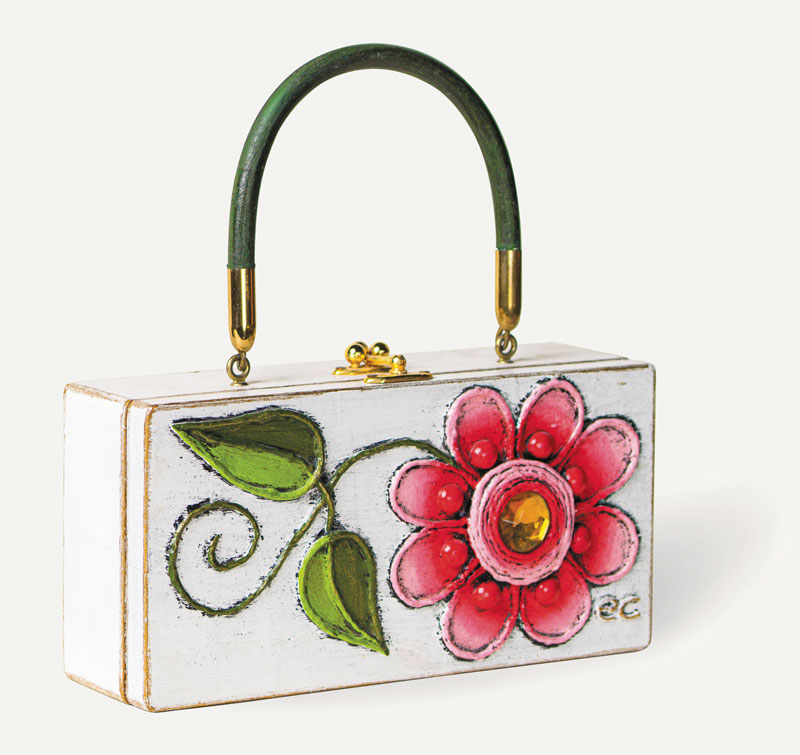 In the early days, Frederic and Enid made much of their merchandise by hand. Because of this handcrafted nature, the items were expensive, and they began looking for ways to diversify their catalogue and economize their product offering. The couple experimented with wicker and wire, felt and suede, and in the mid-1950s, Enid discovered screen printing. One day, after noticing a cigar box, it occurred to her that a simple wooden shell might make a solid and less expensive handbag container. The idea was a brilliant one, and ultimately made way for the birth of the brand's iconic "box bag."
By the late 1950s and early 1960s, these "conversation starters" as Enid called them, could be found in every major department store in the nation. Their quadrilateral shape boasted wide-ranging motifs, like birds, flowers, cable cars, and glitter bugs, all of which were adorned with bright jewels and colored glass. The result was both crafty and quirky, playful and free-spirited, a design emblematic of the decade at large.
As orders grew, production relocated from the small town of Medina to a facility in Puerto Rico, before eventually landing in Fredericksburg. At its peak, Collins of Texas was producing 1,000 bags a week. The 1960s had undoubtedly been a time of growth and prosperity for the couple, though sadly, the decade that followed was challenging both personally and professionally.
By 1970, the Collins had divorced and the company sold to the Tandy Corporation, who fired Enid shortly thereafter. (A group of employees later purchased the business and returned it to its original name. Today, it remains independently owned and operated in Medina.)
Despite their divorce and the subsequent sale of their beloved business, Frederic and Enid's originality and perseverance left a resounding impact on Jeep and his late sister, Cynthia, who passed away from ovarian cancer in 2012. These days, Jeep is a talented jewelry designer and a writer based in Fredericksburg. Most recently, in 2021, he published his book, ENID: From Small Town Texas to 5th Avenue, New York, after finding a collection of illuminating letters that belonged to his mother.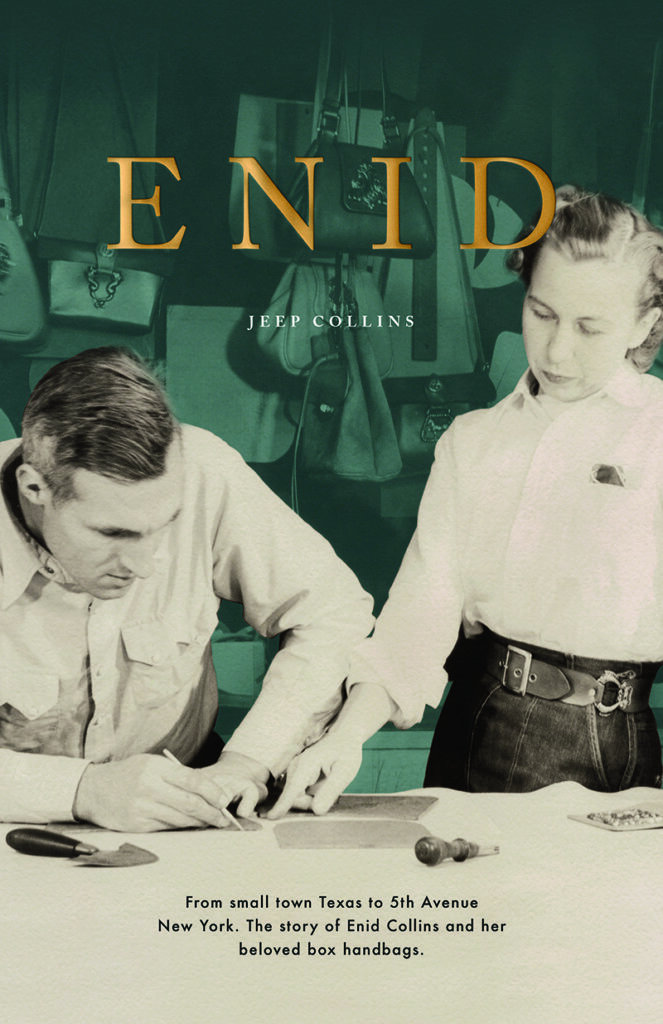 In the title, the author recounts the life of an amazing woman and her family, from her early days of ranching, to the success of Collins of Texas, and her final chapter in Fredericksburg, where she lived to be closer to her children.
"That is the best part of the story for me," said Jeep of the latter. "She was hurt, but my mother was never one to let things get her down." Instead, she kept herself busy with different activities and educational opportunities, like ceramics and quilting classes. Despite going to church all her life, Jeep admits something shifted in his mother's older age as she came to reconcile her faith. "She received Christ as her Savior and it really changed her life," he explained.
This year, the Emmy and Peabody award-winning producer, Mike Maloy, will release a documentary on Enid's life and work, sharing the enduring allure of an artist who left an indelible mark on fashion history. In the film, Maloy explores the ongoing fascination with the designer's vintage box bags, while spotlighting the collectors who continue to unearth them on sites such as Etsy and EBay. One collector in particular, located in Colorado, has acquired over 560 original Enid Collins box bags, 132 totes, 2 leather handbags – and counting.
More than thirty years after her passing, Jeep admits he is grateful for the ongoing opportunity to share his mother's story, be it in his own published memoir or the upcoming documentary film. Though Enid's handbags live on in vintage stores and websites around the world, her true legacy lies in her pioneering spirit and steadfast resilience. "She was always a hard worker," Jeep said with pride. "Whatever she did she did it wholeheartedly."