In recent years, the Hill Country wine boom has birthed a barrage of new businesses, many of which are driven by female vintners, winemakers, managers, and chemists.
Sherah Mills:Rustic Spur + Kerrville Hills Winery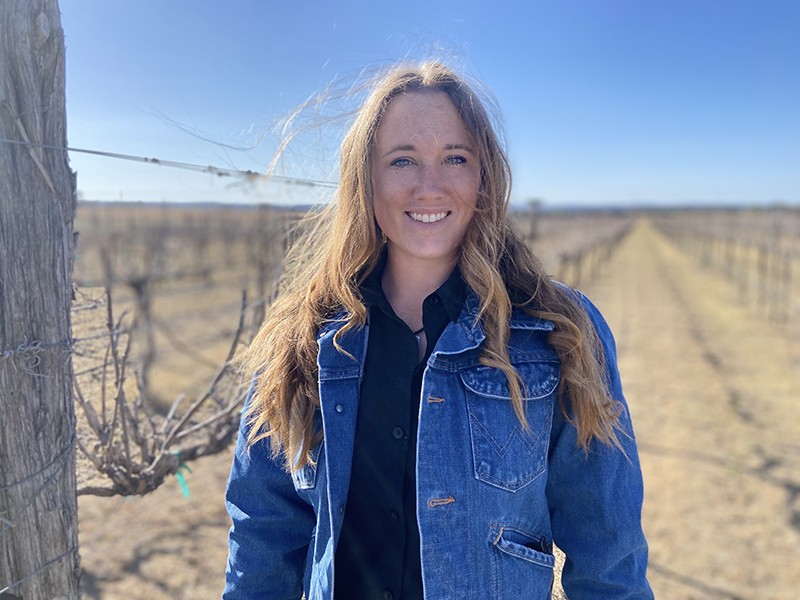 Sherah Mills of Rustic Spur and Kerrville Hills Winery is a prime example. Mills grew up in Bastrop and began her education at Tarleton State University. "I had always been a really good student but things weren't clicking," Mills said of her double majors in Agricultural Education and Agricultural Economics. "It just didn't seem like that was what I was supposed to be doing."
Around the same time, her parents moved to Stonewall to pursue their deep-seated dream of starting a vineyard. In 2014, she transferred to Texas Tech and received both her Bachelor and Master degrees in Plant and Soil Science. On the weekends, Mills remembers hurrying home to help her family with the vineyard. "Anytime I wasn't in class, I was in Stonewall," she said.
Today, Mills manages the family's Rustic Spur Vineyard, where she found an early mentor in the winemaker and consultant, John Rivenburgh. "He's been my mentor for nine years now," she shared. "Every time he explained what I needed to do it made sense, which was a breath of fresh air after struggling in Ag Economics. From there it became a passion – I couldn't get enough."
It seems only fitting that Mills' vocation is linked to the land, given her long lineage of family farmers. "We have five to six generations of farmers on both sides of my family," she explained. "I always knew I wanted to be involved in agriculture."
Today, she works hand-in-hand with her parents both at Rustic Spur and Vintner's Hideaway, which they opened in downtown Fredericksburg in 2018. "We laugh now because this was going to be their retirement," she joked. Instead, "it is just hard work six to seven days a week."
Family duties aside, Mills considers her main job to be the Vineyard and Winery Project Manager at Kerrville Hills Winery. "Being able to help people is my passion," she shared, and one that she has put to good use through the organization's incubator program. "Every piece of property has its own story and challenges, but also its own strengths."
At Kerrville Hills, Mills also works alongside a mostly female management team, which she believes is a promising sign of the market's growing inclusivity. "When I first started it was definitely a male-dominated field," she said. Regardless, the 29-year-old believes that the work proves itself. "I am five-foot-two, and when I drive up in a one-ton truck and get in the tractor, or I am the one with the gooseneck trailer hauling the fruit, people find out pretty quickly I can hold my own weight," she quipped. "I do feel now, especially in the last four years, we are seeing this surge of female winemakers; there are several female viticulturists doing a phenomenal job."
Moving forward, Mills has toyed with the prospect of a winemaking role, though admittedly, she is most content working outdoors. "My biggest draw is definitely getting to work outside and know the land," she shared adding, "And I get to take my dogs to work!"
Thus far, this outdoor lifestyle has bred many life lessons. Years ago, when she was first learning the pruning process, she can remember staring at a vine for fifteen minutes, wondering whether to cut. Her trusted mentor, Rivenburgh, offered some sage advice. "He said, 'It doesn't matter what cut you make as long as you have the guts to make the cut.' And I can apply that to so many decisions," she said. "It doesn't matter what decision you make as long as you make it and stick to it. Sometime you just can't worry about it, you have to have the guts to do it and see it through."
Mckenzie Sanvido: Untamed Wine Estates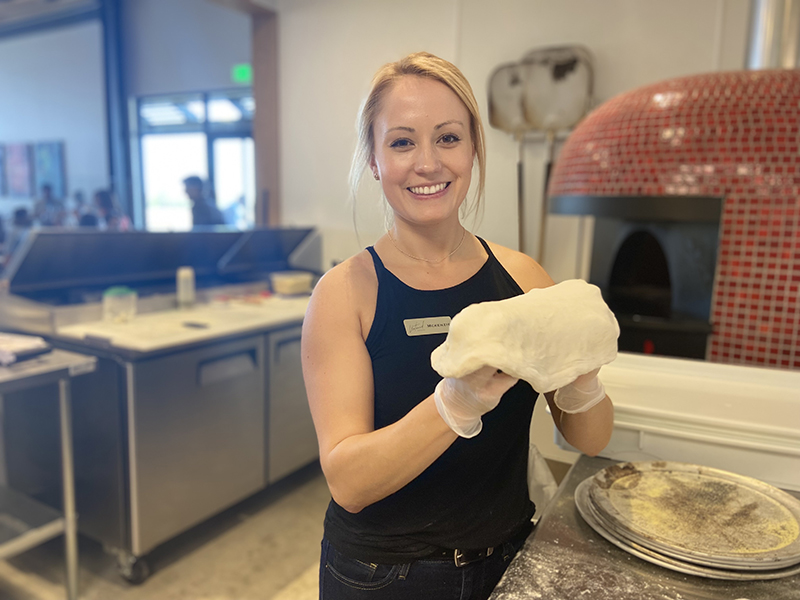 Mckenzie Sanvido is another woman shaking up the industry. The 31-year-old California native studied biology and chemistry at the University of Nevada, Reno. There, she received a Chemical Ecology grant and fellowship through the National Science Foundation. The opportunity led her to South America, where she performed field work and chemical analysis in the rainforests of Brazil and Costa Rica. Though she had originally planned to pursue a career in pharmaceutical research, her time abroad gave her the conviction to try something different. She took a job as a wine chemist with Constellation Brands and discovered a love for the wine industry while working in Sonoma, New Zealand, and Monterey, to name a few.
This experience proved invaluable to Sanvido, who later went to work with a custom crush facility in Salinas, California. It was there that she realized there wasn't a local laboratory available for testing wine. In fact, the closest one was in Napa, located three hours away, with turn-around times for samples taking upwards to a week.
At the same time, she had noticed how quickly the Texas wine industry was growing. Determined to fill a void and make a change, Sanvido, along with her South African winemaking husband, Dane, moved to Johnson City in 2019. One month later, they opened The Lab Pros.
"We service around 120 wineries in Texas, Louisiana, California and New York," she said of their operation. At the lab, they work with winemakers to test the wines' sugars, acids, and fermentation process, along with performing monthly regulatory checks leading up to bottling. Through the operation, they can deliver results between 24 to 48 hours. "We grew that business really nicely and got to a point where we wanted to do something else, and that was to start a winery," she shared.
In May, the couple brought their dream to fruition with the opening of Untamed Wine Estates, a production winery and tasting room. After years of working with large corporate wineries, the name was a fitting descriptor for their new lease on life. "We got tired of climbing the corporate ladder," said Sanvido. "We wanted to break free from that and become untamed."
Today, she and her husband are focused on quality first and foremost, pursuing grapes from small family growers in places like Monterey and the Russian River Valley. All of the fruit is then transported to Untamed and produced in-house. While Dane manages the winemaking role, Sanvido handles the lab work, in addition to overseeing the tasting room and foodservice operation.
"I've always loved cooking and wine and how they interact with each other," she said. "I developed a huge passion for it. Seeing people enjoy your food and wine, there's really nothing better."
Emily Jones: Slate Mill Wine Collective + Slate Theory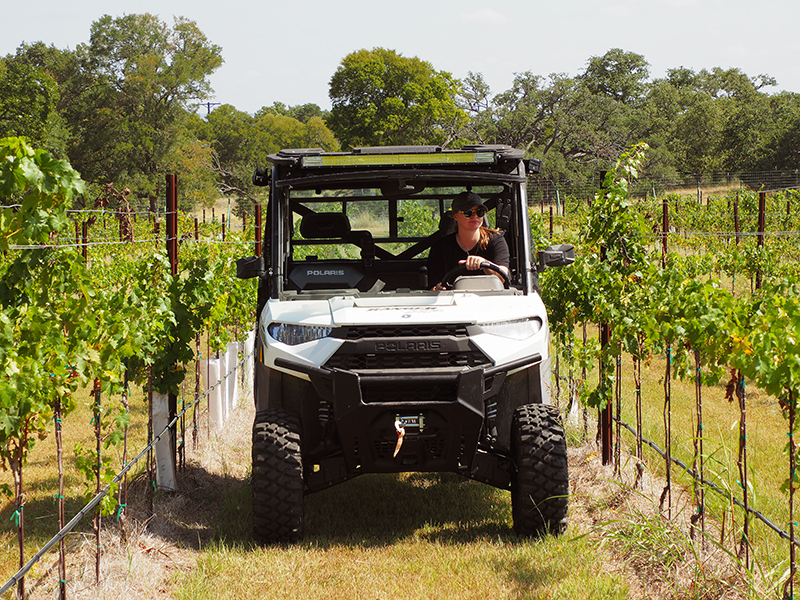 Back in Fredericksburg, Emily Jones is following her own passion in the field. Before she was the Vineyard Manager at Slate Mill Wine Collective and Slate Theory Winery, the twenty-eight-year-old grew up in D'Hanis to a family of ranchers and farmers. Her education led her to Texas Tech University where she met a professor named Dr. Cynthia McKenney who encouraged her to pursue a vocation in viticulture.
As she explored her options, the complexity and age-old nature of winemaking began to draw her in. She started working at Texas A&M's AgriLife extension in 2016, managing the small research vineyard there. At the same time, she was commuting in the early mornings to Farmhouse Vineyards in Meadow, where she helped sample their vineyards around harvest time.
In 2018, Jones moved to Fredericksburg and took a job at 1851 Vineyards. As fate would have it, she met her husband on the first day of work. Shortly thereafter, his family partnered with and ultimately acquired the vineyard. Together, they rebranded 1851 as Slate Mill Wine Collective and turned it into a custom-crush facility, giving partnered wineries access to the space and equipment needed for the winemaking process, from crush to fermentation, bottling and storage. "It is expensive to make wine and to have a facility to make wine in," said Jones. Currently, they are working with ten custom crush clients across the state, while also running their own winery off of US-290 called Slate Theory.
Today, Jones admits to feeling a shift in the industry as it becomes increasingly inclusive of female talent. Maureen Qualia feels it too. Qualia is an Instructor of Enology in the Department of Plant and Soil Science at Texas Tech University in Fredericksburg. "Viticulture and enology have long been male-dominated industries, just like many other industries where the work is physically demanding," she shared. "I think women are breaking barriers in many industries and wine is just one. Education certainly plays a role in increasing female participation." From 2014 to Summer 2021, the overall enrollment at the school's winemaking certificate program was 63% male and 37% female. With its hands-on training and networking opportunities, one can only hope those numbers will keep rising.
Like Sherah Mills and Mckenzie Sanvido, Jones is an expert juggler, handling everything from social marketing to vineyard management, along with tasting room tasks and wine club responsibilities. Farming, however, is the greatest joy of all, and one that has taught her the importance of patience. "I think it makes us better people. Things don't always go your way but you figure it out."
After a hard day's work, Jones and her husband like heading outside with Chloe, their Mini Australian Shepherd, and Clyde, their Mini Goldendoodle and full-time rabbit patrol. "That is how we like to end our day," she said. "We load them up in the buggy, take a glass of wine, drive through the vines, and watch the sunset. It is everything to us."