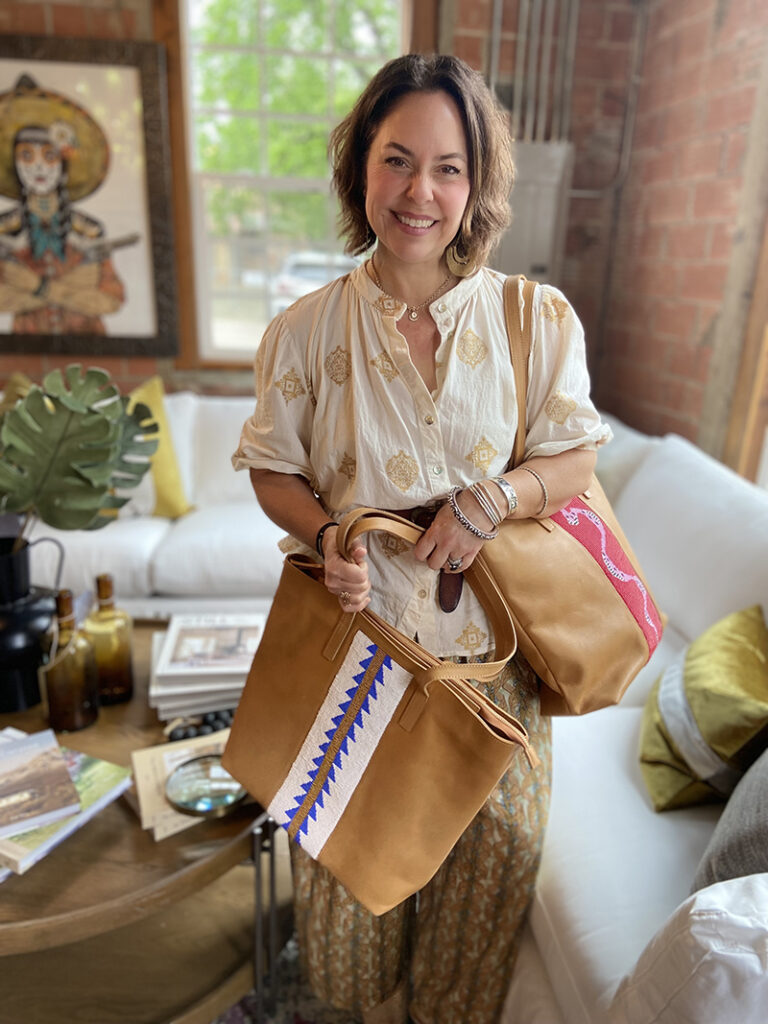 Jill Elliott is the stylish and hard-working visionary behind the Fredericksburg businesses Blackchalk Home and Laundry, Haberdashery, and the eclectic Ololo guesthouses. Outside of work, the mother and entrepreneur finds inspiration on the road. Over the years, she has traveled the globe, from Morocco, to Kenya, and many places in between.
Elliott's love affair with Kenya began at the age of sixteen when she and her mother went on a mission trip. Almost four decades later, in 2019, Elliott returned to Kenya with Kristen Dickerson, president of the women's empowerment group, Tirzah International. "Kenya has always had a special place in my heart," she said. "I remember going on the train down to the town of Voi and sketching in my journal. Those little seeds of energy were like, 'Let's do something, we can do something.'"
Today, that something has resulted in two collections of brass jewelry and leather handbags, respectively, both of which are made and overseen by a Kenyan entrepreneur named Isabelle whom Elliott met on her trip. Today, Isabelle and her husband employ and empower a tight-knit team in their community outside of Nairobi. "She sees the need for jobs and community support, so she has been great about employing as many people as she can," said Elliott.
Through their partnership, the Fredericksburg entrepreneur was able to debut a small collection of limited-quantity, 100%-brass earrings boasting shining stars, suns, and discs that are sold exclusively at Blackchalk and Haberdashery. Priced from $78 to $98, twenty percent of the sales go back to Tirzah International to help women affected with HIV in Kibera, Africa's largest slum.
Most recently, she debuted a new collection of leather handbags that are also made in Kenya with the help of Isabelle and her team of artisans. On a quiet spring morning, sunlight streamed through the windows of Blackchalk Home & Laundry as Elliott showed off the collection. Wearing jeans with an orange blouse and a pair of starry brass earrings, she ran her fingers over the buttery soft leather dyed in shades of tobacco, charcoal, pine, and plum.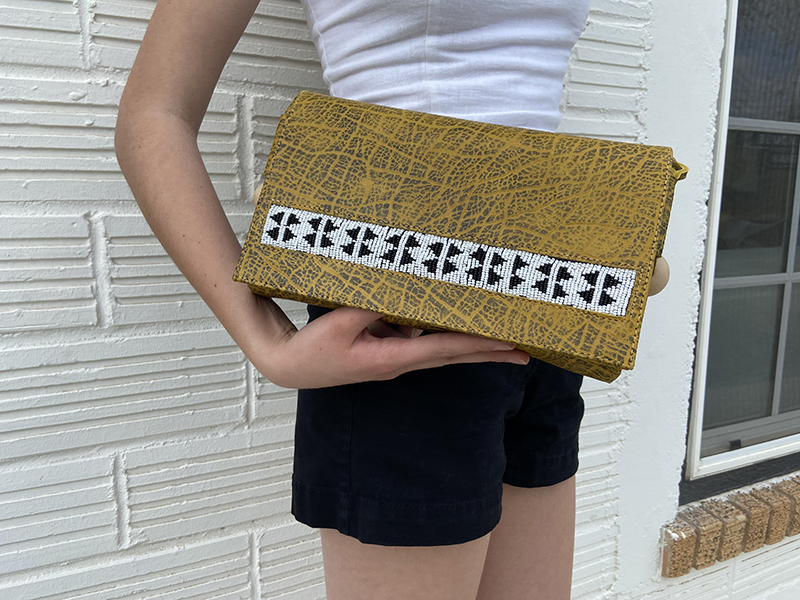 The Kenyan cowhide is both earthy and western, though it is the bags' beadwork that sets them apart. Beading is a hallmark of Kenyan craftsmanship and brings to mind the bold jewelry worn by the Maasai tribespeople. As such, her leather handbags are outfitted with vibrant glass beads stitched into geometric patterns, like black and white Oushak-inspired diamond motifs or slithering scarlet snakes on ribbons of pink. Others are accented with tassels, horn, brass work, and Kazuri beads made of clay from Mount Kenya. The bags also have secure zippers, cell phone pockets, and some include adjustable straps.
Currently, there are four styles available, including a cross body, a satchel, and a tote, with prices ranging from $148 to $398. Every bag is made by hand and therefore unique. "They are really proud of the work they have done," Elliott shared. "Once people live with them they realize they are really good quality. I have traveled with this tote on several big trips already and it's just getting softer and softer."
Aesthetics aside, Elliott says it's the support her bags are giving to others that make them so rewarding. Like many places, Kenya was hard-hit during the pandemic, and these small collaborations have made a significant difference in the lives of Isabelle and her team members, many of whom have been able to put their kids in school as a result of the work. "It's made a big impact," she said. "That's what makes me so happy. My little, small mustard seed is doing something good for somebody else."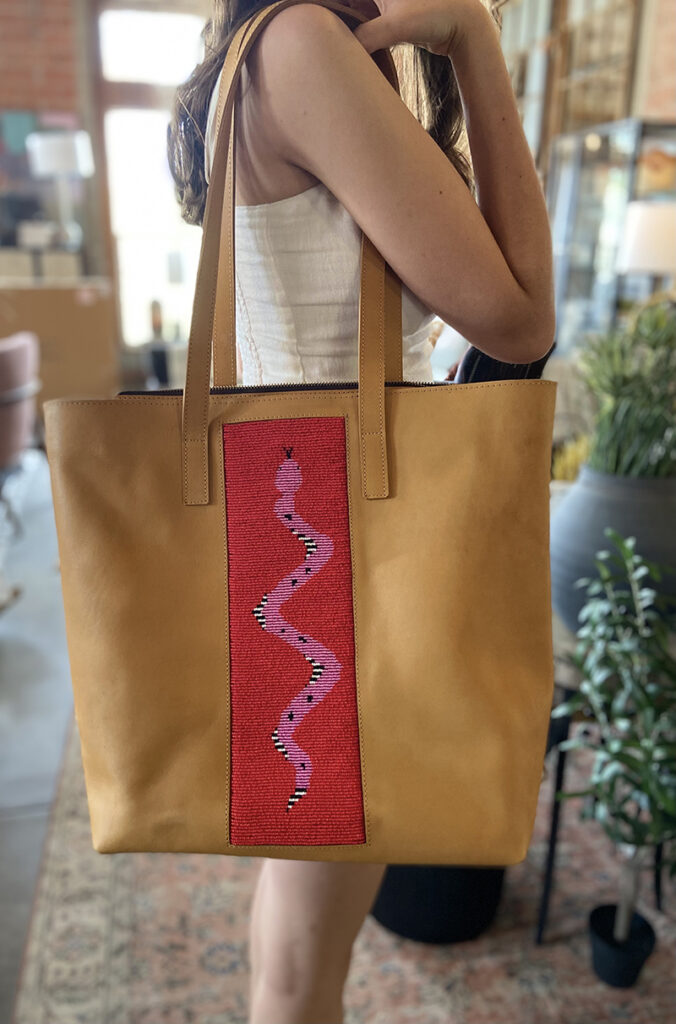 Follow along on Instagram:
@jill_t_elliott
@tirzahIntl
@blackchalkhomeandlaundry
@haberdashery_boutique
@stayatololo