Just off the Highway 290 wine trail sits a boutique winery that offers spectacular wines in a gorgeous setting amidst its estate vineyards. 
This little piece of Texas utopia is located next to the Lyndon B. Johnson State Park and worth seeking out.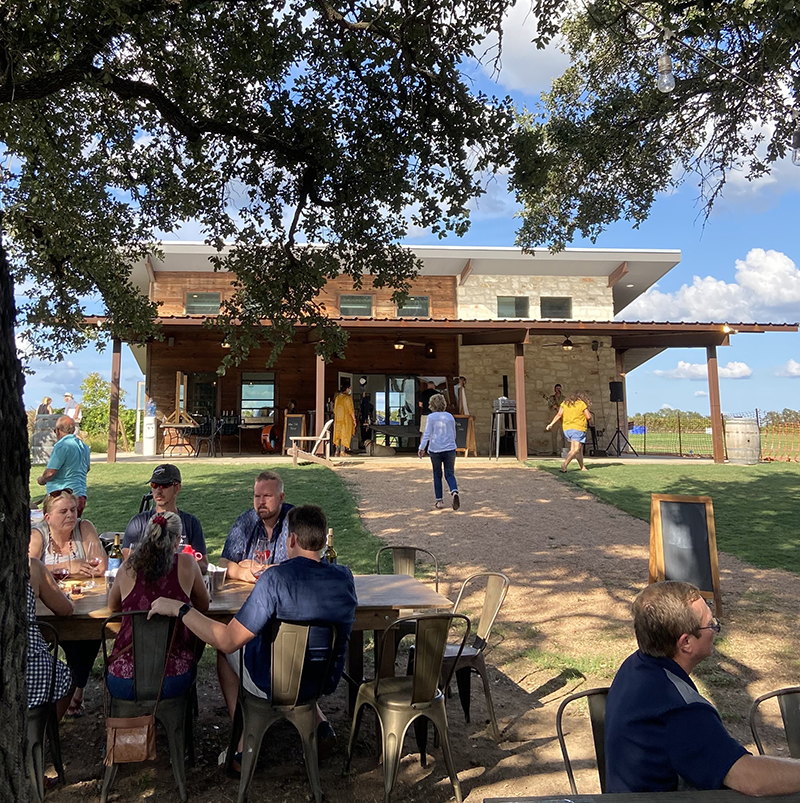 Ab Astris is a family-owned endeavor with Mike Nelson making the wines. Nelson studied with John Rivenburgh of Kerrville Hills Winery. He expertly honed his winemaking talents and has created his own delectable style.
Together with his wife Kristen and co-founders Aaron and Tony Smith, plus a little help from celestial bodies, Ab Astris has created a stellar winery serving heavenly Texas wines.
---
2020 Roussanne 
Hooper Valley Vineyard
Kingsland

Medium straw hues in the glass with a bouquet of lemony orange blossom, Granny Smith apple and a hint of apricot. A crisp finish on the end begs for chilled shrimp and lobster.
---
2021 Fiano
Pepperjack Vineyard 
Texas High Plains

Fiano is a white varietal with Italian origins. This Texas-grown wine is spectacular with aromas of white peach, pineapple, lemon grass and white rose petals. Hints of slate keep it crisp and dry with mouthwatering acidity on the lingering finish.

Serve this one with ceviche, redfish or goat cheese.
---
2021 Aurora Rose
La Pradera – Reddy Vineyard 
Texas High Plains
One of three rosés offered in an all-rosé tasting, beautiful pink salmon color graces the glass. Whiffs of red rose petals, strawberries, watermelon, Rainer cherry envelope the senses while red plum aromas hover on top.
A perfect wine to have with lunch. Great with a watermelon, arugula, feta salad or Chevre cheese.
---
2019 Grenache
Desert Willow Vineyards
Texas

This medium, garnet-hued chillable red offers up a heady fragrance of violets, red cherry, ripe cranberry and strawberries. Notes of tobacco leaf bolster the complexity.

Balanced acidity and a light tannin structure complement the clean finish. A perfect Texas red as it can be served chilled in our Texas heat.
Pair with balsamic grilled chicken or bacon wrapped pork roast.
---
2018 Cabernet Sauvignon
Newsome Vineyard
Texas High Plains

Thirty-three percent aged in new American oak for 32 months. A bold red on ruby hues that delivers dark cherry and black plum fruits with interlaced touches of tobacco spice, licorice cloves, soft leather and ripe black olive. An almond nuttiness rounds out the nose. Well integrated tannin structure and on point acidity linger on the long finish.

Need I say it? A perfect companion to grilled ribeye steaks and Stilton cheese wedge salad.
---
2019 Montepulciano
Reddy Vineyards
Texas High Plains
An ambrosia of strawberry jam, ripe cherry, brambleberry pie and violets engulf the nose. A background note of sweet Tuscan melon adds a little spark. Satin tannins and graceful acidity show on the long, long finish. Lovely accompaniment to prosciutto wrapped melon and steak Florentine.
---
2018 Tannat
Newsome Vineyard
Texas High Plains
Gorgeous inky ruby color, sumptuous fragrance of ripe cherries mingled with mission figs, blackberry preserves, and black current with a dusting of cocoa. This delectable wine offers a soft mouthfeel, and silky tannins on the extended finish. A delicious match for prime rib with rosemary of asada.