One of the ways you can tell a region's craft brewing scene is maturing is when new breweries start popping up faster than even you, the dedicated beer connoisseur, can keep up. A friend raves about a quality brewery, and you reply, 
"Who? Where's that?"
That's the point the Hill Country is now reaching.
In June, the first-ever Fredericksburg Craft Brewing Festival (FCBF) was held, awarding gold, silver and bronze medals in 10 categories. Among the 17 competing breweries were some of the most recognizable names in Texas beer.
The most prolific winner, taking home four medals, was — drumroll, please — Ghost Note Brewing!
Who? Where's that?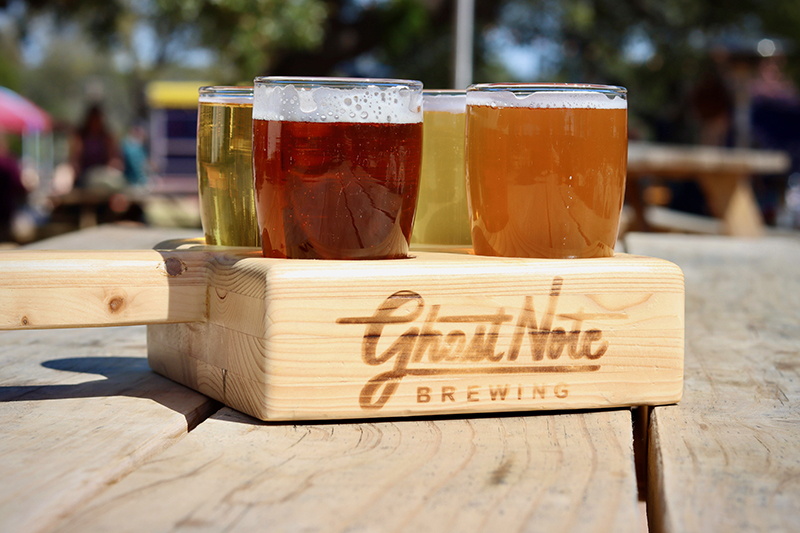 You probably weren't alone saying that. They are a fairly new kid on the block, starting up just last year.
The "where's that" is on Ranch Road 12, five miles south of Dripping Springs.
The "who" is owners Kenny and Thelma Coleman and talented young brewer Tyrell Elliott.
And then there's the "what": The standout beers from Ghost Note at FCBF were silver medalists Texas Sun, a saison, and Dusty Bronco, a hazy IPA; and bronze winners Painted Porch, a pilsner, and Anniversary 1 Whiskey Barrel Porter.
Texas Sun was actually not new to winning awards — in February, it also took home a silver from the Texas Craft Brewers Cup, a much larger competition featuring 131 breweries.
"That was our first taste of a medal," says Elliott, admitting, "it's a little addictive."
For Elliott, the medals were a recognition for a job well done. For the Colemans, it was confirmation of hiring well done.
"We felt like what we got in Tyrell was not somebody who was stuck in their ways, not someone [who says] this is how they want to do it and this is how they've always done it, but somebody who was willing to learn and grow," Kenny says. "He's a student of beermaking, always looking for ways to do things better or different."
"That was neat," Elliott says of the FBCF awards. "It's a nice little validation, because, you know, out here people seem to enjoy the beer, but nobody's going to tell you to your face, so it's nice to have a formal acknowledgement from judges."
Like so many Hill Country breweries, Ghost Note leans heavily on the area's greatest asset, the natural scenery. The property, which used to be a wedding venue, features an open patio by the bar and brewhouse on one end, a music stage on the other, and in between, tables and seating shaded by gorgeous live oaks. The feel aims to be "hanging out on the porch."
"We knew we could do the atmosphere right," Kenny says, and they do — it's like relaxing in the back yard with some beer and music. On the afternoon we visited, Rochelle & the Sidewinders had everyone grooving to some tasty R&B and pop.
"We just needed to get the beer to go with it. We had no idea how to find a brewer. We just placed an ad in the paper and online.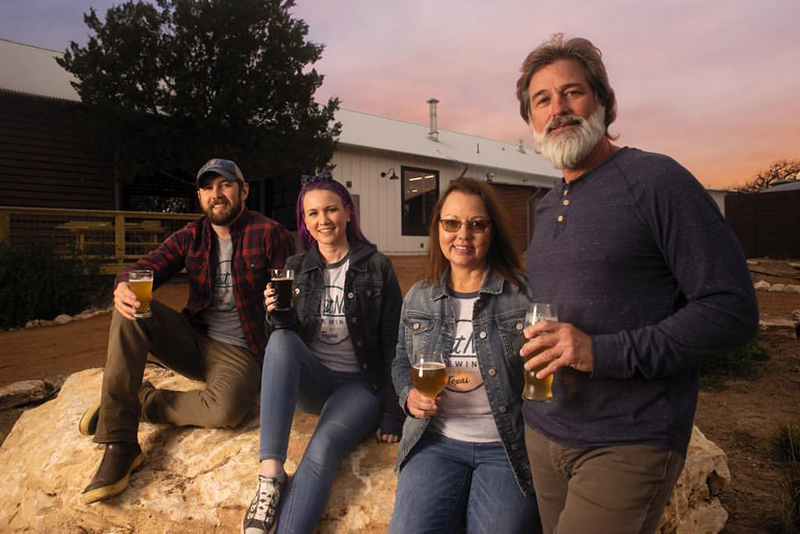 "We interviewed a handful of people, but I think when we met Tyrell, he came prepared and this was the opportunity he was looking for. We hit it off, we had the same idea about what kind of beers we wanted to put together, what we wanted to experiment with and what we didn't, and it's been a great fit."
Elliott began his brewing journey eight years ago at Thirsty Planet, which is now located in Austin but began in the Hill Country on Circle Drive, basically a pioneer of what has become the Fitzhugh Road "Libation Lane" scene.
"I got lucky with my first job," Elliott says. "I had no formal training. I learned at Thirsty Planet from the ground up. I didn't have a lot of preconceived notions and felt I had to prove myself. I was an avid reader about beer."
Hanging out on the porch, Elliott says, mostly calls for lighter brews that go down smooth in the Texas heat.
"We don't have a strong beer point of view here, but with the hospitality and second back yard mentality, our beers are like that. The idea is that they're approachable to everybody and kind of 'porch beers.'"
By now, you're probably wondering about the meaning of the brewery's name. "Ghost note" is a musical term, Kenny says, defined as a note that is felt more than heard.
"We really wanted a musical focus here, and wanted a musical name," Kenny says.
They didn't stop with just the business name — the various tanks and barrels inside the brewery all have appellations that will be instantly recognizable to lovers of Texas music: Leon, Norah, Shakey, Tanya, Kris, Edie, and Stevie Ray, among others. Elliott is especially proud of a pair of foeders — large wooden tanks used for aging and fermenting — named Willie and Waylon.
The ghost note concept also fits Elliott's brewing. "Approachable" doesn't have to mean bland — it just means the flavors might have the subtlety of the brewery's namesake. Take, for example, the Painted Porch. Sure, pilsner is the same basic style as most mainstream American beers, but take a minute to really let it hit all your taste buds before you swallow — you'll notice some subtle complexity going on that those bigger brewers lack.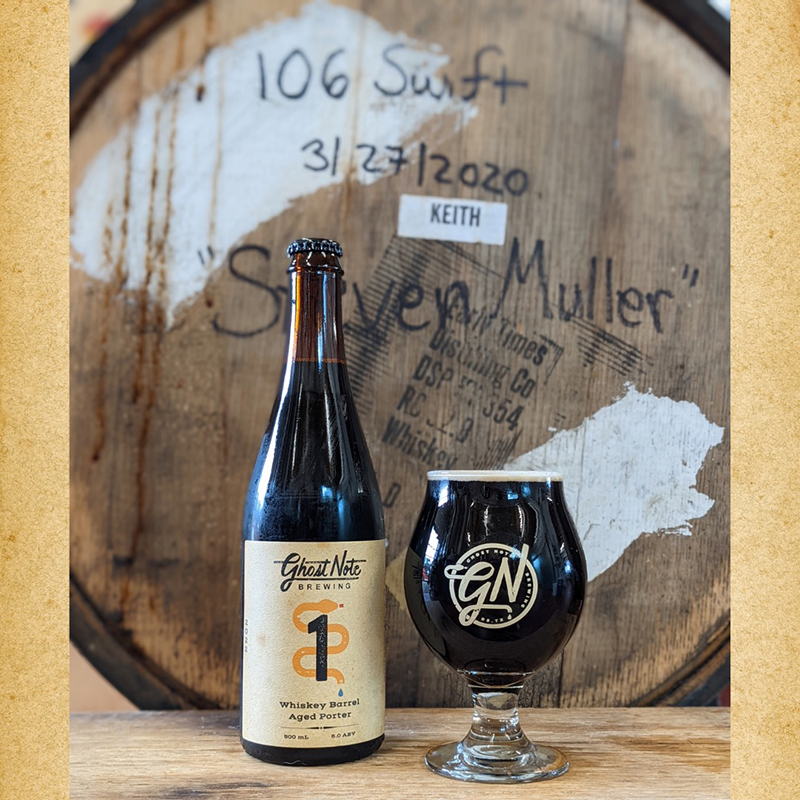 "Craft brewing went so far against blandness that it went too far," Elliott opines. "But consumer knowledge is up, and beer knowledge is spreading. There's a curiosity that wasn't here before."
Hanging out on the porch also requires something to munch on. Ghost Note doesn't have its own kitchen, but you can fill up on a rotating food truck lineup.
When we visited, the slot was filled by Betty Maes, which served up very satisfying "Gulf Coast kitchen down-home cooking." Diners can feast on fried seafood baskets and po-boys for entrees, and among the appetizers, the "swamp fries" — baby shrimp, pickled okra, tomato, fried jalapenos and green onions drizzled in cheddar cheese — drew rave reviews from the table.
Easy-drinking brews, hearty food, grooving music, shade trees — it's a deceptively simple formula.
"We allow families and dogs," says Thelma. "When people come out here, they enjoy their time with their families and the experience."
"The vibe is right here," says Elliott.
Ghost Note Brewing
23663 Ranch Road 12 
Dripping Springs, TX 78620
ghostnotebrewing.com
@ Ghost Note Lane