"What we needed was a new kind of pioneer, not the sort which cut down the forests and burned off the prairies and raped the land, but pioneers who created new forests and healed and restored the richness of the country God had given us, that richness which, from the moment that the first settler landed on the Atlantic coast, we had done our best to destroy. I had the foolish idea that I wanted to be one of that new race of pioneers. – Louis Bromfield, "Pleasant Valley," epigraph from "Water from Stone: The Story of Selah, Bamberger Ranch Preserve"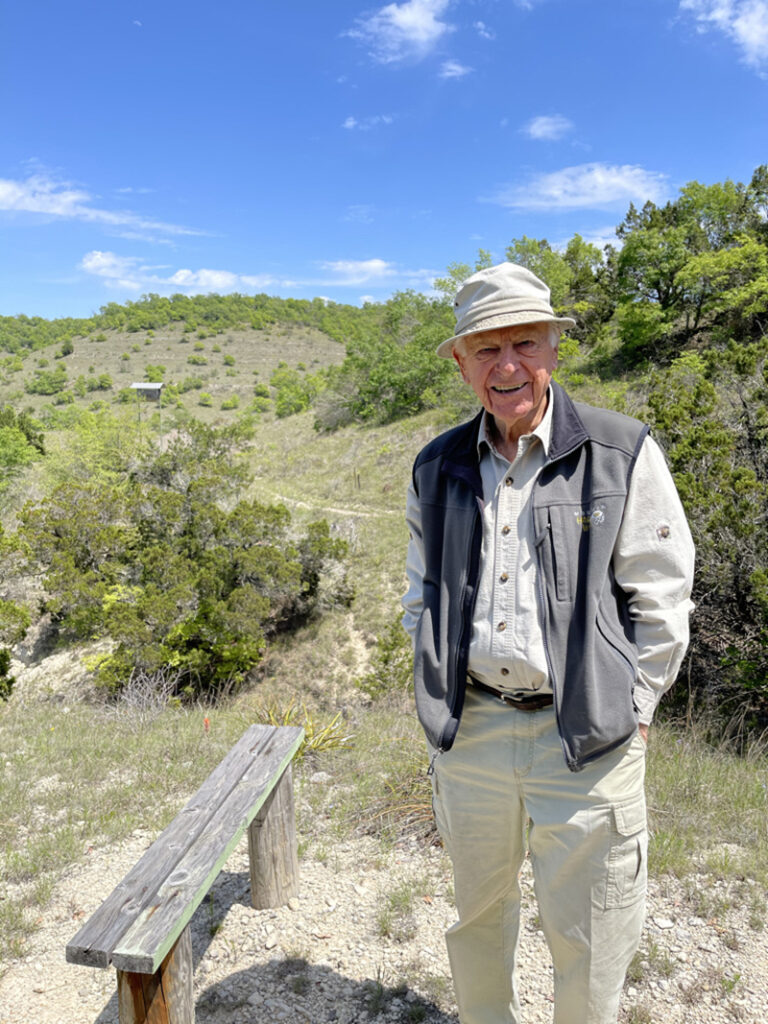 Selah, Bamberger Ranch Preserve, is reached going out a no-count road from the heart of Johnson City, up a gradual incline as you leave town. Soon there are hills everywhere. Turn into the ranch's entrance, and the gradient turns steeply downward. As you enter the property a series of signs commemorates the many awards J. David Bamberger and Selah have received: Texas Environmental Excellence Award in Education, Arbor Day Winner Good Steward Award, Excellence in Grazing Management Award, Land Stewardship Award, Stewardship Forest Award, Margaret Douglas Medal for Conservation Education, and the Leopold Conservation Award.
Drive slowly. Roll down your windows. Have a Selah moment.
"We invite everyone to take a minute, to pause and listen to the quiet. Be out of the city — no noise of traffic, listen to birds singing, breeze in the trees," said April Sansom, Selah's executive director. Her job is to continue the legacy of ethical land stewardship J. David Bamberger has personally observed and proselytized for over the last half century.
"In 1969 he engaged in a large-scale restoration project, literally writing the book on ecological restoration in Texas," Sansom said. "We're still on a restoration journey. We don't say it's restored. We say it's 53 years of restoration and counting."
Bamberger latched onto the word selah long before he owned any land. He learned it in a Bible study, but back then, no one could tell him what it meant, beyond its being a musical term.
"I thought, 'Boy, what a name for a ranch!' That word, it's used 71 times in the Psalms, plus two or three other places besides the Old Testament," Bamberger said, recalling all the pastors he asked about the word's meaning. "How many Christian preachers had so much experience but could not tell me anything about that word. How about that? I don't know where they got their education, but it damn sure wasn't from my mother."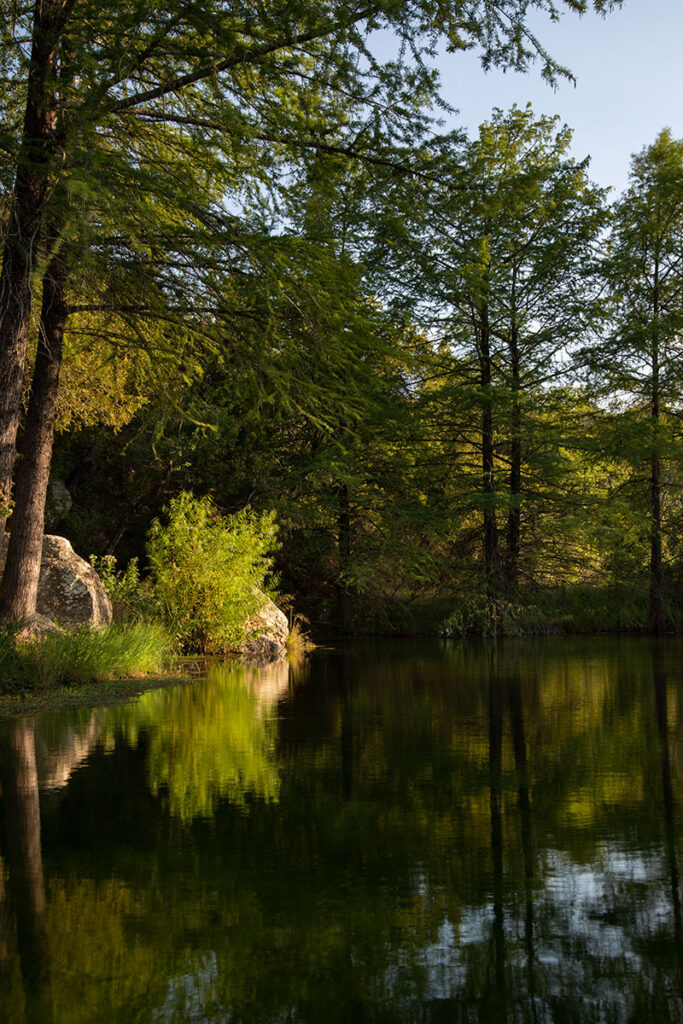 "The only place success comes before work is in the dictionary."
Bamberger grew up in Ohio, near Amish country. He was born poor, without water and electricity. He made money as a boy by selling homemade sassafras tea and fresh-picked mushrooms. He sold strawberries reaped beside the railroad and repaid clients when they complained of the slight taste of coal soot. He served in the Army, then sold vacuums door to door — first for Airway (which he liked) and then for Kirby (which he didn't). He sold real estate. He sold fried chicken, partnering with Bill Church and expanding Church's Chicken from nine stores to 1,600 and earning the company a spot on the New York Stock Exchange.
His mother, Hester, was a naturalist before caring for the earth was cool. She taught him an appreciation for Mother Nature and for hard work.
When Bamberger was a little boy, he wanted to see Snow White and the Seven Dwarfs, but he didn't have the ten-cent entry free because he had invested his childhood profits in war bonds. His parents had been restoring a shed, and there was a big pile of boards with Bamberger's name on it.
"My mother said, 'David, go outside and take the nails out.' She gave me a hammer, told me to save the nails," he said. "I started working and got right there to the end, and I saw I was looking down at a dime! My mother put it there."
Bamberger internalized his mother's lesson, and it became one of his mantras: "The only place success comes before work is in the dictionary."
His mother's legacy is memorialized at Selah in Hes' Country Store.
"Everything in the log cabin came out of her house. It's got the same kind of pot-bellied stove we used when I was a kid," he said. When visitors touch those old-timey kitchen utensils, maybe sip from a tin cup for the first time, Bamberger, now age 94, says he gets to "relive a little."
Not far from the Bamberger family's Ohio home lived a man named Louis Bromfield, who wrote a book in 1945 titled "Pleasant Valley," which was about habitat restoration. Hester gave her son the book, and Bamberger vowed that when he had money, he would institute those same principles on his land. And he picked a piece of property that needed extensive restoration.
When Bamberger approached a real estate agent in 1969 about finding a ranch that could be his selah, he told the man, "I want the worst piece of land you can find, the kind no one else wants," Bamberger recalled. "The man said, 'Sir, if you want land that's been abused like that, then you don't know Texas because we've got a lot of it.'" The deal was struck, and Bamberger bought property in Blanco County.
The land was abused over time the way such abuse always happens. Overgrazing. Fertilizer. Few natural predators to thin white-tailed deer and their destructive foraging. No bison to eat fledgling ashe juniper trees, aka cedar. So Bamberger cleared over 1,000 acres of cedar, leaving some as a habitat for endangered birds, like the golden-cheeked warbler and black-capped vireo.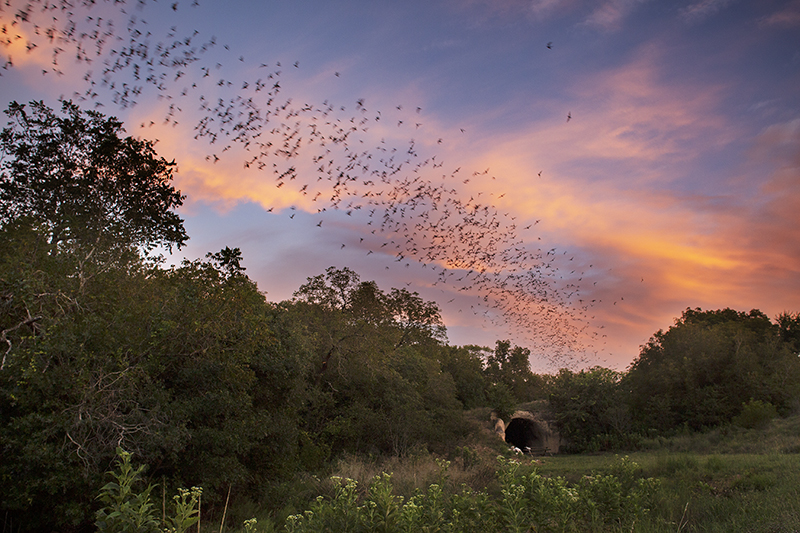 Bamberger Ranch Preserve is now 5,500 acres of Hill Country beauty. Flora near extinction, like the Texas snowbell, has been brought back to fruitfulness. And the Texas madrone, a tree for all seasons if there ever was one, is the arboreal equivalent of the ranch itself — it always has something beautiful to show visitors.
Even in the midst of a deep drought, such as Central Texas is currently experiencing, Selah is lush.
"Look around," Bamberger said. "Does it look like a drought? No, it's green."
Four key elements in the Selah logo describe the multiple facets of Bamberger Ranch Preserve: the leaf, the grass, the bat, and the scimitar-horned oryx.
The leaf belongs to the big-tooth maple, one of Bamberger's favorites. It symbolizes the fact that prior to European settlement, the Hill Country landscape was hardwood savannah, and that's what the ranch looks like today.
How did he do that? With grass. Specifically, bunchgrass, which prevents erosion. Bamberger calls grass "the greatest conservation tool ever made." That makes him a little like Bob Dietz, a character in the Texas novel "Giant." When one rancher disparages Dietz for singing the praises of native grasses, another responds, "Maybe this boy has got hold of something so fundamental that it's enormous."
This thing Bamberger got hold of decades ago is enormous in its capacity to overall how we work and live. We don't like to think that our daily habits may harm the land we love. We complain about drought, but how mindful are we of our water usage? We say we want to eat meat raised sustainably, but then we grab a burger at the drive-thru. Selah forces visitors to examine their unexamined lives.
"I don't even allow a vending machine. No Dumpster. No gift shop," Bamberger said. "Every time you add something, you're imposing on Mother Nature's work. That includes something so simple as a trail."
"Never initiate an action you're unable to sustain."
Which brings up another Bamberger mantra: "Never initiate an action you're unable to sustain." Every project he undertakes has been considered with posterity in mind.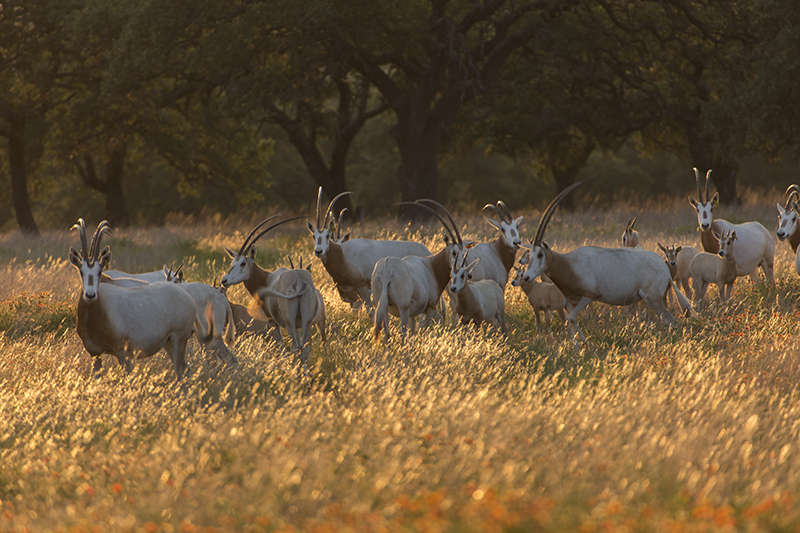 That requires some out-of-the-box thinking. Like bringing in bats, which is the third element of the logo.
Selah has a man-made bat cave — the world's first and still the world's largest. Its name, the chiroptorium, is one Bamberger made up, with help from his late wife, Margaret, and his son, David K. Bamberger. Chiroptera is the scientific order bats belong to, and the other half of the term draws from the word "auditorium." Basically, Bamberger built an auditorium for bats and invited people to come and see.
And finally, there's the scimitar-horned oryx, a species that had gone extinct in the wild and only lived in zoos. Bamberger was one of the first two or three people in the state to ranch the African antelope. He brought 31 animals to Selah in the mid-'90s and has since reintroduced some of them to their homeland. The herd is now part of the Source Population Alliance, a conservation effort involving private landowners.
If ancient Greeks thought the whole idea of the unicorn may have come from looking sideways at an oryx, then a sideways look at Bamberger reveals the same unique spirit. It's said that the oryx is the only antelope that can take out a lion, and so also, Bamberger is a fighter for sustainable living. He's also as friendly with a London cabbie, who asked if he happened to know anything about a Bamberger Ranch in Texas, as with legendary conservationist Jane Goodall, who once visited Selah.
"Jane came to San Antonio for an event. A friend called and said, David, 'I've got Jane Goodall here, and she really doesn't want to be in the city. She doesn't want to stay in hotels. She wants to be out in nature.' David said, 'Well, bring her on out!'" Sansom said. "She came to visit and fell in love with Bamberger Ranch Preserve."
Bamberger's goal is not only for people to come and fall in love with Selah, but for them to then to go home and do likewise. One way that happens is through landowner workshops.
Beside Hes' Country Store, Bamberger has been slowly building a forest. After every workshop that teaches Texans about shrubs, native grasses, and land stewardship, a Texas native tree is planted. It is both the building of an actual forest and the building of a community forest of landowners who care about managing natural resources.
Bamberger refers to this interaction as "people ranching." It's an invitation to the public to take a tour — perhaps aboard the Bluebonnet, an open trailer with a shade bonnet — and to share what they learn.
It's a lesson he first learned as a child, when the makeshift game of baseball he was playing with his friends (using a can and sticks) was interrupted by a boy carrying a real bat and ball.
"He owned the ball and bat, so he said, 'I make the rules.' Nobody wanted to play with him," Bamberger said. "Here's the rule: No matter what you have, if you don't share it, you're going to play a very lonely game."
Bamberger's sharing continued from then on. When he bought his first piece of property, a small ranch near Bulverde, he gave the original owner a key to the padlock on the front gate, so the old German man could continue to hunt as he pleased.
In that spirit, Selah has partnered with many research groups over the years, including Texas State University, Texas A&M Natural Resources Institute, and Bat Conservation International. A recent project included a study on the little-known Texas alligator lizard, which lives the good life on the ranch.
The ethical land practices at Selah are also shared with future generations who visit the Margaret Bamberger Research and Education Center on the property. School children come for environmental programs that teach respect for wildlife and good water management. They get to do things like use a net to collect aquatic macroinvertebrates that can be an indicator of water health. These school programs are often booked up to a year in advance.
The center also has dorm-style bunk beds for its three-day, two-night retreats for fifth-graders, most of whom come from underserved communities in San Antonio.
"It's slumber party-esque," Sansom said. "They're always impressed with the night sky."
Part of the people ranching includes forging a positive connection with caring adults.
"The teachers ask their students to write something they connect with while they're here and share it with us. One student wrote, 'The volunteers, because I got seconds, and they smiled at me,'" Sansom said. "The scientific lessons they get here are important, but part of the experience is the community we try to build here."
This fall, Kayla Krueger became Selah's education director for a program that has won the Governor's Environmental Education Excellence Award.
"We're not necessarily trying to build biologists — just trying to build consciousness. We tell the kids, 'Look how you feel out here!'" Krueger said.
"We don't want to love this ranch to death."
To ensure coming generations can experience that feeling, there's one more important Bamberger mantra: "We don't want to love this ranch to death." The Selah nonprofit was created 20 years ago to ensure that, long past Bamberger himself, the land can continue to provide guests with a sense of selah.
The word selah is better known now than when Bamberger first encountered it. Most often it's interpreted as a pause, a breath, a rest. Seeing Bamberger Ranch Preserve in person makes you want to do all those things. But the word selah can also mean forever. The ranch is a place with forever baked into the soil, into the big-tooth maples, into the bats and snowbells and madrones and oryx, into the native grass and the natural water so abundant in this pleasant valley.
"We offer hope in a world that is rapidly changing — that one person, two people, three people, four people, can make a positive difference in the conservation challenges we see today," Sansom said. "Whether you steward 5,000 acres or 1/5 of an acre, you can make a difference. It all began with a kid from Ohio whose mother inspired in him a love and respect for nature."