Over a kitchen table laid with mugs of hot coffee and sweet glazed pastries, Lisa and Ricky Grant talk of spores and substrates. In many ways, theirs is a language unto itself. 
The couple runs an artisan mushroom farm called Enchanted Mushrooms from their Llano residence, where a complex of insulated shipping containers and coolers withhold an ever-growing array of functional and gourmet mushrooms.
Lisa, who grew up in Richland Springs, first met Ricky through mutual friends when they were working at San Saba ISD and Llano ISD, respectively. The couple married in 2018, and it wasn't long after that Ricky grew interested in growing mushrooms at home. "Even I have a hard time trying to understand why I was compelled to do such a thing," he said. "I think it was mainly the potential for mushrooms — there is so much room for discovery."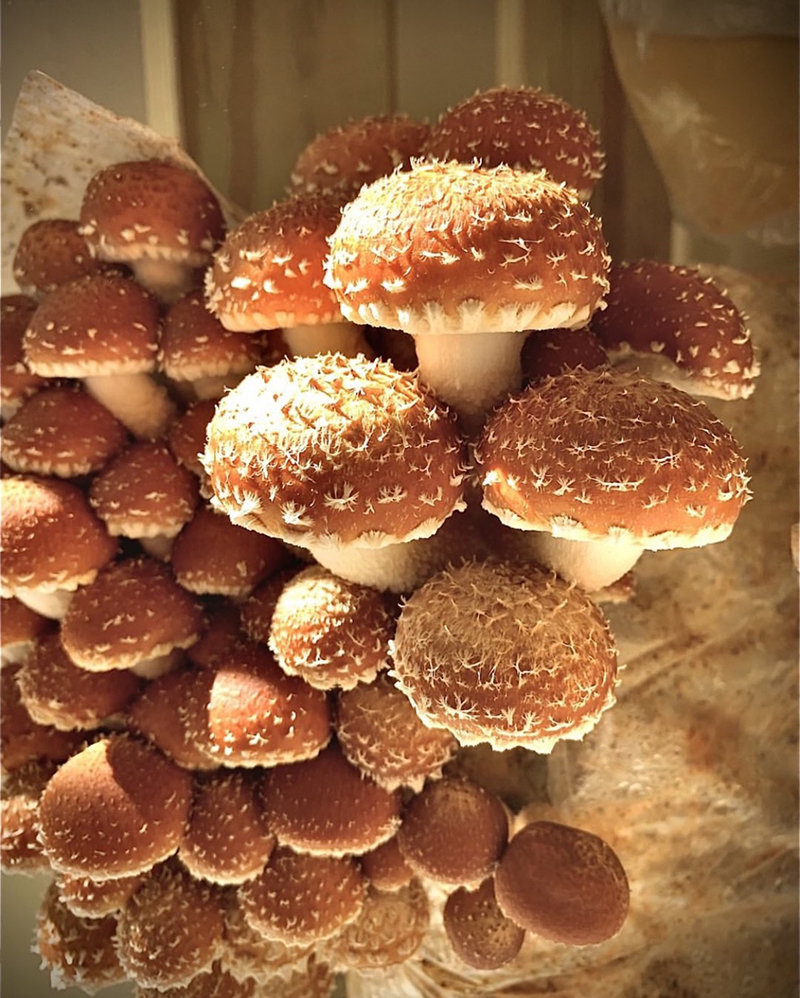 Growing up on a tobacco farm in northern Kentucky, Ricky was an adventurous child with an early interest in healing. As a young boy, he would rub plants into his cuts and scrapes to help them mend more quickly. "I never had a college degree, in fact, I was a high school dropout," he said, "but I have always loved to help people and heal people since as long as I can remember."
Years later, Ricky read an article about the female Chinese running team at the 1993 Olympics whose shattered records led to false accusations of steroid use. In fact, they had taken Cordyceps, a fungus that can help enhance oxygen levels, blood flow, and athletic performance. Soon after, he began ordering functional mushrooms, including Cordyceps from a cultivator in Croatia, and noticed the energy surge himself. "It began with good intentions," he said. "Just wanting to help as many people as you can, any way you can."
In 2019, the Grants started growing mushrooms at home, tinkering late into the night as they built their burgeoning business. Fast forward to today, and they're expanding their facility and harvesting seven different species, with a forecasted 2023 production of 600 to 800 pounds of mushrooms every week.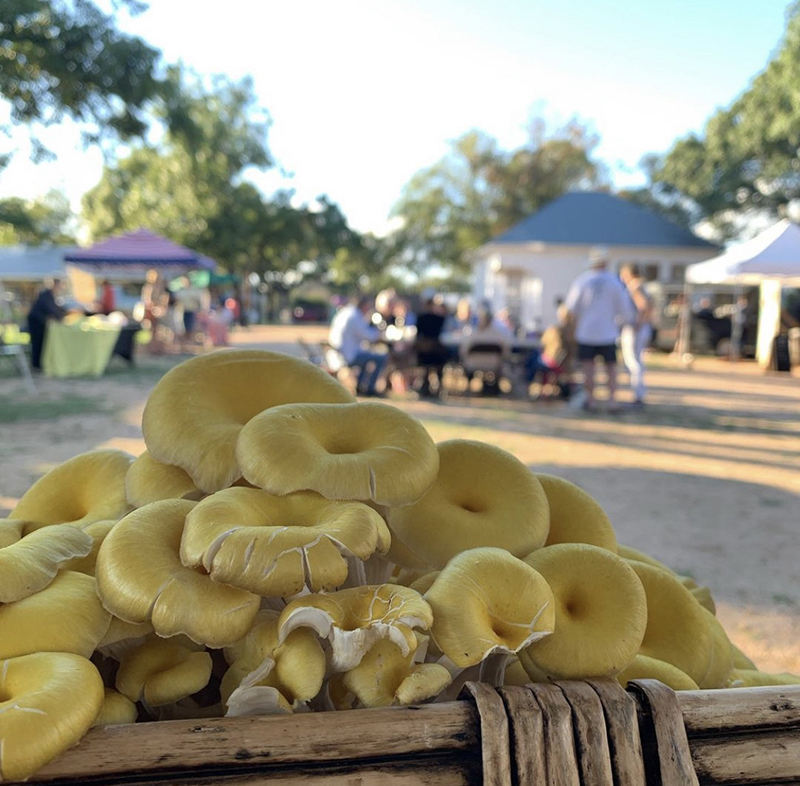 Cultivating them is an artform of its own, and one they've learned through fellow mushroom producers, online resources, and personal trial and error. The couple makes their own substrate from pellets of oak wood and soybean hull that is mixed with water and put into plastic bags before being steamed at high heat. Sterilizing the substrate ensures that any yeast in the air and bacteria elsewhere are eliminated.
After the sterilization process, the spawn, which is the living flesh of the mushroom, is introduced and the bags are sealed and stored in a climate-controlled facility for one to two weeks. During that time, the mushroom tissue or mycelium, which supplies the fruiting body with nutrients, begins to colonize the substrate. After it's completely colonized, the bags are slashed open, and the exposure to oxygen spurs the mushroom to fruit.
Inside their cool, temperature-controlled facility, mushrooms grow from plastic blocks like otherworldly sea creatures, with quivering gills and colorful caps. Every variety has its own look, smell, texture and flavor. While the Chestnuts have velvety, speckled tops and woodsy aromas, the Lion's Mane produces plump white clusters with icicle-like teeth. "The Blue Oysters are really versatile, so I recommend those to people that have never cooked with mushrooms before," said Lisa. "Right now, my favorite is the Black King because you can grill it, cook it in the oven, shred it and make tacos out of it; there's a lot you can do."
Currently, their storeroom is abloom with Golden Oysters and Lion's Mane, Blue Oysters and Chestnuts, Italian Oysters, Black Kings, and Snow Oysters. "Some mushrooms are sensitive to temperature so it can get really expensive and difficult with triple digits in Texas," Ricky said. Because of this, they rotate their crop seasonally. And while there are many varietals they have yet to cultivate, you won't be seeing Truffles, Chanterelles, or Morels anytime soon. "The reason for that is no one knows how to cultivate these in a controlled environment," he said. "So again, there's a lot of room for discovery."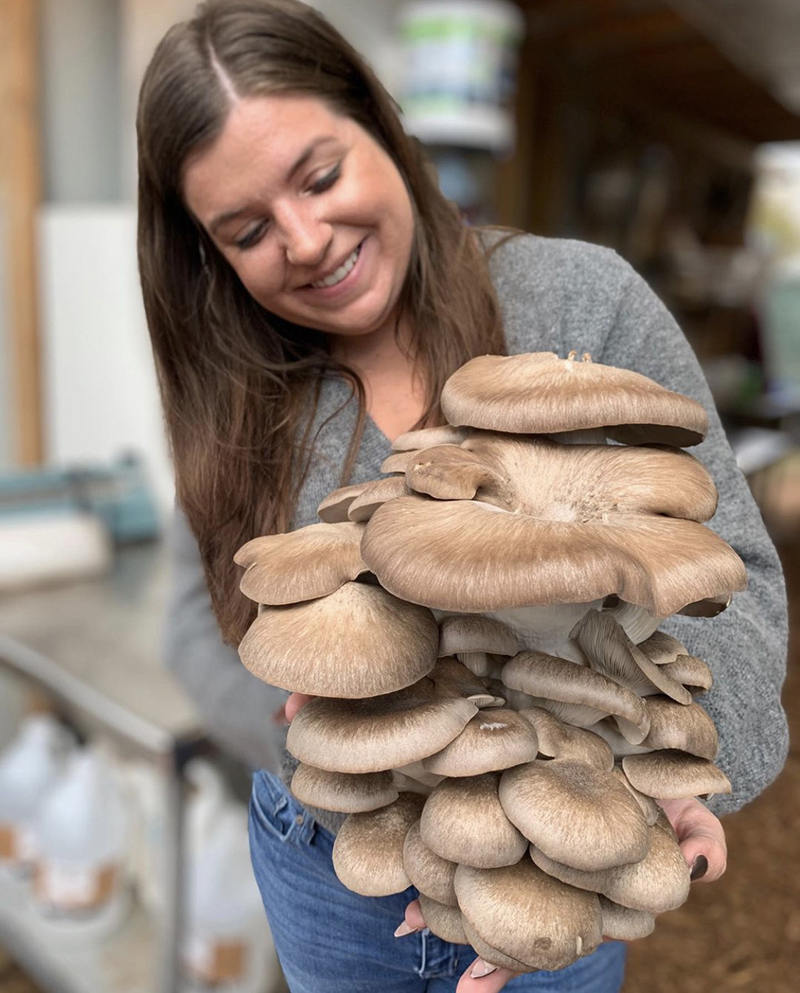 After the mushrooms are harvested, they're packaged and delivered to restaurants, retail operations, or sold at local farmers markets. Working with chefs is particularly meaningful for Ricky, who has a strong appreciation for food and the foodservice industry. "Some of these chefs, you can tell they are kind of burnt out," he said. "The first time I bring in a box of mushrooms they've never seen before they just light up — it is like a kid in a candy store."
Recently, the couple decided to make use of their leftover byproduct by putting it through a composting phase. "It is a really simple way to compost that takes off a little footprint," Ricky said. "We've already been working with a few folks — one specifically is Hat & Heart Farm in Fredericksburg — they've been utilizing this stuff and seen a fivefold increase in veggies, as well as an increase in depth of flavor and shelf life."
In addition to compost, the Grants hand craft several wellness products, including mushroom tinctures and powders that are available on their website. Both husband and wife take the Lion's Mane Tincture every morning before work, swearing by the solution's slew of health benefits, from reduced inflammation to stabilized blood sugar, boosted immunity, and anxiety relief.
Furthermore, studies suggest it contributes to an increase in neurological health, while helping prolong the development of conditions such as Alzheimer's and Dementia. "I've seen Ricky at farmers markets with someone limping or walking hunched over, and he gives them a bottle,'" Lisa said. "Those people typically come back."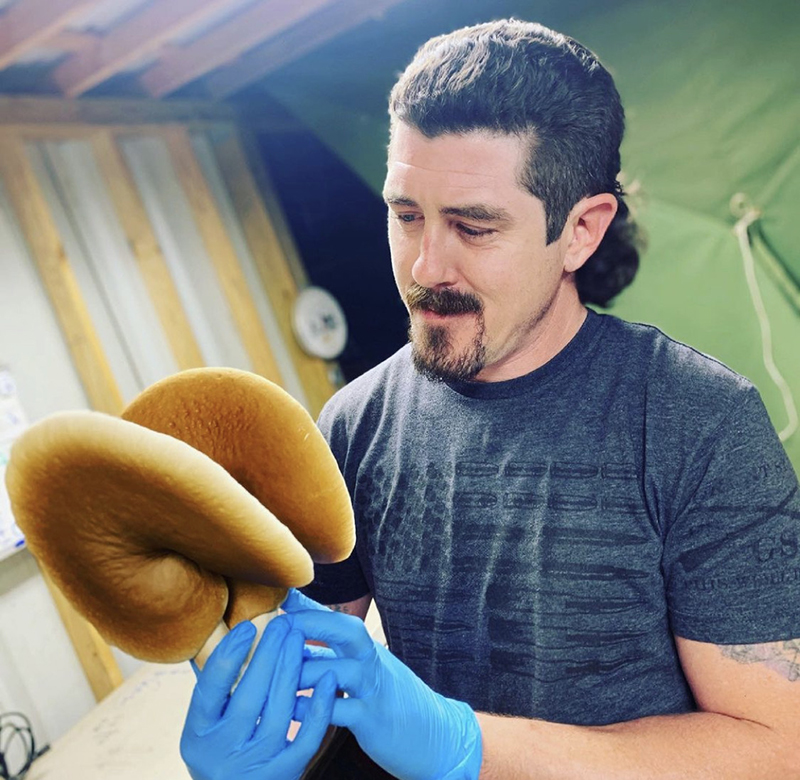 Though the couple has seen an increase in customers who're curious about medicinal mushrooms, admittedly, there are still stigmas and roadblocks to navigate. "When we first began this journey, there was a lot of criticism, especially in a small town," Ricky said. "Sometimes you have an idea that folks just don't understand, and that can be discouraging. But we knew better, we knew there was great potential with this, so we pushed forward."
Today, they talk openly and enthusiastically about the countless qualities and health benefits of mushrooms, such as their ability to convert UV rays into Vitamin D, for example. "We forget that these guys have been here since the beginning of time and they're breaking things down and making it available to us," he said.
At the end of the day, Ricky and his wife are passionate about spreading that magic with others and brightening people's lives. "Mushrooms make people smile and that's the best part for me," he said. "They just promote joy in so many ways."
enchantedmushrooms.farm