More than 100 years ago, terror gripped the town of Marble Falls.
A horrific creature — half-man, half-bear — roamed the woods around the Colorado River. One night, the "belle of Marble Falls" was caught unawares by the beast … she let out a scream … and suddenly she was gone. This so-called Bear King whisked her away to its lair, a cave deep in the woods, and held her there until it fell asleep. The fortunate lass managed to sneak away, living to tell her tale. A vengeful group of hunters sought out the monster, found it, and killed it.
Scary! And, much like tales of Bigfoot or the Yeti, there's no evidence that it's true. In fact, it was never even reported locally — the only surviving accounts are found in a 1901 news clipping from a Washington, D.C., newspaper.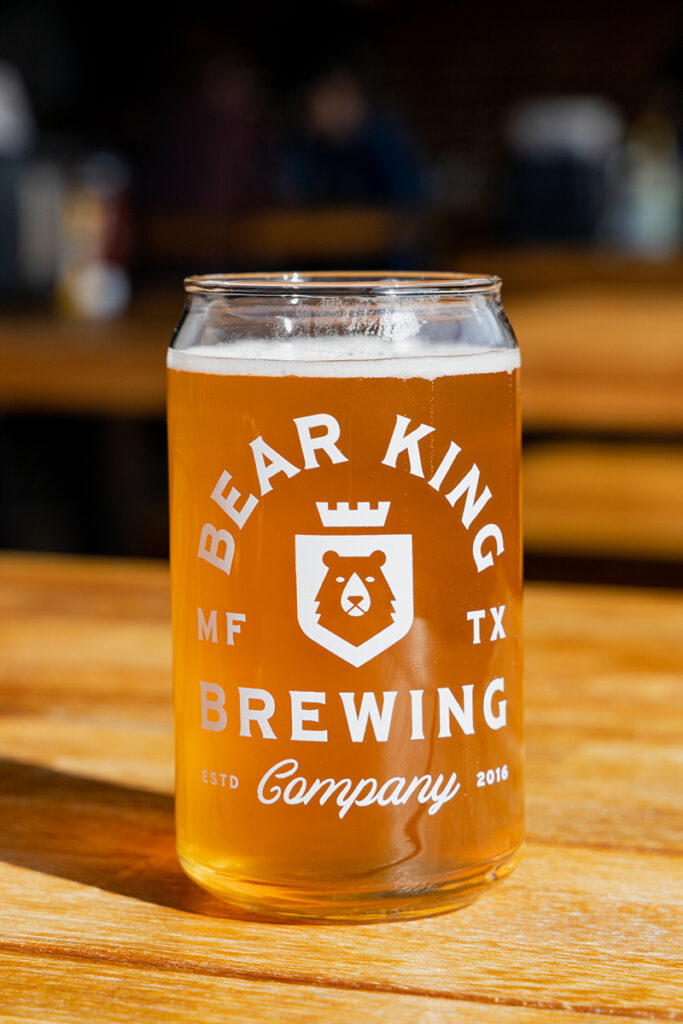 But hey, it makes a good yarn, worth swapping over a riverside campfire or perhaps over some cold beers at a local brewery.
That's exactly what the Guidry family hopes you'll do at Bear King Brewing Company in Marble Falls.
"It kind of died off as this local legend, and we loved the idea of bringing that legend back to life," says Grant Guidry, Bear King's marketing director and co-owner. "And all our beers have their own little stories or legends behind them, so for example, Wandering Blonde is under the umbrella of Goldilocks and the Three Bears — 'This beer is too hoppy, this beer is too dark, but this beer is just right.'"
Bear King is just right for relaxing and telling those tales. It's housed in a spacious former auto dealership just a block away from the bridge over the river, with a front patio perfect for stretching your legs while stretching the truth.
Grant is one of a gaggle of Guidrys who bring the Bear King (the brewpub, not the creature) to life. They're not all in Marble Falls — in this modern era of telecommuting, the family investors often brainstorm over the phone. "All our business calls end in, 'Love you, bye,'" laughs Grant, which may sound familiar in the Hill Country's many family-run businesses.
But family member one who matters most — brewmaster and oldest brother J.D. Guidry — is on the premises making the company's signature product. Grant says it's best that he stays out of the brewhouse.
"I tried brewing one time and told J.D., 'Man, I'm glad you know what you're doing,'" Grant laughs.
So he handles promotions from his home in Austin; his sister and brother-in-law, both serving in the Navy, do administrative work; and the youngest brother got the restaurant up and running before moving to the tech world.
"We divide and conquer," Grant says. "We make a pretty good team."
None of that, however, should create the impression that Bear King is run by outsiders unfamiliar with the Hill Country. Seeds were planted here years ago that grew into the family business.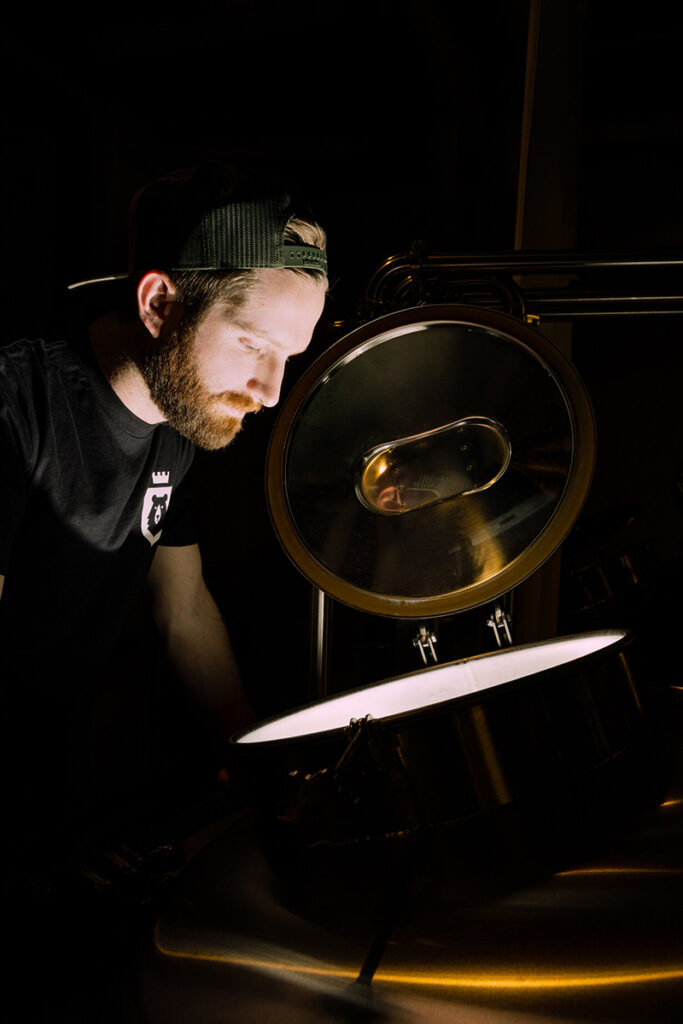 "All our family is from the Texas area," Grant says, "and our grandparents have a little lake house on Buchanan. We'd spend every summer at that lake house, and this was our rally point where we'd get together. After we all moved out and went to school, this was always the spot we came back to."
J.D. came back from Olds College in Alberta, Canada. After deciding patent litigation wasn't his thing, he took his brewing hobby to Olds and earned a diploma in Brewmaster & Brewery Operations Management. ("I didn't even know those existed," says Grant.)
Since 2019, he has translated those talents into three flagship beers — Wandering Blonde, Foggy Eyes New England IPA, and Monkey Bridge Hefeweizen — styles that pair well with the "upscale craft American food" coming out of Bear King's kitchen. (The juicy bacon cheeseburger paired with truffle fries is pretty spectacular; there is also an inviting menu of tacos, sandwiches, and salads.)
If you want to get more adventurous, Bear King has inventive seasonals, such as the "Lady" hazy IPA series. At the time of our visit, the holiday beer "Lady Wood Spruce," exquisitely flavored with spruce tips, was still on tap — and it was obvious why it won a gold medal at this year's Texas Craft Brewers Cup in the Specialty Hoppy category.
You might even discover styles you didn't know existed, such as the Stigini White Stout. Yes, white. It's definitely an atypical stout, both in color and flavor — the heavy vanilla flavoring may remind you of a cream soda.
"This is our other brewer's whole baby," Grant says. "He said, 'I want the vanilla to slap you in the face.'"
Wait a minute — other brewer?
Bear King is a bit unusual in that it has two brewers taking the lead on making the suds. While an assistant brewer is not unique, Kael Brannan — working alongside J.D. — is not one. "He started as an assistant, but now he's just a second brewer," Grant says. "He's been here about three years now. He just interviewed for the job and has been crushing it ever since."
If you really like your brews bold — and you have a designated driver — Bear King has high-alcohol offerings like the Bootprint Barley Wine and the Dead Wreckoning Imperial Oatmeal Porter. They're tasty, but be warned — they're strong enough to make you … um … go into hibernation. We sampled the regular version of Dead Wreckoning, but Grant promises a version aged in Garrison Brothers whiskey barrels is coming soon.
You can try Bear King's brews even if you're not in Marble Falls — they ship cans and kegs all around the region — but they are probably best enjoyed after a day on the river or camping.
Just be sure you get there before the scary bear-men wake and start roaming the woods.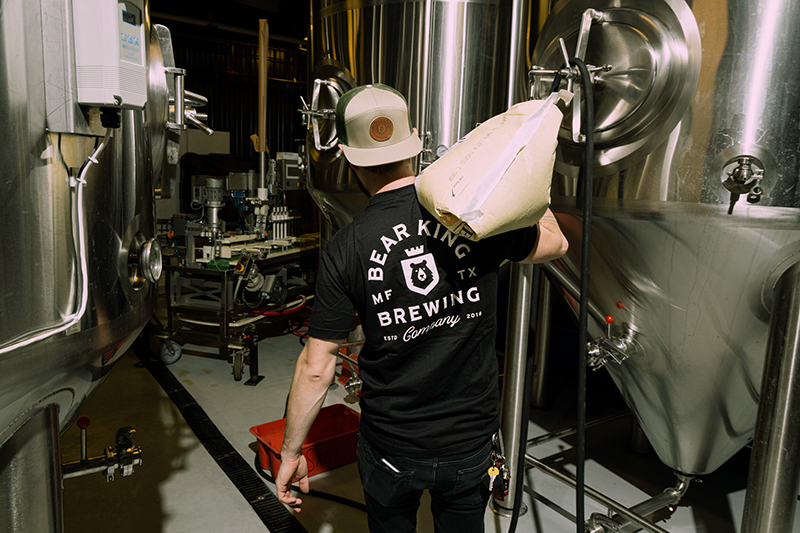 Bear King Brewing Company
207 Avenue G, Marble Falls
830-220-5083
bearkingbrewing.com
Monday-Friday, 11am-9pm
Saturday, 9am-9pm
Sunday, 9am-8pm