Women are more and more present in the wine industry. Whether working as a sommelier or wine server, making wine, growing grapes, running a tasting room, conducting laboratory analysis, or teaching others in the field, a vast array of jobs are available to someone passionate about wine. 
With the thriving wine industry in Texas, it's no wonder more
women are taking on roles throughout the business. There's certainly no shortage of dynamic women in wine in the Texas Hill Country. And you may be surprised to find that women in Texas wine go back over forty years. Here are just a few of the Grape Dames of Texas Hill Country wine.
---
Penny Adams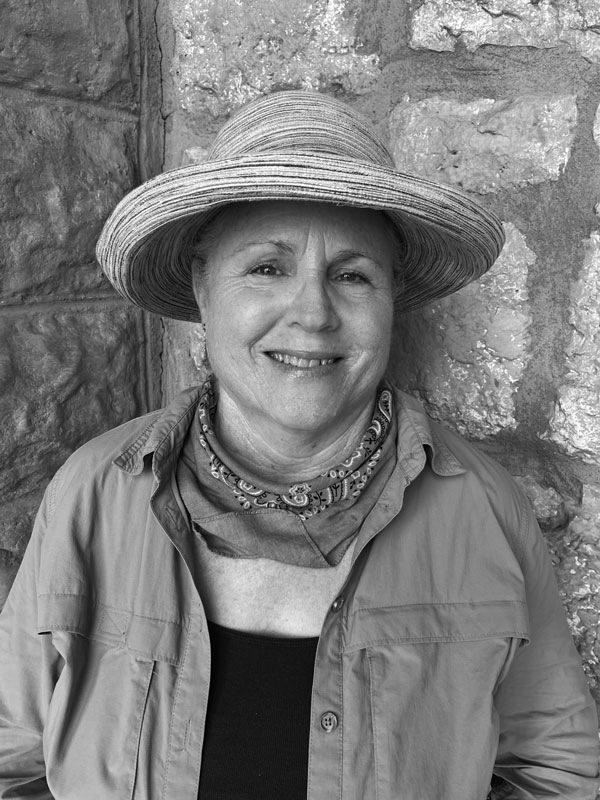 Growing up in Arlington, Penny Adams became enthralled with nature at a young age. She helped in her mother's greenhouse, played at the family farm on weekends, and visited her grandparents, who grew cherries, apricots, plums, and table grapes. Working in nature and growing plants could be the ideal career path. 
Penny studied horticulture at Texas A&M but struggled to connect her love of plants with a career. The Texas pecan industry was thriving, which encouraged her to seek out an edible crop and shift her studies to pomology, which is the production of fruits and nuts. She landed a summer job working for Dale Bettis, who owned a property in the community of Cypress Mill. He planted a small commercial vineyard where Penny was to care for the vines, help run the ranch, and assist with preserving the stately 1882 home on the property.
Dale was an educated man who traveled and worked around the world with little time to handle the thriving vineyard, and Penny took over the operations. There was no one to turn to for grape-growing advice, but it was an exciting time. After completing her degree in 1980, there were few programs for viticulture, and she continued her studies in the Master of Science program at Fresno State University in California. Once she received her graduate degree, Penny and Dale were married. The couple had two sons while working tirelessly to grow Texas's new wine industry.
Their Cypress Valley Winery was the fifth winery bonded after Prohibition, making the couple true pioneers in Texas. Release of the 1982 vintage made Penny the first female winemaker in the state. She created about 550 cases of wine a year while working tirelessly to grow grapes, selling the wines to retailers around the state, and raising two sons on a sprawling Texas ranch.
The operation grew with the purchase of a vineyard in Midland, Texas's oldest vineyard of traditional European wine grapes, and then planted a vineyard near Pontotoc in the Hill Country near Mason. The couple even purchased property on Highway 290, where they hoped to move their winery, foreseeing the future of Texas wine tourism.
When Dale passed away in 1989, Penny closed their winery but stayed in the industry. She helped many new startups, including the LBJ Family and Hill Country Cellars, and even helped Becker Vineyards plant their first vines in 1992. Relocating to Fredericksburg in the early 2000s, Penny worked for the Pierce's Disease Research Program, then as the AgriLife Extension Viticulture Advisor for the Hill Country and formed a vineyard consulting service called VineCo. In 2012, she became the winemaker at Wedding Oak Winery in San Saba while continuing consulting to grow the industry further.
Today, Penny is focused on her consulting business, and her passion is infectious. At the same time, she teaches Viticulture for Winemakers as a part of the local Texas Tech University winemaking certificate program, and she enjoys mentoring young people interested in viticulture. She has helped to develop and grow our industry over the past 40 years and is thrilled to still be a part of the growth and diversity in the industry today.
---
Susan Johnson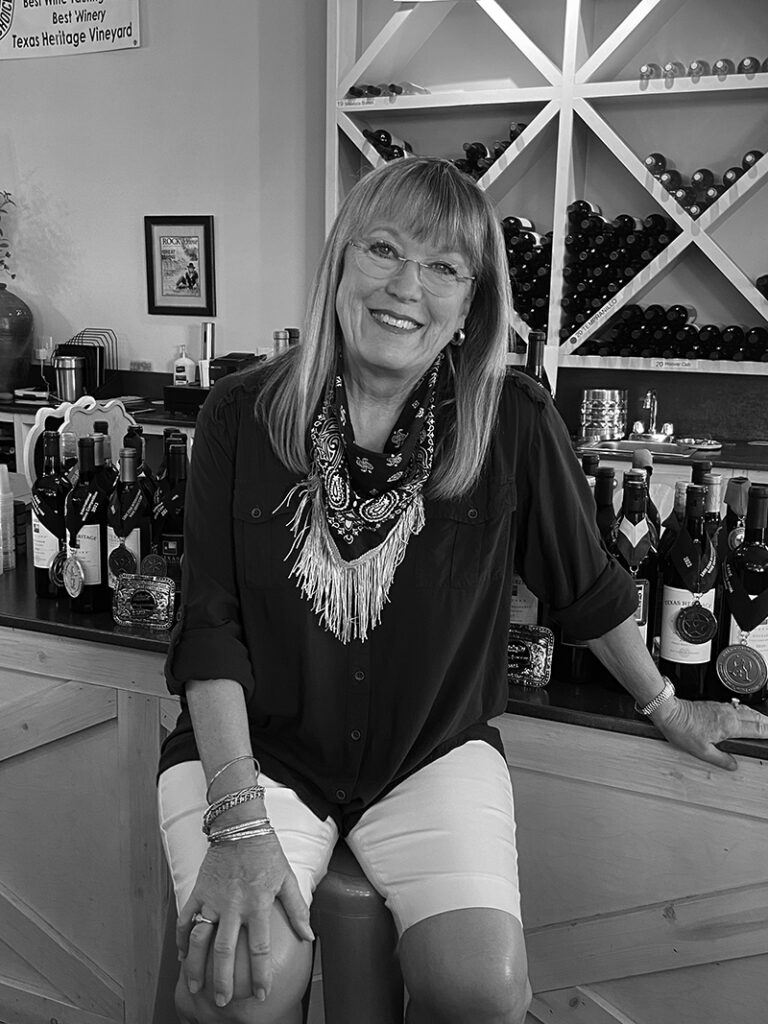 Another hard-working woman in the wine world is Susan Johnson, co-owner of Texas Heritage Vineyard. Susan's family came to Texas in the 1830s and planted deep roots. As she was growing up, she never would have imagined she would be planting her own roots, both for her family and for grapevines.
Susan lived all around the state during her long career with State Farm Insurance. She even met Billy while they were both working for the company. Soon they were married and living a full life in Austin. The couple and their daughter loved visiting the Hill Country, and in 2002, they moved to the area. They planted a lavender farm, working every weekend to care for the three acres of fragrant plants. In time, they purchased a building on Highway 290 to sell lavender plants and products.
In time, they closed the lavender farm, and Susan began exploring the idea of growing grapes and making wine. After retiring from State Farm in 2013, she enrolled in the Texas Tech viticulture program. She dreamt of creating a family-operated project to pass down to future generations, and they planted their first grapevines in 2015. Today, just over 15 acres are under vine with Alicante Bouschet, Malbec, Souzão, Tannat, Tempranillo, and Viognier.
In 2017, the Johnsons built a winery facility at the vineyard property. The following year, they opened the Texas Heritage tasting room on Highway 290, in the building that previously housed their lavender market just east of downtown Fredericksburg. The location is convenient, open daily, and Susan is behind the bar most days. Tapping into the family's love for music, they offer live music every weekend. The view is beautiful and unexpected. And guests are treated like family. With all these features combined, it's no surprise readers of the Fredericksburg Standard-Radio Post voted Texas Heritage the best tasting room in 2020, 2021, and 2023. The progression has been a labor of love for the entire family – including children and grandchildren – working in management, merchandising, in the vineyard, and serving wine. And that's just how Susan envisioned deepening her family's roots in Texas.
---
Rachel Fanning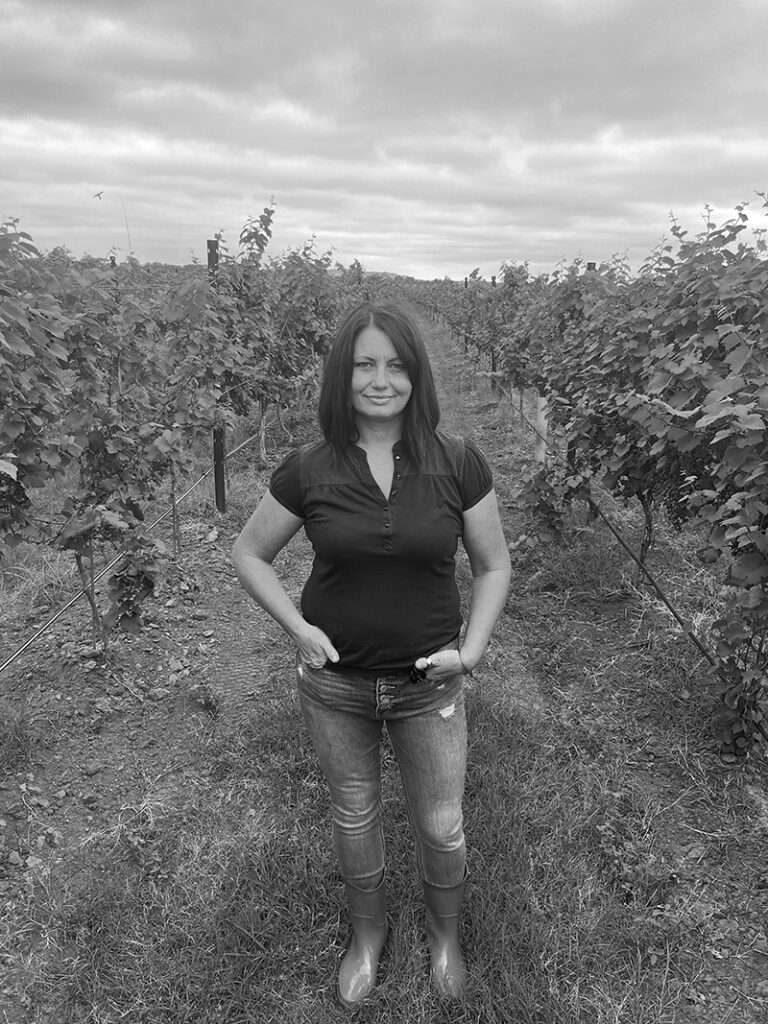 As an advancing winemaker in Texas, Rachel Fanning admits she went back to school several times. While she only has two kids, it seemed she would be in school and then have a baby, then go back to school, and then have another baby. It's not that there were too many babies, just that she questioned her career path in her time away from classes, which can be a common dilemma for anyone growing both her family and career.
With a love for science, Rachel couldn't easily see a way to connect that interest to a career. It seemed a girl could only be a secretary, a teacher, or a nurse. There wasn't much talk about girls going into medicine to be a doctor, and there wasn't much explanation of what a degree in chemistry could mean. It was tough to provide for her kids, develop her education and skills, and discover the right career path.
She worked in insulation sales for metal buildings — it was a living but not fulfilling. In 2007, Rachel returned to school to finish her bachelor's in biology at Texas Tech in Lubbock. Two years later, Rachel accepted the office manager position with Pheasant Ridge Winery. The job was perfect for her, and before long, she was helping in the tasting room and her interest grew. She managed the tasting room and the business operations while moving forward with her degree in the viticulture and enology program at Texas Tech.
When Rachel completed her second degree, she was eager to gain real winery experience, which she gained at Caprock Winery and McPherson Cellars. In 2013, she moved to the Hill Country to work as the assistant winemaker at Becker Vineyards. After a decade with Becker, it was time for Rachel to spread her wings. In May of 2023, Rachel accepted the head winemaker position at Augusta Vin, and she admits she is slightly terrified but ready for the challenge. With more than a decade under her belt, she fully understands the difficulties of winemaking in Texas: there are not enough grapes; labor shortages plague the vineyard, the cellar, and the tasting room; and Mother Nature throws curve balls every month. This knowledge was tested during her first month at Augusta Vin when a hailstorm damaged the estate vineyard.
Being a winemaker is a job that can be especially difficult to maintain a healthy work-life balance. The three months of harvest activities include long days and surprises. For a woman with children, it can be a struggle to be successful at the winery and also at home. Rachel makes it look easy, and it will be exciting to watch her grow in her new role as head winemaker.
---
 Bénédicte Rhyne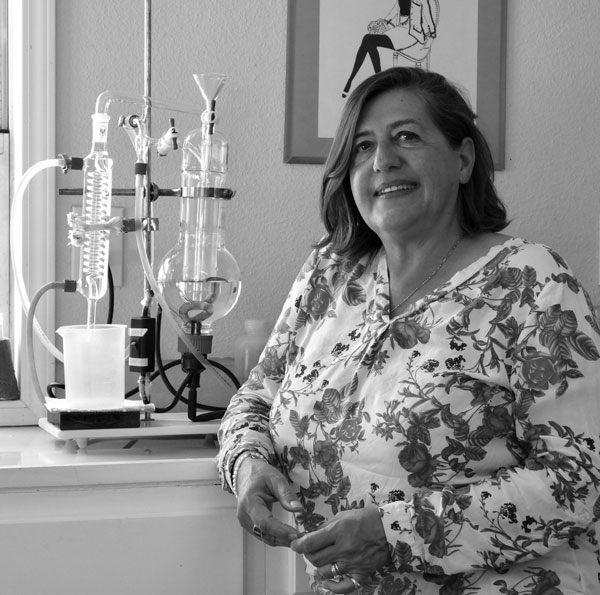 Any enthusiast of Hill Country wineries has surely heard of Bénédicte Rhyne, who has been making wine in Texas for the past 20 years. Her wine journey goes back further — and farther away. Growing up in southern France, Bénédicte was good at science and math, so she studied biochemistry at the University of Marseille. She then completed the Diplôme National d'Oenologue at the University of Dijon, which is like a Bachelor of Science in winemaking. 
While she finished her degree in 1987 at only 22, she needed to gain experience. Bénédicte traveled to New Zealand for a harvest season. Then she worked in wine sales in England to gain more understanding of the business of wine. Tasting wines from all over the world improved her palate, but she missed the cellar and set her sights on America. Sending 50 letters to California wineries, she accepted a position at Ravenswood Winery, which had opened in 1976 in Sonoma County. It was 1991 when Bénédicte arrived at San Francisco International Airport dragging two suitcases with just $400 cash in her pocket.
Bénédicte soon met Richy Rhyne, and they were married in 1996. He also worked in the wine world, managing warehouse storage for wineries and wine distributors. As California's wine industry was growing, so was the Rhyne family. Ten years into her career at Ravenswood and with three young children, the couple decided it was time for a change, and they were intrigued by what was happening in Texas.
The family packed the car and headed to the Hill Country, planting roots right away as Bénédicte started consulting for small wineries. Soon she was chosen to help Ste. Genevieve, a large winery just east of Fort Stockton. The property once spanned 1,300 acres with a 68,000-square-foot winery and the capacity to process 1.6 million gallons of wine.
The family was now living in Fredericksburg, and Bénédicte drove four hours each way to make wine production decisions in Fort Stockton. She served as the winemaker from 2003 until 2019. During this same time, she became the winemaker at the new Hill Country winery, Kuhlman Cellars, in 2014. She was thrilled to help the project come to the mainstream. As Kulhman Cellars winemaker until June 2023, Bénédicte crafted amazing wines for a growing popular brand.
After twenty years of making wine in Texas, it was time for Bénédicte to continue her professional journey down another path. She now has three defined goals in mind: "to help the industry by assisting small labels starting up; to give back by mentoring and providing education to young female winemakers; and to start her own label Rhyne Wines, which will be a family legacy beginning with the 2023 vintage."
Her family is important to her, and she's proud of each one of her children. Their youngest son is still in high school, her daughter works in marketing in Fredericksburg and is eager to help with the new wine brand, and the oldest son is studying winemaking. Seeing her children thriving is just one reason it's important for Bénédicte to mentor young winemakers.
In addition to making wines for small wineries starting their label, she provides consulting services and wine laboratory analysis to local wineries. She has also developed classes to give insider information to any consumer who wants to dig deeper into wine. These classes are excellent for anyone who wants to own a winery or grow a vineyard. Find her courses at www.benedicterhyne.com and consider expanding your own wine knowledge. With over 35 years of wine experience, you can't go wrong with Bénédicte — whether opening a bottle of wine she's made, utilizing her consulting and lab services, or learning from her as a mentor or teacher.