Hot peppers, if you really look at them, are beautiful They're as colorful as they are flavorful, with a shape that invites you to dig in, whether or not your capsaicin receptors are ready. Dr. Ron Tilton, a retired diabetes researcher at UTMB-Galveston, always had a garden and always grew the spicy stuff. A few years ago he turned his hobby into a business: Hill Country Hot Peppers, which sells fresh and dehydrated peppers along with its own line of sauces and jellies.
Tilton says peppers are not vegetables — they are fruits that come from self-pollinating flowers.
"They're called 'perfect flowers' for that reason. You don't need bees for pollination," he said. "But bees are good for cross-pollination, and that's how we get the strange peppers."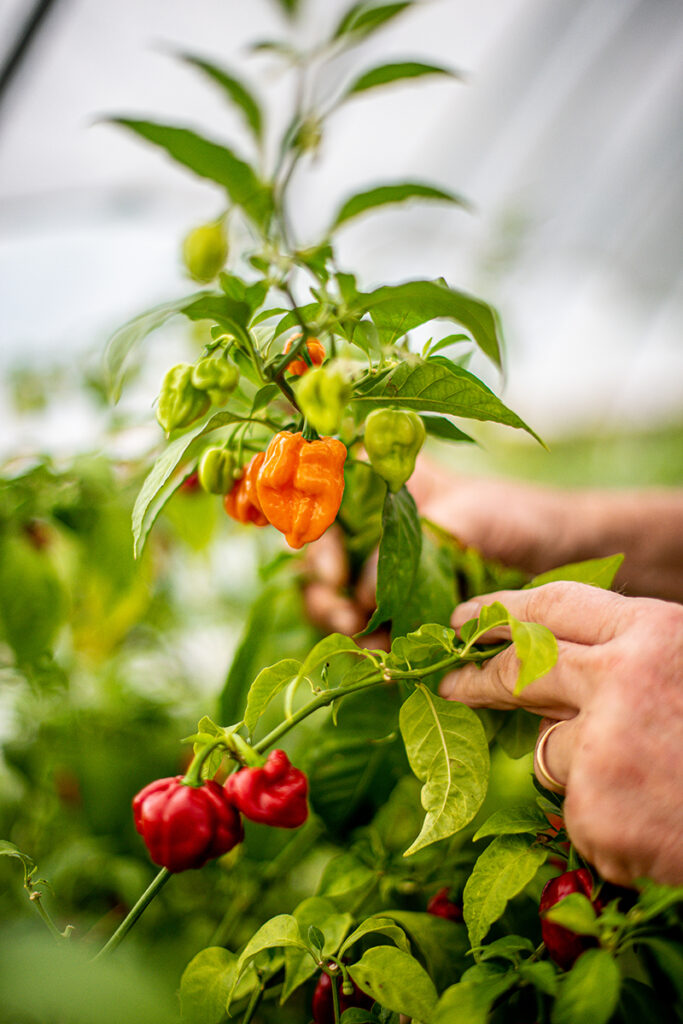 Tilton loves creating strange peppers. He's developed three new varietals.
"I developed Texas Big Yellow. I was growing Scotch bonnets — one of my favorites, with that bonnet shape, very flavorful, sweet, not much heat — next to Carolina reaper, the hottest pepper in the world," he said. He also grows a Texas Big Red and last year started Texas Big Chocolate.
From those varieties come new products.
"We're working on a new brown hot sauce, Holy Mole, made with mole negro from Mexico. It's blackberry-based. We include an unusual vinegar from Vietnam," he said.
Tilton prefers the hotter peppers, but enjoys growing milder varieties too at D2 Farms, in Wimberley.
"We grow a Guatemalan habanero. It's more on the level of a jalapeño. You get that smoky, wonderful habanero flavor without a lot of the heat," he said, knowing some folks will never develop the tolerance for hotter peppers. "My wife considers jalapeños too hot for her."
But many other people want a pepper with a little wildfire.
"Anything that will take your head off, basically," said David Marks, Tilton's business partner and owner of D2 Farms.
Marks was always a self-described "spice nut" even before he got into business with Tilton, his father-in-law. Tilton had already developed two hot sauces — one from ghost peppers and one using Carolina reapers.
"He went to a hot sauce festival, and every grown man was walking away crying because they were too hot," Marks said.
He reconfigured the blend, making it pricky pear-based and shifting the blend of peppers, but he kept the name from that experience: Cry'N Cowboy. The medium heat-level sauce won second place at The Austin Chronicle Hot Sauce Festival in 2021.
"It became the middle man in our line of hot sauces," he said.
Hill Country Hot Peppers' sauces taste different because they are fermented.
"We ferment anywhere from three to four years," Marks said. "Fermenting settles out certain flavors and brings other flavors forward without it being so sharp that it overwhelms you."
Marks also makes hot pepper jellies, and not the kinds you find along the wall in the grocery store.
"You're not gonna find Brazilian starfish, not gonna find chocolate habanero, not gonna find aji jabito," he said.
Hill Country Hot Peppers currently grows 35 varietals — the composition changes with weather and experimentation. Marks didn't get into the farming business until Covid, when he and his wife watched a documentary that changed their lives.
"We sat down one night and watched 'The Biggest Little Farm.' I'd been helping Ron, but we hadn't partnered up. After that I told him, 'I'll grow this business,'" Marks said. "My wife, my kids, my in-laws, my mom — they're a big, integral part of this entire journey. It's all family who run this operation."
Marks credits Covid for sparking people's interest in hotter peppers. Stuck at home without the comfort of being able to eat at favorite restaurants, we creatures of habit had to change. Some people learned to cook, and they found they wanted to use super-hot peppers.
"Buying went up when everyone got canned up," he said. "We went from being demanders to doers."
Hill Country Hot Peppers is the centerpiece of D2 Farms. In addition to creating its own line of products, the farm also sells peppers to other commercial hot sauce makers, including ATX Hot Sauce, which likes the Texas Big Yellows. Marks' goal is to grow D2 Farms to become a multifaceted business. He's already got two acres of mourvèdre in the ground and recently brought out his first wine, Local Customs — a rosé made in partnership with nearby Salt Lick Cellars.
"Grapes like the same sort of acidic soil as peppers like. They like the same water," Marks said. "Everything we do here is natural. I don't inject the peppers with some funky hormone. It's relying on knowledge that's been passed down through generations, creating something that's beautiful and unique in flavor, taste, and shape."
Products from Hill Country Hot Peppers and D2 Farms can be purchased at Wimberley Farmers Market on Sundays, at shops in Wimberley, and online at hillcountryhotpeppers.com. They ship all over the country.