n a Sunday drive from Luckenbach to Boerne on FM1376, I passed a sign for St. Tryphon (prounced tree-fon) Vineyards. A short distance off the road and I discovered a small family farm. I was greeted by Silouan "Sil" Bradord, and a couple of friendly dogs. Sil started this winery with his wife Mary Elizabeth.
St. Tryphon was a young farmer in 3rd century Turkey. Tryphon was martyred at 16 years old, and is a patron for grape growers and gardeners, and is often invoked against rodents and insects, a fitting patron for this small family winery. When I walked into the simple barn-like tasting room, my eye was drawn to the large painting of the saint over the bar.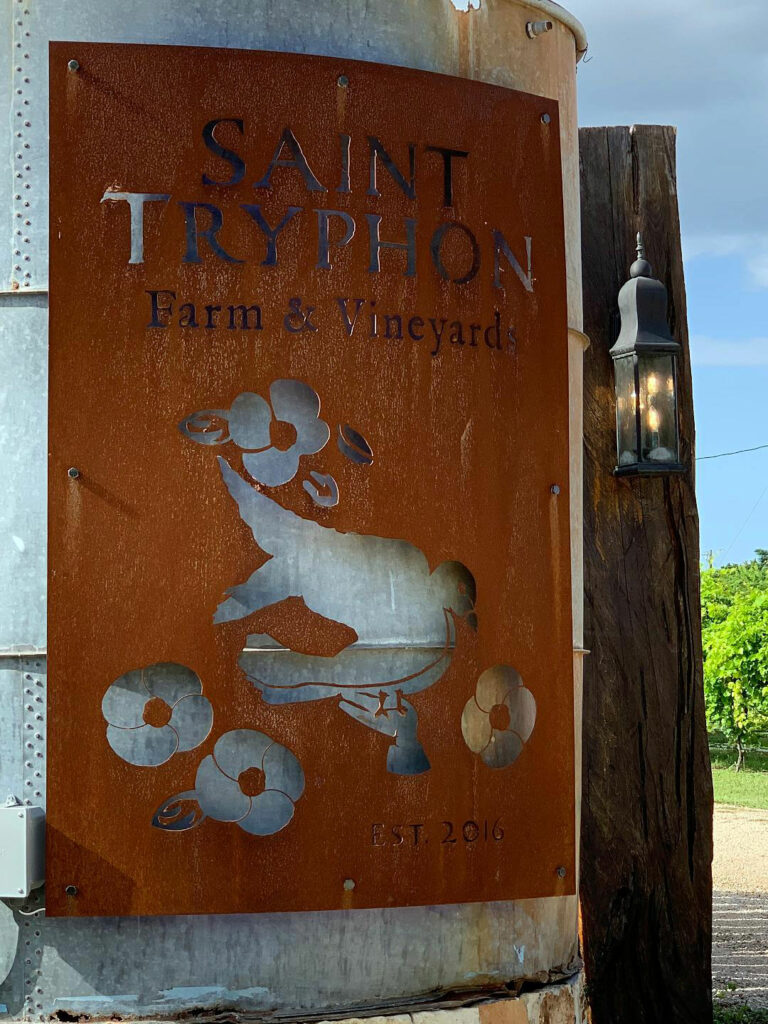 Sil started his wine career as a wine steward for H-E-B in San Antonio, and eventually started selling fine wine for a distributor. In 2016, Sil planted the first vines – Blanc du Bois and Black Spanish – on his estate that became St. Tryphon Winery. On February 1, 2018, which happens to be the feast day of St. Tryphon, Sil opened the doors of his winery to the public.
Bradford wants his winery to be a place that the people of the Hill Country can be proud of, not only as a place for people to enjoy a glass of wine or celebrate life, but as an organization that gives back to the community, in the spirit of San Antonio and organizations like the Spurs and H-E-B.
St. Tryphon's wines are simply elegant.
"It's difficult to do organic wines in Texas, I prefer a 'minimal intervention' approach," he said, "Most of my wines are low in sulfur dioxide – less than 22 parts per million."
It's difficult to do organic wines in Texas, I prefer a 'minimal intervention' approach. Most of my wines are low in sulfur dioxide – less than 22 parts
per million.
Sil Bradord
He has studied the current movement of "Natural Wines." Bradford prefers to focus on great wines. "Not better that anyone else, but better than I am right now," he said. After tasting several of the wines in the tasting room, it became obvious.
Sil mentions several Texans who influence his wines – "Chris Brundrett and William Chris, Bending Branch and Bob Young for what he's been doing with Tanat, Duchmann and their Aglianico."
They only produce 1,500 cases right now but foresee producing around 4,000 to 5,000 in five years. St. Tryphon's current selection features several wines. He speaks of them as if they were his children and brags about each of their unique qualities.
The Flower & Bee Blanc du Bois is a delightful white wine that reminded me of walking through an orchard. The bright rosé that seems perfect for warmer Texas weather. The aglianico which is great by itself but would also pare nicely with venison. The mourvedre, which Sil calls his flagship, contains fruit from Farmhouse Vineyards and natural yeast that ages for 16 months in used French oak barrels. Sil likes used French oak – more proof of the less is more approach at St. Tryphon.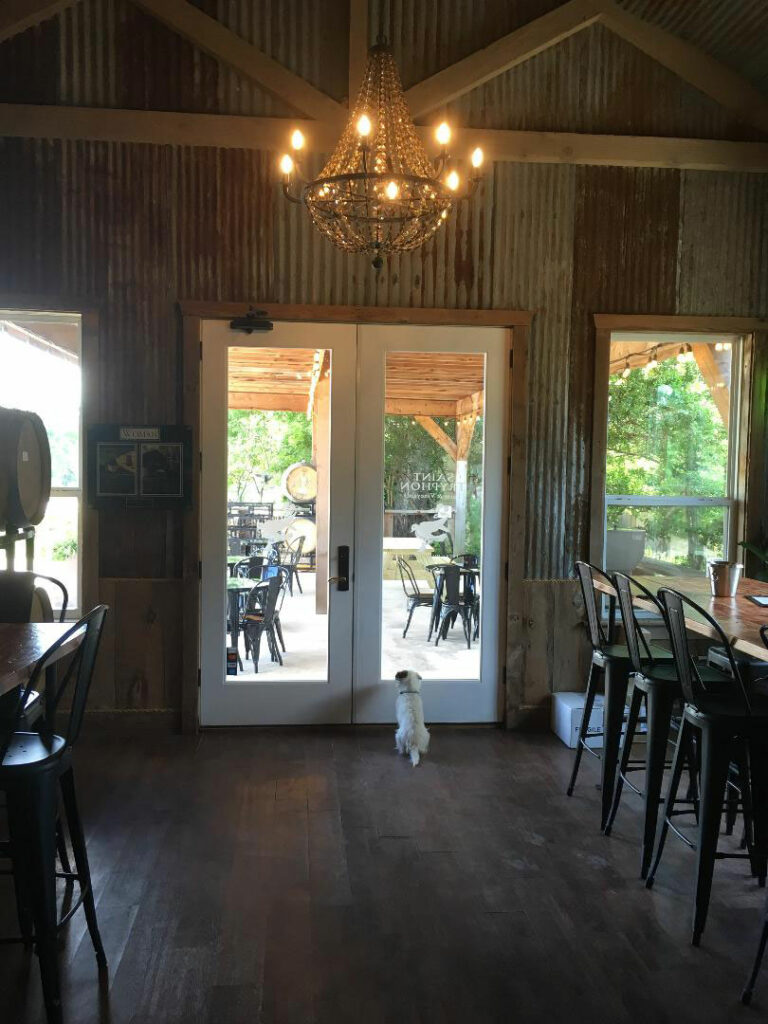 Like bubbles? The imPETuous Petulant Natural (PetNat) is a bottle-fermented white made with orange muscat. It's very enjoyable on its own, but Sil suggested that it might also make a nice base for a cocktail.
Texas has plenty of large wineries. Sil isn't striving to produce 50,000 cases a year, but striving instead to produce great wines. Like Rimi Yang's painting of St. Tryphon behind the bar, Sil's wine is produced with heart, soul and a contemplated attention to detail.
The view from the tasting room stretches past the farm into the unspoiled beauty of the area. St. Tryphon Vineyards is at 24 Wasp Creek Road off of Farm to Market Road 1376 close to Boerne. Walk-in visitors are welcome, but I would recommend scheduling a visit.