When Angie and Kyle White wanted to get the pulse of the Gruene community, they did it by sticking their hands in Texas clay. In 2015 they took over Buck Pottery from Angie's aunt and uncle, Terry and Dee Buck, and renamed it The Barn.

"We as a family have always called it the barn," Angie says. "It is the only old barn original to the town. Built, we have been told, in the 1870s."

While Angie learned the retail ropes, Kyle earned his bachelor of fine arts degree in ceramics, finishing at Texas State University. Now they both make pottery and run the fine art gallery.

The Barn still carries Buck Pottery along with metal work, wood work and pieces by other potters. The fourth weekend of October more than 70 fellow potters come to town for the Texas Clay Festival.

The shop is also a working studio, so if it's a rare slow day, the Whites can still be productive.

"Our studio is open for people to watch us all the time," Angie says.

The Whites use Texas clay, Blackjack low-fire clay by Actíva, which is mined near Murchison. It yields high-fire stoneware, which Angie says has more sand, making it durable for utilitarian kitchenware.

"It's a little bit stronger for everyday use, like if you have plates and are stacking them," she says.

Angie and Kyle use different techniques. She only hand-builds, using Sgraffito to scratch into the clay's surface. Kyle primarily works on the wheel.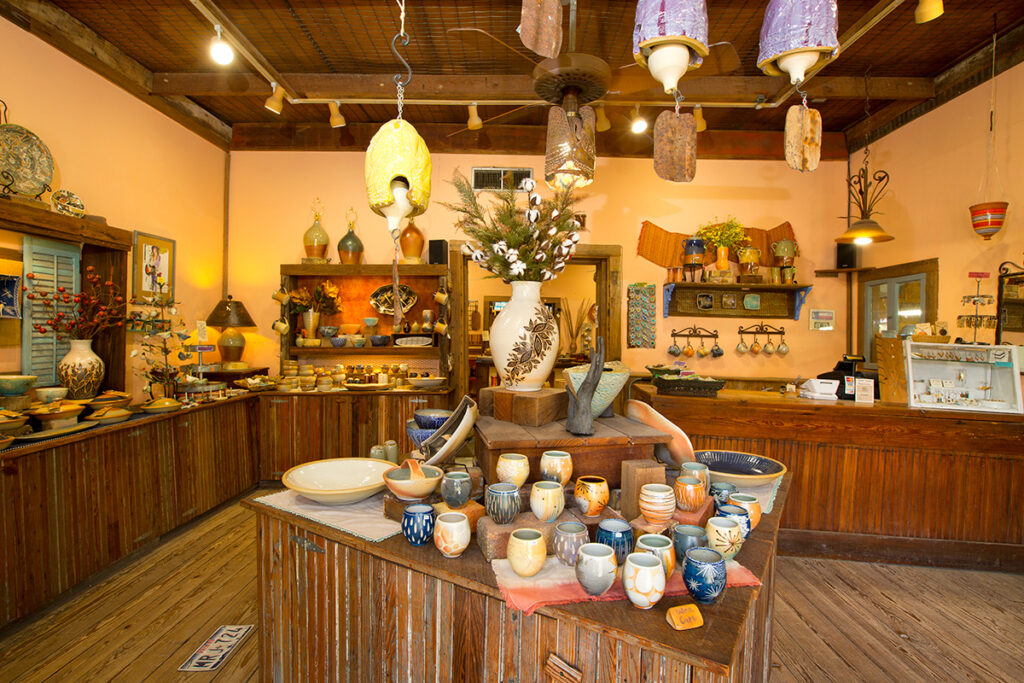 "I always liked the functional work, plates and bowls and the relationship you make with pots you use every day, cooking and stuff like that," he says.

Angie says that relationship is why people are drawn to pottery.

"Like using a handmade mug versus one from Walmart, I've had (a mug) for 15 years and used it every day,'" she recalls customers saying. "We've often found in breakups the pottery can be some of the most fought-over stuff."

Every item at The Barn is handmade, so sometimes a customer will email to ask about a particular item.
"Someone will notice 'You have wine cups.' If they want two wine cups, I take a picture of six of them to send them," Angie says. "We make sets of things, but each one is going to have a different blushing on it from the fire."

Located at 1296 Gruene Road in New Braunfels, The Barn is open from 10 a.m. to 6 p.m., seven days a week, because "It's so busy in town that there's not a good day to be closed," Angie says.